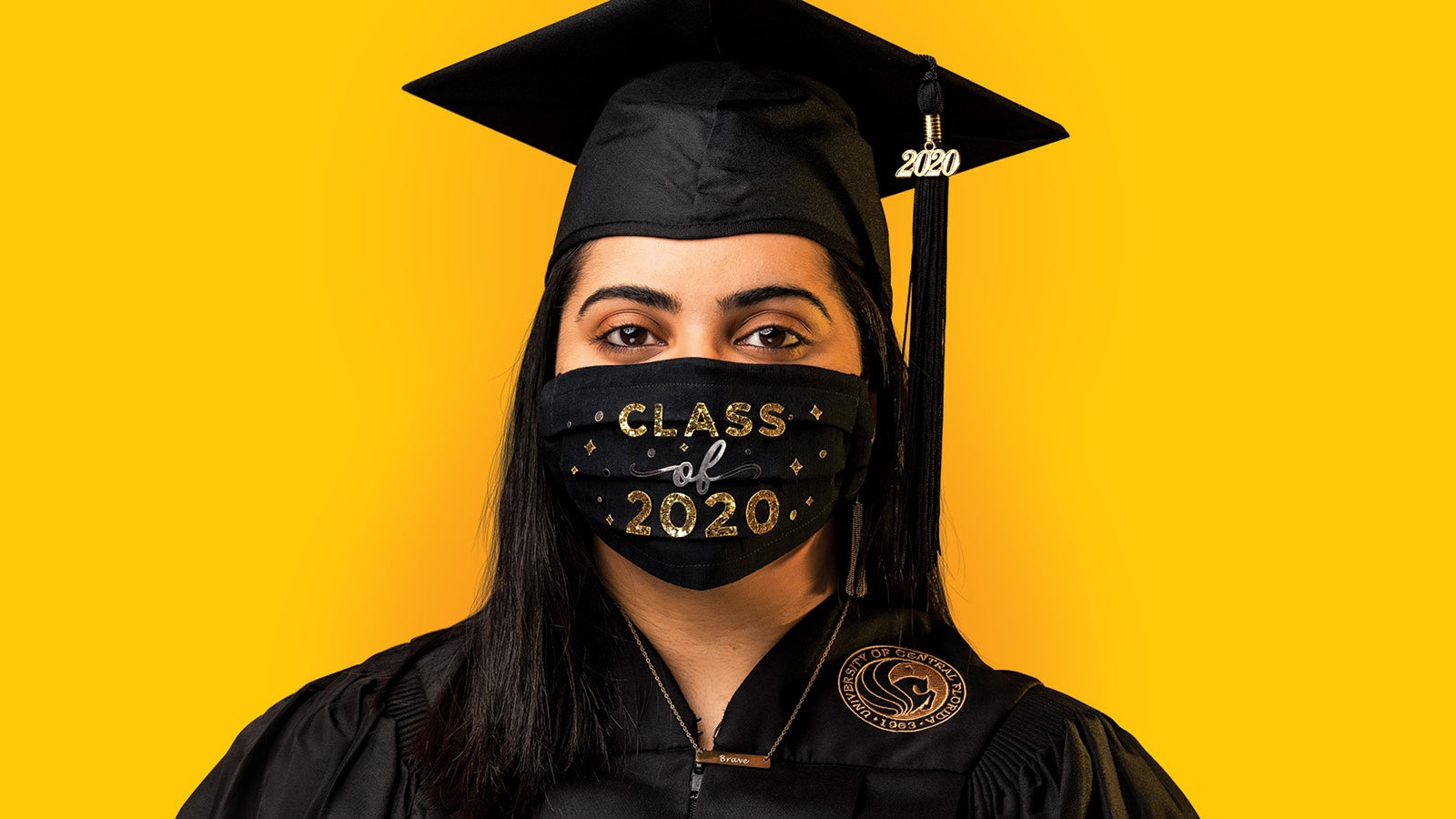 Eight graduates from UCF's Spring Class of 2020 share how the pandemic affected their final semester and memories from their time as Knights.
Summer 2020 | By Nicole Dudenhoefer '17 and Jenna Marina Lee
You work your whole life toward this moment. With every paper turned in, every presentation completed, every cram session and final passed, you inch a little closer to that looming goal: the cap and gown. Pomp and Circumstance. The smiles and tears. The diploma.
On paper, the big milestone still happened for the Class of 2020. In reality, it wasn't what anyone pictured. Last embraces with friends, goodbyes to teachers and long-awaited celebrations were swapped for a life-altering event that will likely define a generation.
Each of the 8,600 graduates in this year's spring class has a story worth telling. These are some of those stories.
---
Darwins Olcima '20
Degree: B.S. in psychology
Next: Pursuing a master's degree in college student personnel at Bowling Green State University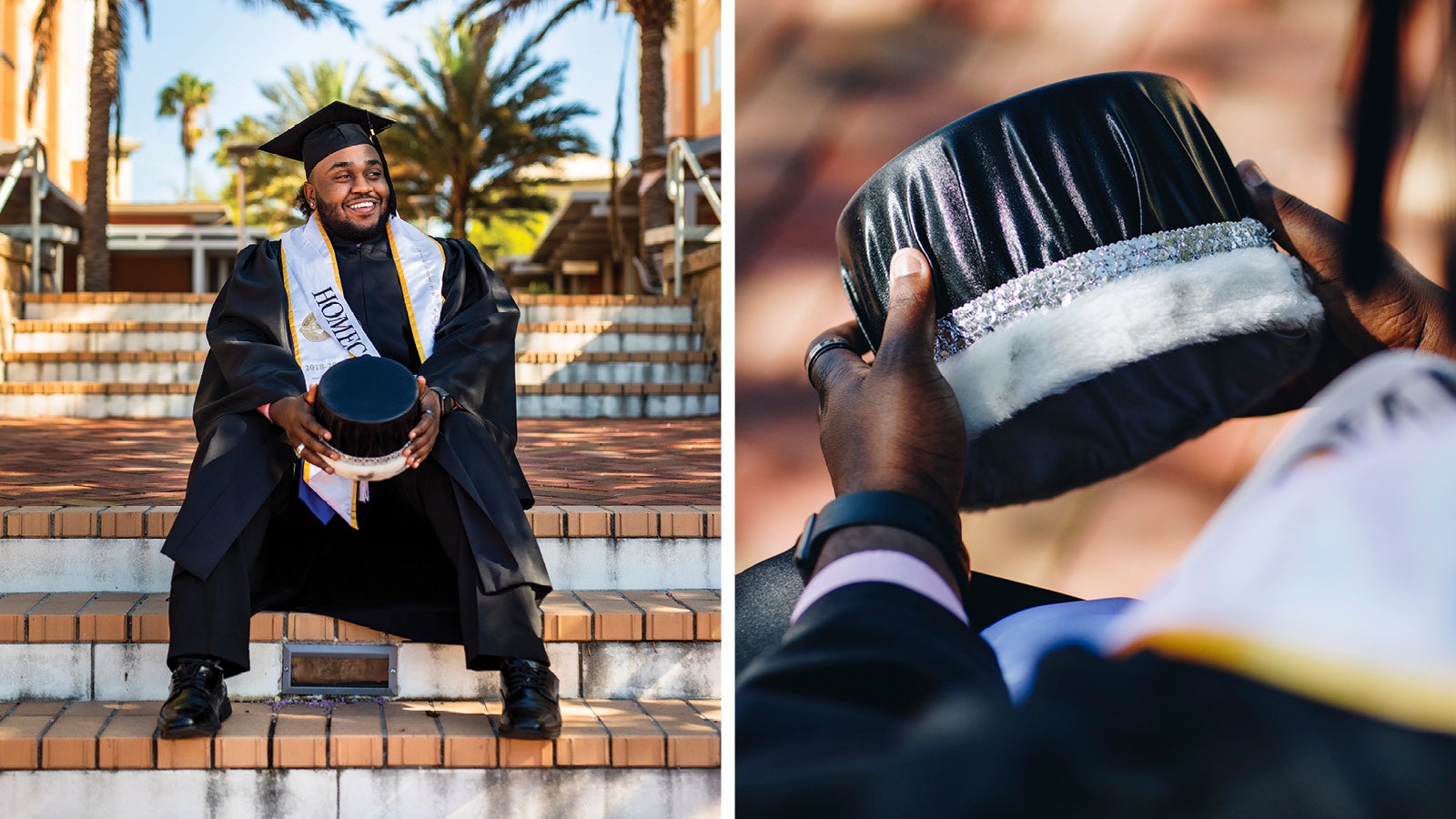 I've been a resident advisor at Neptune since I was a freshman, and it wasn't until the world started ending that I found this place. I've passed it every day for the last four years, but I was always too busy to notice and appreciate how nice it is. I can just sit here and look out at the lake. It's been the one location that has become an oasis these last few months. I'm the second youngest of six kids so I am very family and community oriented. It has been really isolating and lonely to be on campus this entire time because there's nobody here.
I've done a lot of self-reflection. I keep a list of my thoughts in my phone. One of the things I wrote down is how the quarantine is essentially asking us to adapt and evolve. I think a lot of it is uncomfortable, and people don't like change because change can seem unsafe. I've had to reevaluate who do I want to be? How do I want to define myself? What makes me happy? What's my plan? I think that's what I've taken from this experience — it's important to take a break from the busy and stop to think.
For me, I know I'm a person who wants to make things better. I want to reach more people and help them be the best version of themselves. I'm moving to Ohio, and I don't know what my grad degree program is going to hold. I'm excited. I'm afraid. It's my next journey. I want to get my Ph.D. and then possibly become a faculty member or work on a college campus. Who knows? I just know my future will involve helping others. My philosophy on life is to be close to people, and take care of those around you.
Personal Item: Homecoming King Crown
When I look at this crown, I think, "Try, try again." I applied for Homecoming court my first three years and never made it. I ran for Student Government vice president my junior year and lost. When I walked around, I felt like people thought, "That's Darwins — he lost. He sucks." That might not be what they thought, but that's how I felt.
I really didn't want to apply for Homecoming my senior year, but I did it anyway because my friends and my fraternity really pushed me to try. Everybody on this year's court did amazing things. I was preparing myself for another loss, and I remember when they announced my name, I jumped up and yelled, "No way!" So the No. 1 thing I want this title to stand for is don't let your past or your fear of failure define your future. Great things can happen.
---
Daria Kudryasheva '20
Degree: B.F.A. in emerging media, with a focus in experimental animation
Next: Considering graduate school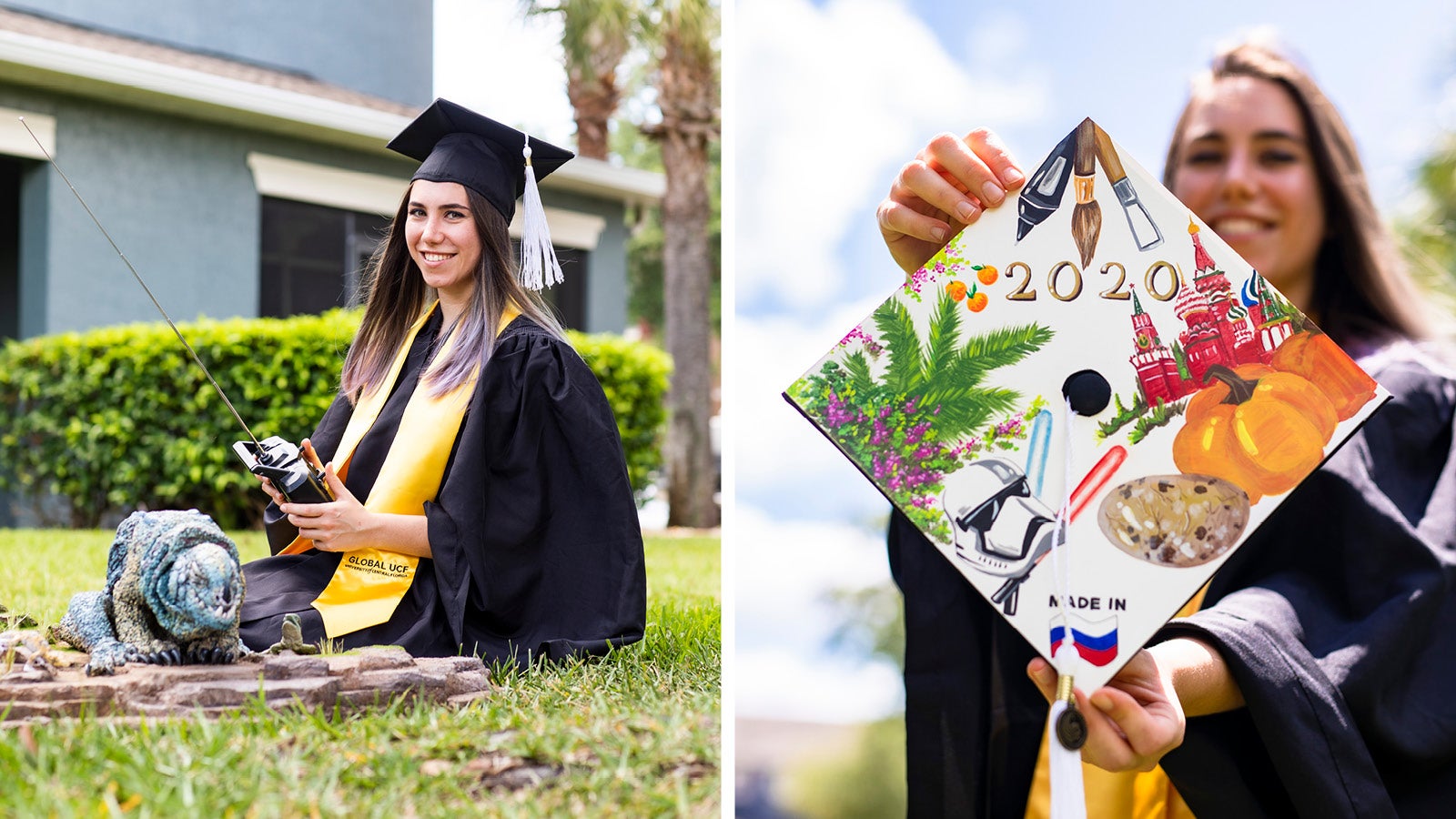 I was a teenager when I first realized that art could be a job. I watched behind-the-scenes videos on Pixar and DreamWorks, and that sparked a big interest for me. But in Russia, we don't have art classes in high school, so I never really had that art education. I remember thinking, if I do something else, I'm not going to feel as satisfied with my life. America is this dream country for a lot of people, so I was excited when I got into the UCF Global program.
My time here has made me more mature, more responsible. I want to make a copy of my diploma and mail it back home to my parents. I think for me it symbolizes my passion. You have to do a lot of hard work to get that degree, and it validates all that I had to go through. I'm still planning to attend the ceremony whenever they reschedule it. When I think about the coronavirus canceling graduation, I realize that this is just one moment. It really doesn't compare to all of the years I spent here. That's what really matters the most.
While I was interning at Universal, I met a person who worked in animation for a long time. His advice was there's only so much you can control and not to stress out about getting that next big thing — that I should keep developing my skills and focus on my own talent. Whenever the next opportunity comes, I will be ready for it because I will have spent all this time developing myself. I'm trying to be more patient with life and not stress if I don't have that perfect job right now. We have certain things we think we have to achieve by a certain time. But life doesn't work like that. Everybody has their own journey.
Meaningful Item: Wilburt
This is Wilburt. I'm pretty bad at coming up with names so I was looking online and found two different names that I combined, Wilbur and Philbert. My creature is a combination of different things so I wanted a name that would reflect the creature itself. He's my baby.
When it comes to art, I don't want to stick to just one thing. I wanted to do an animatronic for my senior project because I had never done it before. I saw it in theme parks and movies, and I was always fascinated by them.
I feel very fortunate for the opportunities I've had in working on Galaxy's Edge at Disney and Hagrid's Magical Creatures Motorbike Adventure at Universal. I love all the Harry Potter movies. We had art directors who worked on the actual movies come to the shop, work with us and review our work. I would never have thought I would meet them in person let alone work on the same project with them. That kind of blew my mind. It was a big leap of faith to leave my home and study in a different country. When you make those choices you never know what's going to come out of them, so it's pretty crazy how it all turned out. Universal has a sculpture department. I would love to work there. But I also like the option of being a freelance artist because then I'm free to move anywhere I want to.
---
Tommy Dallenbach '20
Degree: B.S. in hospitality management
Next: Pending customer service position at Walt Disney World Resort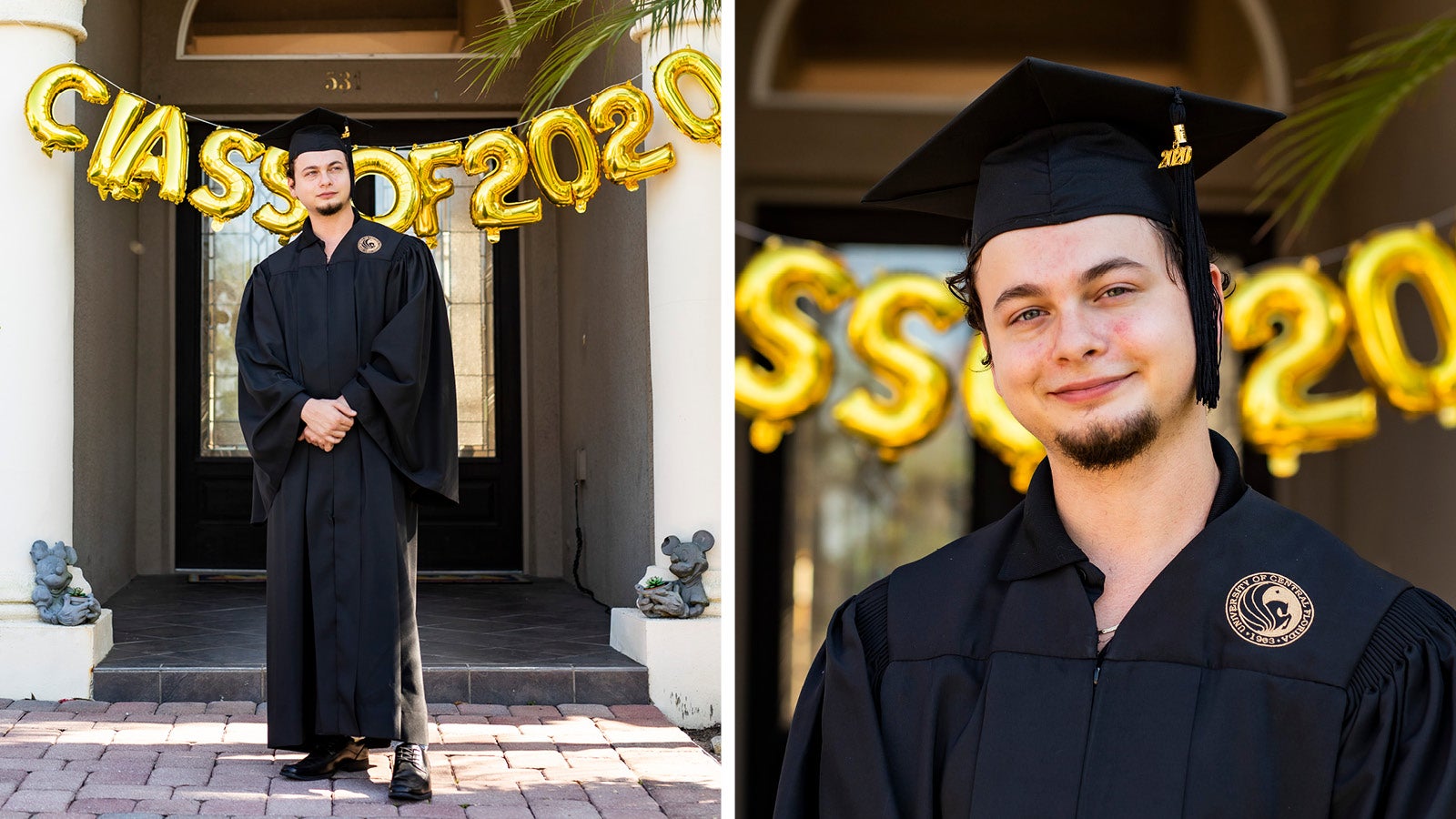 The summer before my sophomore year at UCF, I felt a lump. I waited about half a week, and then I told my mom. She said, "You definitely need to go to the doctor." I had testicular cancer. They removed the testicle, but the cancer had spread already. I had to get my kidney and 28 lymph nodes removed and do four cycles of chemotherapy.
My first doctor didn't think I should keep going to school and should just focus on my treatment. But I was already through my first year, and things were going great. I wasn't going to mess it up. My chemo sessions were five hours a day, five days a week with two weeks of recovery. A major reason I continued my education was so I would have something to do in the chemo room and not just sit there and think about death. I did homework and studied. I told all my professors immediately, and everyone was very caring — they wanted to make sure I had someone to talk to. The only classes I missed were during my chemo treatments. I wore a face mask to classes. I got three Bs and one C that semester. Now I'm in remission.
As far as the future and job prospects, I'm scared just like everyone else in this industry. But I've learned that no matter how terrible things look, no matter how bad the cards are that are dealt to you, as long as you stay courageous and positive, you can get through almost anything. My mother is a guest services experience manager at Walt Disney World. She has been there over 25 years and manages about 150 cast members. Every single time we go to Disney, we're stopped by old and current cast members who tell her how amazing she is; how much they love her and miss her. Someday, I want to be that person when I walk into Disney World.
Throughout this whole experience I realized I want to be the courage for others who may not have that. If I didn't have the support from my family and friends, I don't think I'd be alive right now. Telling my story is the best way to make a good thing out of a bad thing.
Meaningful Item: Graduation Drive-by Decorations
My mom organized a drive-by graduation party. I am a bartender and have like 50 regulars, and I think over 100 cars pulled up to my house just to wave for two seconds. It was amazing. A lot of that is a credit to my mom for setting it up, but I also know that I've gone out of my way to make personal connections with each and every one of those people. So many people told me, "We miss you." Even though the coronavirus sucks, and I didn't get a typical graduation, I got to experience something even more special and just as impactful.
---
George Walters-Marrah '20
Degree: B.S. in biomedical sciences
Next: Pursuing a doctorate in biophysics at Stanford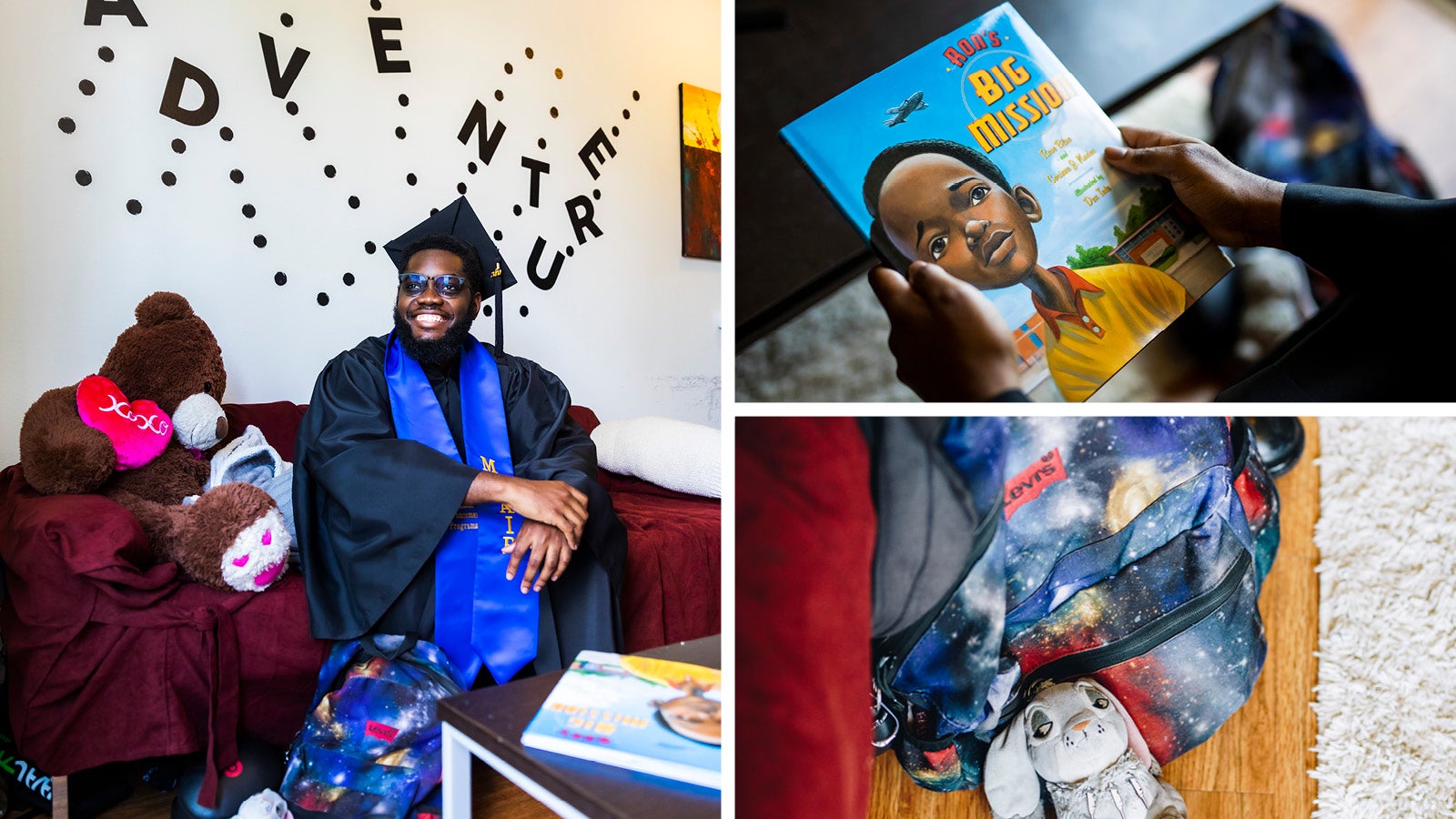 When the pandemic happened, I wasn't devastated. I wasn't angry. But I was bummed. It was something out of our control, and I knew stressing about it wasn't going to do anything. But I couldn't help but to feel bummed. I don't know a better word to explain it.
One of the things I was most looking forward to this last semester was the McNair Scholars Program end-of-year banquet where we can invite our family to celebrate with us. Usually, the seniors get up and talk about how the program helped them get to where they are today, and they give advice to the first-years in the program. We all get to say goodbye. We are doing the celebration online, which isn't completely the same but is still meaningful.
When I think about this last year, I'll remember the community I built with the other McNair scholars. We traveled to conferences in Hawaii and California. I got to snorkel for the first time in my life. I've also really enjoyed the group chat we started with alumni. We've been helping each other out with advice. Whenever someone gets a scholarship or accepted to a program, everyone comments on it and hypes them up.
Eventually I want to help underrepresented, first-generation students find what they're passionate about and go do it — much in the way that people have helped me.
Meaningful Item: Book Bag
This book bag is special because I took it from my little brother before I went to college. My girlfriend, Kaila, got me this bunny my freshman year and told me to put it in my car, but I bring my book bag around with me more. I call the bunny Buddy, but my girlfriend told me that his name is Thumper. I also added these pipettes, which we use in research to mix proteins and DNA.
I never really had the means to travel anywhere before college, and since college I've traveled all over the place thanks to research opportunities and the McNair program. No matter where I go, I have this book bag with me. It started ripping and breaking down, but I paid to get it fixed instead of buying a new book bag. I feel like I'm attached to it because it's been with me through all of college and every single trip I've been on. I plan on taking it with me to Stanford and if it gets ripped again, I'll probably pay to get it fixed again.
---
Jaylyn Whitehead '20
Degree: B.S. in finance
Next: Financial representative for Northwestern Mutual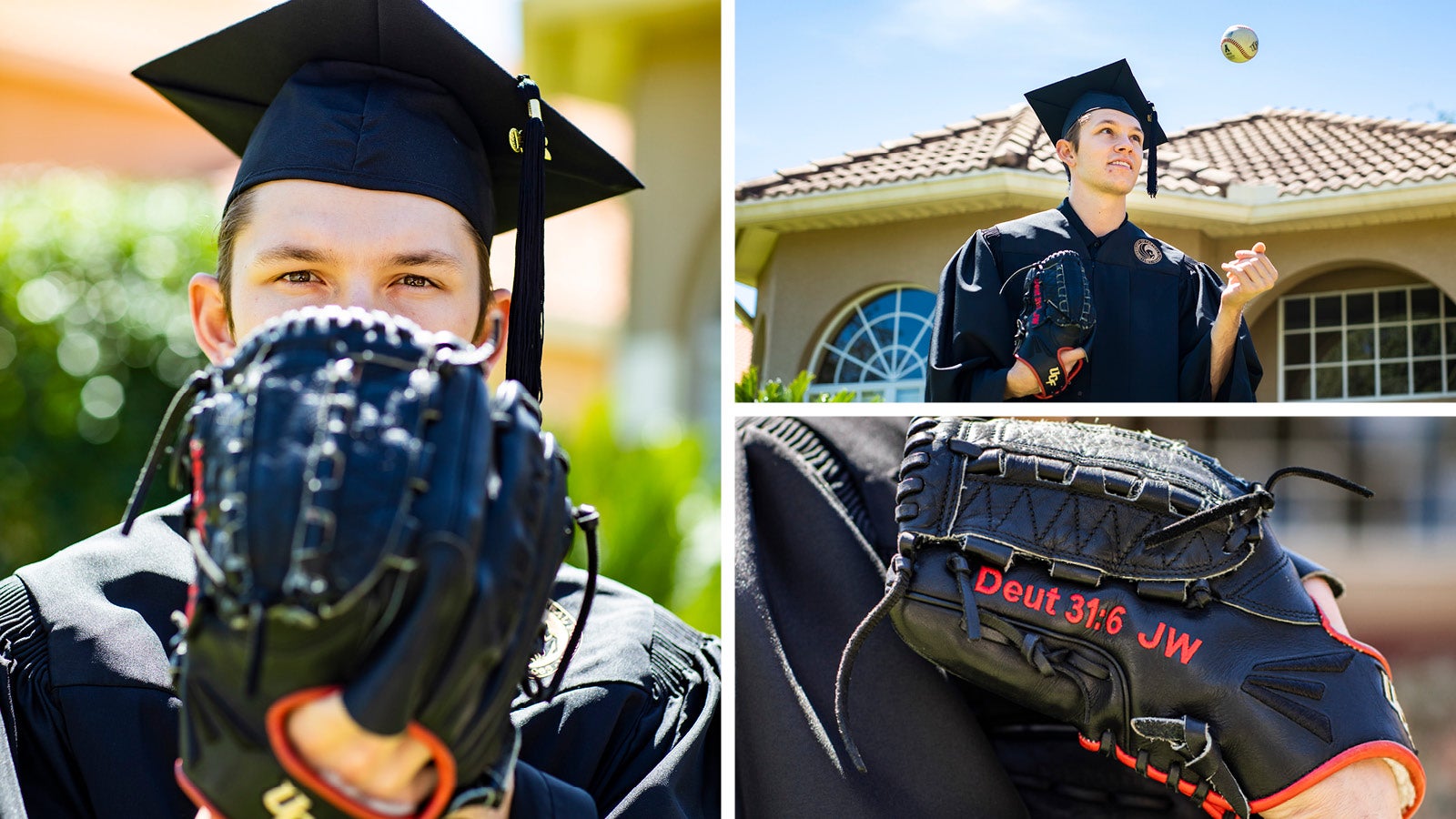 Sitting down next to my brothers and learning that our season was being postponed, and ultimately canceled, completely ripped me apart. It wasn't because my career as a baseball player had just ended, it was because of how special this team was. I have never been part of a team that had wanted to win for each other as much as this team. Whether it was practice or a game, we gave it our all. What I miss most is just being with them day in and day out. The potential is still there for the returning Knights when baseball starts up again.
I think there is this big misconception that student-athletes think they're better than other students or get special treatment. That's simply not true. We have to be present in our classes, take tests and write papers. And when we do play our games, we want to win for you. We want you to be proud. I'll always remember what it felt like to represent nearly 70,000 students out at John Euliano Park.
It's been hard adjusting to having much more free time, but during quarantine I've had several job interviews over Zoom. I'm blessed to have a job in the financial industry lined up. I've always been interested in the stock market, and I've seen how athletes go pro and lose all their money. I hope to bridge the gap with athletes to make sure that those who have a kid, wife or husband are able to provide and don't have to worry about money. I've had to overcome a lot as a student-athlete, transferring from a couple schools and taking five years to earn my degree, but I did it.
Meaningful Item: Baseball Glove
My glove is embroidered with the Bible verse that I also have tattooed on me. It's Deuteronomy 31:6, which says, "Be strong and courageous for God is with you. He'll never leave you nor forsake you."
I got it my freshman year before I left the University of New Mexico and went to junior college, after which I left to come play for UCF. I've been through a lot in terms of my journey as a student-athlete. Growing up, I've always been a smaller, skinnier guy so a lot of people didn't think I had the strength to make it to the next level, Division I or college baseball in general.
Just battling through all the stuff I've been through, it reminds me to be strong — to understand I can do whatever I put my mind to and to have the courage to push through the unknown. I think that's especially important to keep in mind now.
---
Zaineb Saied '20
Degree: B.S. in nonprofit management
Next: Applying for jobs with nonprofits dedicated to children's health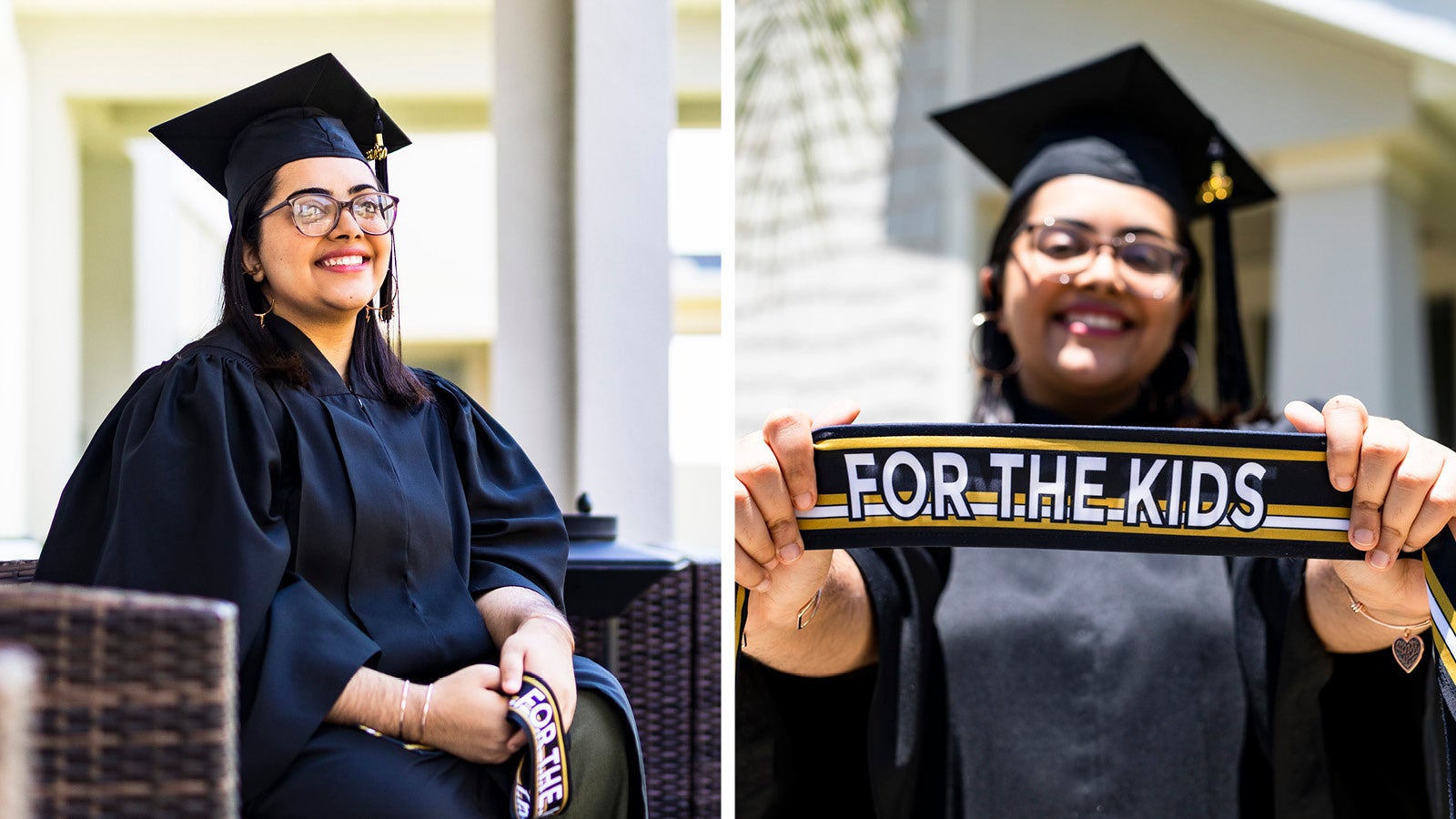 During spring break, I got the call that Knight-Thon's main event — a 20-hour dance marathon — was canceled. As executive director, I was devastated because everyone works so hard all year long for that fundraising event, which benefits Children's Miracle Network Hospitals. We have a special ceremony for fourth-year dancers, and I was really upset that after years of hard work and waiting our seniors wouldn't be able to experience that moment. But I switched gears, and in 10 days we put together a virtual event that helped us reach more people than our traditional in-person event.
Before college, I was the kind of student who let extracurriculars take over and would do just well enough to get by in my classes. When I got to UCF, I started trying really hard to balance the two and do well in both, so making the dean's list a couple of times is something I'm really proud of. Recently I was awarded the Miracle Network Dance Marathon Distinguished Leadership Award, which is an honor only 25 students receive out of hundreds of applicants across the country. The fact that I was able to earn that and represent UCF means a lot.
I'm the oldest of five and the first to graduate from college. I'm really proud of the fact that I earned my degree from UCF and am excited for what's next. In tough times having good people around me at the university has really helped. I'll always appreciate how much my alma mater has given me [in terms of] a community, and I look forward to cheering on UCF forever.
Meaningful Item: Headband
This is a headband from last year's dance marathon. It says "For the Kids," which is the slogan for Knight-Thon and Children's Miracle Network dance marathons across the nation. We always have some for sale during the main event, but we also create special ones that are given out to recognize students who fundraise a considerable amount. They're also a reminder throughout the year for why we do this.
This year we raised $865,598.60 through our online dance marathon. It was important that we still put together an event worth remembering for our seniors and give other students a reason to come back. And I think it reached a lot of people who didn't know what Knight-Thon was. People don't usually find a love for Knight-Thon unless they go to the main event, so bringing those aspects online helped create awareness for many students who had never been before.
---
Carly McCarthy Hollowell '14 '20MA
Degree: M.A. in interdisciplinary studies, with focuses in corporate communications and digital media
Next: Continuing full-time role as UCF's social media manager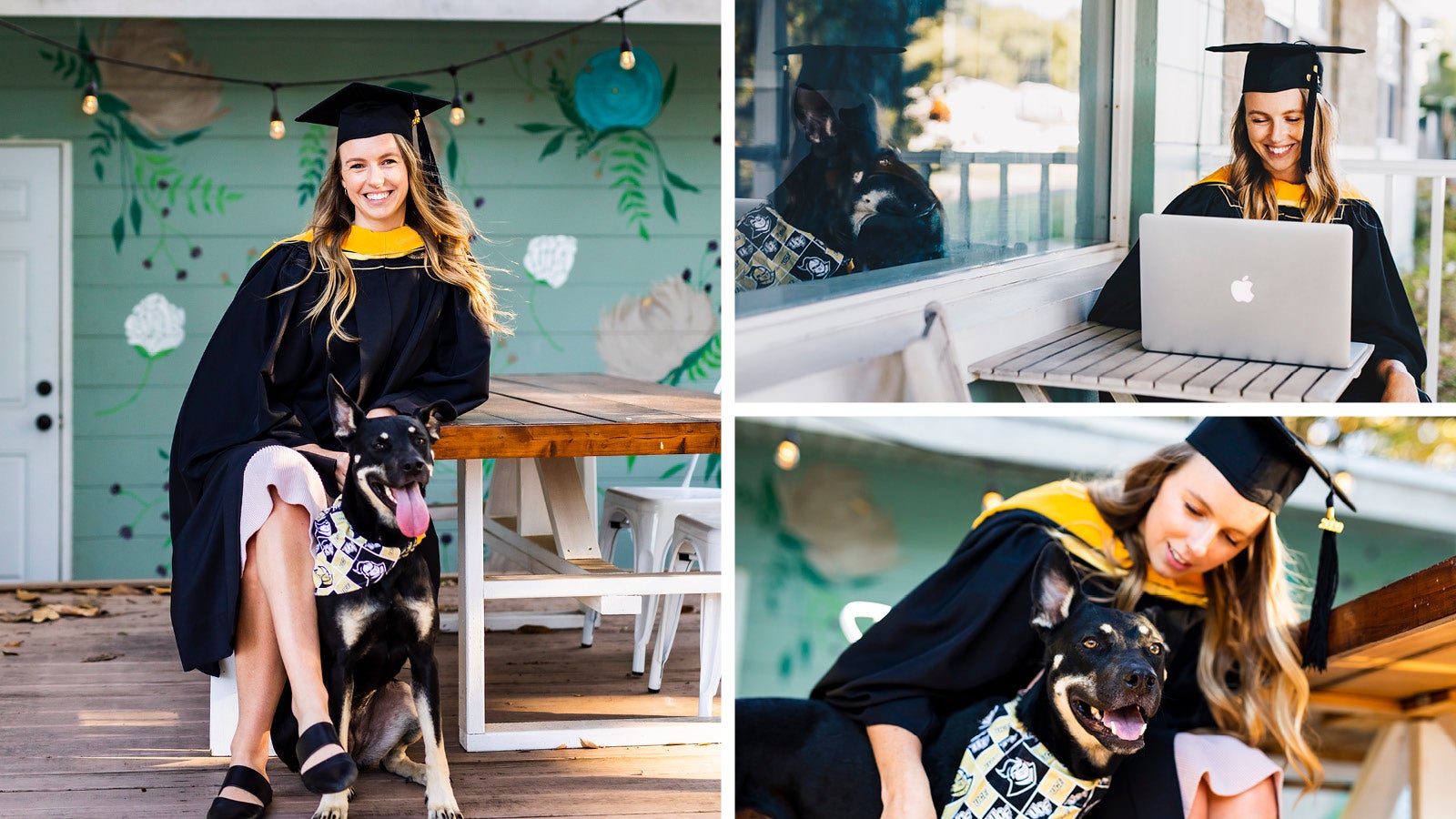 It was really special to see how social media was where family, friends and graduates celebrated their achievements for the virtual commencement. You don't get to see as much of those personal tributes during traditional ceremonies, so I enjoyed seeing how people let us into their homes and celebrations.
I was taking two classes and doing my capstone project on top of working through the pandemic. We get tons of messages daily, and during a crisis that's tenfold. At the start of it all I was really overwhelmed, but I get the most joy out of my job when there is something I can do to help my community, so I didn't mind the extra work and late nights. I feel like it's especially imperative to listen to what students and parents want and need at this time. And I try to be timely in responding, which means I'm constantly on my laptop and phone. Working from home makes it harder to disconnect from the screens, but if this is how I can provide comfort and support for our community when they might not have it elsewhere, that's what matters to me.
At the same time, it's a lot of pressure because if something doesn't go right, it's on me. Although I was one of the graduates, I didn't get to enjoy the virtual commencement the same way as others because I was sharing content all day and monitoring the streams. But it was nice to see my friends and family in the comments and know they were watching, and I was celebrated in my own way with my them and my husband — offline.
This isn't how any of us wanted our academic journey to end, but what I've learned is that we can't take for granted the moments we had at UCF, and coming back as alums will be even more special. If you can get through finishing your degree in a quarantine with all of its stressors, then I think you'll have the determination— as Knights do — to get through anything.
Meaningful Item: Ivy
When everyone was working normally and in offices, I was in such a routine — wake up, get ready for work, drink my coffee and listen to the Armchair Expert podcast on my way to work. When we switched to working from home, I realized I was desperately craving a routine, especially since it's more difficult now to separate home and work life. A big part of my new routine has been taking walks with my dog Ivy, a German shepherd mix. I start and end my day with walks with her. With this job, my biggest struggle is disconnecting from the screen, so she helps me with that. I realize she will be in for a rude awakening when we go back to "normal" — or maybe that's me I'm talking about.
---
Naseeka Dixon '20
Degree: B.S. in legal studies and B.A. in political science with a minor in nonprofit management
Next: Continuing to combat food insecurity and homelessness in Orlando as a coordinator for the Straight Street nonprofit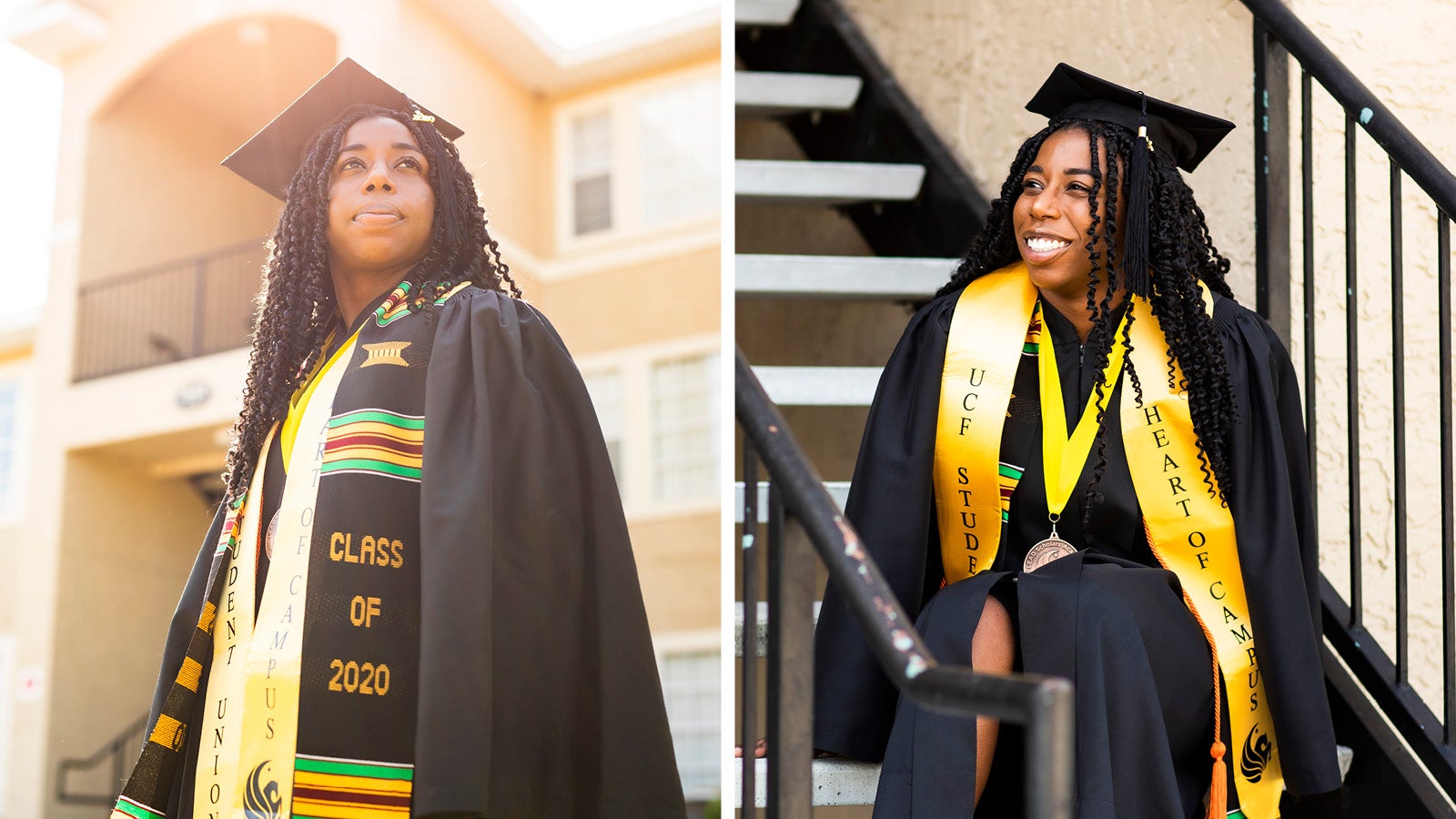 At the beginning, I was a little taken aback when everything went remote, thinking about all the missed award ceremonies, banquets and goodbyes that wouldn't happen. But during this time, I've also seen there are new ways of celebrating and supporting each other.
I'm a first-generation student who did dual enrollment and planned to earn my bachelor's degree in two years. I ended up studying at UCF for five years because I loved the environment and all of the resources available to me. All of my experiences and time here allowed me to learn more about myself, my values and what I want out of life — which is really to help others.
During my two years of working at Knights Pantry, we've gone through hurricanes, a government shutdown and now a pandemic, all of which are reminders of why providing free food and necessities for students is so important. When I became manager, I had several goals that were successfully met. One of the biggest was getting students to use the pantry as a resource as much as they would use others, like the print lab or library. It's unfortunate that in my final months here, we had to revert to being a limited emergency service, but for me it's all about what was accomplished along the journey and the fact that students are still getting help.
When I think about my last year, Spirit Splash is my favorite moment because that was my first time attending and watching the whole event.
With so many different people there it was an amazing reminder of how diverse our school is. I saw friends from high school and other Knights I've become friends with, so it's really cool to look back and know we at least had that celebration in person together.
Meaningful Item: Graduation Garb
I came to UCF because I felt like I could fit in on such a diverse campus, and I wanted to join the LEAD Scholars, a two-year leadership development program. It was really important to me to wear an African kente stole for graduation to represent my background as a Jamaican first-generation student. Both my sister and I graduated this semester, and our degrees mean we'll be able to help provide for our family and friends.
The medal I'm wearing is given to students who successfully complete the LEAD Scholars program, and I even put in the extra work to complete the Global Leadership program. This program was the starting point of my campus involvements.
The orange cord is awarded to students who fulfill 50 of volunteer service. I've completed over 200 hours of community service on trips to Costa Rica and Guyana through Volunteer UCF's Alternative Break Program. As a student, I've also volunteered with local organizations, such as Straight Street, which I later earned a paid position with and will continue working for after graduation.
I worked at the Student Union for two years, which is why I have this yellow stole. I've accomplished a lot of personal and professional things at UCF, but my biggest one is the 2020 Student Union Legacy Award. It's given once a year to one student who has shown the ability to make an impact on the lives of other students. I've wanted that for the past year, and the fact I earned what I set a goal for means the most.