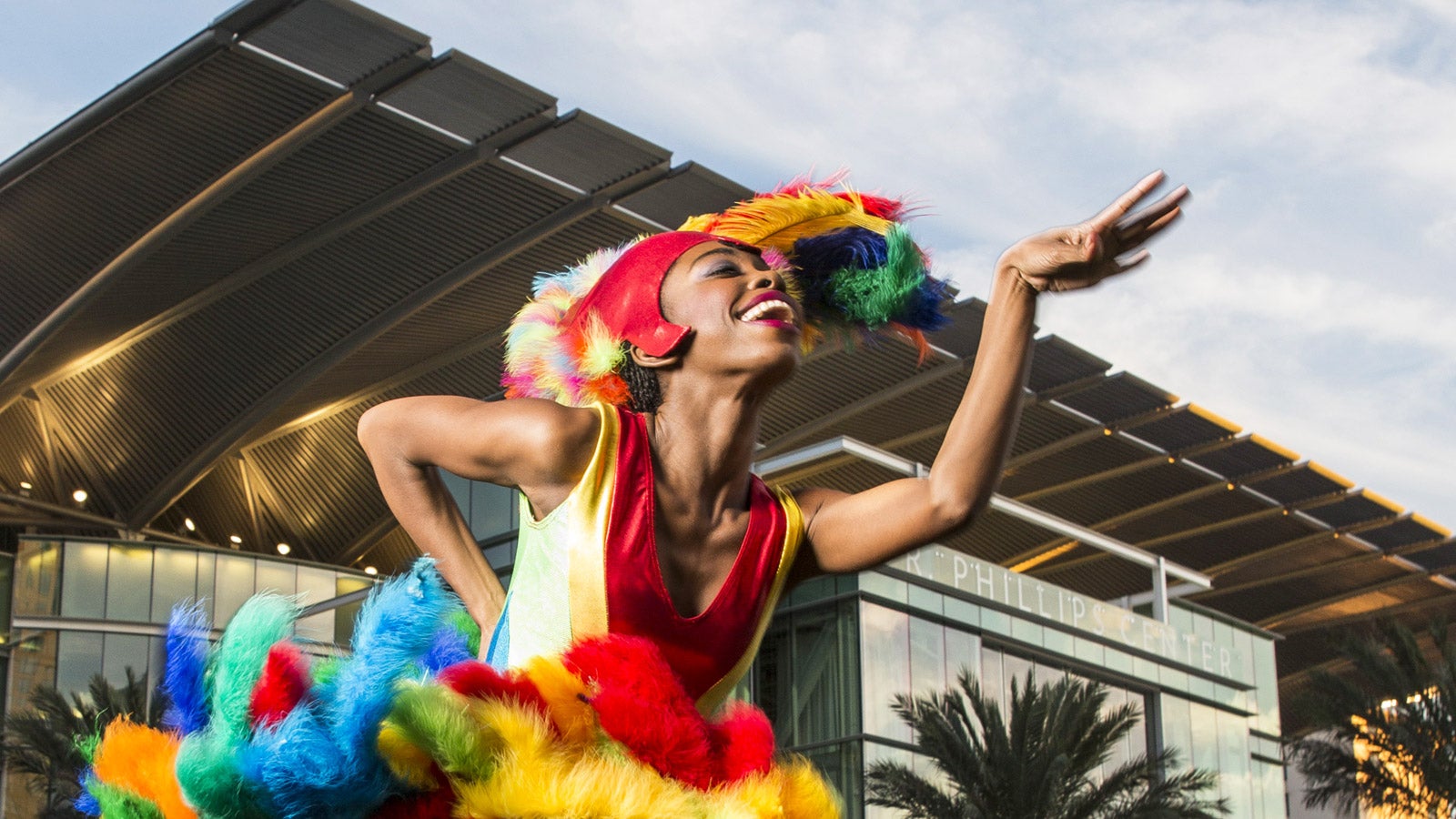 UCF Celebrates the Arts 2015, a free, family-friendly festival at the Dr. Phillips Center for the Performing Arts taking place April 10-15, will showcase the university's best in theater, music, dance, and visual and digital arts to the Central Florida community.
Spring 2015
When the Dr. Phillips Center for the Performing Arts opened in November, UCF leaders saw the $500 million, state-of-the-art facility in downtown Orlando as an important opportunity — to put on a show.
"We have access to [performance] spaces that are the best in the southeast," says Jeff Moore, director of UCF's School of Performing Arts. "UCF Celebrates the Arts allows us to showcase the breadth and depth of our arts programs."
From musical theater to dance events, symphonic concerts, jazz cabaret shows, visual art displays, film screenings, interactive gaming and more, this free showcase will offer Central Floridians a diversity of experiences.
"Our faculty and students are very excited about showing the products they create and the processes that they go through to a much broader audience," says Moore. And the event "will allow us to highlight all of the wonderful science, technology, engineering and mathematics that are integrated into our presentations, so people will understand the scope of our university."
In addition to entertainment, the celebration will also include educational workshops lead by UCF faculty members for invited charter and public school arts programs, and opportunities for young performers to showcase their talents. But for most festivalgoers, it's an opportunity to try something new. "Come for the things you know you like and find the things that you didn't know you appreciated," says Moore. "A celebration like this allows for that discovery."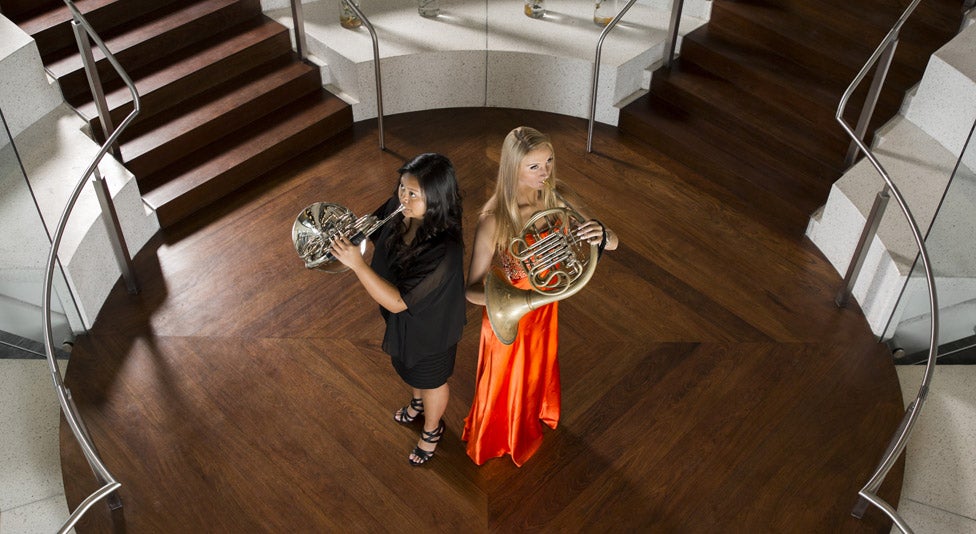 Physics and Performance Unite
What began as the fantasy of a pair of UCF scientists — to bring to a campus stage a complex and celebrated multimedia performance that combines ancient mythology with theoretical physics and sets it to live music and video — will be the gala opening for UCF Celebrates the Arts.
"Icarus at the Edge of Time," based on the book by physicist Brian Greene and scored by composer Philip Glass, is a sci-fi re-imagining of the Greek classic. A boy in a spaceship of his own design confronts a black hole, "the most mysterious, compelling and extreme thing in the universe," explains Greene. "A deep, dark hole in space that anything that gets too close — even light itself — gets pulled in? A hole that actually slows the passage of time? No Hollywood screenwriter has ever come up with anything that equals the majesty and mystery of that."
"This very ambitious piece has been in the works for more than a year," says Moore. First suggested by associate professor of physics Costas Efthimiou and engineering professor Debra Reinhart as an event to support UCF's STEAM (science, technology, engineering, arts and mathematics) initiative, Moore suggested waiting for the celebration to present it. "[Icarus] matches perfectly with the idea of synthesizing science and the arts," says Efthimiou.
At the April 10 event, Greene will introduce the performance, which features narration by actress Kate Mulgrew (aka Captain Kathryn Janeway from "Star Trek: Voyager"), film by Al + Al (and NASA), and musical accompaniment by the 55-member UCF Symphony Orchestra.
"This is a piece about getting a feel for how wonderful and weird the universe is, without feeling like you're in a classroom," Greene says. "You're going on a journey, and by virtue of going on that ride, you learn something because you experience it."
---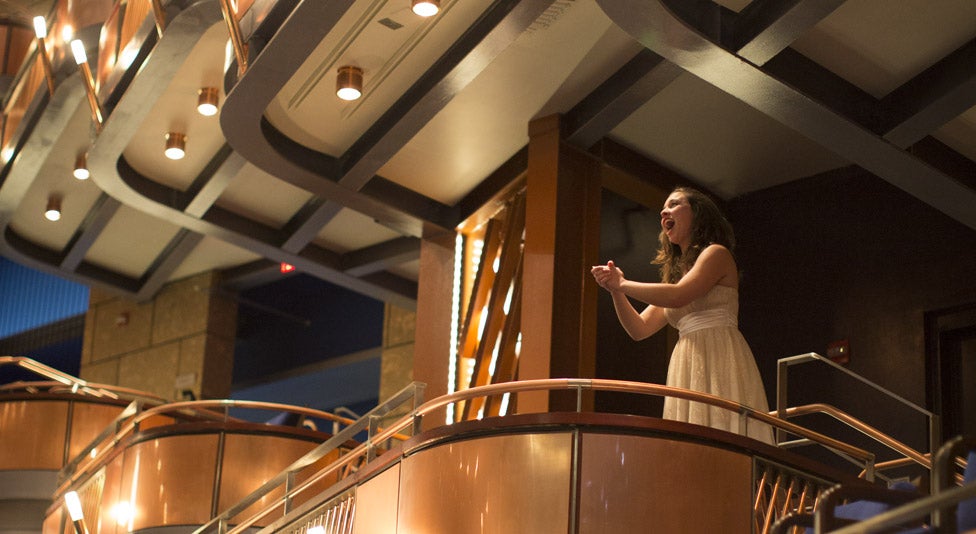 Voices in Harmony
To commemorate the 150th anniversary of America's infamous war between the states, "Civil War Voices" — a collaboration between UCF's theatre and music departments and the Orlando Repertory Theatre — will feature dramatic readings set to historical music.
The performance uses "letters, newspaper articles from the era and diary entries and puts those stories onstage along with music from the period to create a tapestry of memory," says Jeff Revels, artistic director at The REP. "Voices" is also a chance for the public to "discover the quality of education and the training that actors and production crew get at UCF," says Theatre UCF artistic director Earl Weaver. The students will perform on a thrust stage in a state-of-the-art theater unlike any available on campus, and theatergoers will get a taste of the talent UCF is developing.
For those interested in opera, an open rehearsal of Puccini's "Tosca" by the Orlando Philharmonic Orchestra will offer a rare behind-the-scenes experience. A master class will follow, giving UCF performers a chance to learn from lead soprano Keri Alkema, plus an opportunity to sing and be critiqued by the director and cast professionals.
But aside from all the great performances, Weaver says, these shows are an excellent recruiting tool for future talent. Showcasing the best performers on campus in a new arts center will be alluring to aspiring artists hoping to start their careers with college training.
---
Artists Rise to the Challenge
For the UCF visual and digital artists contributing to the festival, presenting their works in a facility as large and open as the Dr. Phillips Center provides challenges they don't typically face.
"We can't do what we do in the ways that we normally do it," says School of Visual Arts and Design (SVAD) director Byron Clercx. "What we're trying to do is adjust our outcomes to fit a facility with such a grand scale."
For the students from SVAD and the Florida Interactive Entertainment Academy (FIEA) engaged in art forms from architecture to film, digital media, video game design, drawing, sculpture, ceramics, photography and printmaking, the answer was to employ new strategies, technologies and scalable materials to engage festivalgoers in and around the performances.
Visual artwork will be enlarged onto giant banners and hung in strategic locations to create compelling sightlines for visitors. A live game jam will challenge students to create a video game during the event and present the results in real time. Digital projectors will screen student projects during an all-day film festival. Artists in costume will create living pictures of classic works through a technique called tableau vivant. Faculty will present lectures on art history and visual culture. And interactive exhibits will showcase the processes behind digital character animation and game design.
"It's all about creative and critical problem-solving," says Clercx. "Intellectually, it's good for us to face these challenges."
---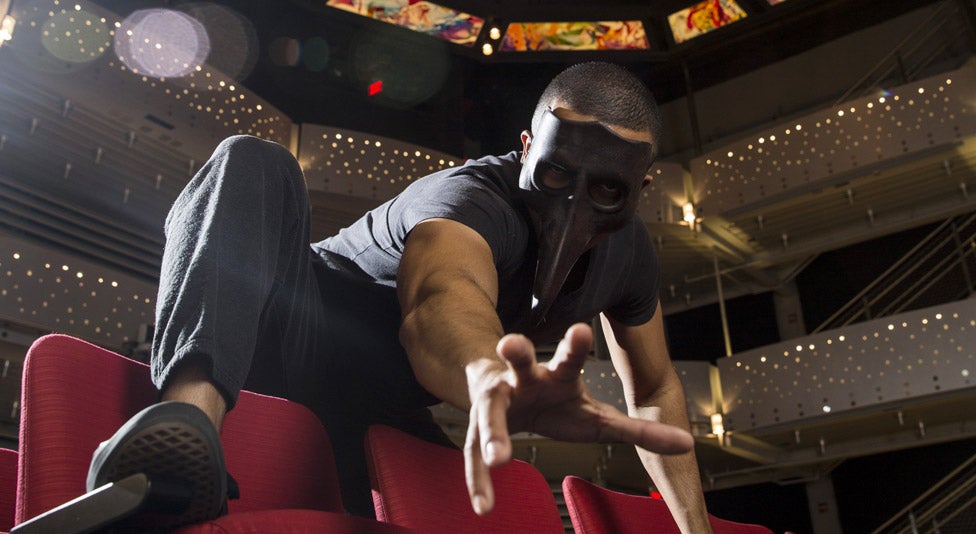 Acting in a Dramatic Collage
To showcase the wide range of productions that Theatre UCF puts on each year, the department will present a collection of content from their annual schedule during the celebration. Highlights include Broadway and gospel fare by UCF vocalists, dramatic readings by student nominees for the Kennedy Center American College Theater Festival's prestigious Irene Ryan Acting Scholarship, staged combat scenes and a sprawling musical number from a Tony Award-winning production.
Kicking off what Weaver has dubbed the "collage of performances" is the opening scene from "Nine," the 1982 Tony winner based on Federico Fellini's semi-autobiographical film "8½." The musical, which runs on Theatre UCF's main stage March 19–29, revolves around an Italian film director whose midlife crisis stifles his career and launches a series of romantic entanglements in the 1960s.
"It's a beautifully composed artistic piece, and it's a very challenging acting piece as well," says Weaver. "This isn't fluff. It's a very strong book and musical storyline, with very well-crafted characters. Plus there's a lot of historical research for the students to tackle."
Musically, the score is technically and physically demanding for the cast, which includes 21 women. "It's very operatic in nature," says assistant professor Tara Snyder, '07, the show's musical director. "Almost all of the women in the show are singing almost all of the time."
Cast member Ashley Taylor, a junior musical theatre major who plays the director's long-suffering wife, Luisa, says the production may surprise audiences used to more traditional musicals. "The script isn't what most people expect from musical theater," she explains. "There's something for the audience to think about in this."
---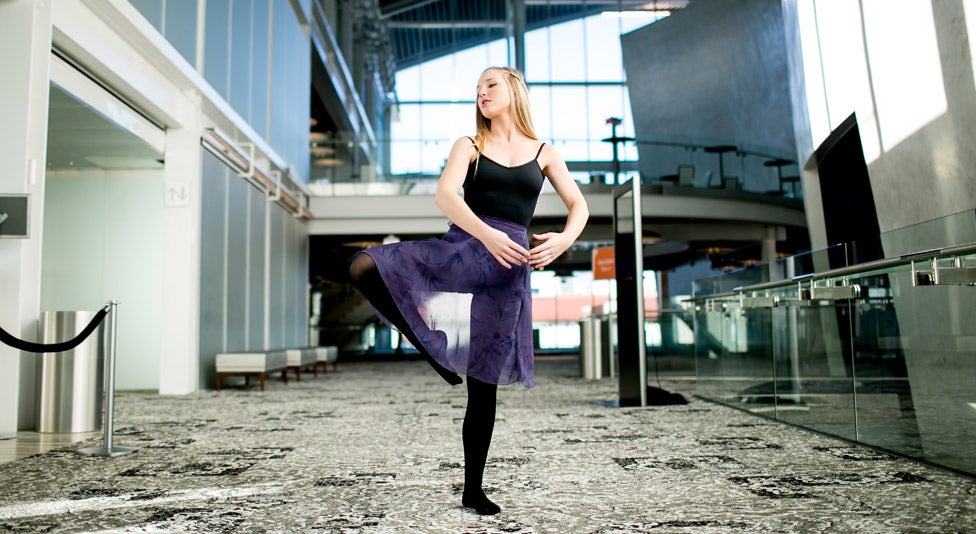 Dancing to Express a Vision
More than 40 students pursuing a dance minor at UCF will present original choreography in their showcase, "Simply Dance." That group represents nearly half of the roughly 90 students in the program, which offers a foundation of dance techniques, history, composition and performance.
Although it's not uncommon for theatre majors to audition for the dance minor program, the curriculum appeals to a wide array of students. "The majority are students who have danced all their lives, whether as competitive dancers or otherwise, and want dancing to continue to be part of their lives," says Judi Siegfried, dance program coordinator. "Some are students in the Rosen College of Hospitality Management, some are biology majors. The interest stretches across the university."
In one program, junior elementary education major Melissa Folgueras will perform original choreography by Danielle Engelman, a senior completing her B.F.A. in musical theatre. Classmate Kathryn O'Shea will accompany Folgueras with an original song on banjo. "I'm not an actor," Folgueras says, "but I feel like through dance I'm able to get into another character."
---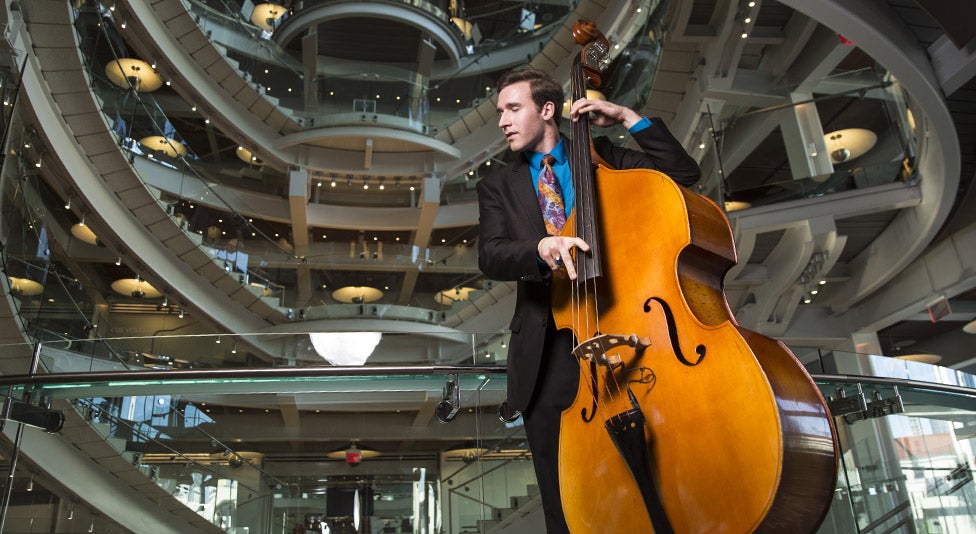 Music Across Space and Time
For music lovers, UCF Celebrates the Arts will present a gamut of styles from classical compositions to enduring pop culture tunes. Featuring roughly 300 students representing majors from music education to jazz studies, the university's orchestra, wind ensemble, symphonic band, jazz ensemble, choirs and chamber ensembles will perform at multiple venues, offering a wide variety of content throughout the event.
The cosmos will be explored in concerts that feature composer John Williams' "Star Wars" suite; "Jupiter," a movement from English composer Gustav Holst's orchestral suite, "The Planets"; and "Beyond," a work by modern Japanese composer Wataru Hokoyama.
"We're doing everything from classical works to 21st-century compositions with the theme of space running through them," says Scott Tobias, UCF director of bands. "[Performing in] the new theater — the Dr. Phillips Center — is a chance for people to get a nice overview of what we're doing and also enjoy some great music at the same time."
Meanwhile, tradition will flavor the selections by UCF's Flying Horse Big Band when the 17-member jazz ensemble plays original material inspired by the sonnets of William Shakespeare, featuring singers from the Orlando Shakespeare Theater. The collaboration will also deliver Broadway standards based on Shakespeare's work, including songs from "West Side Story" and "Kiss Me, Kate."
Although the performance at the new Dr. Phillips Center is a milestone, the jazz band isn't a stranger to audiences outside of UCF. With student-run record label Flying Horse Records, the band has earned a national reputation. Just five years old, the label has landed four albums on the top 50 of industry magazine JazzWeek.
"Relevance is a big deal to us," says Jeff Rupert, director of the Jazz Studies program. "Being relevant in the industry is important. When our students go out and play at the Dr. Phillips Center — they're ready."
Join Us April 10-15 at the Dr. Phillips Center as UCF Celebrates the Arts