Adorned in retro fashion, Emily Ellyn, '08, balances her studies with her chef skills. Here, the former Food Network contestant delivers dorm room dining ideas fit for any age.
Retro Rad
After graduating from The Culinary Institute of America, Ellyn earned two master's degrees in hospitality management—one in Paris and another at UCF's Rosen College of Hospitality Management. She's now
pursuing her Ph.D. in hospitality education. The cheerful chef can also be found teaching food and beverage classes, and developing her Retro Rad culinary television career. Watch and learn Emily's recipes below.
Breakfast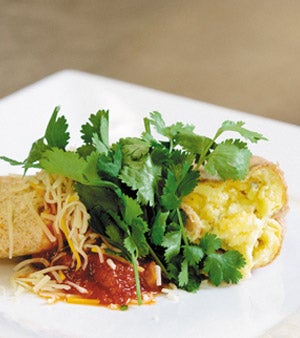 Burrito of Champions
Serves 2
3 eggs
2 (6-inch) whole-wheat tortillas
2 tablespoons shredded cheese blended
2 tablespoons salsa
2 tablespoons fresh cilantro
Place tortilla on a plate and microwave for 10 seconds to soften.
Coat inside of a 2-cup microwave-safe cereal bowl with nonstick cooking spray. Break eggs into bowl and beat with fork until blended. Add salt and pepper to taste.
Place bowl in microwave and cook on HIGH for 30 seconds. Gently stir and microwave for 15 to 30 seconds longer, until are almost set.
Place eggs on tortilla. Fold bottom of tortilla over eggs, then fold in sides. Top with cheese, salsa and cilantro.
Gourmet Grilled Cheese
Serves 2
Butter
Garlic salt
4 slices of sourdough bread
2 slices cheddar
2 slices havarti
2 slices Gruyère
2 slices pepper jack
2 tablespoons sliced pepperoncini
¼ cup fresh spinach
2 slices fresh tomato
Butter 1 side of each bread slice and sprinkle with garlic salt. Fip bread over and layer with cheese and pepperoncini. Top with bread slice.
Heat a skillet over medium heat. Grill sandwich on one side until the cheese beings to melt, then flip.
When bread is golden brown and cheese is gooey, carefully pull each sandwich apart and stuff with spinach and tomato.
Lunch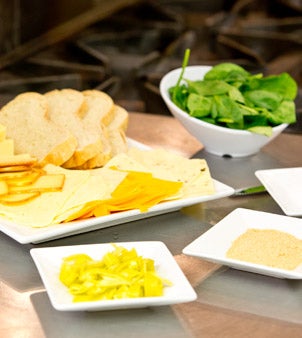 Snack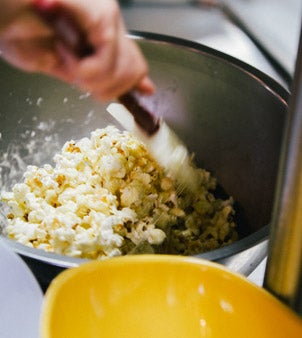 ½ cup Brown sugar
½ cup Unsalted butter
10 each Large mrashmallows
12 cups Popcorn, popped
Microwave brown sugar and butter for 2 minutes on high.
Add marshmallows and microwave (in 1 minute increments) until melted.
Pour over popcorn. Gently stir.
Chicken Dumpling Ramen Soup
Serves 2
Soup:
3 cups low-sodium chicken broth
2 carrots, peeled and sliced
¼ cup diced white onion
½ frozen corn kernels
2 stalks celery, sliced
¼ teaspoon poultry seasoning
½ teaspoon dried turmeric
2 packets ramen noodles, any flavor
1 ½ cup chopped cooked chicken
Dumplings:
¾ cup biscuit mix
¼ cup milk
In a large saucepan over medium-high heat, combine broth, vegetables, poultry seasoning, turmeric, and pepper to taste. Bring to a boil. Reduce heat to medium, cover, and simmer 8 to 10 minutes. Meanwhile, combine biscuit mix and milk to make dumpling dough.
Add crushed ramen noodles and chicken to soup and stir well. Divide dumpling dough into 6 mounds and gently spoon on top of soup. Cover and cook 7 to 10 minutes, or until toothpick inserted into dumplings comes out clean.
Dinner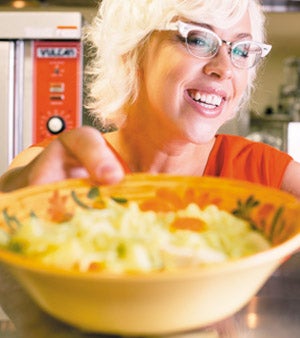 Dessert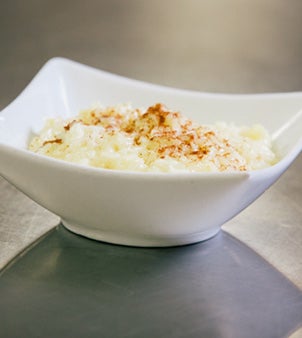 Chinese Takeout Rice Pudding
Serves 2
⅓ cup Water
2 tablespoons Instant vanilla pudding mix
⅓ Flavored creamer
1 dash Cinnamon
¼ teaspoon Kosher salt
2 cups Leftover Chinese white rice
Dissolve pudding mix, creamer, cinnamon and salt in water in a medium-size microwave-safe dish. Add rice and stir to coat.
Cover and microwave on high for 2 minutes or until hot. Remove cover and stir to mix thoroughly. Let sit for 3 minutes to allow rice to soak up liquid.