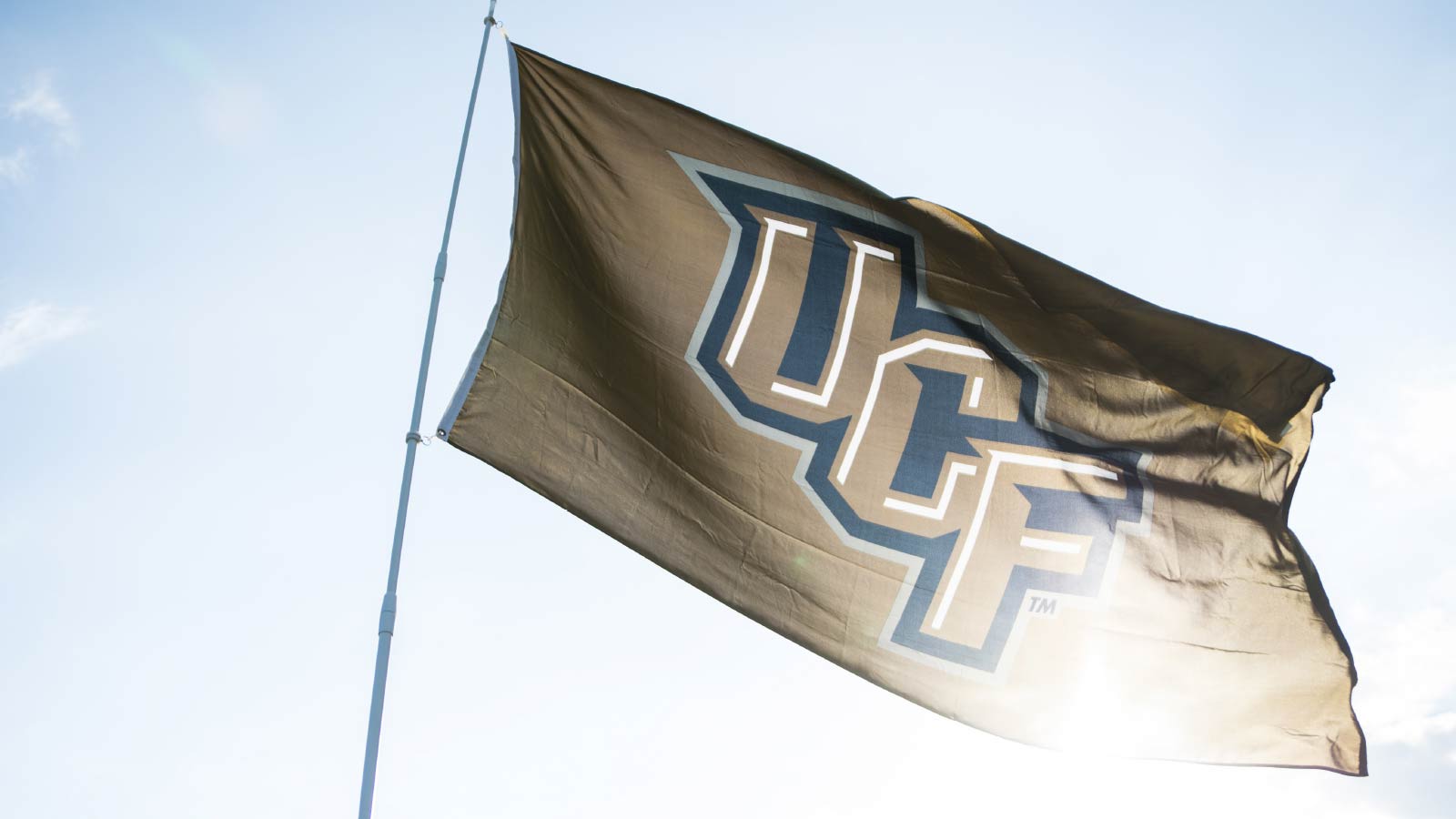 Ultimate Tailgating Guide
Updated: August 2019 | Fall 2015
Tailgating before Knights football games is one of the most celebrated traditions at UCF.
For those of you who host your own party, here are some tailgating tips and tricks from fellow Knights fans that are sure to score points with your guests, from chef-inspired recipe ideas and food and beverage pairing advice to face painting inspiration, tricks for winning at cornhole, ways to keep your party eco-friendly and more.
---
Put On Your Game Face
Face paint is a fervent fan's final piece of armor. These three ideas from School of Visual Arts and Design Assistant Professor Victor Davila '97 '07MFA will show the opposing team you came to play.

Get Your Spirit On
The Marching Knights provide the ultimate soundtrack to any tailgate. Before kickoff, fans can find the band entertaining in small groups in the Student Union before they converge at Knights Plaza for the March to Victory to Spectrum Stadium.
"The UCF fight song 'Charge On' always gets the crowd clapping, and 'Go Knights Funk' and the 'Black and Gold' trumpet cheer pull a good reaction from the fans," says Assistant Director of bands Dave Schreier '02 '10MA.
Here's the Marching Knights pregame schedule to make sure you don't miss a beat:
2 hours and 30 minutes Before Kickoff
Marching Knights instrument sections warm up outside the front of the Student Union.
1 Hour and 45 minutes Before Kickoff
The band marches down Memory Mall and stops to play school songs in front of Addition Financial Arena.
1 hour and 30 MInutes Before Kickoff
The March to Victory begins with Knightro, Pegasus, Knugget, the Spirit Squad and the Marching Knights leading energetic fans to the game.
20 MINUTES BEFORE KICKOFF
The band takes the field at the Spectrum Stadium to get the crowd pumped and perform its pregame show.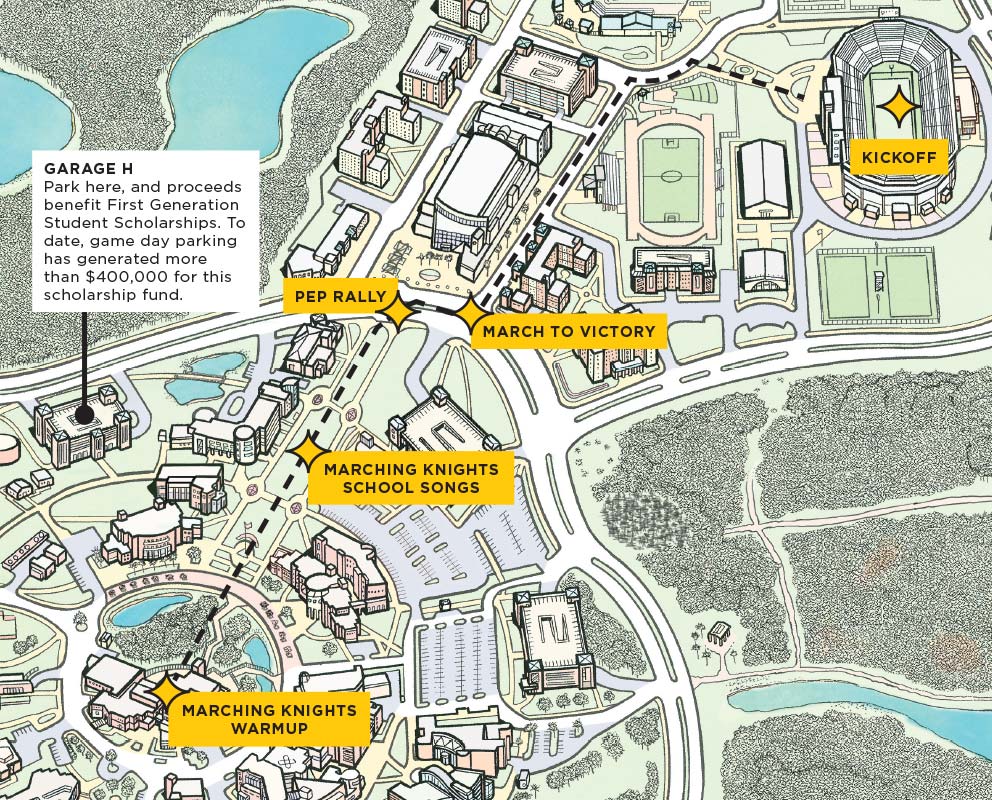 Feed Your Fans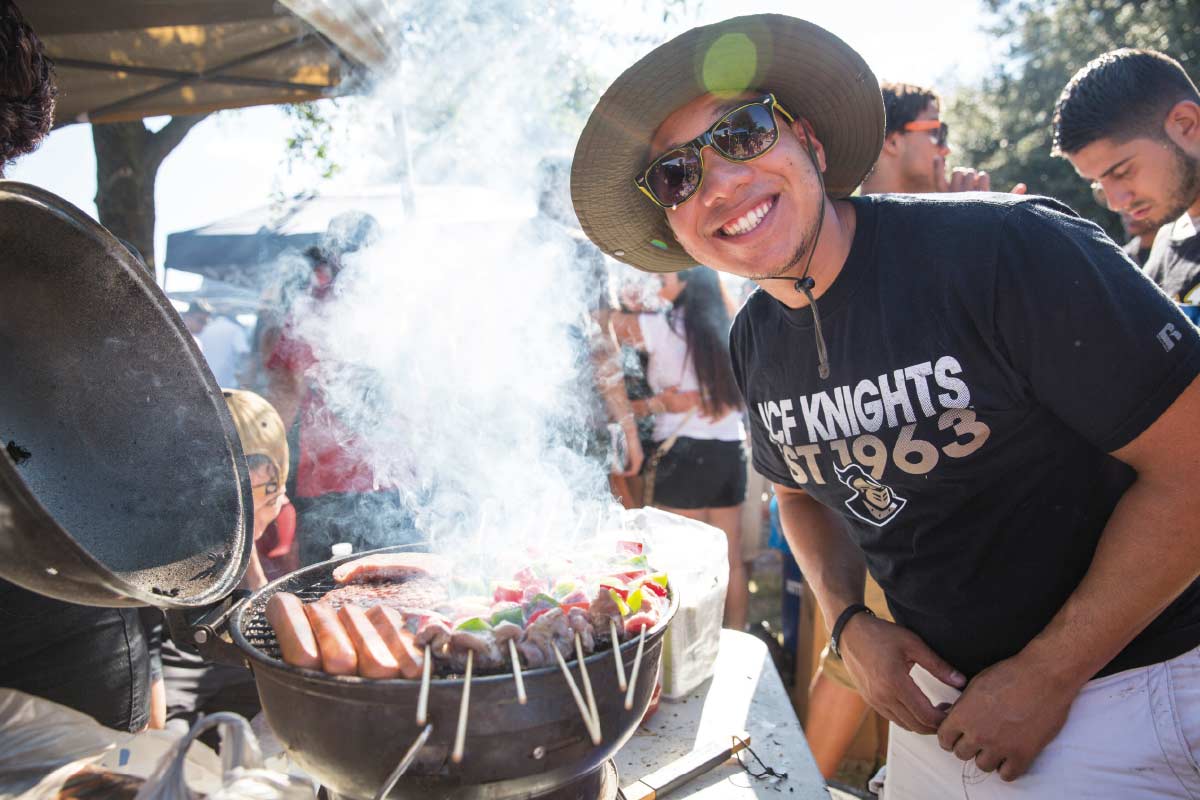 Burgers, dogs and chips are fine for other college football fans, but try these recipes from Knight chefs to charge up your guests' taste buds.
Hot Wing Sliders with Celery and Blue Cheese Slaw
Courtesy of Emily Ellyn '08 TV chef
Yields: 4 sliders
Hot Wing Slider Ingredients
2 skinless, boneless chicken breasts, cut in halves
Half a beer, preferably a farmhouse ale
7 ounces of your favorite wing sauce
3 ounces of blue cheese
2 tablespoons of butter
4 brioche slider rolls, split lengthwise
Instructions
Place the chicken breasts in a slow cooker and pour in all of the ingredients except for the butter.
Cover and cook on low heat for 5 hours, stirring periodically.
Once the chicken is fully cooked, add the butter.
Shred the meat finely with two forks.
Pile the meat onto the slider buns.
Celery and Blue Cheese Slaw Ingredients
4 celery ribs, thinly sliced at an angle
1⁄2 cup of red onion, very thinly sliced
1 tablespoon of red wine vinegar
2 teaspoons of extra-virgin olive oil
1⁄2 teaspoon of freshly grated lemon zest
1⁄4 teaspoon of kosher salt
1⁄8 teaspoon of freshly ground black pepper
1⁄4 teaspoon of celery seed
1⁄4 cup of crumbled blue cheese
Instructions
In a large bowl, combine all the ingredients except for the blue cheese and toss well.
Gently toss in the blue cheese.
Place in a refrigerator until the chicken is ready.
Pulled Pork Grilled Cheese Sandwiches
Courtesy of Mark Leggett '07 Arthur's Catering Yields: 20 sandwiches
Ingredients
1 16-ounce jar of your favorite salsa verde
40 slices of hearty bread
2 pounds pulled pork mixed with 1 cup mojo marinade
20 slices fontina cheese
8 ounces of melted butter (or your favorite substitute)
Instructions
Spread a thin layer of salsa verde on each slice of bread.
Spread warm pulled pork and add a slice of fontina cheese for each sandwich.
Brush each side with melted butter, and cook in a nonstick pan on both sides until golden.
Cut in half to serve.
Quench Your Thirst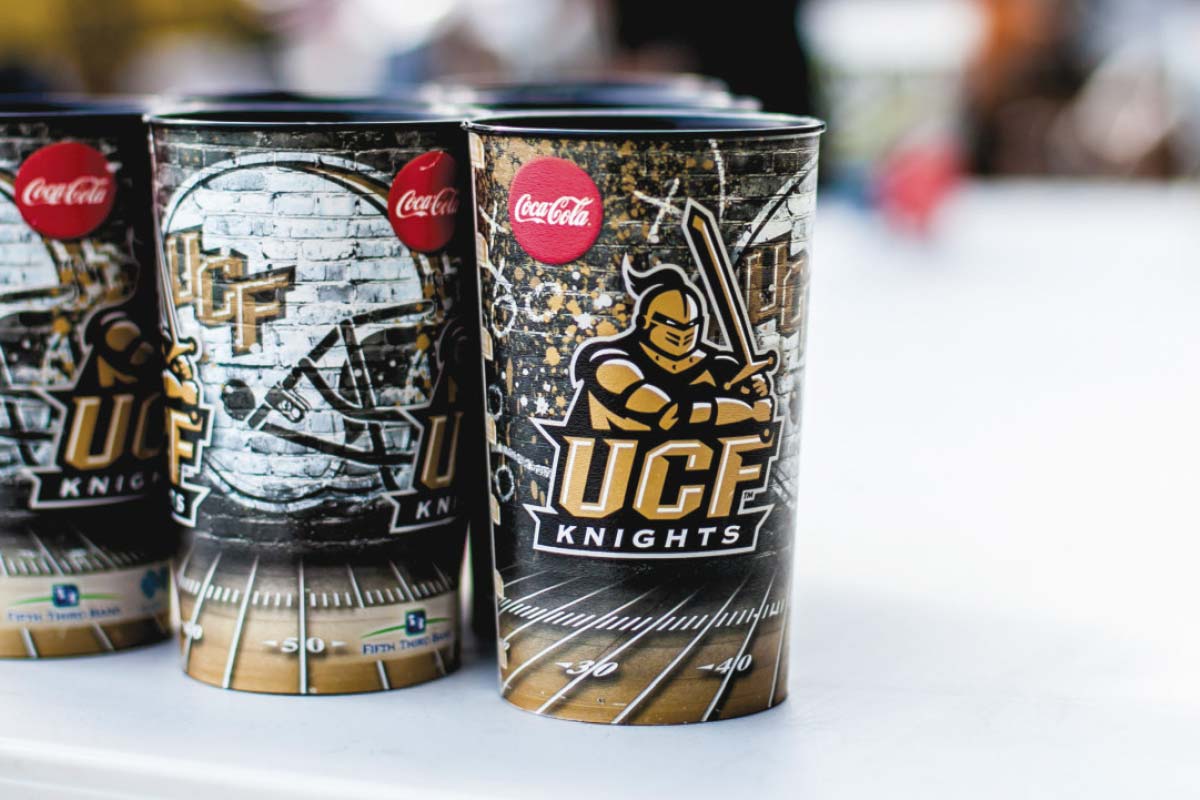 Finding the perfect beverage to complement your favorite tailgating grub doesn't have to be a guessing game. Here are some pairing suggestions from beer, wine and fine spirit expert Marissa Orlowski '16, Rosen College of Hospitality Management assistant professor.
All-Purpose Players
Homemade flavored iced tea — any bagged tea can be turned into iced tea if you brew it double or triple strength so the flavor holds up to the ice.
A classic bloody mary is perfect for an early start, and a good mix on its own served over ice is a great nonalcoholic option.
A light punch, such as a white or sparkling sangria, or an Aperol spritz is refreshing on a hot day.
Barbeque
Lemonade
Amber, lager and wheat beers
California zinfandel (not white zinfandel)
Australian shiraz
Bourbon-based cocktails (especially those with citrus or iced tea)
Burgers
Sparkling water (plain or flavored)
Amber ales, pilsners and Belgian beers Zinfandel
Hot Dogs
All beers, especially lagers
Light white wines such as riesling and pinot grigio
Zinfandel
Wings
Amber lagers and ales complement the spice.
Hoppy ales, such as American or India pale ales, enhance the spice.
Brown ales help tone down the spice.
Win at Cornhole
To dominate at popular tailgating games, there's no substitute for practice — unless you have a physicist on your team. UCF Assistant Professor of physics Bill Kaden has employed mathematical formulas to uncover the secrets of this game. "Cornhole provides a great example of physics in action," says Kaden. "While the game appears reasonably straightforward to the casual observer, a rigorously detailed physical description […] actually presents a fairly nontrivial undertaking."

1. Angle
The first thing to consider is the throwing angle, advises Kaden. Although there are some 40 disadvantages to tossing the beanbag at a 40-degree angle, it balances out in the end and allows for the highest level of accuracy.
2. Technique
Spinning the beanbag or making it skip on the board are ways to improve your odds, while also adding some flair to your throws.
3. Speed
Execute with a throwing speed that's not too fast, as such tosses are harder to control. A slower speed should significantly increase a player's odds.
Keep Cool with DIY Air Conditioning
To beat the heat, mechanical engineering grad Kevin Bauer '16 — former president of UCF's chapter of the American Society of Heating, Refrigeration and Air-Conditioning Engineers — offers a how-to guide for creating your own homemade portable air conditioning unit.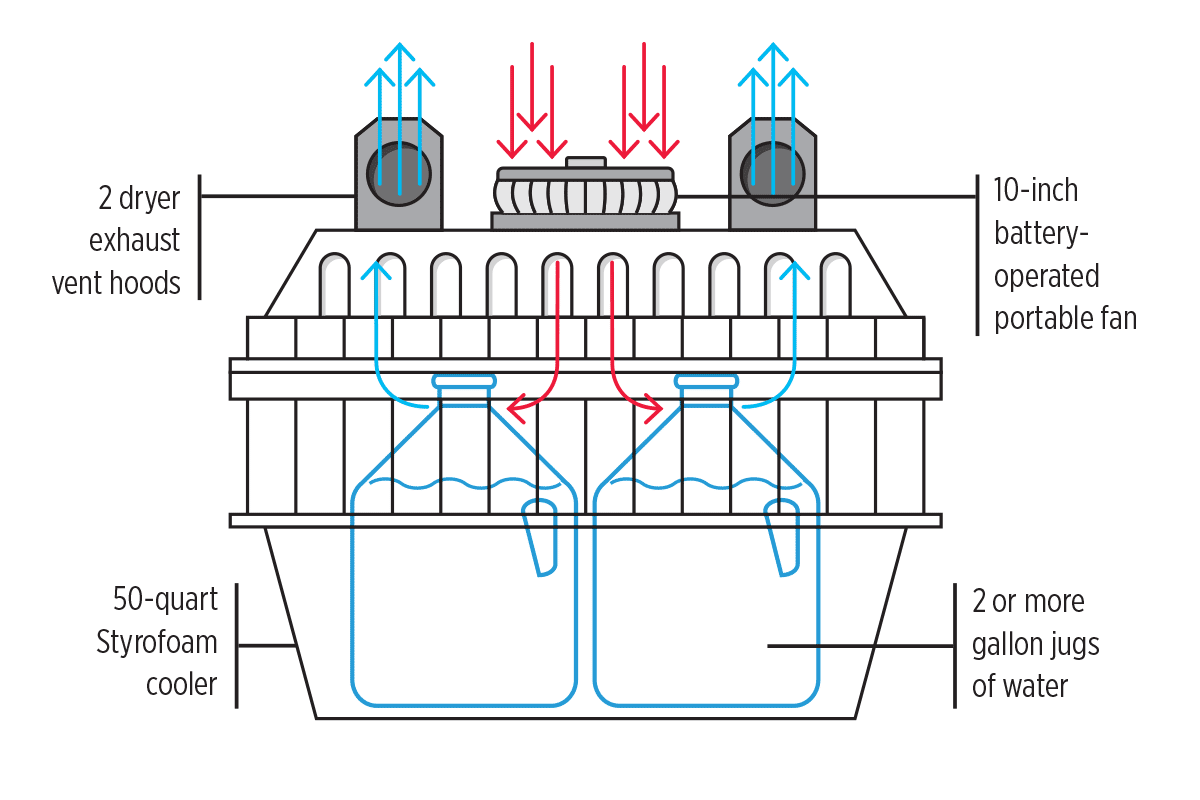 Parts
2 dryer exhaust vent hoods
10-inch battery-operated portable fan
50-quart Styrofoam cooler
2 or more gallon jugs of water
Construction
Freeze the jugs of water.
Center the fan facedown on top of the cooler lid and trace the outline.
Arrange the two dryer vents on opposite sides of the fan outline and trace each vent.
Carefully use a cutting tool to create holes in the lid using the outlines.
Place the frozen jugs of water inside the cooler.
Replace the modified lid onto the cooler.
Insert the fan facing down into the lid cutout.
Insert the two dryer vents into the lid cutouts.
Activate fan.
Adjust vents in the direction you wish to cool and enjoy.
Keep your Tailgate Green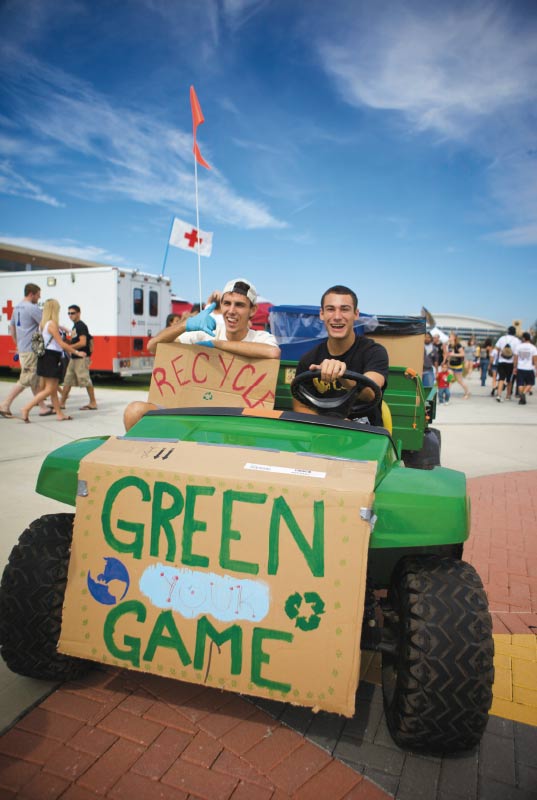 Throwing a winning game day party shouldn't penalize the environment. Make your event eco-friendly with advice from former UCF Arboretum associate director Alaina Bernard '04 '07MS and former UCF Sustainability Initiatives coordinator Alexandra Kennedy '12.
Here are ways to keep your tailgate green:
Carpool or use public transport, such as UCF's game day shuttle.
Avoid single-use utensils and buy items with minimal packaging.
Grill with propane, which is cleaner than charcoal and wood.
Buy local and seasonal food products, both of which reduce your carbon footprint.
Use solar-powered electronics.