UCF cyber defense champions infiltrate U.S. national security hot spots on a victory tour of the nation's capital.

Fall 2015 |By Mike Candelaria, '83
In April the Collegiate Cyber Defense Club @ UCF, also known as Hack@UCF, won their second consecutive championship at the National Collegiate Cyber Defense Competition. As a reward, the team and their faculty adviser were treated to a VIP tour of cyber security organizations and other landmarks in and around Washington, D.C., July 28–30. The visit, hosted by competition sponsor Raytheon, included private guided tours of places few U.S. citizens are allowed, such as the U.S. Secret Service James J. Rowley Training Center and the National Security Agency/Central Security Service National Threat Operations Center. For the aspiring cyber defense professionals, the experience offered a glimpse into their future careers.
Here are the highlights:
---
White House, Washington, D.C.
"My highlight was talking with members of [President] Obama's executive board. It was great to represent the perspective of young people. … We were treated pretty special. People really feel like UCF has some crazy cyber talent. They all think we're going to repeat [the national championship] again."
— Kevin Diclemente, '15
---
National Security Agency Headquarters, Fort Meade, Maryland
"Not only were we invited inside, but we also got a sneak peak of some of the fascinating projects. … We definitely had time to share our ideas on cyber-related issues. We also had a very engaging discussion with Raytheon about why students might be driven more toward the private sector before considering [a career] in the public sector, based on our own experiences in being recruited. … Here we were talking with a huge defense contractor about how our government could improve recruiting efforts to obtain great talent, fresh eyes and brilliant ideas directly from our nation's colleges and universities."
— Jason Cooper, '15
---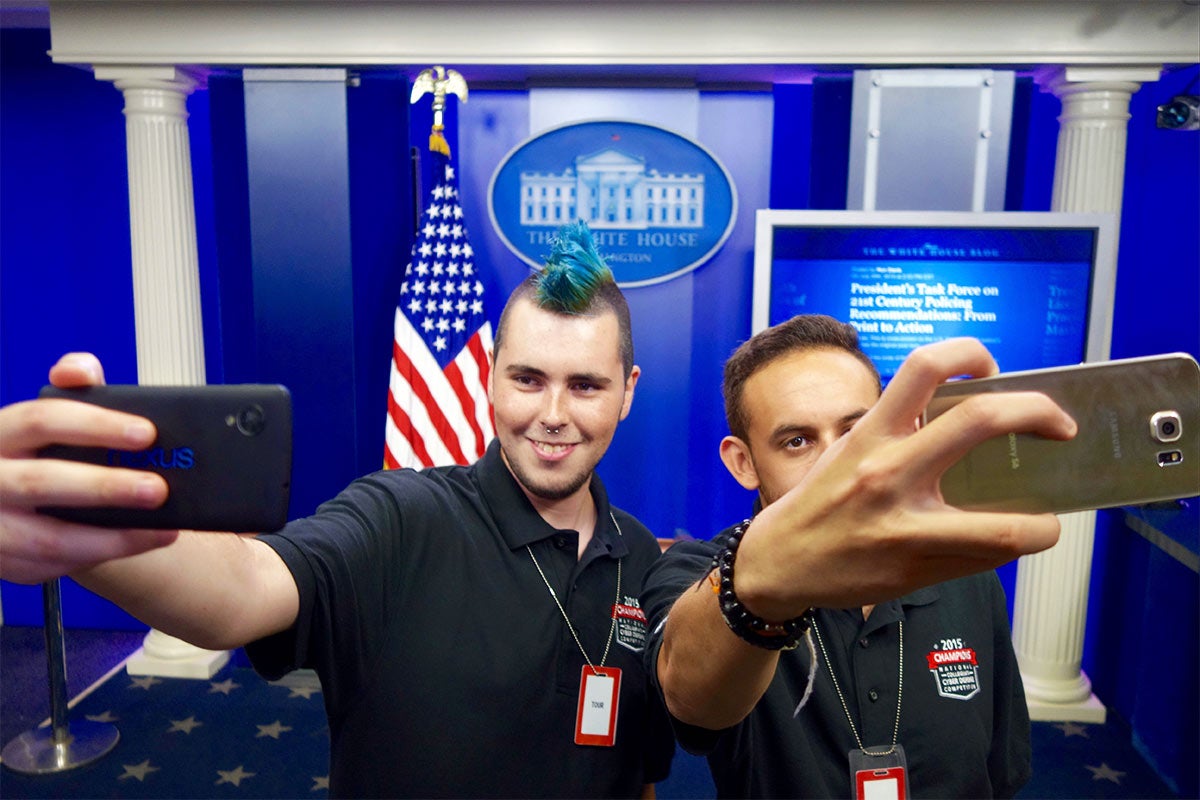 Image courtesy of Raytheon
On their summer victory tour, Hack@UCF teammates Alex Davis and Andres Giron-Arias take selfies in the James S. Brady Press Briefing Room during a White House West Wing tour.
---
National Cryptologic Museum, Annapolis Junction, Maryland
"This was a once-in-a-lifetime opportunity that many of our team members and I have been able to do twice. We went on tours the general public isn't able to go on. We were only there about an hour and a half. I really wished we could have stayed six hours, looking at all the exhibits. Everything possible in the history of cryptology is captured there — encoding in World Wars I and II, obviously before computers. The exhibits go all the way up to the Internet challenges of today."
— Tom Nedorost, Hack@UCF Faculty Adviser
---
NSA/CSS National Threat Operations Center, Washington, D.C.
"When we went to the National Threat Operations Center, we were told it was the first and only unclassified briefing ever given at that office. … Everywhere we went it was impressed upon us how critical cyber security is to the security of the United States. Not just to the military — to all people. It's a major economic problem, and going forward, [it] will be a physical problem because everything has a computer in it."
— Shane Welch, UCF Information Technology Program Junior
---
U.S. Secret Service James J. Rowley Training Center, Laurel, Maryland
"My biggest surprise was seeing someone in a UCF hat. He turned out to be a UCF grad. It made the world feel pretty small. … No name-divulging. What happens in D.C. stays in D.C."
— Kevin Diclemente