UCF's student cyberdefense warriors hit the nation's halls of power last week, with VIP tours of the White House and the U.S. Capitol and meetings with top cybersecurity officials.
The trip was one of the rewards for members of the Collegiate Cyber Defense Club @ UCF who competed in the National Collegiate Cyber Defense Competition in April. They beat nine other teams to become national champions for the second year in a row.
The computer science and and information technology students from the College of Engineering and Computer Science were treated to a three-day visit that included a tour of the West Wing of the White House and a VIP tour of the Capitol led by U.S. Rep. John Mica, R-Winter Park. They also visited the National Security Agency, the National Cryptologic Museum at Fort Meade, Md., the campus of Raytheon in Dulles, Va., and the Defense Cyber Crime Center, among other spots.
Along the way, they met with top cyberdefense experts from President Obama's staff, the Department of Homeland Security and private industry.
The trip was paid for by Raytheon, the competition's main sponsor.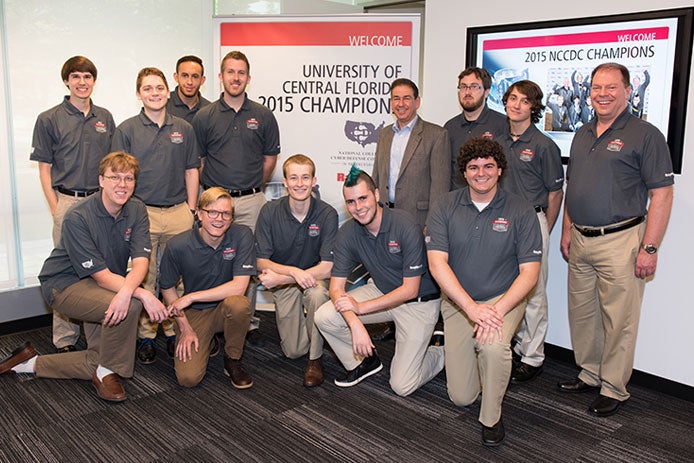 UCF's winners of the 2015 National Collegiate Cyber Defense Competition and their coach, UCF lecturer Tom Nedorost, visit the campus of Raytheon.

The club, also known as Hack@UCF, was created in 2012 by students who wanted to compete in regional and national cyberdefense competitions. The competition organized by the Center for Infrastructure Assurance and Security is the largest of its kind. Ten regional contests around the country included roughly 200 teams consisting of more than 2,400 students. One winning team from each regional moved on to take a shot at the national title.
The competition is sponsored by major companies and institutions with a vested interest in network security, including the Department of Homeland Security, National Security Agency, U.S. Army Intelligence and Security Command, U.S. Space and Naval Warfare Systems Command, Amazon, Walmart, McAfee, Goldman Sachs and more.
During the tour, Mica announced Raytheon's $25,000 donation to the UCF Foundation's Raytheon Endowed Scholarship fund, bringing the company's total gift to $50,000 in one year.
Read Raytheon's full story here.