The President's Student Advisory Council is composed of diverse undergraduate and graduate students that include representation from various councils, coalitions and boards, as well as the general student body.
Black Student Union
Juntos Council
Asian Pacific American Coalition
Graduate Student Association
Pride Student Association/Lavender Council
International Student Association
Jewish Student Federation
Union of Muslim Organizations
Student members at large are identified by a selections process facilitated by the Office of the President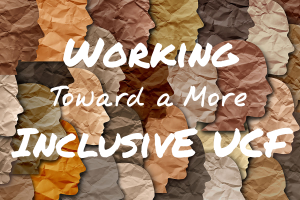 Selection Process
Each academic year, the diverse councils will identify one representative to serve for one year (August-July). Students must be present at monthly meetings and pre-planning or pre-session meetings. Applications for the at-large representatives will be facilitated by the Office of the President. Selection will occur at the start of each academic year and replacing members will occur when deemed necessary by either the student organization or the Office of the President.

Qualifications & Participation
Strong interest and willingness to share thoughts and ideas on various topics
Demonstrated commitment to the University of Central Florida vision, mission and values
Ability to commit to a one-year term (start of fall semester through the end of summer semester)
Ability to attend three meetings per semester (1.5 hours; dates/times TBD)