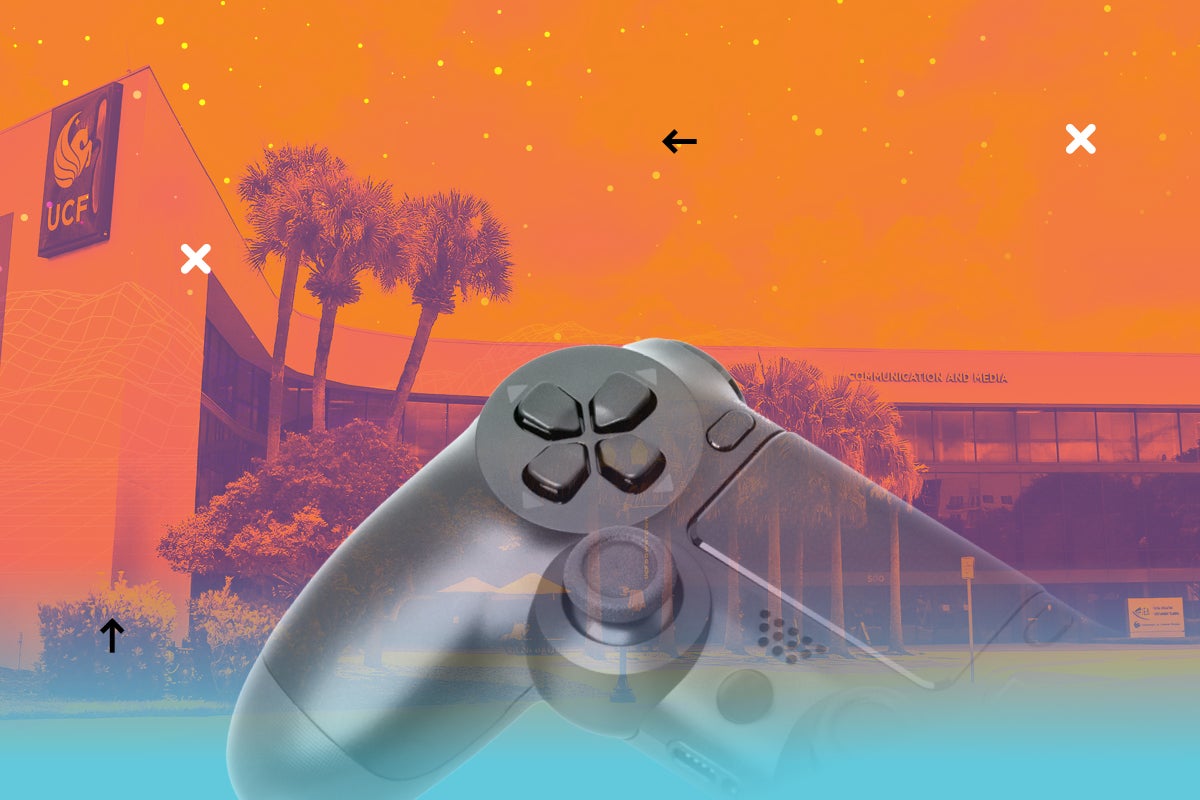 The story behind how UCF's Florida Interactive Entertainment Academy grew into an industry game changer.
Fall 2021 | By Jenna Marina Lee
In 2006, Matt Laurence '07MS was fresh out of college with a psychology degree pondering his next move when he got an email from his mother that changed his career trajectory.
A lifelong fan of video games — but admittedly not a natural at computer programming or art — Laurence had given up hope of pursuing his true passion of a career in the gaming industry. And then his mother's forwarded email about a new graduate program in Orlando called the Florida Interactive Entertainment Academy (FIEA) mentioned a third track outside of programming and art: production.
"I thought, 'I can do this!' It changed the whole course of my life," says Laurence, who since graduating has helped produce mobile games, including the Angry Birds series, and now serves as the engagement director at Embark Studios in Stockholm. "I got a job before I even graduated. All the cool things I've gotten to do are because of this career, and the only reason I have this career is because of FIEA."
What started out as 12 trailblazing students in a building still under construction has blossomed into the anchor of the Creative Village in downtown Orlando. FIEA now has over 800 graduates hired by over 300 companies globally and is known as the top graduate game design program in the world.
More than that, FIEA has delivered on a promise it made from the start: to develop a pipeline of talent to fuel Florida's economy into the 21st century and beyond.
---
No.1 Graduate Video Game Design Program
---

"Just Imagine Walls"
When you walk into FIEA's home at the Communication and Media Building downtown, you're greeted by shelves of glossy covers of video games that alumni have collaborated on. The area has both dedicated spaces that encourage creative thinking and camaraderie as well as workstations stocked with high-end laptops and monitors for each student. There are displays celebrating where FIEA students hail from and the companies they've gone on to land jobs at.
It's hard to believe that these same hallways once housed livestock and agriculture equipment for the state fair.
FIEA was born in 2005 out of a charge by Florida's then-Gov. Jeb Bush to create high-wage jobs and a pool of local talent to fill said jobs. Video game developers' salaries range between $75,000 to $150,000 annually, according to ZipRecruiter, in an industry that reigns as "a bigger moneymaker than the global movie and North American sports industries combined," according to a 2020 MarketWatch article.
Revenue in the video game industry, which surged during the pandemic, is expected to surpass $200 billion by 2023.
Ben Noel was recruited from Electronic Arts (EA) to help pioneer the endeavor and has served as FIEA's executive director since the beginning. He says he was particularly passionate about jumping on board because he wanted to help create something meaningful for the community he grew up in.

"The best lessons are learned through working with people and failing with people."

Matt Laurence '07MS
"I've always been proud of Central Florida and Orlando, but I didn't want my kids to have to do what I did after I graduated college," Noel says. "I had to leave [the state to start a career], so that was the driving force — to build great jobs for the future. This area has always been a great place to live. Now it's a great place to grow up and live and work and retire."
Noel, who was hired in the spring of 2005, had the tall task of creating a curriculum, recruiting faculty and students, and building FIEA literally from the ground up by the time school started that fall.
"We said, 'We'll stay and do this if we can find 12 people,' " Noel says. "There were still studs going up when we toured the first 12. We said, 'Just imagine walls.' They are still 12 of our favorite students."
That first class of 12 turned into 17, then 31, then 50. Now, Noel says 150 aspiring FIEAns are competing for 75 spots offered each fall term for the 16-month master's degree program in the Nicholson School of Communication and Media held at its state-of-the-art facility at UCF Downtown.
As for the faculty and staff, Noel was initially joined by five other EA employees, including Tom Carbone '13MS '18PhD, who had served as one of the lead programmers on Madden NFL.
They knew they needed people from the industry to do this, and what makes our program better than other programs is our curriculum and the fact that it's being taught by former industry people," says Carbone, who recently left FIEA after 15 years for a general manager position at Iron Galaxy Studios.
Carbone was accustomed to onboarding new hires at EA, so he had an idea of where novice video game developers struggled or shined. He built a curriculum based on those skill sets and his own experience building games, and he coupled it with the same technology and tools that industry professionals were working with.
The faculty at FIEA also insisted on a key element in structuring the program that they point to as the special sauce that has led to FIEA's meteoric rise and success.
"I knew what most schools lacked," Noel says. "If Ringling [College of Art and Design] started a game program, it would be very art heavy. If MIT started a game program, it would be very computer science heavy. So as we were building this from scratch, we focused on making FIEA one-third art, one-third production and one-third programming. To do something significant, you've got to work on teams, and that is what our students do here."
That's why every year, FIEA students work in interdisciplinary groups of 15 to 20, mimicking a game developer team in the real world, to create a video game as a capstone project.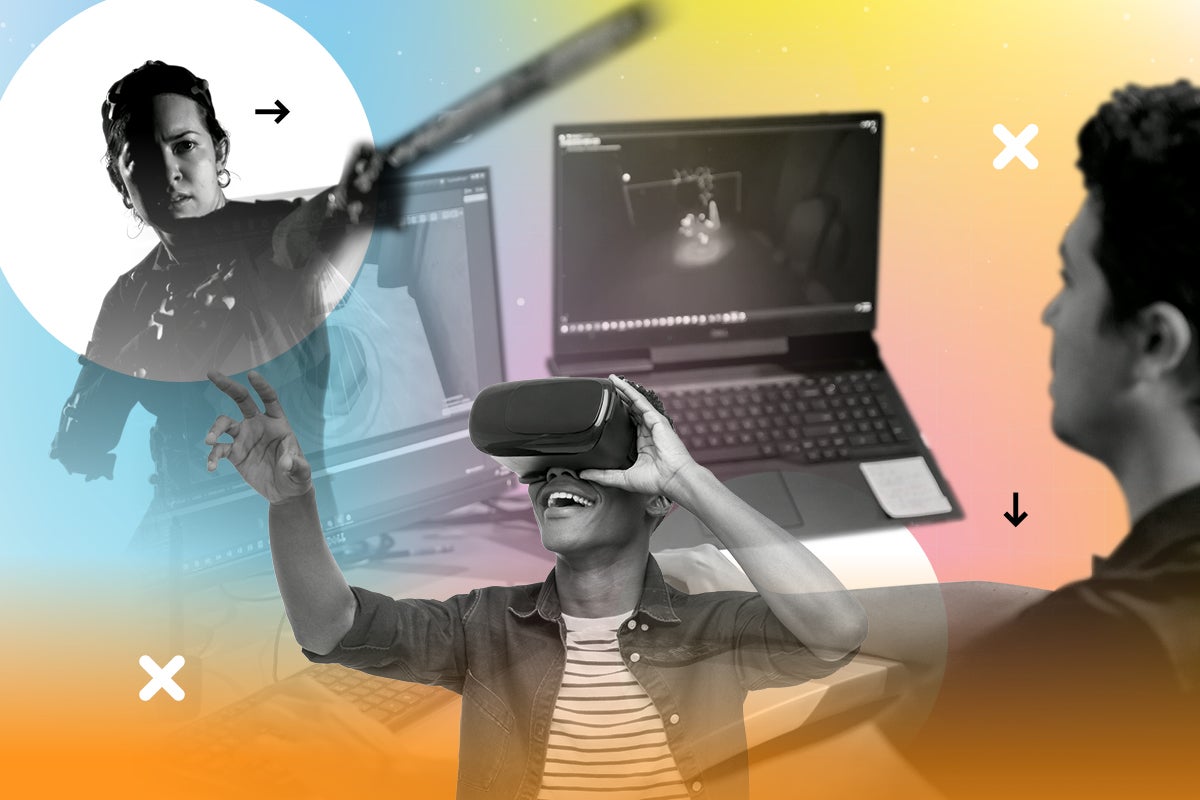 By the time the project is done, Noel says, each member of the team will have learned invaluable skills that help prepare them for the workforce — from delivering presentations to communicating with teammates to enduring through all the inevitable trials and speed bumps a project faces.
"The best lessons are learned through working with people and failing with people," Laurence says. "There was this general sense when I was a student there that what you're learning about is what it's going to be like in the industry to the point where it wasn't surprising when I got into it. It gave me that nice mix of experience and understanding, as well as industry connections, and that can't be overstated — it really matters who you know, and people who work at FIEA know people in the industry."
As FIEA's reputation and brand have grown, industry professionals have noticed the talent coming out of the school. Iron Galaxy, EA and Epic Games are the top three employers of FIEA alumni.
"FIEA has become a major source of talent for our EA Sports development studio in Orlando, and we've watched many graduates grow to become industry leaders," says Daryl Holt, vice president and general manager for EA Tiburon and EA SPORTS Austin and Madrid. "Having the opportunity to collaborate closely with FIEA leadership since helping establish the program, we know FIEA students are graduating with skills on the cutting edge of our competitive industry and are confident in their ability to integrate with our teams quickly upon hiring."

Not Just Games
But it's not just the gaming companies that have eagerly hired FIEA graduates.
Carbone explains that the skills being taught at FIEA align perfectly with what Orlando is known for: modeling, simulation and training.
"They're such marketable skills — the same interactive production that our students are learning to make a game like Madden is the same process that they use at Lockheed Martin," Carbone says.
Early in his time at FIEA, he noticed some of the students were gravitating toward jobs in the modeling, simulation and training sector despite the fact that FIEA's courses focused strictly on the gaming industry. He thought, what if we encouraged them?
---
No. 14 Undergraduate Video Game Design Program
---
So he created a course called GameLab in which students develop games for nontraditional applications, such as medical simulation, education and research.
Not Suspicious — a virtual reality research and development studio created by UCF grads — got its early start in GameLab, as well as another course, Rapid Prototype Production (RPP), where students have to produce a new prototype every two weeks.
Rafael Brochado '18MS moved to Orlando specifically for access to its virtual/augmented reality industry, which he says was nonexistent in his home country of Portugal. During RPP and GameLab, he built a VR prototype that he named Tablecraft, which allows users to extract atoms from objects in their environment and then put those atoms back together to craft other objects.
Brochado liked the project so much that he continued to develop it with fellow FIEAns Guillaume Bailey '18MS and John Ruiz '18MS. This year, Tablecraft received funding from the U.S. National Science Foundation's Small Business Innovation Research program.
"FIEA and UCF were very supportive of my goals," Brochado says. "They offered me financial support, gave me access to the hardware I needed and gave me the freedom to experiment."
The team has had the opportunity to showcase and talk about their work and research at the John F. Kennedy Center for the Performing Arts in Washington, D.C., and the Department of Education's Institute of Education Sciences.
Later this year, they plan to launch an online initiative that they intend to become a set of open-source guidelines for how to best deploy virtual reality technology in classroom settings.


Future of FIEA
In March, FIEA's graduate program was recognized by The Princeton Review and PC Gamer magazine as the top graduate game design program in the world for the third time in the last six years. Additionally, UCF's undergraduate game design program, which is also housed at UCF Downtown, ranked No. 14.
As tomorrow's developers are being built today at UCF, FIEA is committed to remaining on the forefront of the field. And that starts with tapping talent early.
Noel frequently visits the OCPS Academic Center for Excellence (ACE) school — which serves pre-K through eighth graders — in the nearby Parramore neighborhood to talk about the importance of STEAM education and to plant the seed of what's attainable.
"All the kids go crazy when I bring up Madden football," Noel says. "I say, 'Do you know where Madden football is made?' And they all say, 'Yeah, EA Sports.' I say, 'Do you know where it's physically made?' And they kind of give me blank stares. And I say, 'In Maitland, and soon it's going to be across the street from you here.' And their eyes just light up. It's about showing them and their parents the pathway, and that this is possible for them. It's reachable."
In October, EA moved its Florida headquarters from Maitland to the Creative Village. You can see the building from the sidewalk in front of UCF's Communication and Media Building, where FIEA is located.
Holt expects that the proximity to its longtime partner will only lead to greater things ahead.
"While we have kept a close watch on the evolution of the Creative Village's development, the establishment of UCF's downtown campus was a very positive influence in our decision-making [to move]," Holt says. "We have a lot to learn from each other, and collaboration will only become easier and expand when our team is located right next door."
That partnership and collaboration strengthened in July when EA announced an initial investment of $100,000 to establish the EA Inclusion in Gaming Endowed Scholarship at UCF in an effort to empower students from diverse backgrounds.
When Noel served as chair of the original city of Orlando Creative Village task force in the early 2000s, he envisioned just how transformative it could become. He says today's reality has not only met his expectations; it's exceeding them.
With EA's relocation and Iron Galaxy located less than a mile from FIEA's home base, Orlando is quickly becoming the place to be, encroaching on the territory that has for so long been held by San Francisco, Seattle and Los Angeles.
"The key is to be ready when those next companies that are maybe competitors to EA say, 'We can't avoid the Orlando market because there's too much game development going on,' " Noel says. "I think it's important for us to stick to our mission. We're here to develop high-wage job earners to fuel our economy. At the same time, we're looking at how do we take this talent and diversify it into medical simulation and military simulation and education, VR type of training? It's important that we stay on the cutting edge."