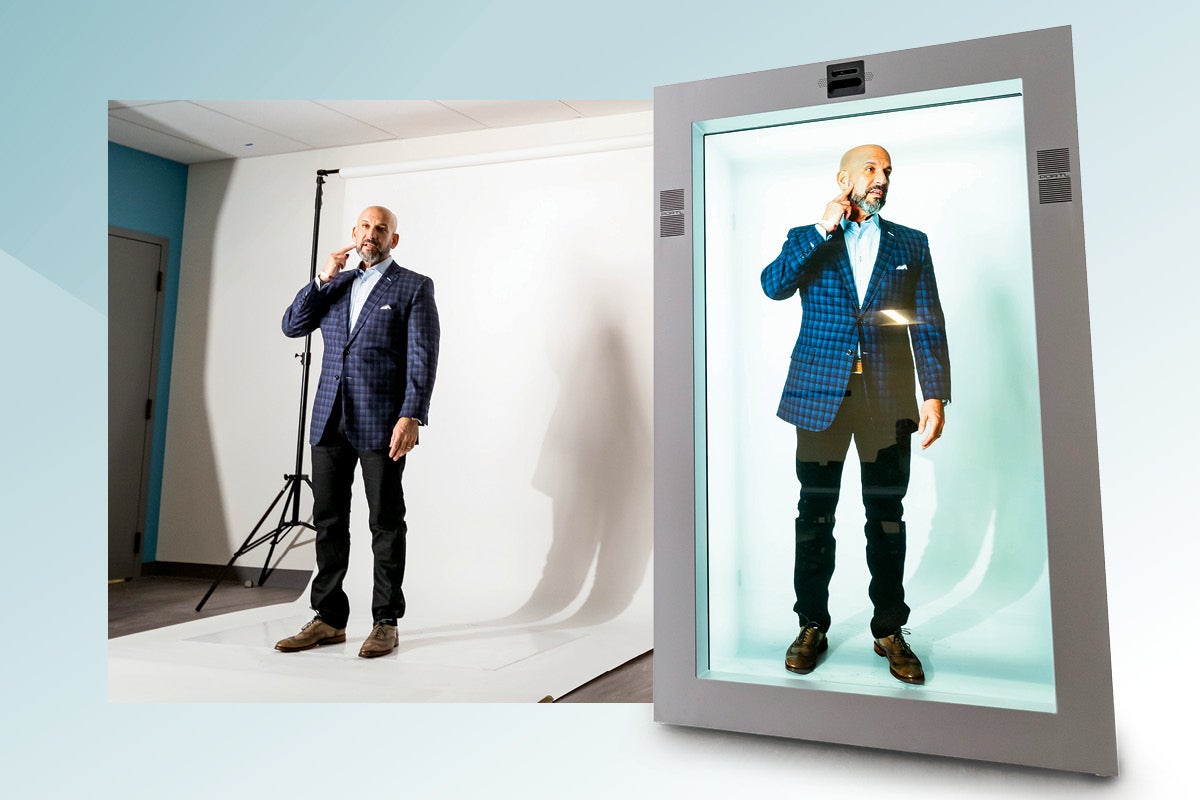 Cutting-edge hologram technology is helping train UCF's future healthcare professionals.
Fall 2021 | By Carol Stinnett '08
Holograms are no longer the stuff of science fiction. Now, they have the capability of improving our well-being by changing the game in healthcare education.
UCF's College of Health Professions and Sciences is leading the way in using hologram technology to train future healthcare professionals with a new device that allows students to interact live with holograms or through prerecorded content. Nicknamed Dr. Hologram — the patient simulation tool created by PORTL — students receive lifelike patient interactions, without a patient ever actually being present.
UCF was able to acquire the device thanks to a gift from Brooks Rehabilitation. The hologram technology introduces students to a variety of patients to hear their stories, observe their symptoms and facilitate a human connection.
"By introducing students to a wide variety of patients — especially those with rare conditions — they're more likely to identify those, help an individual get to diagnosis quicker, get treatment and ultimately improve their quality of life," says Bari Hoffman '96 '98MA, associate dean of clinical affairs at UCF's College of Health Professions and Sciences.
HOW IT WORKS
A New Dimension
Students learn by assessing patients with varying conditions that support the material they are learning in class. The technology offers both live and prerecorded experiences that are displayed using a human-size 4K volumetric resolution.
"PORTL allows us to have patient experiences without being in the same place," says Amardeep Singh '19, a physical therapy doctoral student. "It also adds a layer of safety, especially during COVID-19, for patients and students."
Complete Picture
Today, a class is meeting with a hologram of a child with a rare genetic condition called Angelman syndrome. This provides students with an opportunity to perform a cognitive screening and get a complete picture of the patient through high-quality images. While examining the child through 3D imaging, students view spasticity — muscle tightness and stiffness — and hear speech patterns, among other characteristics of the condition. The hologram also allows them to pick up on nonverbal cues that could be missed with tools that have a limited view, like a video conference call.
Cutting-edge Clinical Practice
Currently, the lifelike hologram technology is being utilized by various disciplines, including speech-language pathology, physical therapy, athletic training and clinical social work, and additional programs will be added in the future. This fosters hands-on, interprofessional learning, which prepares students with practical experience in working on a healthcare team.
"This has revolutionized the way we visualize patients," says Singh. "Instead of reading about conditions in a book or seeing a flat image on a screen, we're now able to use 3D-holographic images to examine the whole body. Plus, it provides us with real-world experience — interviewing patients, asking questions and knowing what questions to ask — which helps us become more comfortable in different situations and will improve quality of care."
Improving Lives
In addition to providing simulated patients, the device allows UCF to advance the health and well-being of communities both locally and nationally. The technology's ability to reach patients virtually and in real time will expand access to quality healthcare for more people, including residents in rural areas where in-person care is often not feasible. The university also plans to host virtual case studies where experts from around the world will present their patients using the 3D technology.