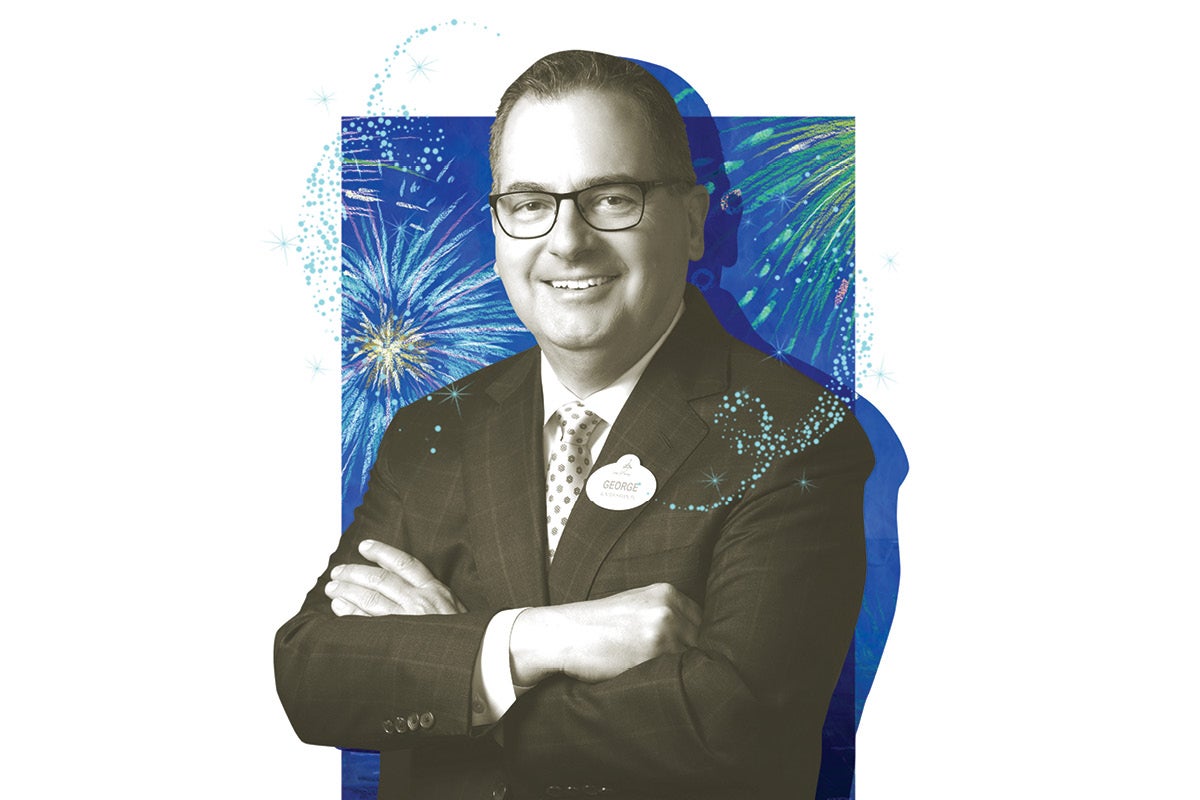 Why I Still Believe in Magic
George A. Kalogridis '76 shares his journey of helping Walt Disney World open its doors 50 years ago as a busboy to eventually rising as one of its top executives.

Fall 2021 | By George A. Kalogridis '76
It was the summer of 1971. The traffic of I-4 was a distant hum as I stood in a huge, meandering line, wending its way toward a temporary building at the far end of a dusty field.
It was hot, the few cabbage palms providing no usable shade, and I fanned myself with the interview appointment postcard Disney had mailed me. When I'd received it, getting a job had seemed like a sure thing. After all, thousands of people were needed to run the new resort that everyone in Central Florida simply referred to as "Disney World."
But, in making small talk with the people in line, I discovered that they were literally rocket scientists who had worked on the Apollo space program.
I was 17 years old with a diploma from Winter Haven High School. My competition for the job had recently sent a man to the moon.]
All of a sudden, that sure thing didn't seem nearly as certain.
Yet, despite the seemingly plummeting odds, I was hired to bus tables at the Contemporary Resort Hotel. I was sure my time with Disney would be brief: I needed a job to work my way through earning a sociology degree at Florida Technological University (soon to become UCF).
My assumption was that once I had that degree, I would be off to find my place in the world.
Little did I realize I'd already found my place.
Over the decades, I have held roles on two coasts and two continents, serving in a broad variety of capacities — from food and beverage, resorts, human resources and reservations to theme park and site leadership, boutique travel and corporate education. Yet, the only time I have ever interviewed with a new company was that long-ago summer of 1971.
Since then, in an ever-evolving myriad of forms, Disney has been home. Of course, there is a reason Walt Disney World is known as "The Most Magical Place on Earth." Watch one of the resort's nighttime spectaculars, journey from country to country in EPCOT's World Showcase, or stroll through the bioluminescent forests of Pandora: The World of Avatar, and you cannot help but feel that you have been transported to a further realm of imagination.
Early one morning, when we were building Star Wars: Galaxy's Edge at Disney's Hollywood Studios, I was observing construction progress when I turned a corner and there — not 100 feet away — sat the Millennium Falcon. It took my breath away in an instant — it was that sort of experience.
Children frequently get their first haircut at Magic Kingdom, even say their first words there. People fall in love, get engaged and get married there. It's the place you visit to celebrate a new job. It's the place you dream of coming to when you retire.
I have letters from some in the military who tell me they listen to the music of the parks as they drift off to sleep in tents or bunkers overseas. Walt Disney World is their ideal image of peace, normalcy and the company of loved ones.
That is the Disney magic that everyone knows.
If you are lucky enough to play a role in it, there are other levels of magic that only a "cast member" would know.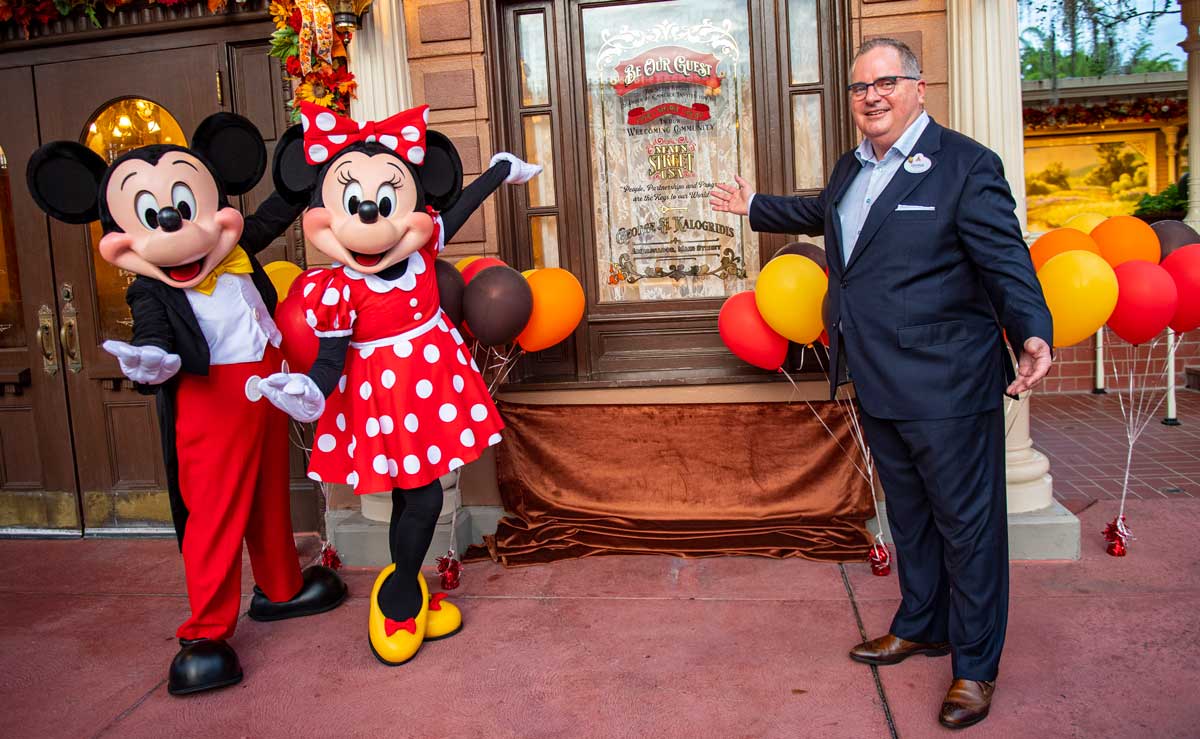 A few weeks ago, Disney commemorated its 50th anniversary in Central Florida, and I too celebrated that golden milestone, most of it in and around The Most Magical Place on Earth.
Prior to the festivities, Disney leadership awarded me a window on Main Street, U.S.A. — the resort's highest honor, traditionally conferred only after retirement. But, as the company had designated me as the official global ambassador for the resort's 50th anniversary, they wanted my name visible to every guest entering Magic Kingdom, even though I'm still quite active in my role.
That was an emotional moment for me that I will never forget. Experiencing that honor provided an opportunity for me to reflect back on all of the incredible cast members and leaders I have had the great fortune of working alongside as we hosted millions upon millions of guests for half a century.
They are the reason I still believe in magic after 50 wonderful years with Disney.
---
George A. Kalogridis '76 is the president of Segment Development and Enrichment for Disney Parks, Experiences and Products. He has served in a wide variety of Disney executive roles and is best known as a former president of both the Disneyland Resort in California and Walt Disney World in Florida.