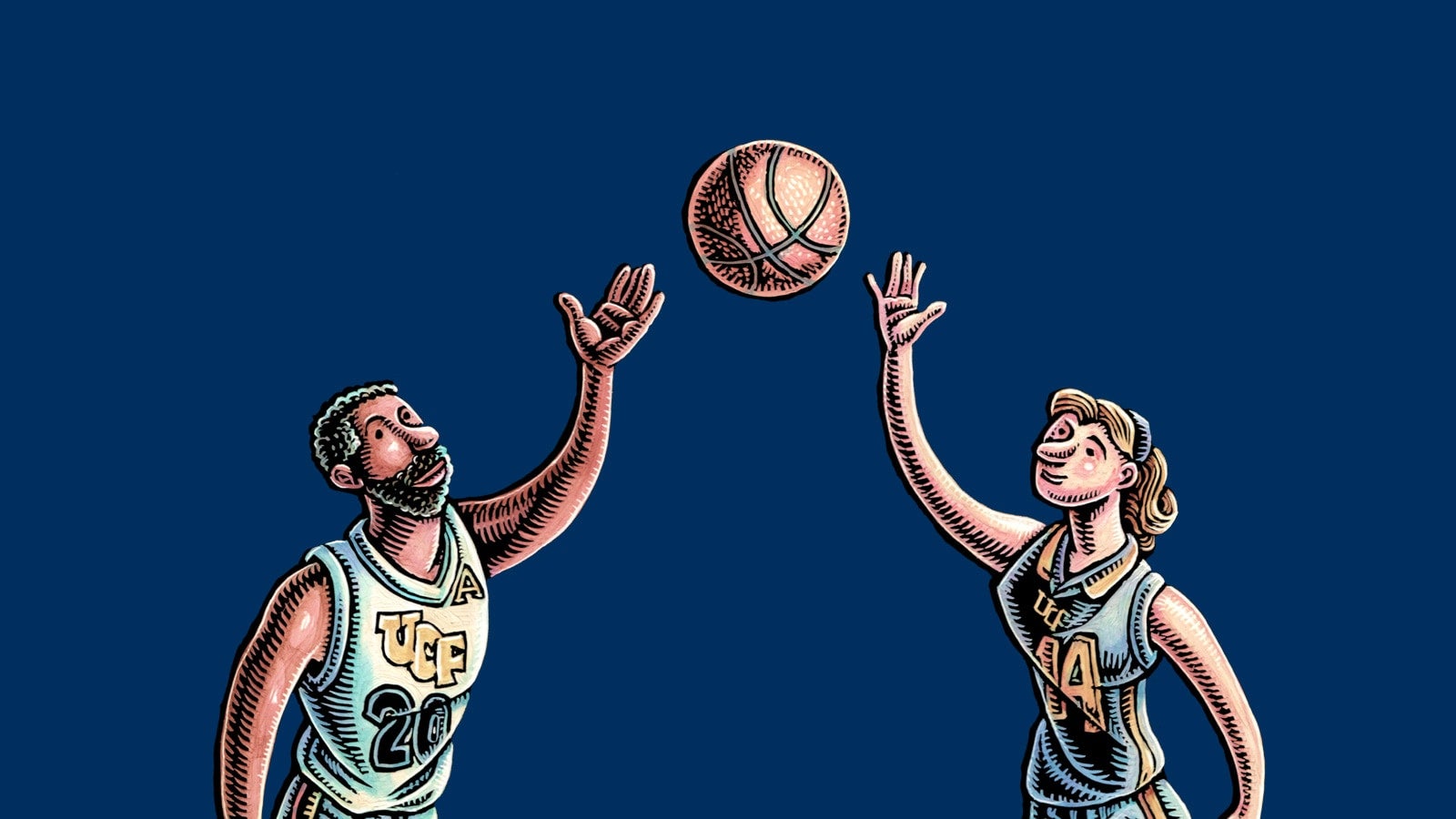 For more than 30 years, the Racial and Gender Report Card, produced at UCF, has held sports organizations accountable for their hiring practices.
Fall 2020 | By Jenna Marina Lee 
Athletes have a long history as advocates for equality and social justice. John Carlos and Tommie Smith raised their fists for Black rights on the victory podium at the 1968 Mexico City Olympics. Muhammad Ali refused to serve during the Vietnam War. The U.S. Women's Soccer National Team demanded equal pay. Colin Kaepernick kneeled in protest of racial inequality.
When the Milwaukee Bucks forfeited Game 5 of their Eastern Conference playoff series with the Orlando Magic on August 26 in protest of the shooting of Jacob Blake, it caused a ripple effect of canceled games throughout the professional leagues unlike anything witnessed before.
"This may be the most important social justice statement by sports in half a century," penned Richard Lapchick, UCF director of the DeVos Sport Business Management program, in an Orlando Sentinel op-ed.
For all of these watershed moments, there are decades of unrelenting work behind the scenes that have led to improvements. That's where Lapchick — an internationally recognized expert in the field of race and gender issues in sport and a pioneer in his own right in the fight for human rights and racial equality — comes in.
One of his most effective tools for enacting change at a fundamental, institutional level has been his acclaimed Racial and Gender Report Card, which he began in 1988.
Compiled by graduate students in UCF's DeVos Sport Business Management program and published annually by The Institute for Diversity and Ethics in Sport (TIDES), the report card examines the racial and gender makeup of players, coaches and staff in America's professional sports organizations, including the NBA, NFL, MLB, MLS and WNBA. This year, the NHL announced it would partner for a private, internal analysis after taking a 20-plus-year hiatus, and discussions are also being held with NASCAR and the tennis associations.
"The report card illuminates very clearly the gaps in representation across all sports and the work that has to be done."

Oris Stuart, NBA chief people and inclusion officer
When Lapchick started publishing these report cards, his mission was to put pressure on the leagues to hire more women and people of color in decision-making roles. Back then, leagues weren't keen on the project and rarely cooperated. Now, he has sports organizations requesting analyses.
"The report card illuminates very clearly the gaps in representation across all sports and the work that has to be done," says Oris Stuart, the NBA's chief people and inclusion officer. "I can't tell you how many people I've had the privilege of talking to who are familiar with the Lapchick report and are not scared away by those gaps. They want to be part of the solution."
The leagues are held to the same standard as Lapchick's graduate students at UCF — anything below a B is considered a failing grade. The NBA and WNBA are the standouts among their peers for both gender and racial inclusion. Although the other leagues did well in 2019 in racial inclusion, gender grades still need to improve dramatically.
Lapchick says the greatest reward in cultivating the reports, which take about two months to complete, has been watching the grades improve steadily. He envisions a future of straight-A's across the board.
"When I started getting involved in diversity and inclusion 50 years ago, diversity, we argued, was a moral imperative, and that kind of fell off the table as diversity became a business imperative," Lapchick says. "I think what happened this year is that we are once again talking about diversity and inclusion being a moral imperative as well as a business imperative."
Although the institute doesn't compile race and gender report cards on individual college athletic departments yet, it did complete a special report card in 2017 in honor of the 45th anniversary of Title IX. That special report examined the Power Five conferences (SEC, ACC, Big Ten, Big 12 and Pac-12), Big East, Ivy League and American Athletic Conference.
UCF was the only school in the country to earn an A grade for racial and gender hiring practices of head coaches across women's teams.
"I am definitely working in the right place," Lapchick says.