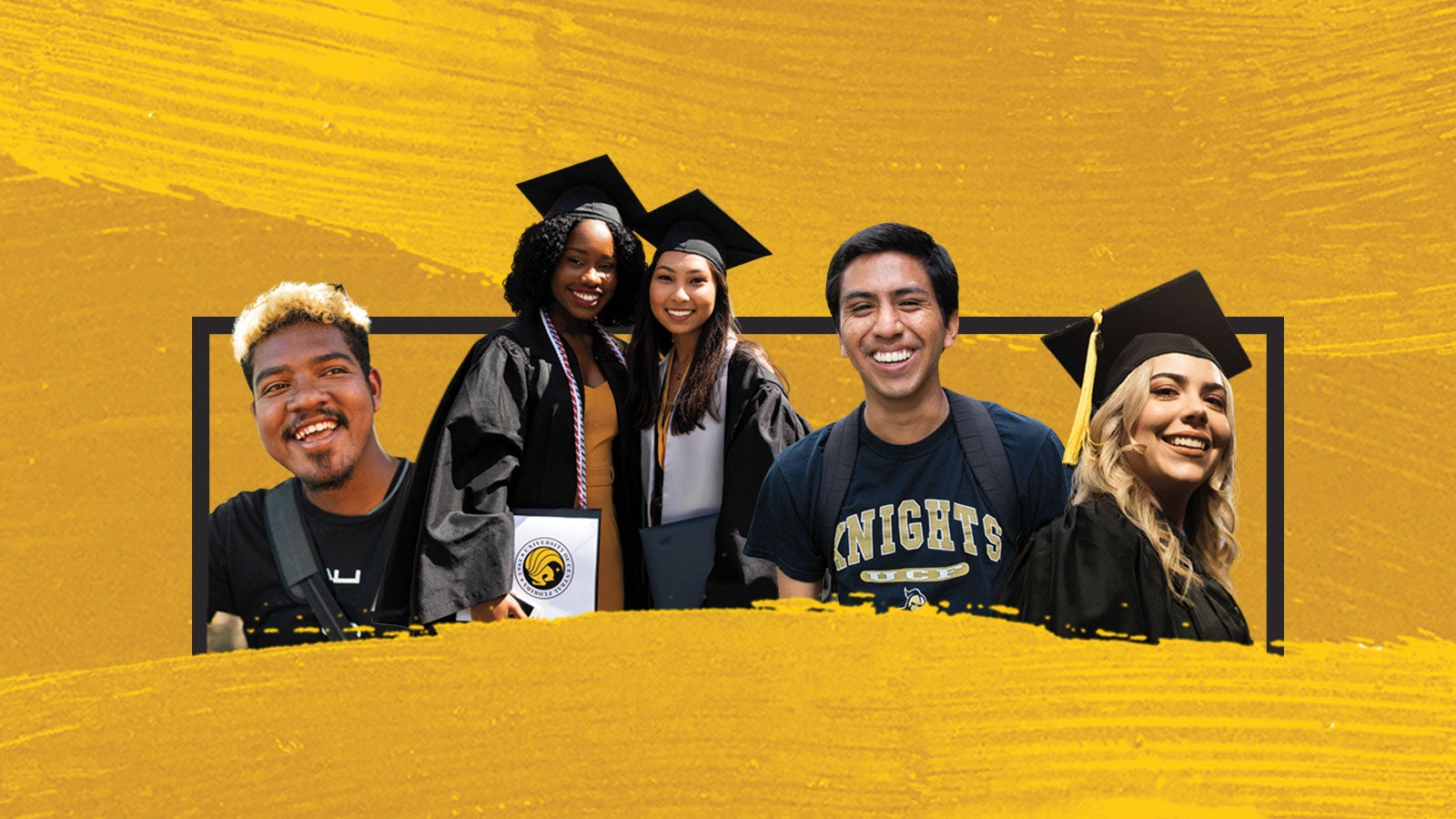 How UCF is taking action to meet its mission for inclusive excellence.
Fall 2020 | By Laura J. Cole
We Must Do Better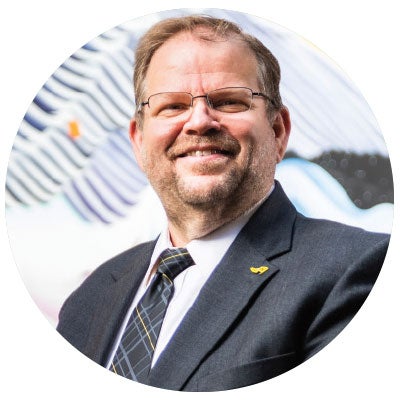 At UCF, we have long been proud of our students' diversity. It is one of the qualities that continues to draw people to our university.
Since arriving at UCF in the spring, I have met and heard from many people, listening to stories and aspirations that our campus' diversity is not just celebrated, but that inclusive excellence must be an integral part of our actions and plans for the future.
There has never been a more important time for us to tackle these issues together, with long-standing inequities and discrimination made more visible by the pandemic and the recent horrific violence further illuminating the systemic racism plaguing our society and impacting so many. As a country and a university, we must do better. And that will only happen when we lead with compassion and come together to work toward solutions.
I am committed to ensuring that all UCF students feel valued and have the resources needed to succeed and graduate.


Alexander N. Cartwright
UCF President

---
Cultivating a Culture of Inclusive Excellence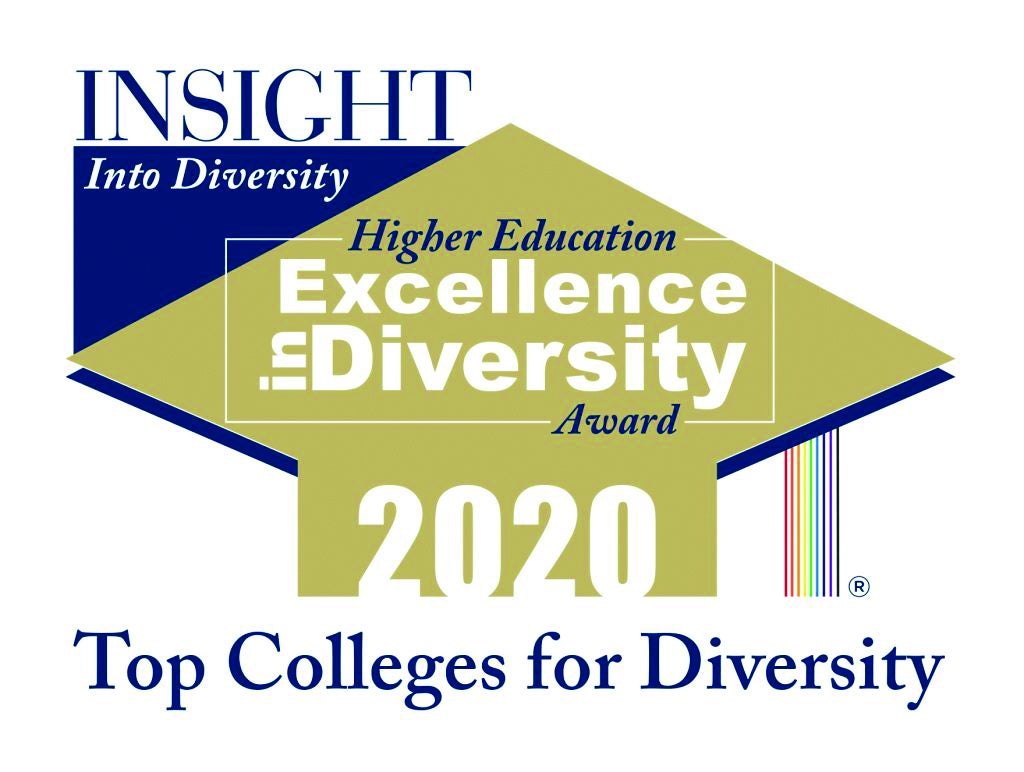 For the sixth time, UCF was named among the 2020 Higher Education Excellence in Diversity Award recipients by Insight Into Diversity magazine, which recognizes U.S. colleges and universities that demonstrate an outstanding commitment to diversity and inclusion. UCF was selected along with 90 other colleges because of the university's commitment to inclusive student recruitment, retention and completion; programming, initiatives and outreach; and hiring practices.
No. 4
For most minority graduates in the nation,
according to Diverse: Issues in Higher Education
31.7%
UCF undergraduates who
are Pell Grant-eligible
21.7%
UCF undergraduates who are the
first in their family to attend college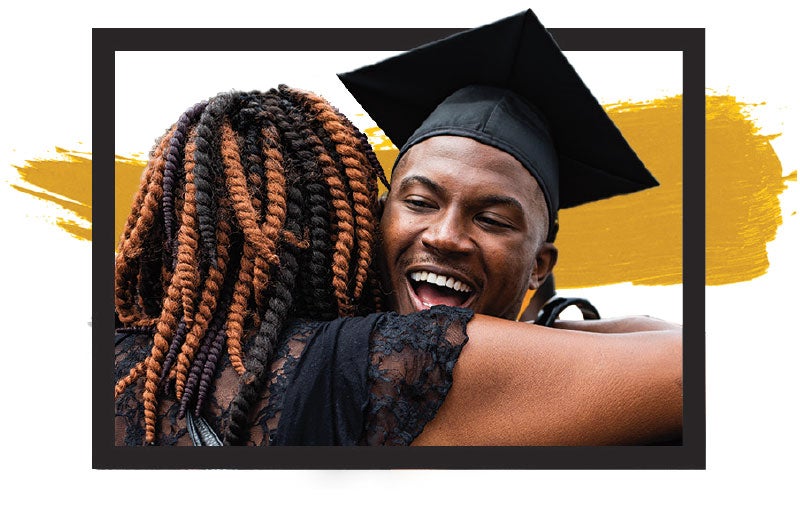 ---
Ethnicity of Students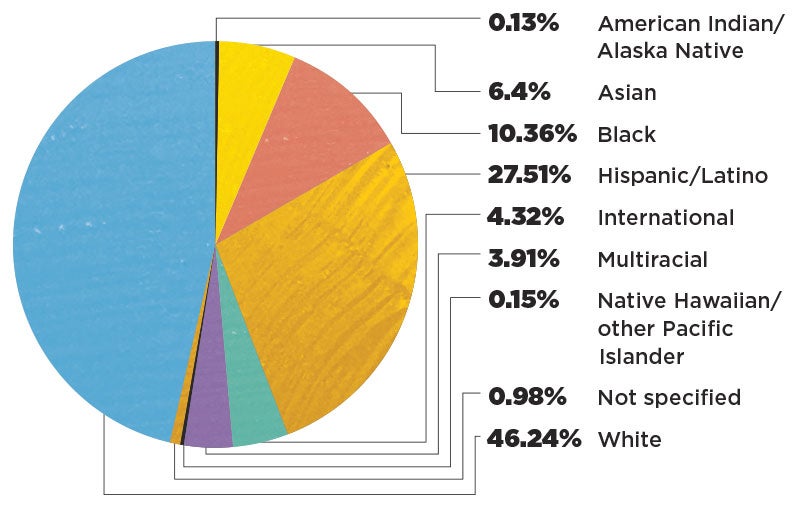 All UCF numbers are based on early Fall 2020 data.
---
Serving Hispanic Students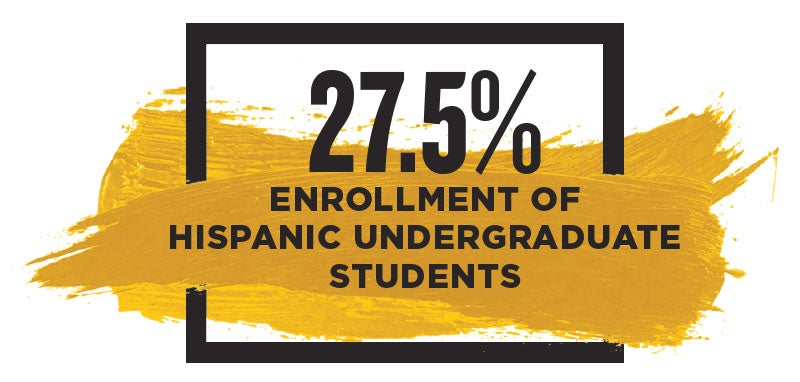 The U.S. Department of Education designated UCF a Hispanic-Serving Institution in 2019, after having exceeded a 25 percent enrollment of Hispanic undergraduate students.
---
Improving Retention Rates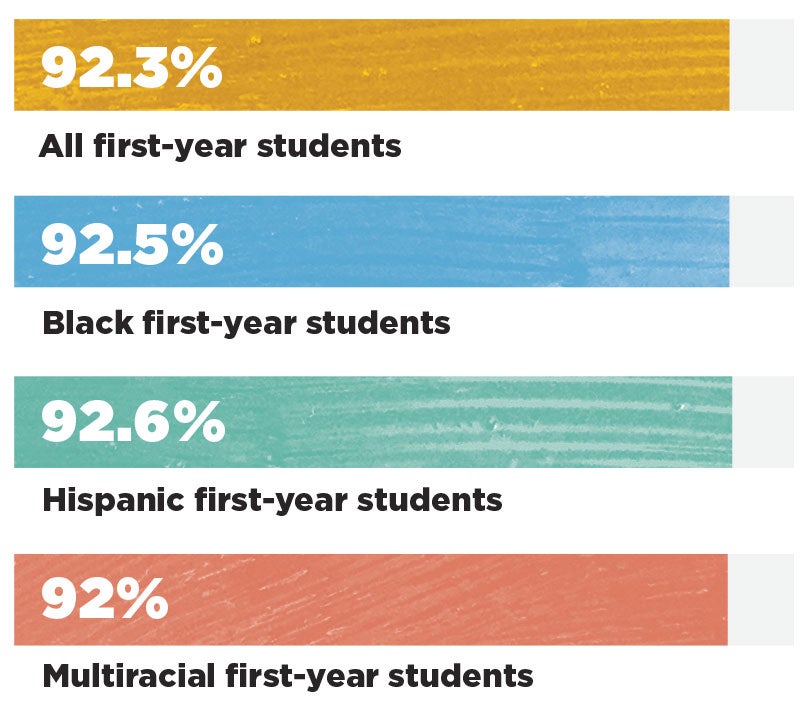 ---
Closing the Graduation Gap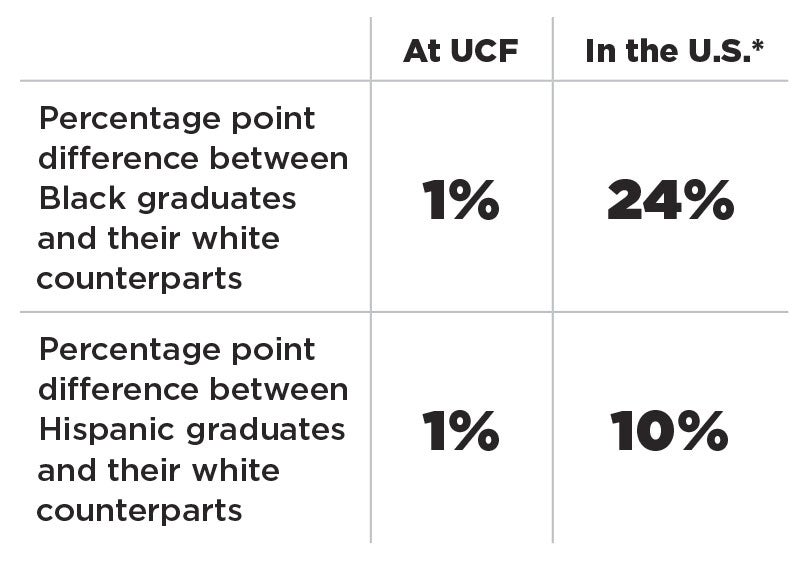 *Based on data from the National Center for Education Statistics
---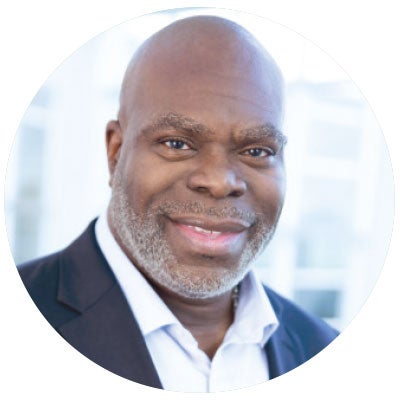 "UCF is at the forefront of diversity and inclusion in higher education, but we need to continue broadening our efforts. … We are looking to do more and recognize that we will not be rewarded for complacency."

S. Kent Butler, interim chief equity, inclusion and diversity officer
---
Listening to the UCF Community
This spring, UCF conducted a campus climate survey to get a better understanding of how the community feels about diversity and inclusion on campus. While only 2 percent of students responded, here is what they had to say.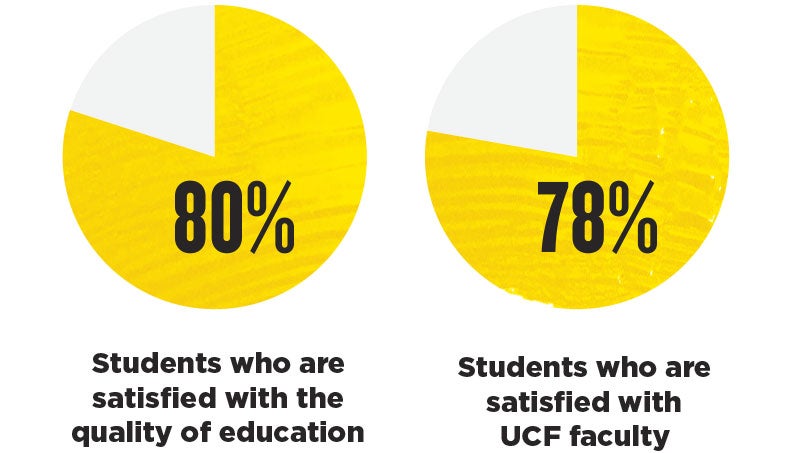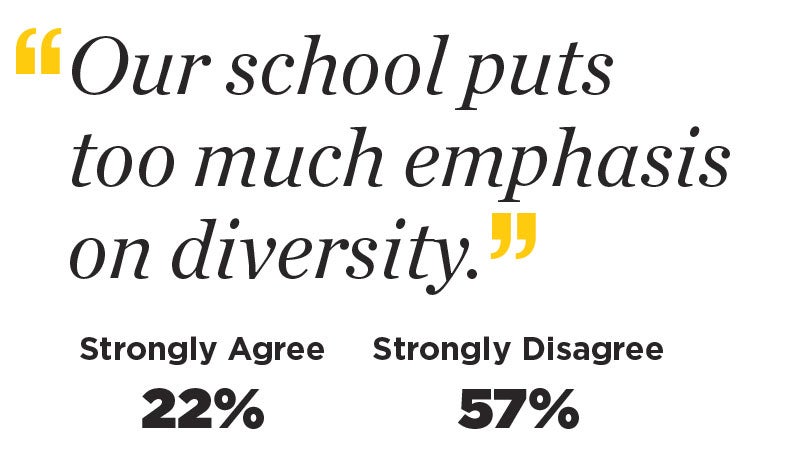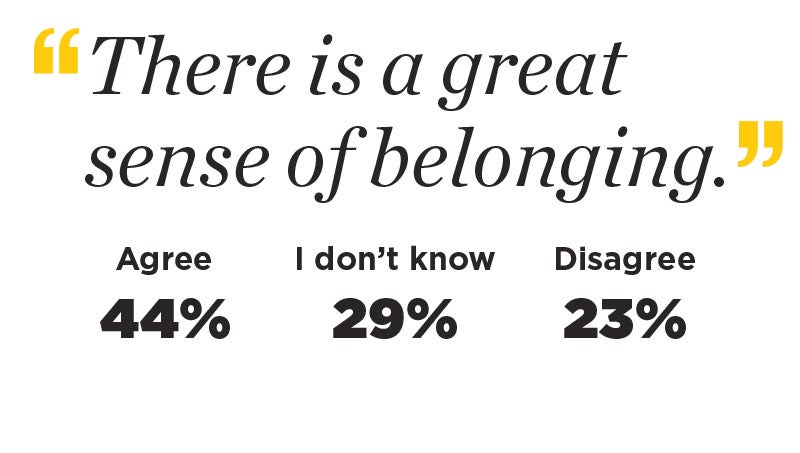 ---
Continuing to Improve
Ranging from implementing new hiring practices and advisory boards to a new universitywide action plan, strategic investments in diversity and inclusion initiatives are making more resources available.
This summer, President Cartwright announced that UCF was reallocating part of each college and division's budget to create a new Strategic Investment Fund, a portion of which will help bolster inclusive excellence throughout the university.
UCF's chief equity, inclusion and diversity officer position will be elevated to a vice president position.
Leaders from human resources, institutional equity and faculty excellence are working to increase best practices among job searches, including creating extensive training on making recruitment more inclusive and requiring specific training for everyone who serves on a search committee.
The university has created or is in the process of creating several advisory boards, including the President's Student Advisory Council, which includes 20 student representatives to advise on building a more inclusive culture at UCF; the Chief Diversity, Inclusion and Equity's Student Advisory Council, for which the criteria is currently being developed; the uKnighted Nation Committee, which includes a 30-member group charged with proposing and implementing social and racial justice programming for UCF Athletics; and the UCF Content Advisory Board, which includes 15 faculty, staff, students and alumni who provide feedback on and ideas for UCF Today, Pegasus, the university's main social media channels and marketing materials.
From Lavender Graduation to an annual diversity conference, UCF prioritizes supporting diversity, equity and inclusion efforts. To learn how you can contribute, contact Director of Advancement Renzo Martorella at Renzo.Martorella@ucf.edu or 754.422.9133.