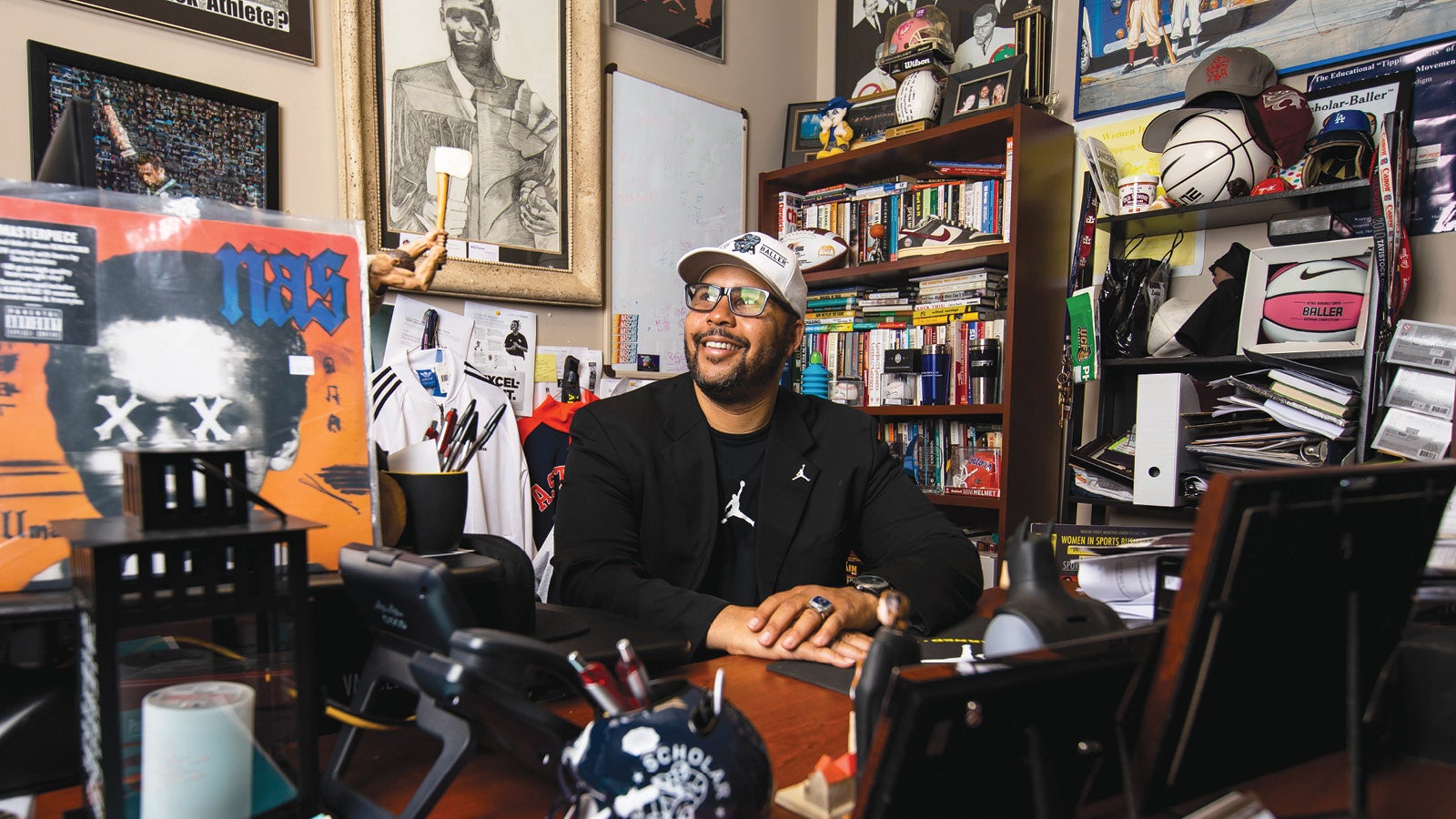 Drawing on a lifelong love of hip-hop, a UCF professor has developed three new business courses based on innovation and entrepreneurship.
Updated Spring 2022 | Fall 2020 | By Nicole Dudenhoefer '17
Hip-Hop lovers know at the heart of the genre is hustle, which is essential to any great business. So for C. Keith Harrison, the DeVos Sport Business Management Graduate Program chief academic officer, associate unit head and professor, it was only natural to develop courses around the culture and music he grew up with in Southern California.
Within the past year, Harrison has launched three new graduate and undergraduate courses, including one for DeVos students, centered around the business of hip-hop innovation and entrepreneurship. Through different case studies, students will examine products such as Dr. Dre's Beats and the success of millionaires such as Diddy to understand how hip-hop has grown from an underground expression into a global influence. UCF now also offerers a certificate in The Business of Hip-Hop Innovation & Creative Industries.
Where did you get the idea for these courses?
The courses grew out of my passion for education, hip-hop and sport. They also grew out of a class I co-teach at the undergrad level (The Role of Innovation and Entrepreneurship in Sport and Entertainment) with Reggie Saunders, who is the senior director of global entertainment marketing at Jordan Brand and has been an adjunct here for several years.
We lead that course with business and use hip-hop as a reference point. With these newer courses (a graduate and undergraduate version on The Business of Hip-Hop Innovation and Entrepreneurship and the DeVos program graduate course The Business of Hip-Hop Innovation and Entrepreneurship: Applications to Sport Business Management), we're looking to expand on that.
Do students have different experiences in each of these courses?
I'm a big proponent of not teaching the same material in different courses because if students go into the grad program it becomes the 13th grade, they've already had it. So I design them differently by framing the content with different case studies and diverse aspects of hip-hop culture. With the DeVos graduate version, we look more at how hip-hop applies to sport, including Ice Cube's Big3 basketball league. In each course there are discussion posts based on required readings, some of the courses require movie or hip-hop text analyses.
In the graduate courses, there is a final project that will require students to create an action plan for a hip-hop sporting event for the Orlando Magic or Orlando City Soccer. Students will organize the night based on four principles: to position hip-hop culture night, activate it with brands that align with hip-hop, engage fans, and use data analytics to predict success. This project gives students a chance to be hands-on with something they can execute and talk about in job or grad school interviews.
You're on sabbatical for the fall semester as a Nasir Jones Hiphop Fellow at the Hutchins Center for African & African American Research at Harvard. How will this experience influence these courses?
I'm going into one of the most intellectual academic environments, historically, so I'll be learning from the W.E.B. Du Bois Research Institute and alums from the Hutchins Center.
I'll be developing content for a future course that examines the parallels in hip-hop culture between Nas and Nipsey Hussle in terms of innovation and entrepreneurship. I'll also be looking into artists and rappers across generations, and there will be a section on women in hip-hop, from Queen Latifah to MC Lyte to Cardi B and so on.
College of Business for their support. Being in a new environment and just having some time to think and write is exciting. Quite frankly, Harvard has the preeminent department of African and African American studies, so it'll be great to have this fellowship to enhance what I do at UCF when I'm back to teaching and researching in the spring.
Sabbatical is a time to refresh and regroup, and I'm very grateful to UCF and the
Why is it important that UCF offers business courses focused on hip-hop?
This is another impactful way to teach students business through one of the greatest art forms, which evolved from two turntables and a microphone to billion-dollar industries. To me, it's the intersection of diversity and innovation. Hip-hop culture and personalities are major global influencers, and any business school should be studying that.
What makes hip-hop such an influential force in business?
Hip-hop has always been about the audience making artists relevant and is a great case study for sport and other entertainment industries. It goes back to "Throw your hands in the air, and wave 'em like you just don't care." It's gone from being underground to being marginalized to crossing over to the mainstream to becoming hypercommercialized.
What are some things students will learn in these courses?
Students will learn the history of hip-hop — that it was a cultural expression that has inadvertently become big business. Hip-hop references general business principles. An example is the growth of entrepreneurship. In my era of hip-hop, cassette tapes were sold out of a car. Another example is looking at royalties. In the '90s, Master P was the first artist to keep 85 percent of his sales and that was unheard of at the time.
How have these courses adapted during the pandemic?  
I designed these courses in hybrid and online formats, which made it really seamless to transition them to a remote learning. One of the positive things [about the remote modality] is it's allowed me to bring in other people and big-time influencers, from Jordan Brand to Roc Nation, as guest speakers. Reggie was able to be more involved with the DeVos graduate course over the summer because he could Zoom in.
"Black culture and the culture of hip-hop will be less stigmatized as things go on, and now we know in the movement post the life of George Floyd, companies are budgeting initiatives for diversity, inclusion and equity issues."
— C. Keith Harrison
As we're seeing a movement for social justice and equity for Black people, how does hip-hop's hypercommercialized industry play a role in that?
In the beginning hip-hop was really stigmatized, but for people that are more aware it's not a negative thing. Now, all we have to do is turn on the TV for an hour and watch the commercials and you'll see mainstream, corporate America has grabbed hip-hop and taken it by the horns, from dancing and body language to slang and diction — you can see hip-hop's influence and how it has permeated popular culture.
I love the quote by Jalen Rose, ESPN correspondent and former NBA player, "I wish America loved Black people the way they love black culture."
So despite this influence, we're still having these racial injustices [across the country] and African American stereotypes in marketing, such as Aunt Jemima and Uncle Ben. But let's look at what Master P just did by launching Uncle P's, which includes pancake mix, rice syrup and oatmeal, and the profits will serve Black communities. He flipped that to replace imagery that's been perceived as negative and that's what hip-hop does, it flips things and the narrative of Black culture for the broader society. And we're going to see more of that.
Black culture and the culture of hip-hop will be less stigmatized as things go on, and now we know in the movement post the life of George Floyd, companies are budgeting initiatives for diversity, inclusion and equity issues.
As Jimmy Iovine and Dr. Dre recently said, "African American/Black culture is one of the most underutilized, under resourced and underappreciated assets that America has — and it still hasn't been taken to its full potential." We're just scratching the surface, and institutionalizing hip-hop culture through higher education, business and intellectual curriculum is one innovative way to value this powerful culture that has evolved in America over time.