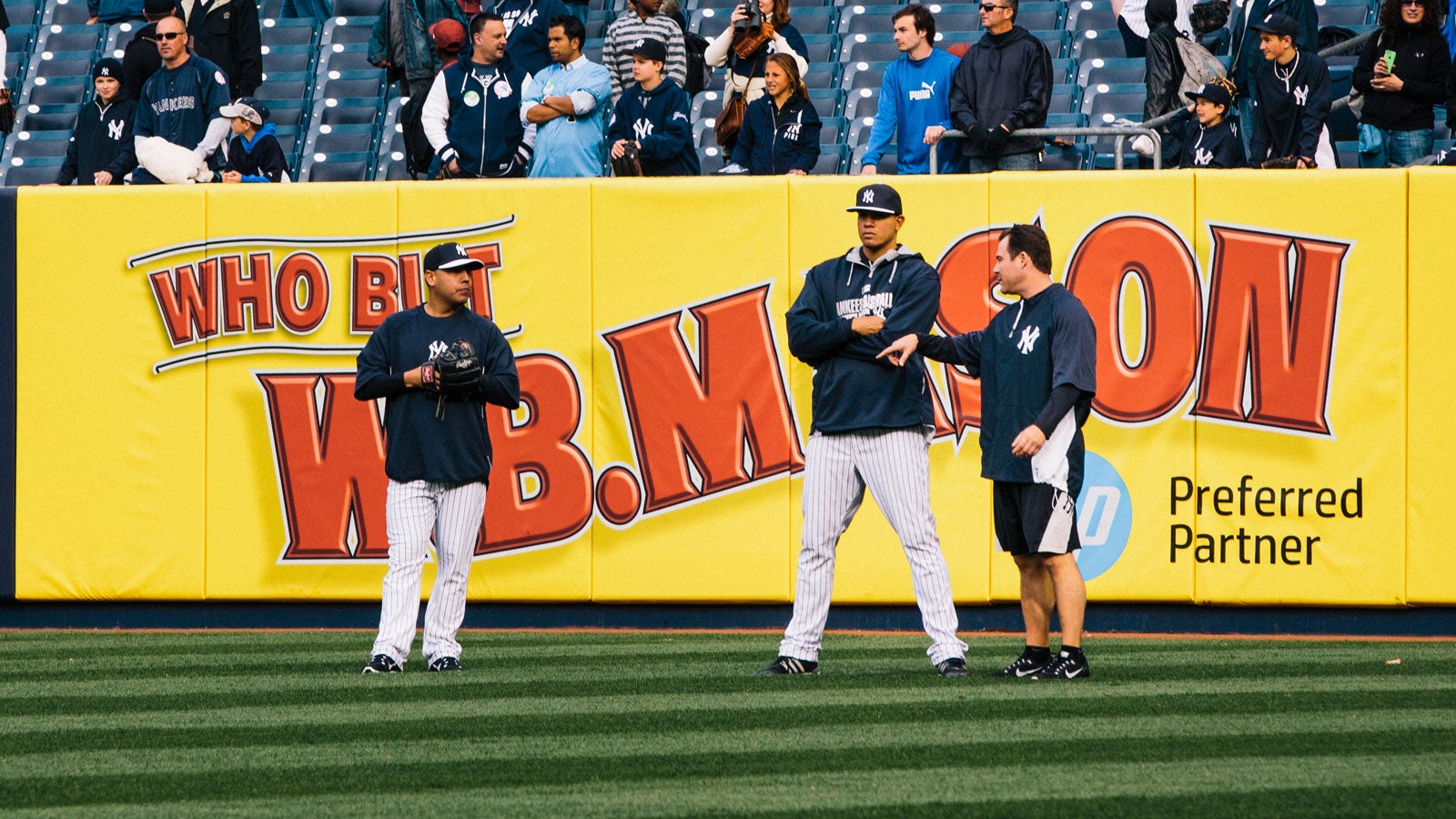 A Knight in Yankee Stadium
New York Yankees Director of Strength and Conditioning, Matt Krause, '99, keeps multimillion-dollar baseball players like Derek Jeter in top physical shape.
Summer 2014
In 2013 the New York Yankees were buried beneath an avalanche of injuries and missed the playoffs for only the second time since 1995.
During the offseason the franchise spent almost a half-billion dollars to acquire top free agent players — plus one other significant hire. They plucked strength and conditioning coach Matt Krause, '99, from the Cincinnati Reds.
"We feel like we hired one of the best in the business," says Brian Cashman, Yankees senior vice president and general manager. "Matt is detail oriented, a great communicator and really knows his business inside and out."
Dream Job
Krause grew up a Yankees fan in Valley Stream, New York. And while his parents were able to help his older siblings pay for college, his father was laid off around the time of Krause's high school graduation. "There wasn't financial help for me," he says, "so I had to figure out a way to get it done."
Finding creative ways to succeed would become his mantra academically and professionally.
Krause enlisted in the U.S. Marine Corps and was in the reserves from 1992 to 2000. He earned an undergraduate degree in exercise and sports science at East Carolina University, where he caught the attention of Jeff Connors, ECU's strength coach.
Knowing Krause wanted to get a master's degree but lacked the finances, Connors said, "I can get you into UCF right now. I know the guy down there, Reese Bridgman."
There was one catch: The job that would help pay his tuition was in strength and conditioning instead of sports medicine. "I didn't have any money," Krause says, "so I was looking for any path to get my master's degree." Once at UCF, Krause discovered he loved the work. "Strength and conditioning fit my personality way better. I like being around the weight room, pushing people and being able to understand the motivational cues of different people."
After graduating, Krause's first job was with the Knights. The university was transitioning from Division I-AA to Division I sports and soon attracted NFL-quality athletes like quarterback Daunte Culpepper.
"I probably wouldn't have been able to learn all the things I wanted to if I wasn't at UCF," Krause says. "I got to work men's and women's sports — soccer, football, baseball, cheerleading, crew … One team would be on an Olympic lifting program and another on a high-intensity program. So you figure out what works, what people will and won't do, and how the coaches are going to respond to different things. You also learn your capacity to work."
In addition to his UCF duties, Krause contacted the Tampa Bay Buccaneers' strength and conditioning coordinator and was soon driving to the NFL team's facility for their summer practices, volunteering in return for the experience.
Big Leagues
One day Krause got a call from the Chicago Cubs' Bruce Hammel, who was looking for an intern to help with the organization's Class A minor league team, the Daytona Cubs.
"I'm thinking, 'I'm not going to send you an intern. I'll do it,' " Krause says.
He'd work at UCF with the football team in the morning and the basketball team in the afternoon. "Then I'd drive to Daytona and work their home games," he says. "That was my first experience with baseball."
Impressed by his performance, Hammel approached Krause about a job as a minor league coordinator with the Pittsburgh Pirates. "It was the first time I was able to use all my athletic training skills and all my strength and conditioning skills," he says. "In [professional baseball], you've got to be creative. You've got to go on the road where there is no gym and find a way to get your work in for the players. Different facilities now dictate what you can and can't do."
His work caught the attention of the Cincinnati Reds, who hired him away from the Pirates. Krause worked 11 years for the Reds, the last nine in the major leagues.
Krause is one of only a few in Major League Baseball who is certified as both an athletic trainer and a strength and conditioning coach. He's the vice president of the Professional Baseball
Strength and Conditioning Coaches Society and sits on the performance committee for the National Strength and Conditioning Association. He's also a sought-after speaker and has authored papers, including some with Jay Hoffman, chair of UCF's Department of Educational and Human Sciences. Last year, he won the Nolan Ryan Award, given to MLB's Strength Coach of the Year.
During his tenure with the Reds, the team was one of the league's least injured teams. Last season they used the fewest number of players in the game, and used only five starting pitchers through their first 120 games, setting a modern franchise record. The stats speak to keeping players healthy, and it's something in which Krause takes particular pride. "You're only going to win if your best players play," he says. It was that ability to keep players on the field and in peak shape that caught the attention of the Yankees, who were the league's most injured team last season.
Krause also built a reputation as someone players want to work with.
"Matt's great at helping you build a program," says pitcher Bronson Arroyo, who worked closely with Krause, both in the Pirates' minor league system and later with the Reds. "It's his ability to apply what he knows on an individual basis. Some guys are cookie-cutter — not him. Matt knows what works for me and that what I need is different from someone else."
Because he was with Krause in the minor and major leagues, Arroyo also got to see him mature in his profession.
"In the minor leagues, everything is dictated to you," Arroyo says. "So early on, Matt's military background came into play. You can be a drill sergeant at that level, and he was. But at the major league level, when you're dealing with guys making $10 million [or] $20 million, you can't just order them around. But Matt makes it fun. He makes the weight room feel like a sanctuary."
And now that weight room — that sanctuary where 40-year-old Matt Krause thrives — is at Yankee Stadium.
"I do know what I'm getting into," Krause says, nodding his head. "But I think I'm old enough now to appreciate it. I'm ready for this opportunity."