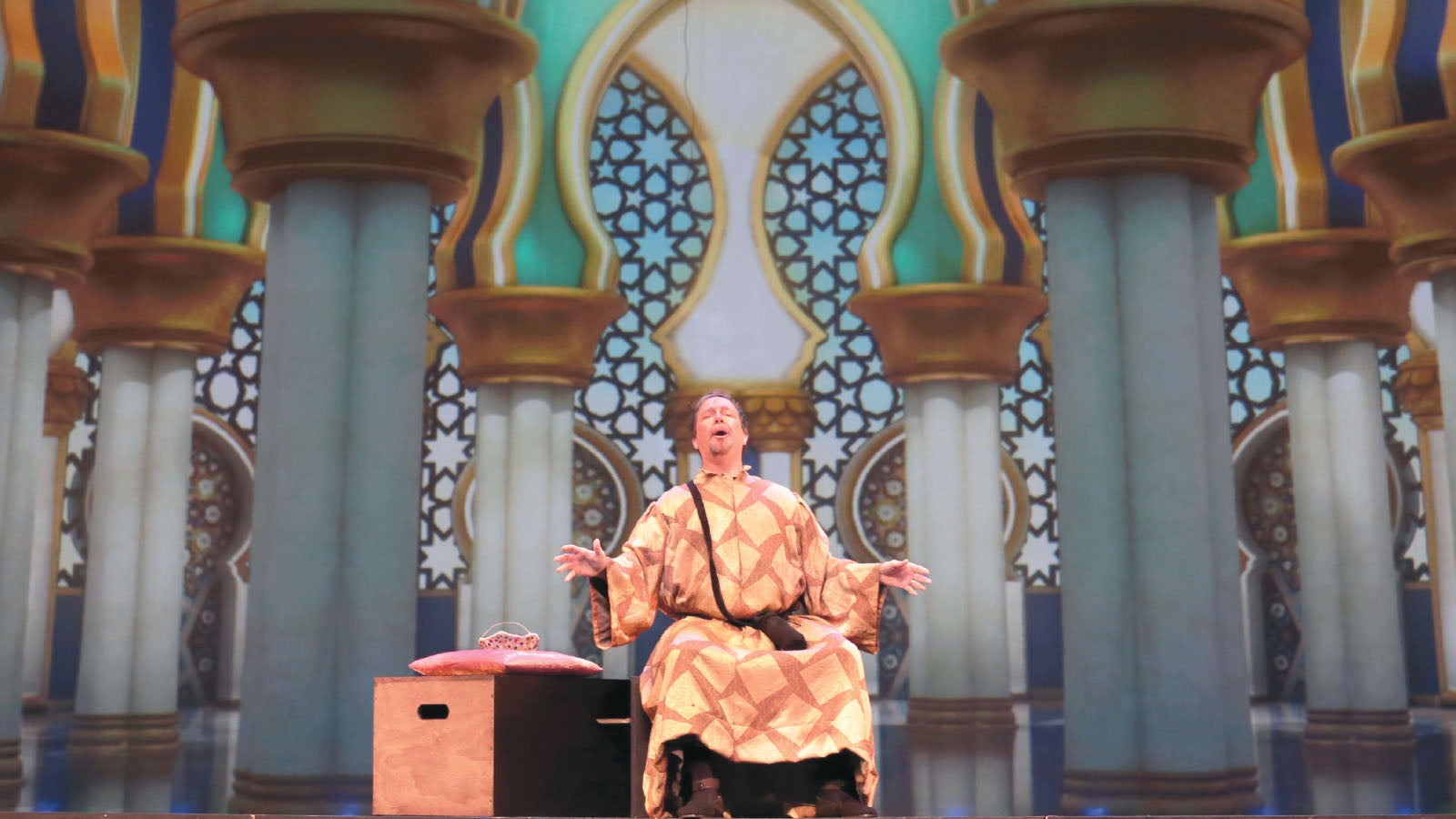 Digital Designers Bring Opera to Life
Summer 2014
When a dark and dingy prison scene fades quickly into a sunlit desert landscape, it's evidence of good theater. But when it takes place without stagehands, set pieces or painted backdrops, it's innovation.
Such state-of-the-art digital projection transformed 13th-century Asia and entertained opera viewers during "The Red Silk Thread: An Epic Tale of Marco Polo." It's a trend that Stella Sung, a composer and professor in the UCF School of Visual Arts and Design (SVAD), applauds.
"More opera and theater companies are using technology and virtual effects," Sung says. "The sets are active, not static, and with the animation you can build in movements and scene changes — things that you cannot do with regular sets."
In 2012 Sung, who serves as director of UCF's Center for Research and Education in Arts, Technology and Entertainment (CREATE), approached Winter Springs, Florida, animation company Ninjaneer Studios to collaborate on the opera production. She had previously worked with the firm's founders — Chris Brown, '11, Heather Knott, '11, and Joe Rosa, '11 — when they were SVAD students.
"What we were looking at was how to use [technology] to tell the story in a more interesting and active way," Sung says. "It was a way for me to support our former students."
The Ninjaneers showed her examples of 3-D projection mapping, which casts animated digital images onto irregular surfaces to create the illusion of depth, movement and real objects where none exist. Sung found their ideas to be imaginative, and together they began the laborious process of designing a virtual world for her opera.
Starting with Sung's music for inspiration and timing queues, the team researched the era of Marco Polo to guide their interpretation of the court of Kublai Khan, an ancient Mongol emperor. They enhanced each scene with subtle animation, such as flickering sunbeams, swaying lanterns and moving clouds.
"We want [the audience] to be able to see something moving, but not stare at it the whole time," Rosa says. "The main focus should be the singers."
Knott led a crew of nine animators to create seven scenes for the two-hour performance. Some scenes, such as a Chinese junk surrounded by shimmering water and moving shadows, took the combined power of four custom-built computers more than a month to render. Says Knott, "We can do things within the animation that would be very difficult or physically impossible with a regular set."
Once the digital sets were complete, installing and calibrating the projectors at the theater took about a day. "I've seen a few traditional sets that are on a grand scale that have taken a month to get [installed]," says Knott. And the digital approach offers yet another benefit: "It's more of a green opera since you don't have all the sets to build," Rosa says. "You save trees."
The completed opera, which premiered at the University of Florida, drew positive reviews from audiences, including a standing ovation that lured Rosa to the stage to take a bow with the performers. "That was the first time I've done anything like that," Rosa says. "It was surreal because we're usually the behind-the-scenes people."
"So many people were asking, 'How did you make that work?' " says Sung, who hopes to produce the opera at other venues. "I think the future of digital sets is very bright, and I'm happy to have several projects in the works with the Ninjaneers."
Image courtesy of Ani Collier