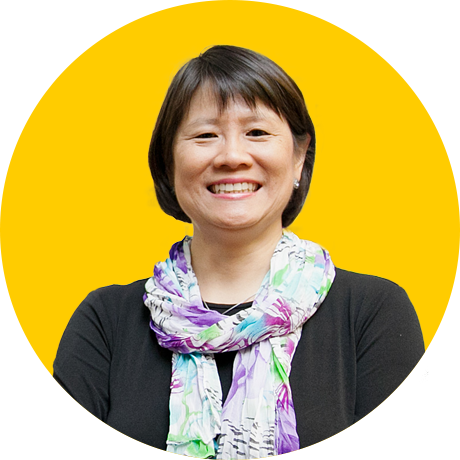 Meet Stella Sung
"My work in documentary and animated films here at UCF has also helped me to develop my storytelling skills through musical means."
Stella Sung, DMA
Pegasus Professor
Director of UCF CREATE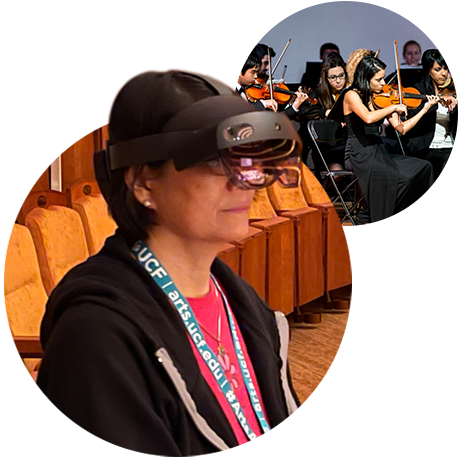 Stella Sung enjoys bringing music to life and transporting audiences to another world. In exploring new ways for individuals to experience music, she has focused much of her research on pairing technology and the arts. Her most recent collaboration with Assistant Professor of the Games and Interactive Media department, John Murray, Ph.D., and Joslyn Parchman, a UCF graduate student worked to develop an interactive virtual reality (VR- Quest 2 headset) and mixed reality (MR-HoloLens 2 headset) experience which will be used by participants during the live concert presentation of Oceana.
Selected participants using VR will use the headset as they listen to the music while at the same time using hand-held controllers. This includes maneuvering around within the environment, collecting noise "samples" which are encapsulated in round balls, and seeing information displayed simultaneously. The HoloLens 2 users will be able to see the orchestra, audience, environment, and film, but they will have holographic images placed within the headset as a kind of "layer" of visuals including marine life assets such as whales, turtles, fish, kelp, etc. The goal is to prototype the VR and MR interactions and then proceed further with more research and development of content for future performances and works.
Education:
---
DMA, Musical Arts (Piano Performance) – The University of Texas at Austin
MFA, Music Theory and Composition – University of Florida
BM, Piano Performance and Music Performance – University of Michigan
Accolades:
---
2020-21 "Commissioning Grant for Female Composers" from Opera America
2021-22 NEA grant recipient for the opera The Secret River
First Composer-in-Residence for the Orlando Philharmonic Orchestra (2008-2011)
One of five composers nationally selected for a Music Alive award
Phi Kappa Phi National Artists Award recipient
Florida Individual Artists Fellowship recipient
Fellowship at the prestigious MacDowell Colony
Pegasus Professor and Trustees Chair Professor
Renowned Compositions
In addition to her research work, Sung's first call-to-action piece, Oceana (2018), encompasses a vital message that highlights the importance of our ecosystem for both marine life and human life. After learning about ocean noise pollution, Sung was moved to generate awareness on the issue through her work. The compiled soundtrack incorporates the use of marine life sounds to illuminate the central theme. Oceana is organized into three sections that cover critical aspects of sustainability: 1) the beauty, majesty, and mystery of the seas and the life forms that live there, 2) the man-made disturbances of that ecosystem, and 3) the hope that humans can find a balance of living alongside the oceans and marine life so that our co-existence is based upon respect and understanding and knowledge. Sung also collaborated with underwater photographer/filmmaker/marine conservationist Annie Crawley who has produced a film to accompany Oceana — creating an intersection between science, music, film, and community action.
Sung's work has included compositions for renowned artists and orchestras from around the globe. Several documentary films have been made about her work, including one by award-winning documentary film-maker Lisa Mills, which captures the world premiere performance of Sung's large orchestral work, The Circle Closes. Sung also served as the first Composer-in-Residence for the Orlando Philharmonic Orchestra and was one of the five composers nationally selected for a "Music Alive" award, a three-year award that allowed her to serve as Composer-In-Residence for the Dayton Performing Arts Alliance.
UCF is a Recognized Leader in the Arts & Humanities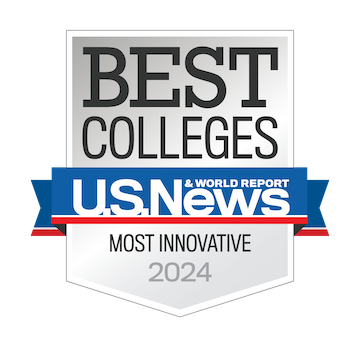 ---
UCF Celebrates the Arts features musicals, living art and concert performances that showcase creativity, innovation and collaboration across the university.
---
$1.21M in grant funding awarded to the College of Arts in Humanities in 2020-21.

---
4,660+ students in the College of Arts and Humanities with 20,000+ alumni.
Innovative Arts Facilities in Orlando
Advanced facilities at UCF allow the best minds to come together and collaborate — creating and transforming the future of arts and humanities. With the latest technologies and resources, our facilities provide a place where we uncover new insights and shift paradigms.
The Center for Research and Education in Arts, Technology, and Entertainment (CREATE)
At UCF CREATE, Sung and her staff have developed strong community ties which encourage UCF faculty, students, and staff to engage in impactful learning/teaching opportunities that go beyond the university's main campus. Located in UCF Downtown, CREATE currently offers programming that includes a high-school after-school Animation program as well as summer Pre-College Animation Intensives. Awarded grants for the City of Orlando, Disney, the Morse Genius Foundation, and other funding, CREATE serves as a conduit for UCF to the immediate downtown community, schools, and other programs.

The Center for Multimedia Composition
UCF student composers have access to industry standard equipment hosted in a cutting-edge workspace reserved exclusively for them. The Center for Multimedia Composition features four individual workstations equipped with iMac Pro computers, Roland A-500 Pro MIDI controllers, JBL 3-Series Pro studio monitors, and Focusrite Scarlett 18i8 audio interfaces. Every workstation is outfitted with multiple DAWs, multiple notation programs, professional video editing software and video game middleware, among other industry standard software.

Arts & Humanities News