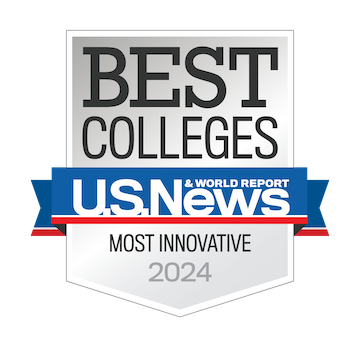 The brightest minds are solving the biggest challenges through innovative technology
In the past two centuries, humanity has made incredible strides in developing and refining technologies that enhance our lives and safeguard ourselves and others. Pioneering innovations such as the automobile, radio, and television emerged in the late 19th and early 20th centuries, followed by personal computing, wireless technologies, and the rapid expansion of artificial intelligence. These technological advancements continue to profoundly impact our lives, the global economy, national defense, and society as a whole.
At UCF, we recognize the critical role that transformative technologies and national security hold across a diverse range of research fields and disciplines. Our research efforts aim to address the ongoing digital transformation of industries and organizations, along with the U.S. Department of Defense's requirements for new operational concepts, joint operations, and the latest scientific and technological trends. Our goal is to expand research activities that support national security and technology integration, invest in infrastructure for classified and sensitive work, and expedite technology development.
From every perspective, Central Florida is the hub of simulation and training for the United States Armed Services, as well as our customers throughout the globe. The innovations, the investments in technology, the partnership with industry and academia is absolutely critical to the long-term support of the Central Florida area."
Research that Fuels a Safer and More Innovative Future
UCF professors drive the advancement of cutting-edge technology to solidify national security and drive technological solutions. Their innovative research spans across areas such as cybersecurity, simulation and training, artificial intelligence, optics and photonics, and more — making significant contributions to the nation's defense and security.

Powering Defense and Technological Industries
Our location in Central Florida — the modeling, simulation and training capital of the world and a hub for national defense — provides UCF researchers, alumni and students with unparalleled opportunities to work alongside top industry leaders on groundbreaking initiatives in the sciences, engineering, photonics and optics and modeling and simulation. These strong partnerships — combined with strong academic programs — is one of the reasons UCF received $21.6 million from the U.S. Department of Defense in 2022, for research projects ranging from making faster computers to advancing work in the area of lasers and photonics. And by providing the necessary talent and brainpower to fuel industry partners such as Boeing, Lockheed Martin, NASA and Northrop Gruman, UCF is fulfilling a demand for critical, high-value jobs across the state.
#1
Collegiate cybersecurity team in the nation for 5 years
Years of research since UCF's Institute for Simulation and Training was founded
of UCF CREOL faculty are recognized as being among the world's top scholars
PLOS Biology
Lockheed Martin employees in Orlando are UCF grads
Aviation, aerospace and defense companies in Orlando
Fastest-Growing Research University
UCF is ranked the No. 7 fastest-growing research spending university in the nation by The Chronicle of Higher Education.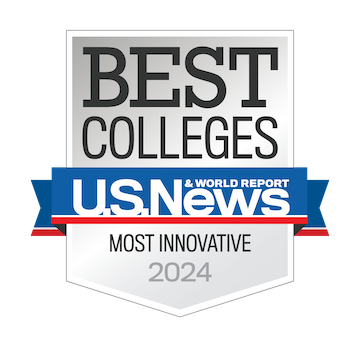 Top 20 Most Innovative University in the Nation
U.S. News & World Report ranks UCF as one of the most innovative in its annual list of best colleges.
#23
University for Producing Patents
UCF is ranked No. 23 for producing patents among public universities in the nation by the U.S. National Academy of Inventors (2022).
#24
Best Global Optics Universities
UCF is ranked No. 24 in Best University for Optics in the world by U.S. News & World Report.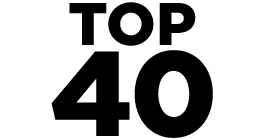 University for Defense Funding
UCF ranks No. 38 nationally for U.S. Department of Defense funding by the U.S. National Science Foundation.
Best Aerospace/ Aeronautical/ Astronautical Engineering Schools
UCF is ranked No. 50 in Best Graduate Schools for Aerospace/ Aeronautical/ Astronautical Engineering in the nation by U.S. News & World Report.
Institutes, Associations and Affiliations
Florida High Tech Corridor
Florida Space Institute
Siemens
Institute for Simulation and Training
Federal Aviation Administration
U.S. Cyber Command
Defense Intelligence Agency
Advanced Materials Processing and Analysis Center (AMPAC)
National Security Agency
National Science Foundation
Companies Employing UCF Graduates
NASA
Boeing
Lockheed Martin
Northrop Grumman
Siemens
L3Harris Technologies
Raytheon Technical Services Company
Leidos
Luminar Technologies
Florida Department of Transportation
Using Nanotechnology to Create Pigment-free Paint
UCF researcher, Debashis Chanda, is leading the charge towards a more sustainable future with his world-first energy-saving paint. The paint is made of millions of ultrafine particles called nanorods, which interact with light and produce different colors based on their size and shape. Inspired by the iridescence of butterfly wings, this innovative solution reduces energy consumption by up to 45% compared to conventional paint.
By working towards a future where buildings, cars and planes all use less energy and have a smaller impact on the environment, Chanda is helping to create a better world for us all. UCF is proud to support researchers like Chanda who are shaping the future and driving positive change through their groundbreaking work.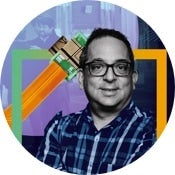 Alumni Spotlight: Jason Eichenholz '95MS '98PhD
Self-driving cars have become the next major frontier in transportation. At the forefront of this movement is Luminar, a 7-year-old company co-founded by Jason Eichenholz '95MS '98PhD. The company, which is based in Silicon Valley and Central Florida Research Park, has developed more efficient and affordable methods for creating the technology behind these vehicles — earning partnerships with Audi, Toyota, Volvo and more than a dozen other autonomous vehicle programs. Among its crowning achievement is its development of a new lidar sensor that can see almost 10 times farther than other sensors and sells for as little as $500, compared with $75,000 for the current industry leader.
Shaping Innovation and Securing our Nation Through Technology
Safeguarding our national infrastructure and interests is a complex and continuous effort. At UCF, our research drives the next evolution of technology to protect our borders and build a more sustainable and productive future.
Turning Radio Waves into Energy
Researchers at the University of Central Florida have developed a technology that can convert radio frequency signals into direct current electricity, harvesting ambient energy to meet the growing energy needs of the Internet of Things (IoT). The resulting passive module could eliminate the need for power-hungry radio frequency sensing modules and reduce the industry's reliance on batteries, thereby broadening the expansion of the IoT and its energy needs.

Accelerating New Drug Discovery With AI
Ozlem Garibay has developed a new drug screening process using artificial intelligence (AI) that aims to speed up the development of life-saving medicines. This method achieved up to 97% accuracy in identifying promising drug candidates using a method that models drug and target protein interactions using natural language processing techniques. The model, known as AttentionSiteDTI, is the first to be interpretable using the language of protein binding sites.

$1.25M Nanoscale Materials Mapping and Manipulation Project
The University of Central Florida has been awarded a $1.25 million project led by Laurene Tetard, an associate professor and associate chair of UCF's Department of Physics, which aims to advance nanoscale imaging and spectroscopy tools, including atomic force microscopy, to unlock new capabilities of materials at the nanoscale. The researchers will manipulate the chemical compound hexagonal boron nitride at the nanoscale level to have a defect that allows it to capture carbon from greenhouse gases, such as methane, and release value-added byproducts. The research will advance the fundamental understanding of materials behavior at the nanoscale, potentially leading to new catalysts and other compounds that could be applicable in a range of areas, including quantum science, renewable energy, life sciences, and sustainability.

Research in Motion
UCF faculty and researchers discuss how their research is changing our future.
Moving Technology Forward
Peter Delfyett discusses how UCF's focus on discovery and entrepreneurship drives institutional research and innovation.
Quantum Physics for Technologies of Tomorrow
UCF Pegasus Professor Enrique Del Barco, a physics professor and associate dean in the College of Sciences, explains quantum physics that propel us toward future technologies.
Transformative Technologies and National Security Degrees
As the Transformative Technologies and National Security industry continues to evolve and change over time, UCF Transformative Technologies and National Security programs keep students current with the latest techniques and curriculum — ensuring they are prepared from day one.
Transformative Technologies and National Security News
---