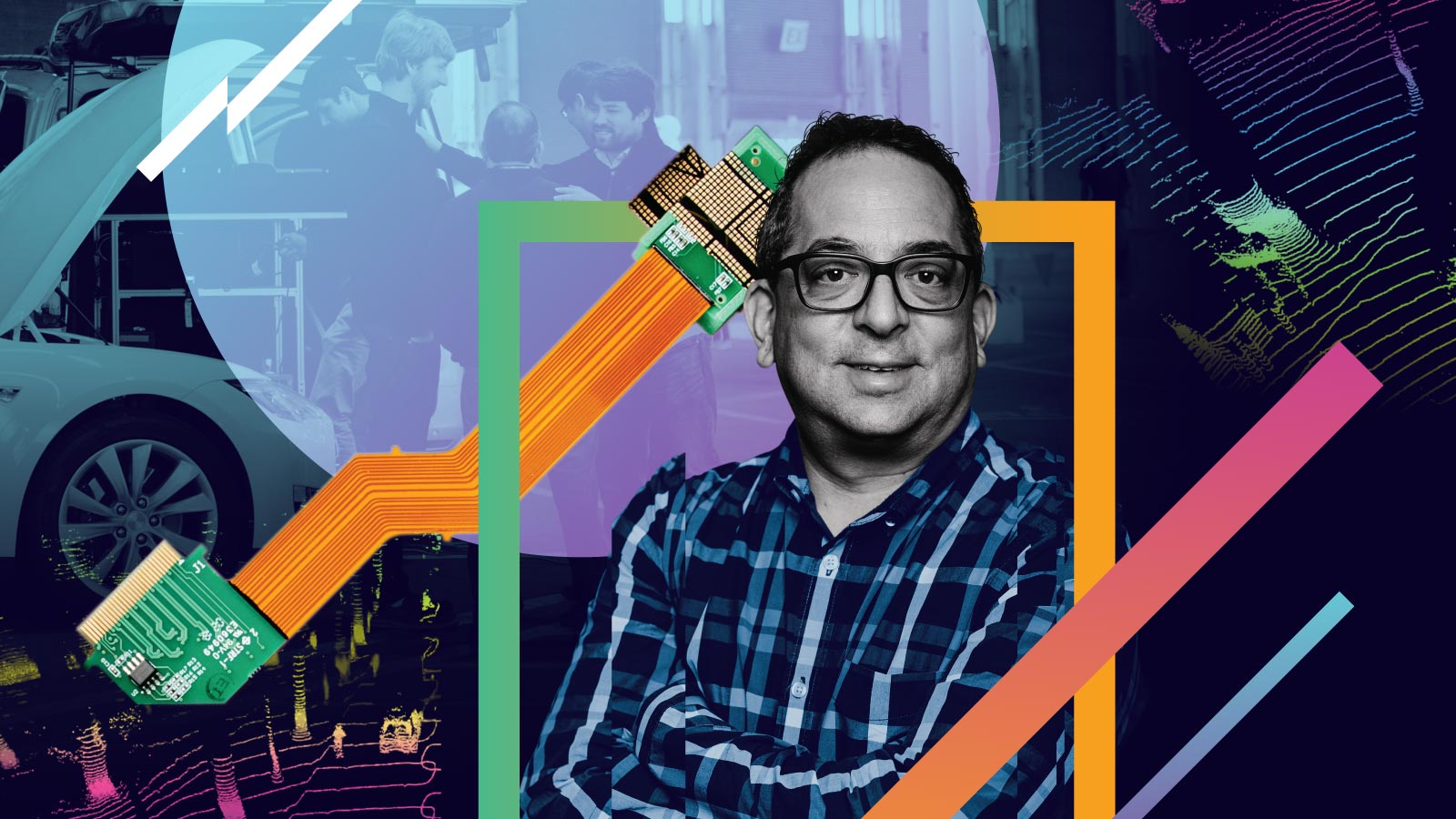 Self-driving cars were once science fiction fantasy. Today, Jason Eichenholz '95MS '98PhD and his company, Luminar, are making them a reality.
Updated Fall 2020 | Spring 2019 | By Nicole Dudenhoefer '17
Over the past several years, self-driving cars have become the next major frontier in transportation. At the forefront of this movement is Luminar, a seven-year- old company co-founded by Jason Eichenholz '95MS '98PhD. The company, which is based in Silicon Valley and Orlando, has developed more efficient and affordable methods for creating the technology behind these vehicles. So much so, they've earned partnerships with Audi, Toyota, Volvo and more than a dozen other autonomous vehicle programs.
"Our partnerships allow us to take the technology we're developing and deploy it in the real world with real customers and get the kind of feedback needed to continue to innovate and make the product better," Eichenholz says.
Leading the race to create the first fully autonomous car is lidar, a sensor that uses infrared light to measure distance and enable autonomous vehicles to detect or "see" their surroundings.
The lidar developed by Luminar can see almost 10 times farther than other sensors, even for objects with less than 10 percent reflectivity. This allows the company's software to perceive pedestrians in detail — even detecting their limbs in the dark — and anticipate what their next move will be.
"Luminar's sensor architecture is incredibly efficient to build in terms of cost and time. It uses only one laser and one receiver, as opposed to most autonomous vehicle lidar sensors that use 64 lasers and 64 receivers. Pursuing this architecture from the beginning means it was designed from the chip level up to be scalable into consumer vehicles, both from a manufacturability and a cost standpoint," Eichenholz says.
In 2020, Luminar announced it would be going public with a multi-billion dollar deal and the tech company made Fortune's Impact 20 list.
In 2020, Luminar announced it would merge with special purpose acquisition company Gores Metropoulos Inc., for a deal evaluated at $3.4 billion, according to Tech Crunch. This same year, Fortune included the tech company in its inaugural Impact 20 list, which recognizes young, developing companies that are already making people's lives better. Eichenholz also received i4 Business magazine's 2020 Business Leader of the Year Industry award for his work has to help position Central Florida and UCF on the cutting edge of industry and technology.
"This milestone is pivotal for the future of the autonomous car industry and the automotive industry at large because there is a clear opportunity for us to set a new baseline standard for vehicle safety industry-wide," Eichenholz says. "Autonomy presents an opportunity to save lives through enhanced safety and active safety systems, which are systems activated in response to a safety problem or abnormal event. Through this milestone, we have the opportunity to deliver what we believe is the world's first autonomous solution for series production, powering highway autonomy and proactive safety."
The race to create self-driving cars:
Setting Expectations

The SAE (former Society of Automotive Engineers) recognizes six levels of autonomous driving, ranging from 0 to 5. Most newer vehicles on the road today are levels 1 to 2, in which systems — such as automatic braking and park assist — are performed by the car. Vehicles within levels 3 to 5 aren't commercially available at this time, but many automakers are working toward level 5 vehicles, which will be able to operate without a driver under all conditions. "While advanced driver-assistance systems can be great, there are limitations to what these systems can do today. People typically over-rely on them, thinking [the cars are] actually self-driving when [they are using] assistance features, and that [can lead to accidents]."
---
Overcoming Challenges

"Cars are not able to perceive the world around them, and yet we're asking cars and computers to provide higher-than-human-level performance and reliability. I think if you look at the current trajectory of how cars are improving, you're looking at decades before technology is safer than a human in every driving scenario, anywhere."
---
Reducing Costs

"The most fundamental thing is the receiver technology. Instead of using only silicone as the receiver, we use a very small piece of InGaAs, indium gallium arsenide, to do the photo detection. It's a very common semiconductor material that is usually expensive to manufacture. We figured out how to do it for about $3."
---
Using a Different Wavelength

"Years ago, we fundamentally made a decision to operate [the lasers used for lidar] at a different wavelength band, 1550 nanometers [compared to the industry average of 905 nanometers, which can damage eyes]. This allows us to see further and have a much higher spatial resolution — all while being safer."
---
Adapting to Drivers

"The needs of sensors for self-driving vehicles are so different from customer to customer or from driving condition to driving condition. Because of this we've designed our system to change dynamically to adapt to user needs."
---
Improving Accessibility

While there are major concerns surrounding the safety of self-driving vehicles, they could eventually make transportation easier for the millions of people in the United States who are unable to drive. "I have a son, a 13 year old whom I adore, who has autism. I'm pretty sure he's never going to get a driver's license. I desperately want safe, reliable transportation for my son so he can have a quality of life. So I can [rely on] self-driving vehicles [to] safely get him from point A to point B. So this is very personal for me."