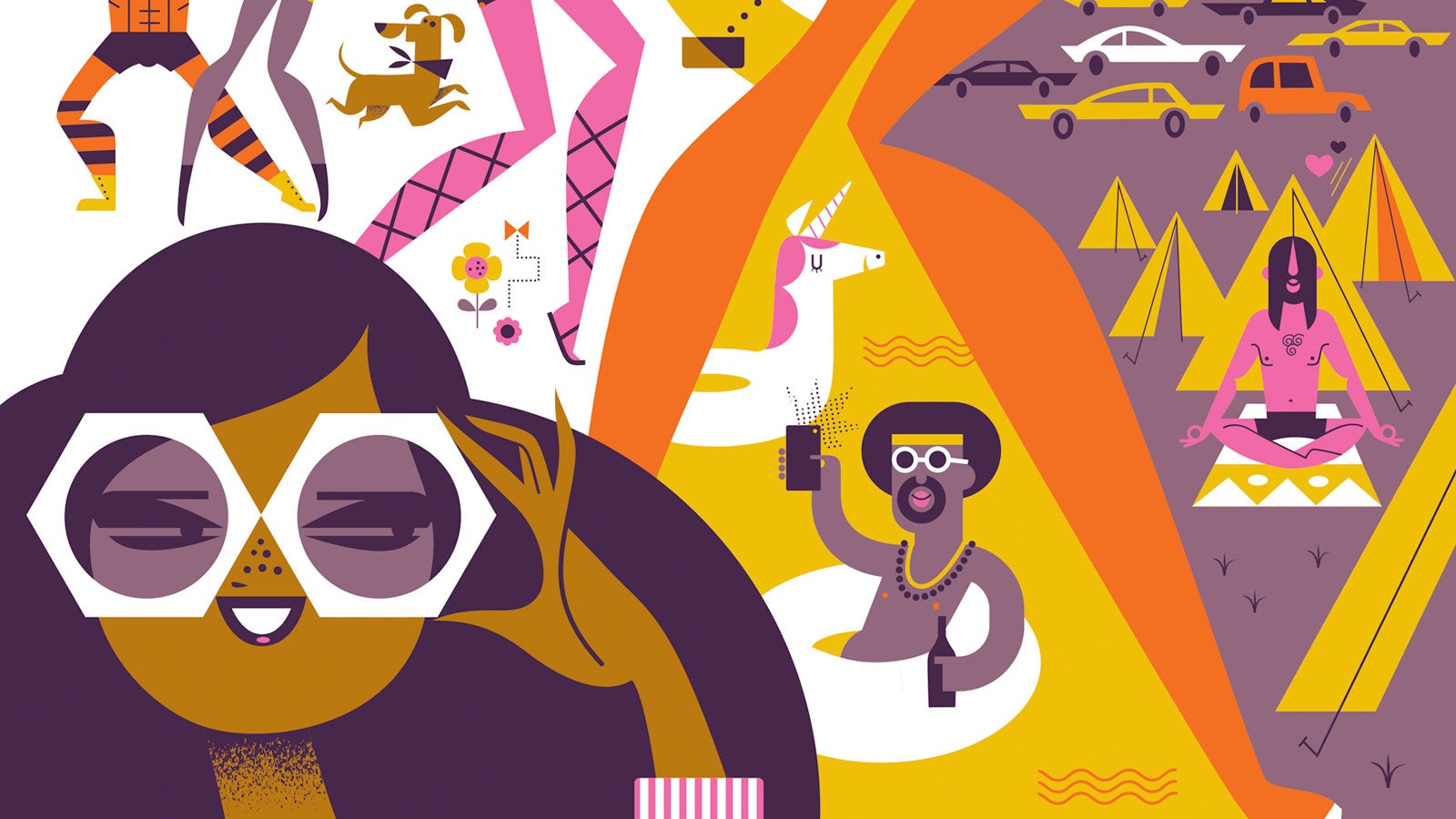 Nearly a decade after my first time at Bonnaroo Music and Arts Festival in Tennessee, I'm still shaking endless amounts of dust out of my camp gear. There are things about music festivals that never leave you.
Spring 2019 | By Lexi Senior '11 '16MFA 
Things like rainbow-colored tent cities snapped and hammered into place in mere minutes, the solace we call home when the sun rises. Or captivated crowds wrapped in tie-dye and hemp, swollen with fervent adoration for the band playing. Or artfully produced visuals, so deliciously disruptive from everyday life that they make you forget there is any other place but the one you're standing in at that very moment.
I've called many wildernesses, hills and hotels home in the last nine years, including the 650-acre farm of Bonnaroo; the woods of Suwannee Hulaween, Bear Creek, Okeechobee, and Zen Awakening in Florida, and Electric Forest in Michigan; the grassy hillsides of Washington for Sasquatch; the raucous streets of New Orleans' Buku and Baltimore's Moonrise; the circus sprawl of Orlando's Electric Daisy Carnival; and the palm-lined paradise of Miami's iii Points. This is the life of a dedicated festivalgoer. And since my first fateful fest in 2010, I've learned these spectacles offer more than stages with kaleidoscopic lights and loud speakers — these massive events form eccentric alt societies where all are welcome.
Promoters of the historic Woodstock event announced a 50th anniversary celebration this August. It will be one of more than 200 music festivals in the U.S. this year, but it reigns as the most important in name. It was the catalyst for a scene that more than 32 million Americans now partake in each year. The impact of Woodstock's countercultural vibrations continues to allow people to embrace their inner freaks and most altruistic energies, as The Beatles would say, "All together now."
While music is what originally lured me in, it's my festival family that keeps me going back. The festival community, to put it simply, rejoices in a lack of routine and regulation. It's mostly youth-oriented, but festival elders are often beside us while we find small, sweet freedoms dancing in dust storms, wearing fringe and face paint, unapologetic in our actions. Long days and nights of hustling from stage to stage have introduced surprise encounters so dreamlike I sometimes feel like I wished a portal into existence.
"What we take back home with us is much more than memories of the music — it's a shared mindset."
How can I best share with you the joy of a moment so singular, you know that it will never happen again? Should I tell you about being honored for a good deed with a pin that granted passageway to a secret speakeasy deep in the woods? Or about an intimate conversation with four elderly women throwing a wild 70th birthday celebration, watching a jam band with the reverence of churchgoers? Or about riding a Ferris wheel at midnight with stars glittering in constellations above, a headliner belting out below, and best friends by my side?
Nowadays, most festivals offer such a wide variety of acts that you can see rock legends like Robert Plant or Elton John, a couple of intriguing indie bands, a four-hour String Cheese Incident set, and an up-and-coming producer all in one day. Most of my friends and I have made it to as many as 30 sets in a single weekend. Festivals make it possible to see the amount of shows you could see in a year in a few days.
This, all of this, is why I love festivals. I'm humbled by these unconventional utopias, knowing there are thousands of others looking to celebrate an escape from reality, who are invested in music, art, meditation and protest, all from varying heritages and social backgrounds. What we take back home with us is much more than memories of the music — it's a shared mindset.
From organizers and operators to entertainers and attendees, festivalgoers believe in the freedom to be yourself (a cliché, perhaps, but meant with heart) wholly and always. We've manifested a place where you can dress how you want, dance how you feel or kiss whom you please. Where all body shapes and sizes are present and proud. Where you can celebrate peacemaking, imagination and individuality among others who hold similar values.
And while we inevitably have to return to our realities, where we wear our work clothes and sit at desks or serve tables or sell houses, we seek the sparkle of sequins and the glimpses of glitter behind collared shirts and pencil skirts. We know where we belong: All together now.
---
Lexi Senior '11 '17MFA is a roaming writer. Her writing has appeared in literary journals such as Paper Darts, Cheap Pop, Crab Fat Magazine and Gravel. Follow her travels on Instagram @lexilovely or connect with her at AlexisSenior.com.