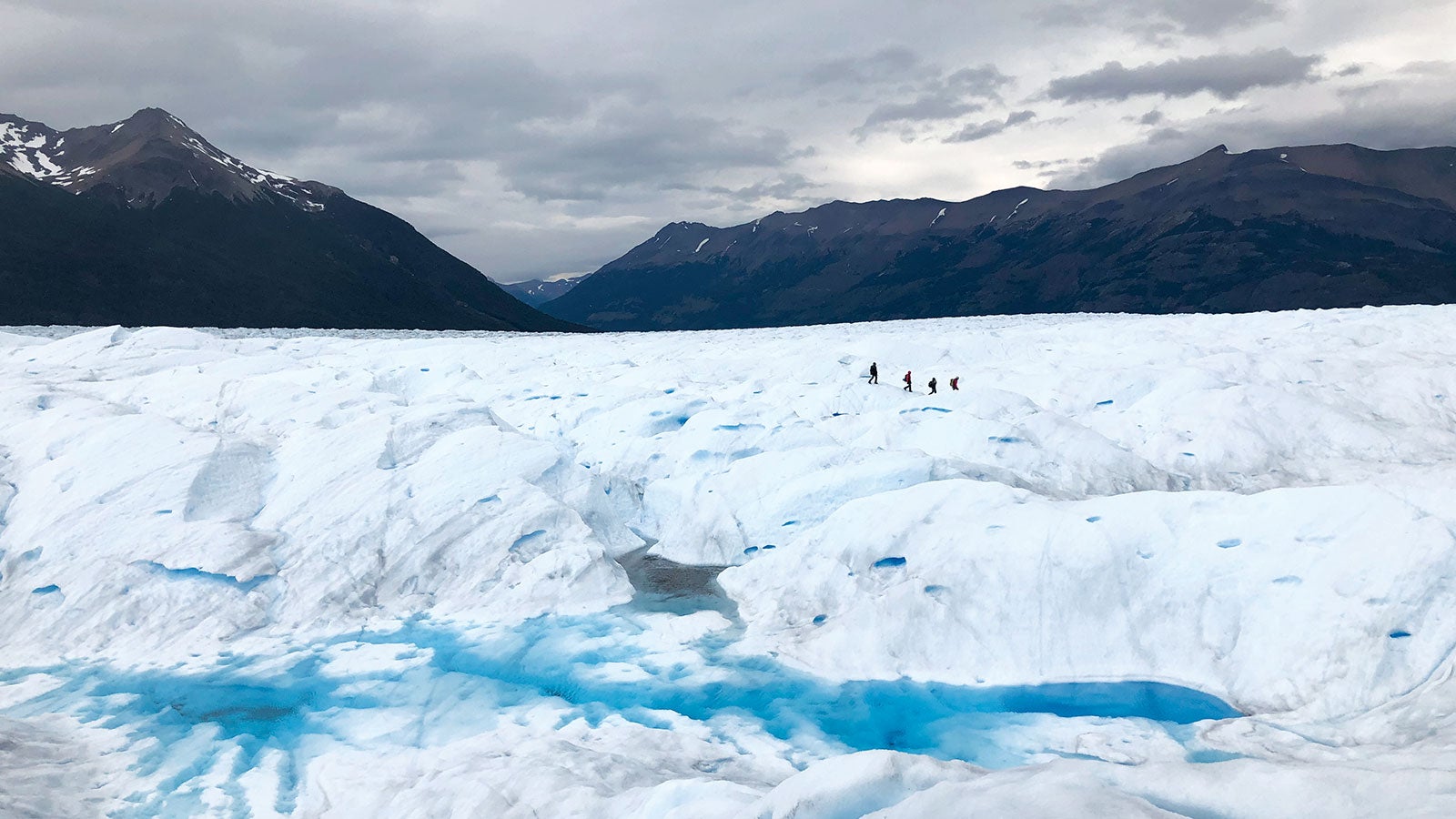 From surfing lessons in Cape Canaveral to hiking in Patagonia, UCF Outdoor Adventure provides students affordable options to explore beyond campus.
Summer 2019 | By Elizabeth Gondar
Jasmin Clark has always loved to take risks for no other reason than to see what she's capable of. "I feel that if you're not taking risks, then you're not living right," she says.
So when she enrolled at UCF in 2016, the marketing and Spanish double major found herself right at home as a trip leader for the Recreation and Wellness Center's UCF Outdoor Adventure.
She's experienced everything from caving in Alabama to a bioluminescent kayaking tour down the Indian River to exploring a region so far South, the only landmass below it is Antarctica. In December, Clark helped lead a 10-day expedition through the frozen landscape of Patagonia — an experience she can only describe as a once in a lifetime opportunity.
"It's so unique there are so many different environments," Clark says. "You have the glaciers, and the mountains and beautiful, pristine blue lakes. It was incredible… At the end of the day, I can't believe this is my job."
What is UCF Outdoor Adventure?
We give students the opportunity to develop themselves and also try new things in the outdoors. We're trying to build a community for students and give them a place to come to. Because UCF is such a big campus, I think it's helpful to have a small area and feel really safe and know you're going to have a good time with people who know what they're doing and have your best interests in mind.
Were there any difficult moments on your Patagonia trip?
For sure. We're Floridians and we don't have mountains down here, so we don't really get to experience elevation change, so all of our hikes were really, really intense. Especially the hike to the base of the Torres del Paine — that was probably the hardest day. People definitely struggled a little bit, but once we got to our goal, it immediately became worth it because they're huge and they just make you feel so small. You think, "I can't believe I just did this," at the top of the mountain looking at these three towers. It's amazing.
What does adventure mean to you?
Exploring different places. Exploring the relationships that you have with people when you go to these places. The program is about the outdoors, but it's more than that. It's about building a community and exploring different parts of yourself. Take the 10-mile trek up Torres del Paine. You feel like your legs are going to fall off and everything hurts — but you find out a lot about what you're capable of and how far you can push yourself.
What's been your most rewarding experience as part of the program?
I think my favorite part is creating an environment where people can go beyond their limits and accomplish things that they didn't think they could. We like to create a comfortable environment where you can take risk. I like people being really happy and satisfied with themselves and like "Wow, I really didn't think I'd be able to paddle those last two miles," or "I thought I'd be so scared of white-water rafting. I didn't think I'd be able to do it," and then they do it and they're so happy.
Why do you think people should go on adventures?
Just to try something new. You'll never know what you like until you try it and you might find yourself coming back again. We have a lot of people that go on one trip for the first time and then we see them over again throughout the semester because they want more. I think the chance to meet new people in an environment like that – where there are less distractions and connect with people on kind of a deeper, more meaningful level is really a great opportunity to take advantage of.
How can students get involved?
People call us the best-kept secret on campus, but I don't want us to be a secret anymore. To any students who are even a little bit interested in Outdoor Adventure, just stop by the office on the first floor of the Rec and Wellness Center on main campus and ask questions because we love sharing information about what we do, and we love helping new students get involved.