Please be aware that if the Intent to Graduate form is submitted after the term deadline, the student will no longer be eligible to participate in the Commencement Ceremony for this semester and their name will not appear in the list of degree candidates within the associated Commencement Program.
How to Complete Your Intent to Graduate Form**
Log on to my.ucf.edu using your NID and password.
Click on "Student Self Service" located under the myUCF Menu.
Once in the myUCF Student Center portal, select "Intent to Graduate: Apply" from the "Other Academics" drop-down menu.
**To check the status of your Intent to Graduate form, follow the above instructions, but for the third step, select "Intent to Graduate: Status" from the "Other Academics" drop-down menu.
Graduates must submit their Intent to Graduate form well before their actual graduation ceremony. Please review the UCF Academic Calendar to find the specific Graduation Application deadlines for your term. Once these deadlines have passed, graduates will need to contact their college advising office of their major to inquire about earning their degree this term. An Intent to Graduate application must be filed for each active program a student has declared. If there are any questions about declared programs, graduates should contact their college advising office.
Reader Card Information
Reader cards for bachelor's and master's degree graduates will available for pick up with ticket packets during the designated ticket pick up week. Bachelor's and master's degree graduates should remember to bring their reader card to the ceremony. Doctoral graduates will receive their reader cards upon arrival at the Addition Financial Arena the day of their commencement ceremony and not when they pick up their regalia and tickets.
Extra reader cards are available prior to the ceremony at the Registrar's Office table located inside the Addition Financial Arena. It is important that each graduate fill out his or her address information on the back of the reader card. This is the address that will be used to send the proofs of photos taken at the ceremony by GradImages. The address listed on the back of the reader card is not associated with the diploma mailing.
During individual recognition, graduates should hand their reader card to the announcer. The card is preprinted with the graduate's college and name. If the graduate's name is difficult to pronounce, the graduate should clearly print the phonetic pronunciation on the card.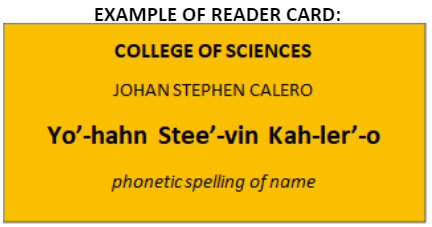 Diplomas & Transcript
Diplomas and official transcripts are not provided until all degree requirements are certified by the college advising office and awarded by the Registrar's Office after the commencement ceremony. Your college's advising office will notify you of any deficiencies of degree requirements via your Knights email account. Contact your college advising office if you have any questions regarding your status.
Incomplete grades will prevent a candidate from graduating. If this occurs, the candidate must reapply to graduate in a later semester. Grade changes must be completed one week after graduation.
Diplomas
Diplomas are not issued at the ceremony. They are mailed to graduates once all degree requirements are certified by the college and awarded by the university.
Approximately 6 to 10 weeks after commencement, all diplomas will be mailed to the address indicated on the student's Intent to Graduate form. Diploma mailing addresses for undergraduate degrees may be changed by logging into MyUCF > Student Self Service > Personal Information > Addresses. Diploma mailing addresses for master's and doctoral degrees must be updated by contacting the College of Graduate Studies.
UCF will issue a digital diploma to graduates prior to the physical diplomas being mailed. When the diplomas are ready to be issued, the graduate will receive an email notification to their Knights email with instructions of how to download the digital diploma. At that time, the graduate will have an opportunity to update the diploma mailing address.
Diplomas will not be issued if the graduate's record is on hold. The university will notify students via Knights email of any outstanding holds that would prevent the mailing of transcripts or diplomas. All financial obligations must be met in order to receive a diploma and official transcripts. Graduates should check their myUCF portal for any holds that may exist and clear up those obligations before commencement.
Transcripts
Transcripts that reflect the degree earned will be available approximately 4 to 6 weeks after the ceremony. Graduates may submit transcript requests online at myUCF > Student Self Service > Student Center > other academics: (drop down menu) > Transcripts: Request Official. Be sure to turn off pop-up blockers. Graduates must select the "Hold for Degree" processing time option. For more information, please see the Registrar's Office Official Transcript Request page.
Accessibility Needs
Graduates who use a wheelchair, motorized scooter, service animal, walking cane, white cane, sign language interpreter or assistive listening devices; have hearing or visual impairments; or need special accommodations should contact UCF Student Accessibility Services at 407-823-2371 in advance to make special arrangements. Wheelchairs are not provided. Graduates must bring their own. For TDD/TTY calls, please use the Florida Relay Service and phone 711.
Accessible Parking
Accessible parking is available in parking Garage D and F. Those with state disability parking permits may park in either. Garage D offers accessible parking on the ground floor, while Garage F includes an elevator and accessible access on all floors.
Mobility-impaired individuals may also be dropped off in front of the Addition Financial Arena prior to parking. Please plan to arrive at the Addition Financial Arena at least one hour prior to each ceremony.
Further accessibility information, as well as contact information for the Addition Financial Arena can be found via https://www.additionfiarena.com/faqs