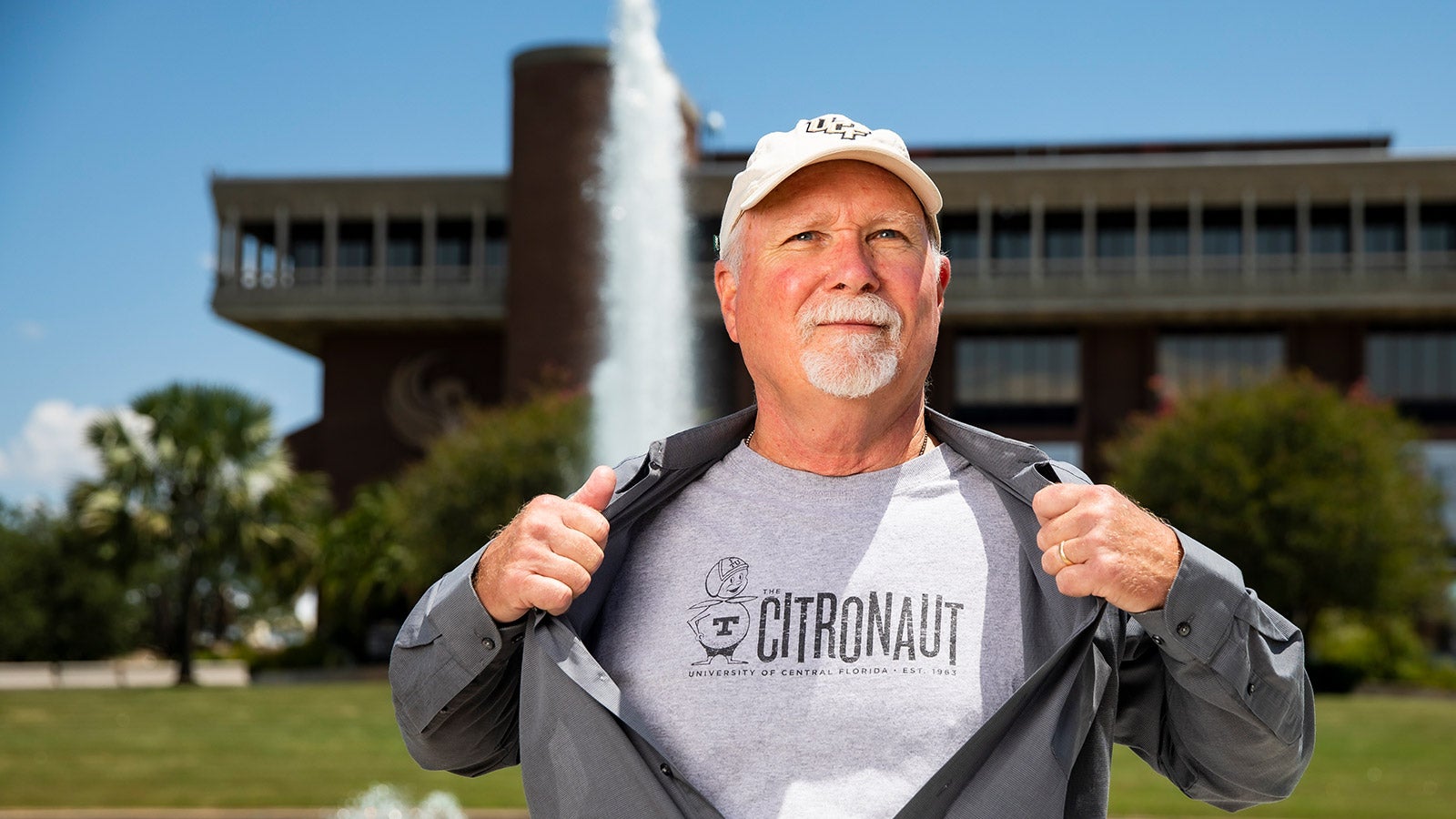 23 UCF Recollections on the Eve of Retirement
Gene Kruckemyer '73 reflects on his 52 years at UCF as a student, instructor and news editor as he approaches his next big adventure.
Summer 2021 | By Gene Kruckemyer '73
My dad told me to never buy the first-year model of a new car because the bugs hadn't been worked out yet.
So it was fortuitous that I graduated from Orlando's Boone High School in 1969, a year after UCF opened and I could become a student at the university in its second year — after all the bugs had been worked out…
UCF has certainly changed the landscape and mindset of Central Florida — and me. We were pioneering students back then, when the Reflecting Pond was at the heart of a new oasis in the middle of a pasture and pine forest, where pioneers often find themselves.
I had just returned from a summer trip driving to Alaska and back, but the new lifelong adventure of Florida Technological University (UCF's original name) was on the horizon — and for me has lasted 52 years.
While a student, I also worked as a library assistant and on the student newspaper before I graduated in 1973. More than three decades followed working at the Orlando Sentinel as a writer and editor, including 10 years concurrently as an adjunct teaching news writing and editing in UCF's Nicholson School of Communication and Media. My daughter Emily is a UCF graduate, having gone through one of my classes in Nicholson, and I can't overlook being a part of the University of Central Florida Baseball League during many of those intervening years — that, of course, is a fantasy baseball league started by now-retired Professor Ed Kallina and populated mostly by baseball fanatics, oh, I mean faculty members, in the Department of History.
The past 10 years I've been news editor in the UCF Communications and Marketing office.
When you're around the water cooler that long, you pick up things, observe things, hear things. And form opinions…
Now that I'm "retiring" this summer (whatever that means these days), hopeful to do some even less-strenuous things than typing, I've been thinking a lot about my time spent with the people, places and things UCF. Below are some miscellaneous thoughts in no particular order, historical notes, comments on stories I've been part of, and random things that meant something to me — and perhaps may stir some recollections in others, too.
Why does this list have 23 items? It is reminiscent of my days at FTU when I was active in a lot of intramural sports — and 23 was our team name. Fraternities used letters for their team names, so for no other reason my friends and I picked the number 23 as our name. Intramurals were a key diversion for us in those early days, when there weren't a whole lot of other activities on campus.
Our independent team was not connected together by clubs or other organizational ties — we were connected by friendships, some that have lasted a lifetime and some that soon faded. So thank you, Randy, George, John, Gary, Ed, the other John, Mark, Mitch, Kenny, the other other John, Pete, Don, Jay and others for our time together, both on and off the field.
Some of those were my brightest days, and I know that many other Knights have formed lasting friendships at UCF, too, and have felt the same through the years. Charge On!
---
1. First building on campus
It's not often that we can feel like a pioneer of something as significant as UCF, but way back then everything on the campus was new and full of opportunity. Sometimes it is hard to comprehend the growth UCF has undergone in its timeframe. At just barely over 50 years old, we are considered a young university. There were lots of "firsts" but there were also lots of "wait until later." For you alumni who may have been on campus in the early years, you'll remember that the library — the first building on campus — was like a versatile Swiss Army knife, housing not just library books, periodicals and other media, but also the administration, classrooms, campus bookstore, and faculty and staff offices. It even served as an art gallery. At one time, the main road on campus curved between the library and the Reflecting Pond. We were small, but that didn't last long. As different programs and organizations grew, they left the library and moved to their own turf. Today there are more than 280 buildings on the main campus.
---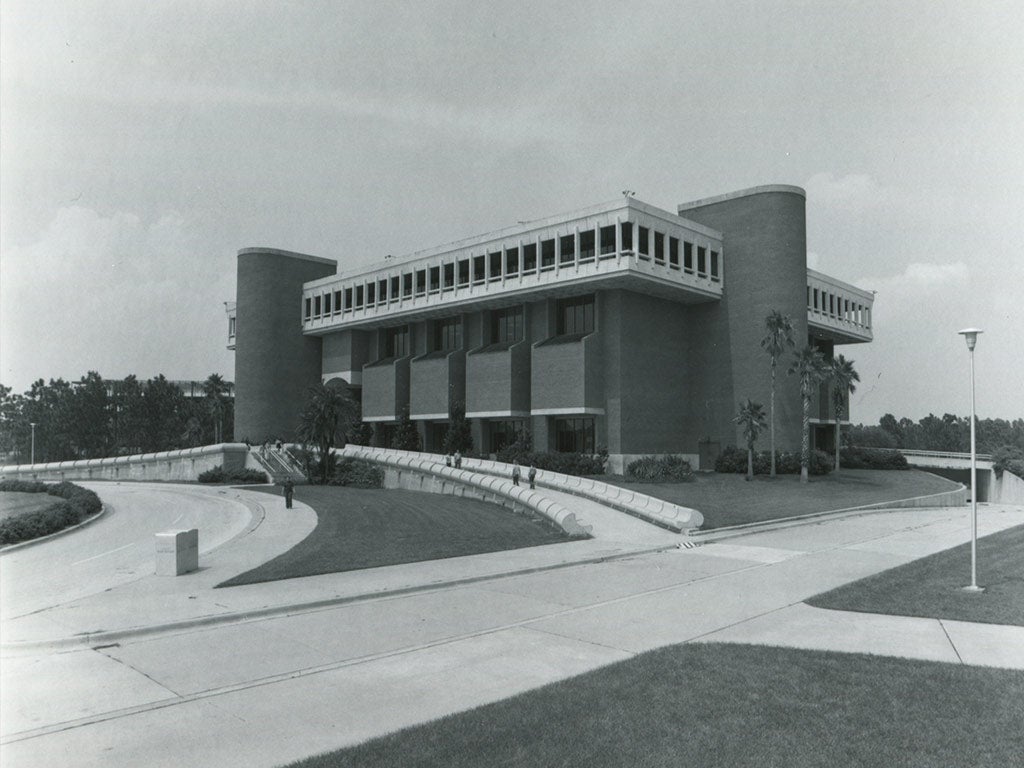 ---
2. A classy professor
My favorite professor when I was a student was someone who is still teaching today as an adjunct— and going strong. Thomas Greenhaw taught a variety of history classes, but as an Anglophile his specialty was English history. He had pictures of Queen Elizabeth in his office and at the mention of her during class he would feign (I think) reverence and often genuflect. He made learning fun and serious at the same time. He also is the kind of professor who remembers students long after they've been in his class. I bumped into him at the campus bookstore about eight years ago — four decades after taking his classes. He remembered me and even asked about some of my friends/classmates — by name.
---
3. A classics professor
If you had Professor Robert Flick for a humanities class years ago, he may have given you this same advice he told my class: If you're ever in Nashville, Tennessee, stop by to visit the full-scale replica of the more than 2,400-year-old Parthenon from ancient Greece. A few years after I graduated, I was passing through Nashville so followed his advice to experience the inspirational building. About 10 years ago, I recognized him at a coffee shop in Sanford, where I live. I introduced myself and told him I followed his Parthenon advice. He was pleased that I remembered. So my advice to you the next time you're in Nashville is to visit the Parthenon — and let me know.
---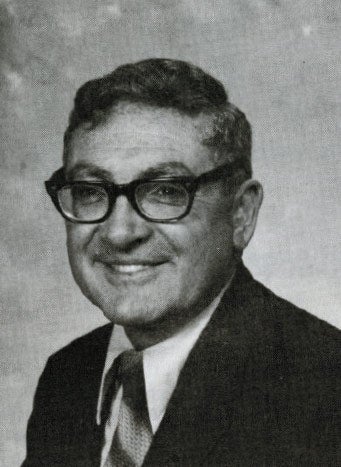 4. Expanding country — and viewpoints
My favorite class was about America's frontier history, which was about how and why we became who we are as a country as our border expanded westward. Professor Paul Wehr taught that class, which had a lot of discussion about the positive (and sometimes not so positive) ways the nation evolved. He often would take an opposing side of any issue and argue with the class about it. But once he persuaded the class to agree with his points, he'd turn around and start arguing the other side — just to show us there are always multiple viewpoints to historic issues. After he retired in 1995, he said in an interview that he knew it was time because: "The students were getting smarter than I was. You can't allow that." I was sad to hear that he passed away earlier this year.
---
5. Speaking of viewpoints…
A university is a place of ideas, and what good are your ideas if you can't share them? I think the project of mine that has created the most long-term interest during my current job has been the UCF Forum, a weekly series of opinion columns written by a rotating panel of faculty, staff and students from all over campus. Now in its ninth year with about 450 columns archived, the series has been inspirational, thought-provoking and informative on a wide range of topics. The project was also set up to promote the university and attract readers to our UCF Today website. Columns are made available for anyone who would like to use them, and through the years have been reposted and reprinted in various publications, ranging from the Huffington Post to a nursing home newsletter. The series has expanded and gone multimedia, with the columns now broadcast on WUCF FM (89.9) on Sunday mornings (and also set up as podcasts), and all of the columns are maintained in the UCF Libraries' STARS digital repository. Check 'em out — you probably know some of the columnists.
---
6. The long and winding road of education
Maybe some of you knew from the beginning of your college days what you wanted to major in, but I was one of those who changed my course a few times. If I had stuck with what I was interested in in my grade-school years, I'd be doing something today with dinosaur archaeology or pro sports. But when it came time to focus on a reachable goal, I still didn't know at first what major to declare. I went from general studies, to education, to history and pre-law before landing on what I had the most interest in: communication. By the time I put both feet in that field, I already had enough classroom hours in the other subjects before graduation, so the double major on my diploma is: history (pre-law) and communication (journalism). So if someone comes to you as an alum and wants advice on career education, don't rule out the winding road. I enjoyed the journey.
---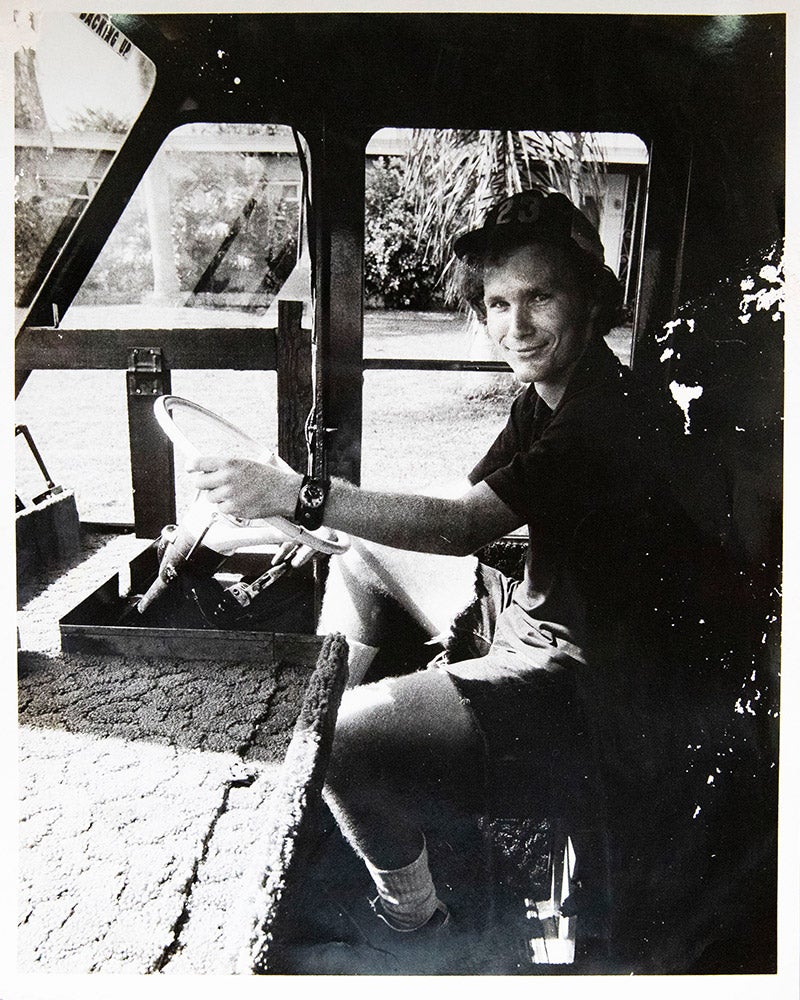 ---
7. The FuTUre student newspaper
When the FuTUre student-run newspaper was alive and on campus, it was more than just a newspaper. It created community. In the time I worked there, the big stories often were topics about our growing pains, such as whether to change the name of the university from Florida Technological University to something else, and the move from an academic calendar based on quarters to a school year based on semesters. Those stories were mixed in with campus happenings such as welcoming anthropologist Margaret Mead and musician Herbie Mann to campus, the wrestling team beating Notre Dame one year, and advertisements for — yes — records and tapes.
But facing the challenges of many publications in the digital age, the paper that gave students the opportunity to learn — and even learn from their mistakes — unfortunately closed its doors in 2016 after 48 years of service to its readers. Today there are countless platforms and varying sources of information that create so many special-interest groups that live in silos — not just here, but everywhere. If you look closely at the newspaper's name above, you might deduce why it had that mixed-up capitalization. It also was the first place that paid me to write and edit, so that's another reason to remember it fondly.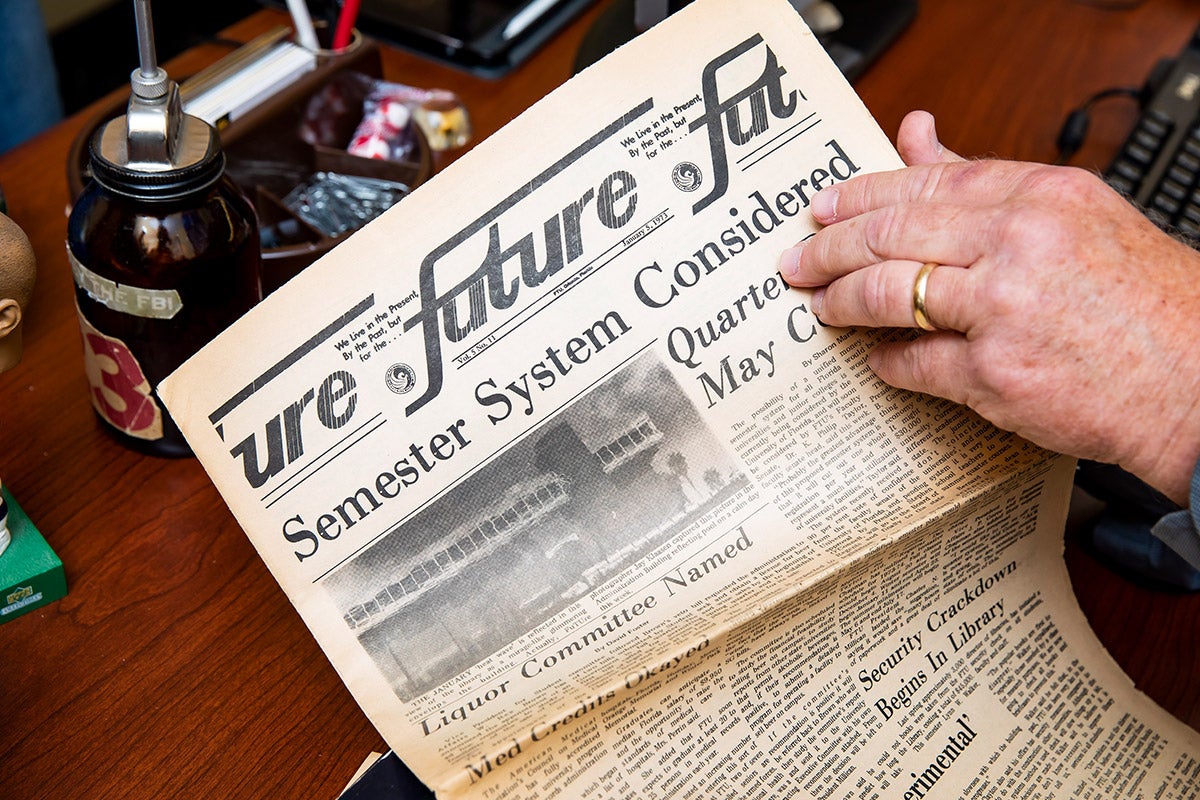 ---
8. It's all about networking
You never know what important lifelong relationships you might make at a university. For example, when I worked at the FuTUre, I met Susie Lancaster Findell, the secretary of student publications. But she became much more than that — she later introduced me on a blind date to her sister Nancy, and we've been married 45 years. Susie, who worked at the university for 10 years, married her husband Jon Findell '73, who worked at UCF 45 years, starting as a photographer and retiring as manager of the faculty multi-media center. They've been married 48 years. So you never know what long-lasting relationships may evolve through your university contacts.
---
9. Living on campus
Many of us UCF alumni had the opportunity to live on campus through the years. When I lived on campus my first year in school, there were just four small residence halls with a capacity of 427 students. Today there are beds for more than 12,000 students at the main campus, UCF Downtown, Rosen College of Hospitality Management, sorority and fraternity housing, and affiliated housing off campus. Fortunately for me, I lived in the closest room to the cafeteria, which is now the Live Oak Ballroom. This was back apparently before plates were invented because students on the meal plan were served on metal trays that were formed in sections to separate the food.
Also, parking on campus is a perennial issue with everyone on campus, residents and visitors alike. In the early years there were a few paved parking lots, but much of the parking was where you could find it between trees in sandy lots. Now there are more than 22,000 parking spaces in 10 garages and 35 surface lots. And at peak traffic times you'll still see drivers following people walking out to their cars, in hopes of grabbing a spot. Some things on campus don't change.
---
10. President Nixon visits campus
It's not often that a U.S. president will come to your party, but in June 1973 President Richard Nixon joined UCF's first president Charles Millican and presented the commencement address to my graduating class. Our class was tiny by today's standards (696 earned degrees that spring compared to about 17,000 a year now) but this was before there were any buildings on campus that could hold a gathering even that size, so the concrete Reflecting Pond was drained and we sat there — sweating in black cap and gown on a humid Florida day in June. The president's helicopter landed in the parking lot just west of Millican Hall (then called the Administration Building). This was in the middle of the president's Watergate scandal, but he still talked about hopeful things in the future. Turns out our futures were more promising than his. He resigned the next summer.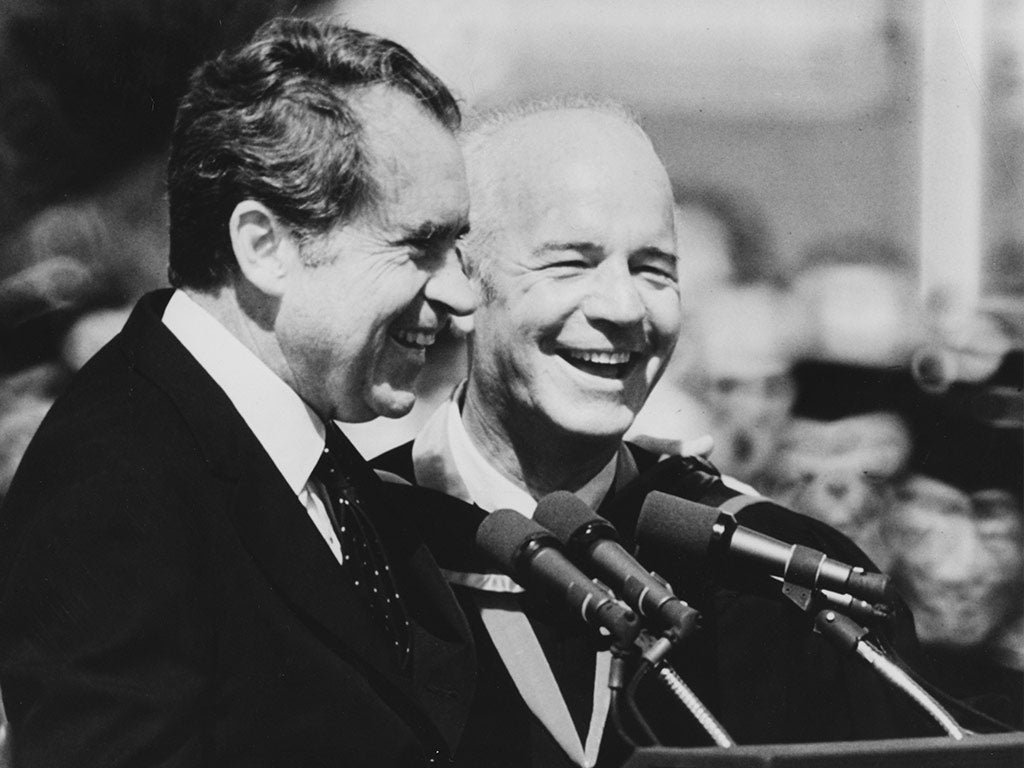 President Richard Nixon and UCF's first president Charles Millican at the university's 1973 commencement.
---
11. Finding adventure
Many alumni take the opportunity right after commencement to head out on a travel adventure — and I did, too, right after the president came to campus. Just a couple days after we received our diplomas, I left on a long cross-country trip in a repurposed mail truck that one of my friends bought and we turned into a camper. Traveling is an education in itself, and Randy Greenwood '73, Gary Ballard '73 and I learned a lot on that summer expedition. Then in 2019, the theme of the summer issue of Pegasus magazine was "Adventure," which included my story Why I Embrace Adventure. The point of the story is that adventure is often just around the corner — no matter if you're on a trip, at a new job or in a classroom — and everyone needs one to look forward to. Retirement is going to be my next big unknown adventure.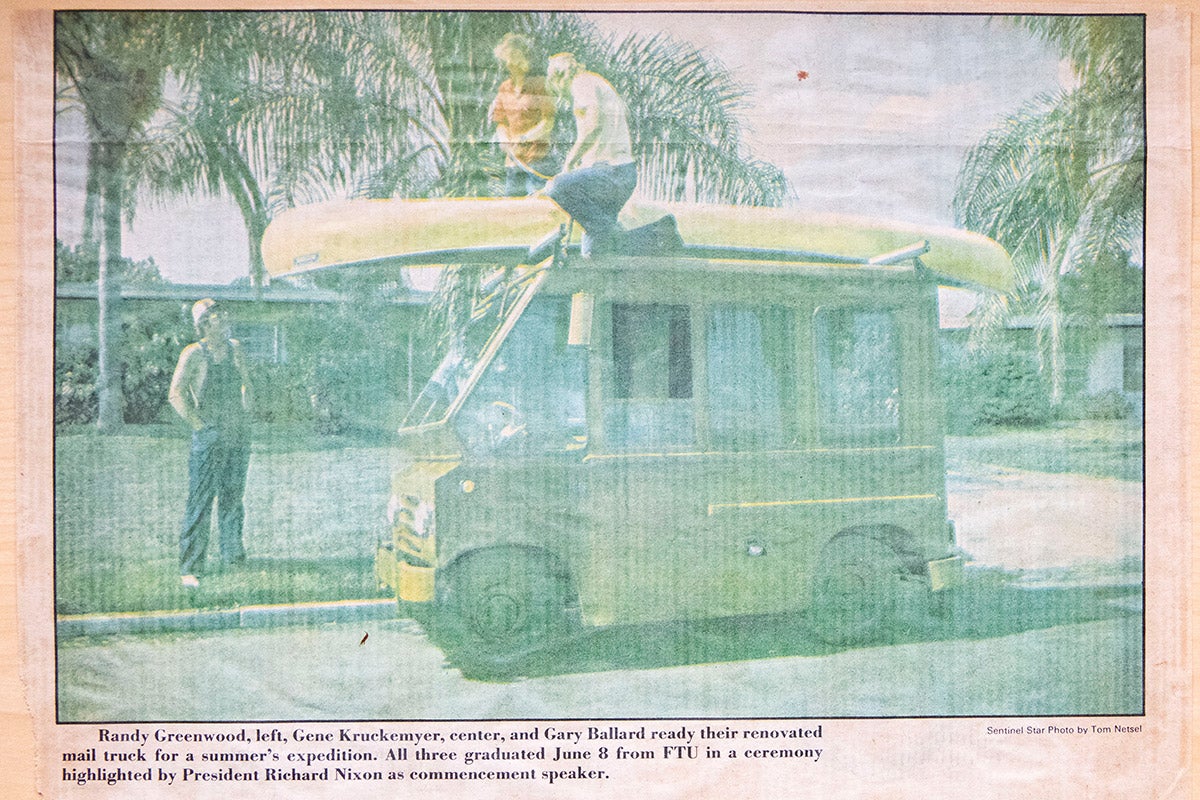 ---
12. A career helping hand
A few months before I graduated, journalism Professor Fred Fedler answered a call from the Sentinel to recommend a couple students to hire as clerks, Don Keeth '73 and me. About 25 years later, while I was still working at the Sentinel, the professor hired me back at UCF as an adjunct to teach news writing and editing for the next 10 years. Fedler, who used to write crime-detective stories on his own time, was an all-around instructor back then, teaching writing, editing and layout to aspiring journalists. I am grateful for professors such as him who look to help both students and graduates all through their careers.
Teaching for 10 years as an adjunct was kind of a lesson in reverse to me. I learned as much as (I hope) the students took away about writing and editing. When you have the opportunity to teach others, you (theoretically, at least) know more than the student, and on the first day of class I'd always write a Mark Twain quote on the board: "Writing is easy, all you have to do is cross out the wrong words." As a working journalist I was used to deadlines, but as a teacher I learned a little more about patience while working with students. I had to remember that I was in their shoes at one time and that you don't learn overnight which are the wrong words to cross out.
---
13. Writing in style
Everyone needs it, but some people think punctuation is a pain in the asterisk. Without the handy style guardrails of punctuation, we would be lost in a jumble of words. When I found out there was such a thing as National Punctuation Day, I checked with some writing faculty who were going to observe the occasion with some punctuation exercises in their classrooms. The apostrophe is "the hardest-working punctuation symbol in our language," says Rick Brunson '84, a senior instructor in the Nicholson School of Communication and Media, in my story Hey, Did You Forget? — "National Punctuation Day" (Sept. 24) is Coming! I've known Rick since our days at the Sentinel, and he's a remarkable teacher of the journalists we need tomorrow.
---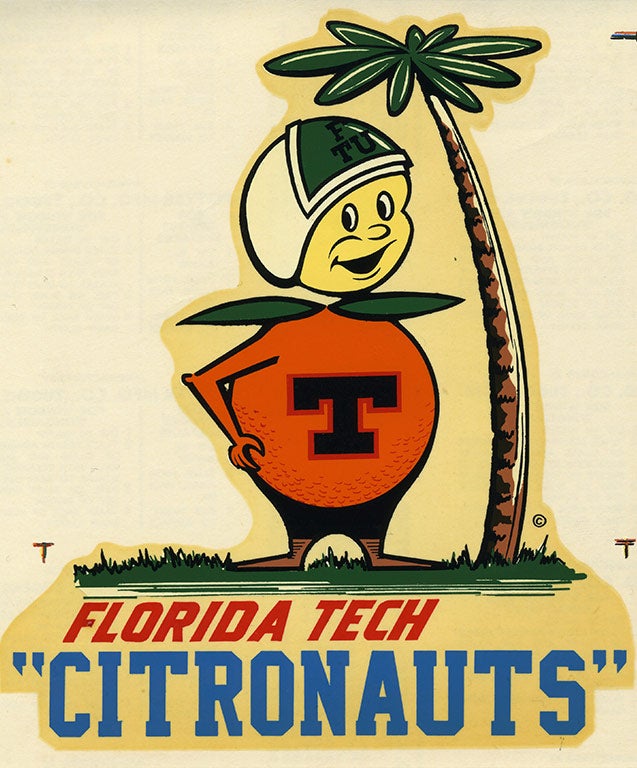 14. The Citronaut, a juicy mascot
Back in the '70s, a popular sight around campus was the Citronaut, one of several early unofficial mascots of the university. The cheerful character — sporting the body of an orange and the head of an astronaut — first appeared on the cover of the 1968-69 student handbook. It was squeezed out by the Knights of Pegasus in a 1970 campus vote that picked the new mascot. Afterward, when the campus bookstore — then in the library basement — was doing some housekeeping and threw out some leftover Citronaut decals in a dumpster, I was in the right place at the right time. (Don't judge me! It was a long time ago!) One of the decals is proudly displayed on my car today. He/she (?) seemed to have gone underground for many years, but I always loved seeing the character pop up from time to time. There has been a resurgence the past few years, with the Citronaut appearing on T-shirts, some of the baseball and football teams' jerseys, and other campus paraphernalia.
---
15. Q&A with Pegasus
Those of us in the UCF community see Pegasus all around — this magazine is even named after the iconic winged horse. I wondered what he might say if he had the chance, and I had the opportunity for a 2013 interview with him, which became: Pegasus Q&A Kicks Off UCF's 50th Anniversary. I learned that some of his favorite movies are Clash of the Titans and Black Beauty, and that — unlike some of us — he doesn't see retirement in his plans anytime soon. In a separate 2014 Q&A, Another Day in the Life of UCF's Reflecting Pond, I learned that the structure wasn't even part of the original master plan of the campus. As an afterthought, President Charles Millican proposed the 225,000-gallon concrete basin as a solution to eliminate an often dried-up pond that became a muddy pit when it rained. The pond is still a nice setting to relax, study, celebrate Spirit Splash at Homecoming and, as it says, reflect.
---
16. Cool campus visuals
Here are two of the coolest things on campus that I always have to stop and take in for a few minutes when I pass by: the Foucault pendulum in the Mathematical Sciences Building, and the shimmering exterior of the College of Optics & Photonics. The pendulum, which was installed in 1970 while I was a student, demonstrates the rotation of the earth. It is mesmerizing to watch. After the pendulum had some mechanical problems and broke down in the 1990s, it sat idle about two decades before business graduate Eileen Swindling '88 set up an endowment in 2016 to restore and maintain it. At the time, she said: "As a student, I found its gentle motion a reminder that life is about moving. At times when I was discouraged, I visited the pendulum as a reminder that even bad things pass. It's up to you to keep your eye on the future and keep moving in that direction." The pendulum swings above a seal with UCF's original name: Florida Technological University.
Over at Optics & Photonics, the front of the building displays the multi-story artwork called Elliptic Lens, an example of some of the technology taught at the college. Triangular refractive and reflective materials, such as holographic films and dichroic coatings, cause the colors to constantly change depending on the light and viewing angle.
---
17. Lights, camera, community action
Many faculty members do a lot to better our community on their own time. One that I'm specifically familiar with is film Professor Lisa Mills '99MA. My wife and I and some of our friends — including Christina Grace Beverly '04 and Nelson Beverly '04 — founded the Love Your Shorts Film Festival a dozen years ago in Sanford. One of our goals was to have an educational component as part of the event. For advice, I approached Mills, an award-winning filmmaker, and she has been invaluable. She has helped organize educational programs for novice and veteran filmmakers, curate student films for us to show on the big screen, and has served as a festival judge. It is faculty members such as her who improve our community by giving of their time and expertise.
---
18. Going smoke-free
I appreciate that UCF officially became a smoke-free campus in 2012 because I don't understand that unhealthy habit. I was on the university committee that helped with the initiative and promote the transition along with former campus Police Chief Richard Beary '04MS, who once told this story: At the time, the football stadium was designated a smoke-free zone, even though the campus as a whole was not. The stadium has a fence of vertical, metal bars around it, and even though people standing inside the stadium could not smoke, Beary said some of them would stick their hands and mouth through the bars to light up and puff outside the perimeter of the fence. As I said, I don't understand a lot of things….
---
19. Flying high on the disc golf course
As a student — and alum — I played a fair amount of disc golf through the years on campus. For the uninitiated, that is the sport of throwing a plastic disc into a series of elevated metal baskets, sort of like playing regular golf. The course has been moved around through the years; the current one near the Recreation and Wellness Center is the fourth and has been in play since 2014. My favorite was the first. It wound around through the middle of campus, with one of tees on the balcony of a building, and one of the fairways going over the Reflecting Pond. Apparently that course caused too many disruptions on campus — supposedly someone was hit by a flying disc — so the course was moved to the woods along Alafaya Trail. Later it was relocated to the Arboretum, but that gobbled up too many errant discs that became lost in the thick palmettoes. I serve on the University Master Plan Committee, so sometimes I hear a hint of things to come — so I have some good news for those who enjoy playing: There are plans to expand the current course from nine to 18 holes.
---
20. Positioned for remote learning
In my job I've had the opportunity to meet a lot of interesting and inspiring people on campus. One of those is Chuck Dziuban, who was in the classroom many years as a professor in what was then the College of Education and now directs the Research Initiative for Teaching Effectiveness, who I profiled in UCF's 1st Pegasus Professor Looks Back at His 50 Years on Campus. Because of his focus and contributions to developing online teaching, administrators say UCF was well positioned to handle the move to hosting all classes remotely during the coronavirus threat. "We all knew that this was, in many respects, the future of learning…I'm just grateful that we had the foresight to see this coming," he says. In addition to being named a Pegasus Professor — UCF's highest academic award for faculty members — Dziuban has also  received the honor of professor emeritus and the university created the Chuck D. Dziuban Award for Excellence in Online Teaching, which annually recognizes a faculty member who has taught an exemplary online course. You may have seen the bumper sticker that says: "If you can read this, thank a teacher." Well, if you took a class from UCF during the pandemic, you can thank Dziuban.
---
21. Going in style
Sometimes I refer to my job of news editor as being a security guard at a word factory. That's why I created and maintain the current style guide we use in our Communications & Marketing office, to try to minimize escapes of any ne'er-do-well words into the community. The guide helps with consistency, spelling and terms often encountered around the university, such as: what is the difference between alumna, alumnae, alumni, alumnus and alum; when it's OK to use the term coed; and the correct name of the Reflecting Pond (not Reflecting Pool or Reflection Pond). Plus, in my role through the years one of my goals has been to reduce the excessive use of stand-alone, unclear abbreviations and acronyms in stories. If faculty, staff and students don't readily know what CREOL, FIEA and FAFSA stand for without further explanation, chances are alumni that read them aren't going to know either. The style guide is available to everyone to use at that link above, so please do — in case you want to know what STEAM or any of those abbreviations above stands for.
---
22. Walking the walk of diversity
I'm pleased that UCF doesn't just talk the talk about diversity and inclusion. In the early 70s, the student population was overwhelmingly like me: white. In the years I've been here, there has been the consistent push to expand the demographics on campus. Student enrollment today is about 46% white, 28% Hispanic, and 10% Black, with other groups making up smaller segments. And just this past spring, Forbes listed UCF in the top 25 of America's Best Employers for Diversity. This year in my office of fewer than 50 employees, I have had a veritable United Nations of colleagues: Australian, Canadian, Colombian, German-Trinidadian, Guatemalan, Indian, Filipino, Puerto Rican, Vietnamese and maybe others I'm not aware of. This makes our office and the university better.
---
23. I love working here
Sometimes UCF connections work in reverse — meaning that pre-UCF relationships can be reconstituted here to hopefully benefit the university. When I came to UCF as a "retiree" — already retiring from the Sentinel after 33 years, plus an additional three years as publisher at the Sanford Herald (just because I liked working on newspapers) — I was hired by Grant Heston '12MBA, whom I had known at the Sentinel before he was vice president for UCF Communications and Marketing. When I heard about the job, I thought it would be a nice bookend to spend time at UCF and share news of the university with the community. I recently thanked him for hiring a retiree for the job 10 years ago, considering there were so many other available people on the market. Grant, now vice president for university relations at Virginia Commonwealth University, said: "It wasn't out of niceness that I was doing anything. I knew you could help us and that you were exactly what we needed. It worked out far beyond what I even hoped it would." Thanks, Grant. As I often told you: "I love working here."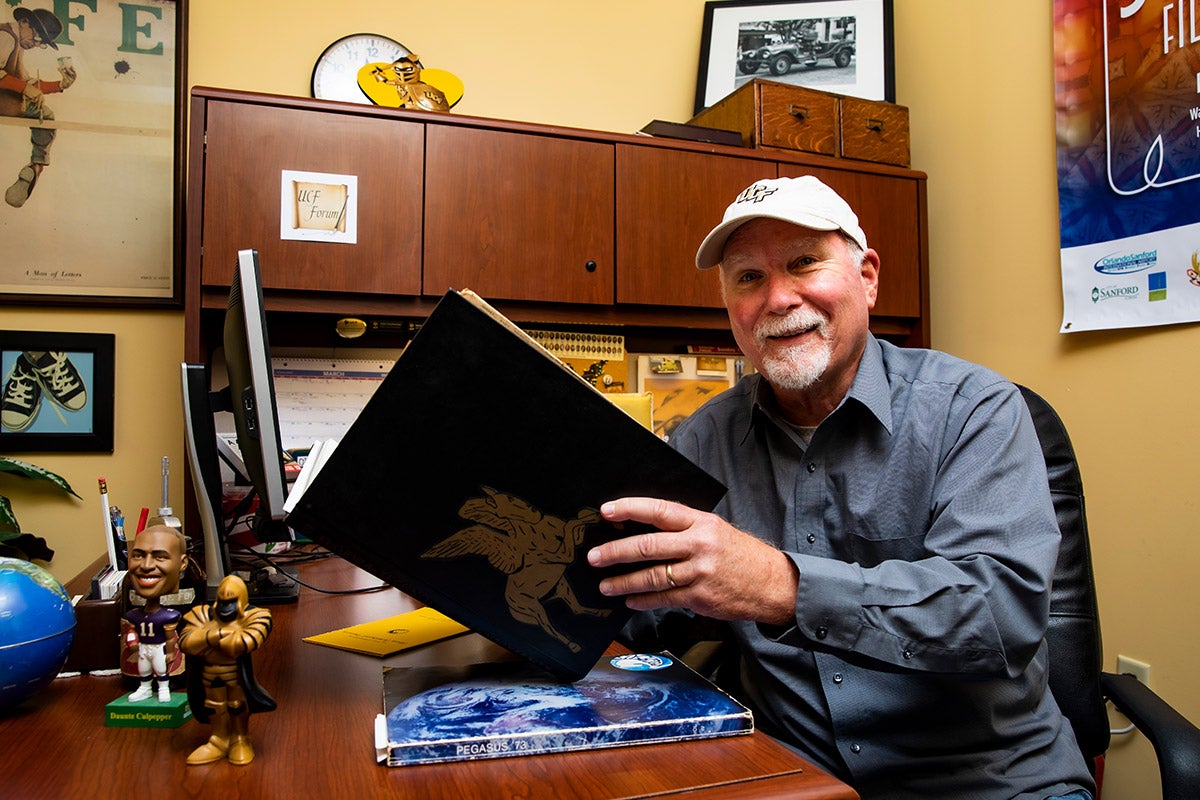 Gene Kruckemyer can be reached at genek@knights.ucf.edu.
---