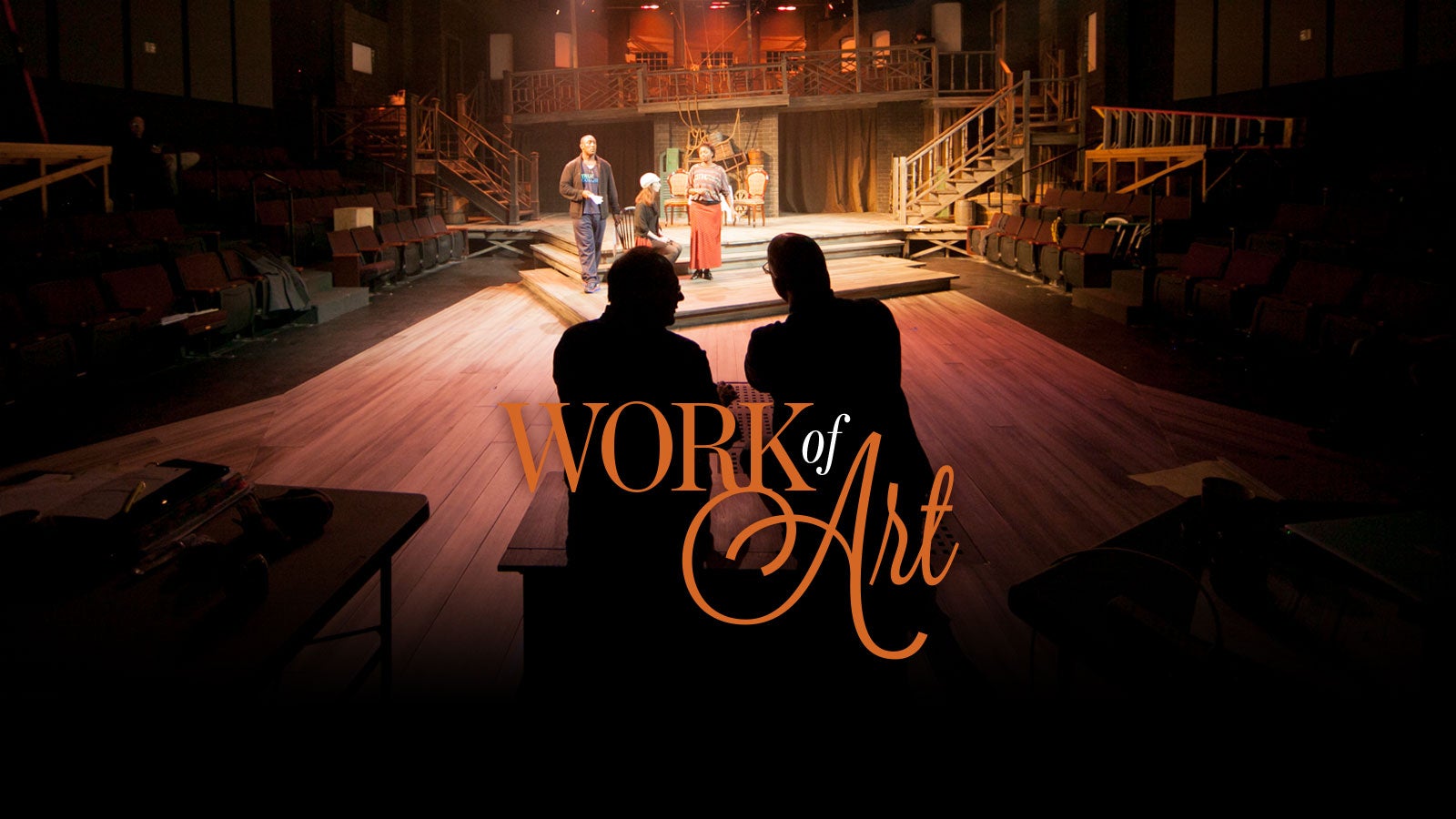 Behind the Curtain: Theatre UCF Presents 'Nicholas Nickleby'
Epic in scale and difficulty, this is the most ambitious play attempted by UCF.
Spring 2014
"The Life and Adventures of Nicholas Nickleby" is a play that strikes fear into the hearts of performers. At 6 ½ hours in length with 150 characters and more than 10,000 lines of dialogue, the dramatic adaptation of Charles Dickens' 19th-century novel is a theatrical challenge like no other. The story of a penniless youth who struggles to save his family from greed, lechery and corruption in Victorian England is so daunting a production that it has been performed professionally just seven times in the U.S. since its 1980 London premiere. Despite being the vehicle for many Laurence Olivier and Tony awards over the years, there are few theater companies willing to attempt it. But Theatre UCF and Orlando Shakespeare Theater saw opportunities in "Nickleby," both to create a unique educational experience for students and faculty, and to stage a rare theatrical event to put their partnership on the national stage.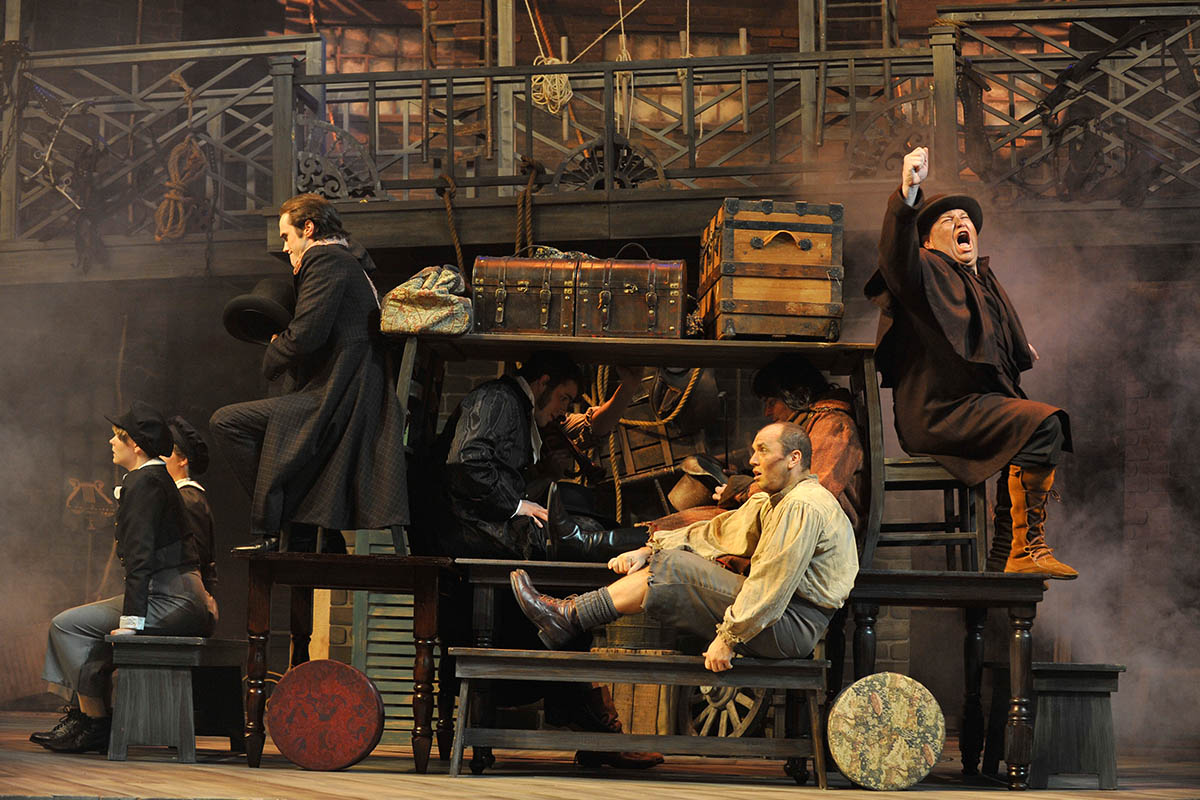 How long does it take 10 actors to build a stagecoach out of dining room furniture and oddly shaped suitcases? Just 58 seconds — if all goes according to plan.
Onstage at the Orlando Shakespeare Theater (OST), five performers are sharing breakfast when one stands and calls for action with a bellow: "Come on boys, let's bustle!"
In an instant, the group breaks rank and rushes the stools, benches and a table to the back of the set. Simultaneously, performers emerge from backstage lugging chairs, hatboxes, a steamer trunk and a door that they wrestle into a growing three-dimensional puzzle. The parts have been modified to fit together securely, because in a few seconds the actors will ride the ramshackle contraption offstage on a rotating platform.
As the pieces are worked into place, eight of the actors climb cautiously on board. The play's scenic designer, three assistant stage managers and two directors — hands on their hips — move closer to inspect the construction. This is the first attempt to move it with people on board. It is the latest test in a yearlong series of challenges that Theatre UCF and OST have tackled in preparing this ambitious project. The scene onstage mirrors the production itself, corralling countless details into a precise, collaborative execution. And it's crucial that they get it right, because there are precious few rehearsals remaining before opening night. So far the team of actors, directors, costumers, set builders and other crew have overcome each challenge — from orchestrating a complex plan of attack to learning foreign dialects, creating hundreds of costumes, building an elaborate stage and surviving a grueling rehearsal schedule — but a great deal of work remains.
"Is anyone else really nervous?" one of the actors asks. "Keep your hands and feet inside the coach at all times," another quips, trying to diffuse the tension.
"Ladies and gentlemen, stand by for the revolve," announces the stage manager over the public address system. "We're doing this without music, so if anyone needs to yell 'Hold!' we can hear them and hit the emergency stop."
Tense seconds pass before the coach begins to move — without toppling.
"Hooray!" someone shouts as applause rises.
OST Artistic Director Jim Helsinger smiles. This whole thing — the 6 ½-hour performance and the unprecedented financial investment — was his idea.
"You look like a kid in a candy store," jokes OST Stage Manager Stacy Renee Norwood.
"It's because a tremendous amount of planning went into this scene for more than a year, and now it's paying off," he explains. "Now we have to figure out how to take it apart."
Planning a Monumental Partnership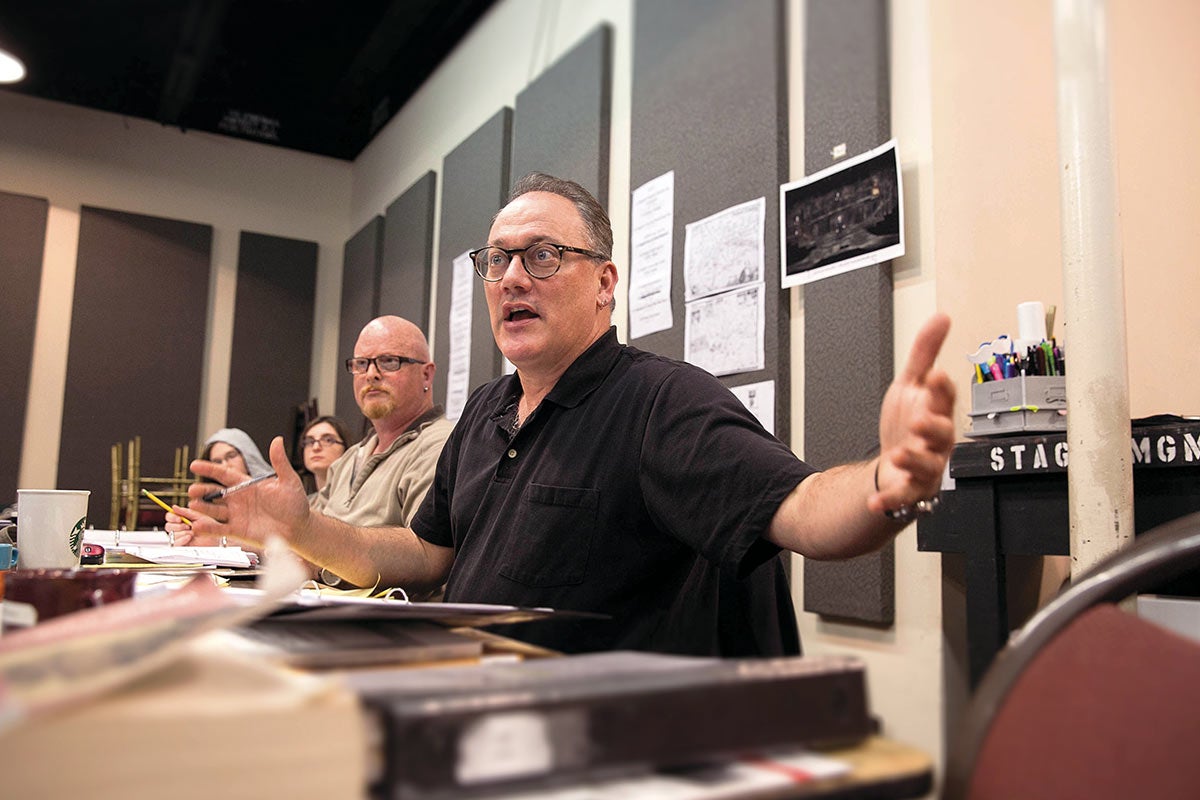 The inspiration for the Theatre UCF/OST production of "Nickleby" was in Helsinger's mind since he first enjoyed the play on Broadway in 1981. "It was much more than an evening at the theater — it was an event," he remembers. And one that left an impression. "It was the longest standing ovation I've ever given to a show."
But it took more than three decades for the director and UCF visiting assistant professor to find the right opportunity to present it. And the partnership between OST and Theatre UCF — a collaboration that is celebrating its 25th anniversary this year — made it possible.
"The relationship with UCF was invaluable," says Helsinger. " 'Nickleby' required a massive cast and crew put together with professionals, faculty, graduate and undergraduate students, and interns. We couldn't have done it without them."
"This mammoth production was a real marker both for a professional theater company and for an academic unit," says Theatre UCF Chair Christopher Niess, who co-directed the play with Helsinger. "Of course it will be judged by the final product, but it puts you at a certain level [of notoriety], and what's important for both of our companies is the fact that we've done it through a partnership."
Including the 27 actors needed to play 150 parts, the company of designers, artists, craftspeople and crew members numbered more than 100 — plus two directors to finesse every detail and bring them all together. "Directing is like being an air traffic controller," Niess explains. "You have all of these talented people doing great work, and it's how you coordinate them all to tell a story."
Planning for the show, which ran from Jan. 22 through March 9 at OST's Margeson Theater, began two years before production. To tackle the 332-page script that weaves two storylines through a hundred scenes, Helsinger and Niess each took one plot and worked closely to achieve cohesion during weekly meetings.
"It's the most complex thing I've undertaken," says Helsinger, who created a giant spreadsheet to coordinate all of the actors, characters and props through each scene.
"In those early conversations, we had a meeting of minds," says Niess. "We always had our focus on telling the story."
On the line for both groups were reputations and an unprecedented financial investment. To fund this venture, OST raised an additional $100,000.
"The first thing I asked when I saw the announcement was, 'How?' " says Orlando Sentinel theater critic Matt Palm. "I was excited because very few theatergoers in this country will ever have the chance to see this production."
"It's a gamble to do something this big in Central Florida," Helsinger says. "Can we get the community to come to a show that is not well-known — that is not 'West Side Story' or 'Les Misérables' or 'Cats'?"
According to Niess, "You have to be a little crazy when you are pushing the bar to capture people's imagination."
Discovering the Characters
For an actor, creating a believable character is a process of layering details until the role comes to life. Speech, mannerisms and movements are only a few of the myriad particulars they must assimilate. With 150 characters in "Nickleby," each cast member was tasked with three, five or even eight roles, each with their own personalities, costumes and accents, including proper British, cockney, Yorkshire and Welsh.
"We all think we can do [a British accent] because we've watched Monty Python or Ricky Gervais, but it is hard to make it seem natural," says Associate Professor Katherine Ingram, the dialect coach for "Nickleby." She continues, "Then the actors run off stage and while they are changing costumes, they have to change their dialect."
For a month before rehearsals began, Ingram helped the actors develop and fine-tune their accents. From past experience and shared advice, each actor found methods to overcome the difficulties of speaking — and thinking — in an uncommon tongue.
M.F.A. graduate student Anna Carol, who plays five roles in three dialects, was careful to memorize the dialogue of each character with the correct accent. "How the sounds come out in each voice is as much about muscle memory as it is literal memory," she says. "The dialect is such a huge part of the character that it wouldn't feel right to play each without their accent."
"The challenge of this piece is really in memorizing the different physicalities and vocal tones of each character," says Tara Snyder, '07, an assistant professor who plays five roles. "Success comes from repetition and practice."
Telling a Story Without Words
As a period piece set in Victorian England, costumes were essential in creating the "Nickleby" world. And with the actors rotating through multiple roles — often in the same scene — each character needed a strong visual identity. The solution was a design scheme that layered identifying accessories onto basic garments.
"Each look had something that put its stamp on the character — like a feather boa, a blue cravat or a tattered schoolboy uniform," says Carol. "The [costume] changes provided clear meaning to the character being portrayed."
To create more than 250 dresses, smocks, corsets, coats and other accessories was an undertaking too great for a single costume shop to accomplish. "The partnership [between OST and Theatre UCF] enabled us to do something that very few companies have attempted because it is such a massive job," says Dan Jones, manager of the Theatre UCF costume shop.
Working from an oversized binder containing hundreds of hand-colored drawings by costume designer Jack Smith, Jones, shop supervisor Kyla Kazuschyk, '03, and their student crew began building pieces in the summer of 2013.
"At the base level, theater is about telling a story," Jones says, "and costumes help tell the story without words."
Building the Perfect Playground
The story of "Nickleby" covers a great deal of ground — both figuratively and literally. There are 40 location changes and many happen in a matter of seconds. A special set had to be created to accommodate these transitions, plus the troupe of 27 actors who at times simultaneously occupy the stage.
"The solution was a large, flexible set with many entrances, exits and acting levels," says scenic designer Bert Scott, an associate professor at Theatre UCF. But the execution of Scott's vision required more space and labor than OST could supply, so a portion of the construction duties were delegated to Theatre UCF. Scott contends, "It was an exciting project for the department and a great opportunity for our students to work on a professional-level production."
From brainstorming sessions with Niess and Helsinger, Scott created a design that extended into the audience and incorporated a large portion of the space typically considered backstage. The set, which was the largest ever installed in the OST's 324-seat Margeson Theater, incorporated three levels with flanking staircases that led to an elevated bridge, plus a computer-controlled, rotating turntable built into the floor. Constructed at UCF, "the doughnut" enabled furniture and actors to be moved offstage quickly and efficiently.
"The turntable was fantastic because it allowed the actors to shift time and place rapidly," says Niess. "It worked like a dream."
And just as accents and costumes assisted the actors' characterizations, so did the elaborate set. Quentin Earl Darrington, an M.F.A. graduate student, found inspiration in the options it presented. "There were so many different levels to play on that it gave us even more freedom to develop the story," he says. "It was the perfect playground that added another dimension to the production."
Creating Everything Out of Nothing
After two years of planning and preparation, "Nickleby" rehearsals began in mid-December, when the cast and crew gathered six days a week to work out the details. The number of scenes and interweaving plotlines required separate sessions to run concurrently by the directors in different spaces.
"It's like hiring two chefs to run one restaurant," says Niess. "It became complex as scenes evolved separately, so we were constantly refining our navigation."
In small rooms colored tape on the floor outlined set levels and elements, requiring the actors to imagine their way around obstacles. During the first sessions, the directors worked out the complex choreography needed to guide the performers through fast-moving scenes without collision.
"The play can never die," Helsinger explains. "It has to keep going all the time, so we have to work out the traffic beforehand."
The long days often ran from 1 p.m. to past 11 p.m., and many of the UCF actors were teaching and attending classes in the mornings. In addition to memorizing their lines, maintaining their health and stamina became a necessity.
"It was a huge undertaking that took a toll on my body," Darrington says, "but it's also a high point on my résumé and a huge advancement for my career."
Two weeks before opening night, rehearsals moved onto the recently completed set, and quick costume change tactics became a main focus. Many of the actors had less than a minute to transform characters, and if the process wasn't seamless, the performance would stall.
For Carol, the keys to success were organization, calm and costume assistants with quick hands. "The makeup and wig changes were more stressful than clothes [changes]," she says, "but when there's a system, it's true theater magic."
As opening night approached, the pressure mounted. "The things I was most excited for were the things I was most nervous about," says Olivia Grace Murphy, the only UCF undergraduate in the cast. "The play is an epic, so if it's not an amazing production you're going to feel all 6 ½ hours."
Niess was confident, however, as his expectations had been exceeded. "There were several points where I got emotional over what was happening because it really is magical when everything comes together," he says. "You watch people have a moment and it's like, 'Oh my goodness. That came out of nothing.' "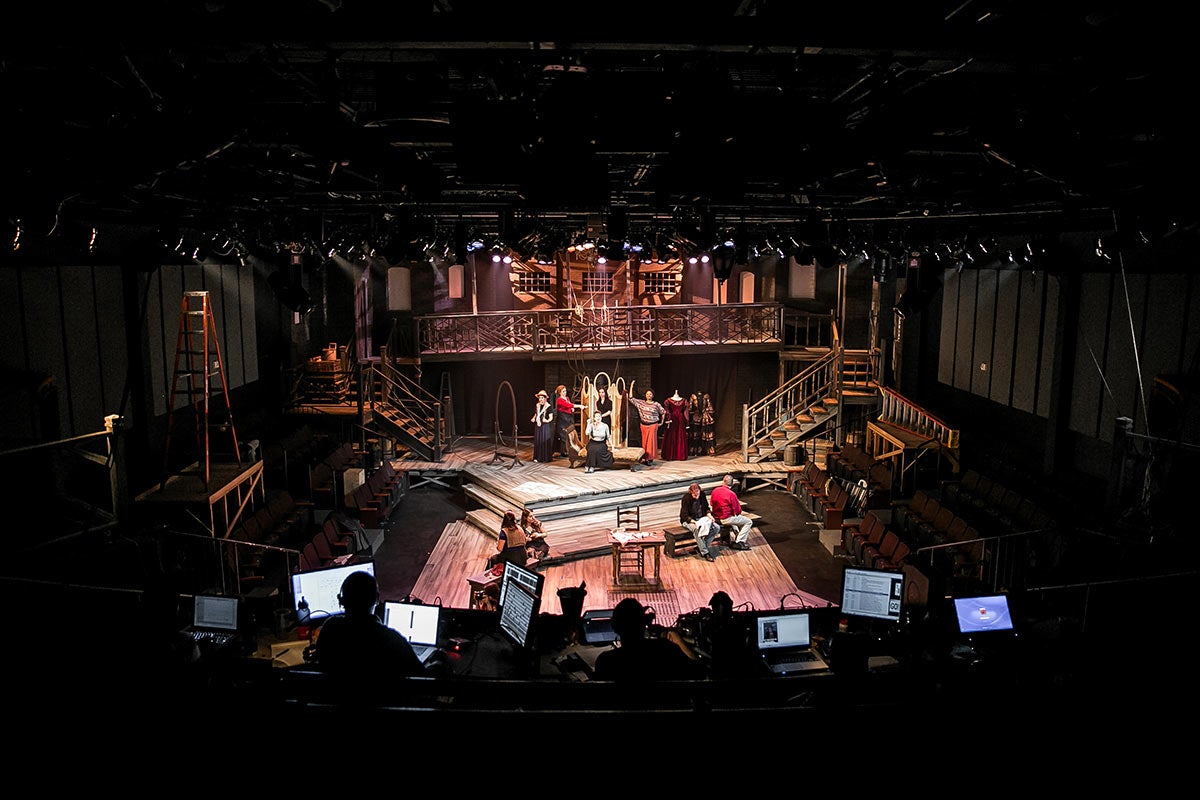 Reaching the Finish Line — Opening Night
On a Friday evening in January, all 27 actors — fully coifed, costumed and in character — roam the audience inside the Margeson Theater, welcoming patrons before the show. It might seem like this is the finish line, but for most everyone involved in the landmark endeavor, this performance is only the beginning.
"There's a lot more work to be done, tweaks to be made and moments to refine," says Darrington. "I don't believe the process will be done until the last show."
"A play develops as it goes through the run," Niess says. "As we work with it, nuances shift and change the flavor of the production."
Suddenly, the lights dim above the audience and grow brighter on the stage. Music signals the actors to gather on set. Latecomers fill the remaining seats as the packed house quiets.
Hours later, the cast crowds the stage to take their closing bow. Gathered tightly together, some performers wear triumphant smiles while others simply look relieved. In the darkness, the audience rises from their seats — one by one — and applause erupts.
Nickleby's Journey to the Stage
1838–39
Charles Dickens publishes "The Life and Adventures of Nicholas Nickleby" in serial form in monthly installments before releasing it as a novel.
1980
The novel is adapted for the stage by playwright David Edgar. The 8 ½-hour production, performed by the Royal Shakespeare Company (RSC) at the Aldwych Theatre in London, wins multiple Laurence Olivier Awards, including best new play and best director.
1981
RSC premieres the play in the U.S. at the Plymouth Theatre on Broadway. The production wins the 1982 Tony Award and New York Drama Critics' Circle Award for best play.
1982
BBC Television films an RSC production of the play at London's Old Vic Theatre, producing four episodes.
1982
Great Lakes Theater Festival performs the play and revives it in 1983.
1983
Kansas City Repertory Theatre performs the play.
1983
The BBC TV adaptation airs in the U.S. on Mobil Showcase Theatre and wins the Emmy Award for outstanding miniseries.
1986
RSC revives the play at the Royal Shakespeare Theatre in Stratford-upon-Avon, then tours the production in England before taking it to Los Angeles and New York.
2005
California Shakespeare Theater performs the play.
2006
David Edgar premieres a condensed, 6 ½-hour version of the play at the Chichester Festival Theatre in England.
2007–08
RSC performs the play at the Gielgud Theatre in London.
2009
The University of North Carolina at Chapel Hill PlayMakers Repertory Company performs the play on campus at the Paul Green Theatre.
2010
The Lyric Stage Company of Boston performs the play.
2012
Orlando Shakespeare Theater and Theatre UCF begin "Nickleby" production planning.
2014
Orlando Shakespeare Theatre and Theatre UCF performance of the play runs Jan. 22 to March 9.