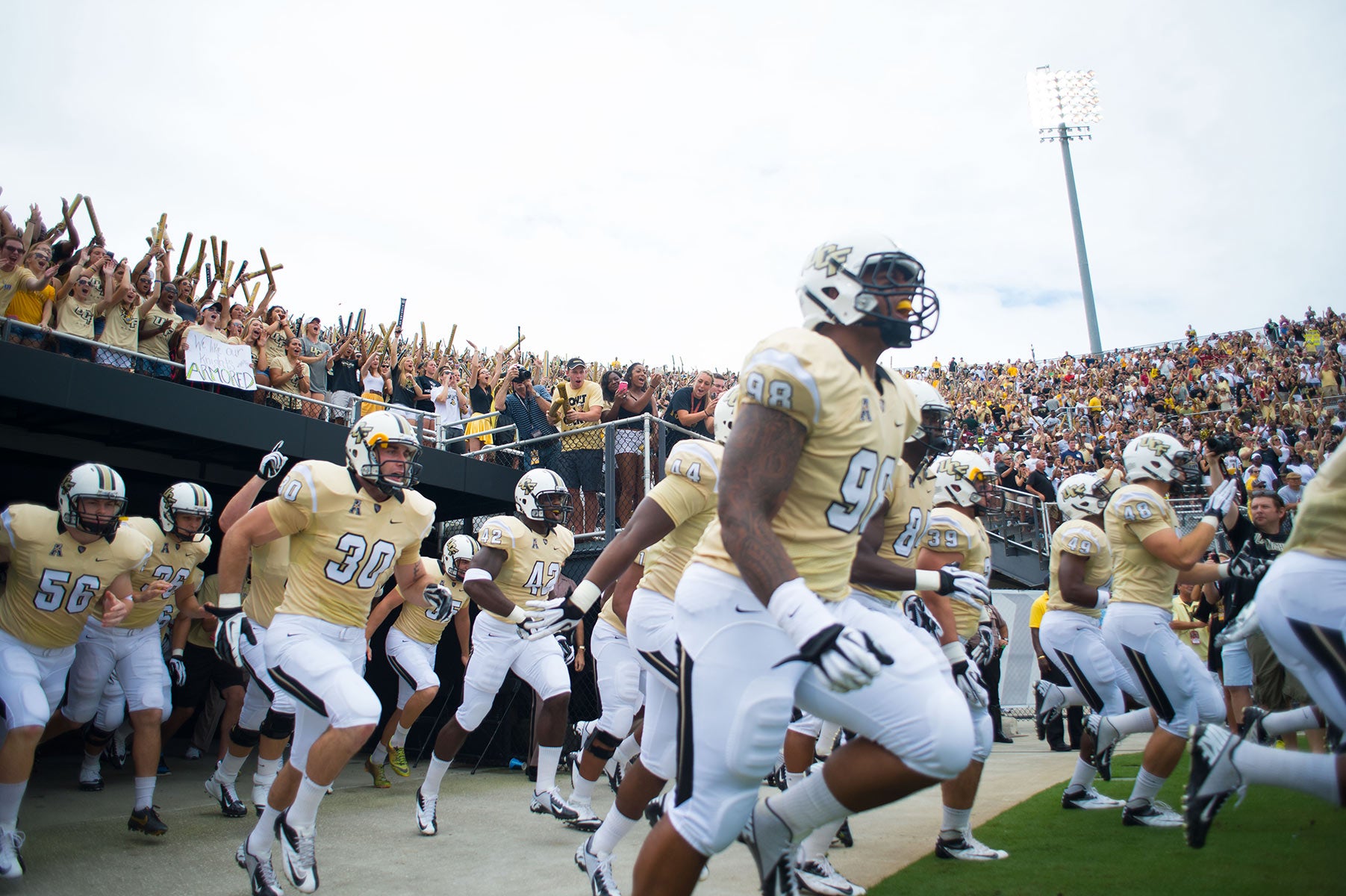 The Season
All spring and summer we were a young football team full of promise — then the season started.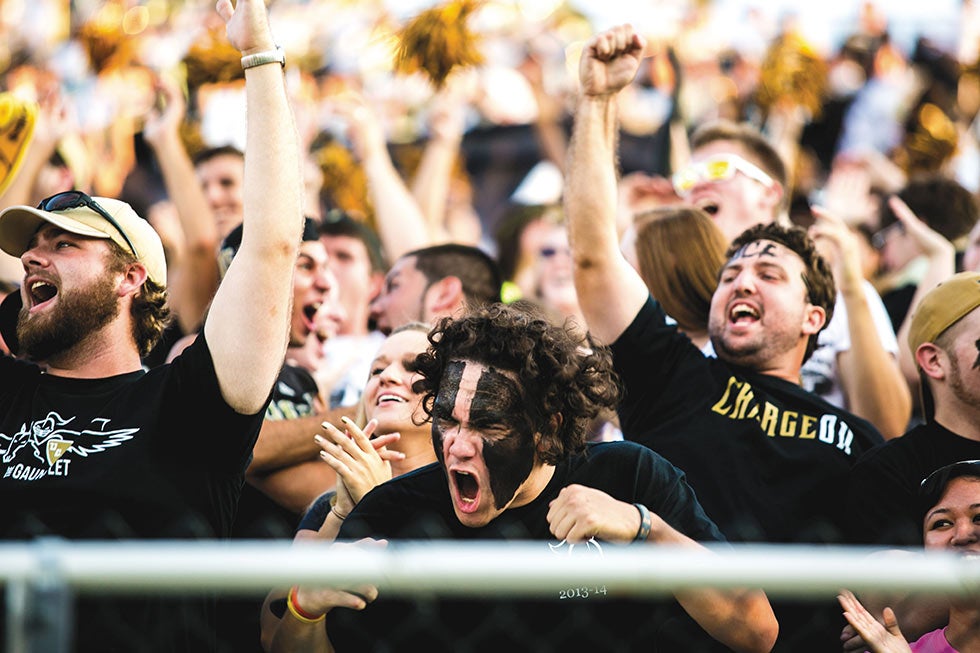 Replay: UCF recovered its own fumble on the opening play. Blake Bortles then passed to Breshad Perriman for a 91-yard touchdown, the longest play from scrimmage in school history.
"Every time I touch the ball I want to score. Honestly, I thought somebody was going to tackle me from behind."
Breshad Perriman, wide receiver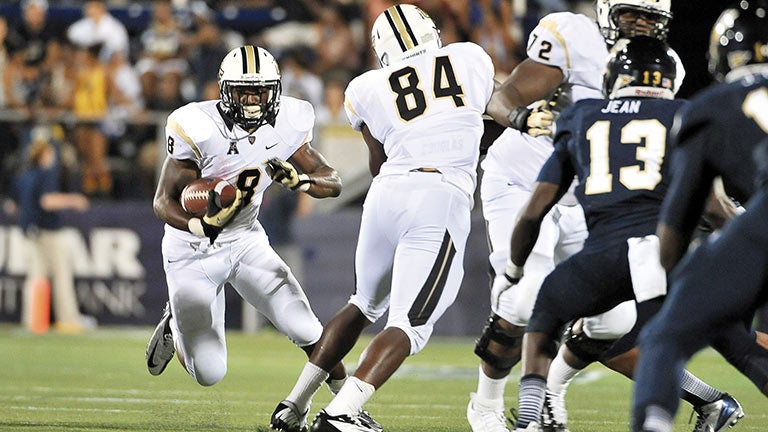 Replay: UCF holds FIU to 31 rushing yards and avenges the 2011 loss in Miami.
"You've got to stay on top of people and keep your foot on the gas, and I thought we did."
George O'Leary, coach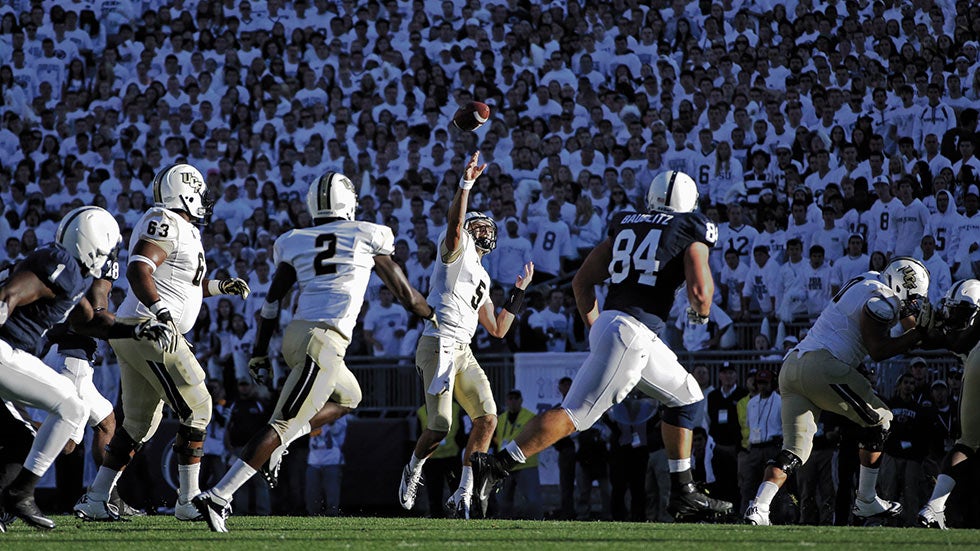 AP Photo/Gene J. Puskar
Replay: Before 92,855 fans, Bortles passed for 288 yards and three touchdowns. Storm Johnson ran for 117 yards to mark his first career 100-yard game. UCF never trailed.
"It means a lot to us. We wanted to come get our respect, and that's what we did."
Storm Johnson, running back
Vs South Carolina
L, 28-25
Replay: Playing before a nationwide TV audience on ABC and the largest home crowd since 2009, UCF led 10-0 at halftime.
"For the first half, we were the better team. But they made plays in the second half, and we didn't make plays until it was too late."
Terrance Plummer, linebacker
AP Photo/John Raoux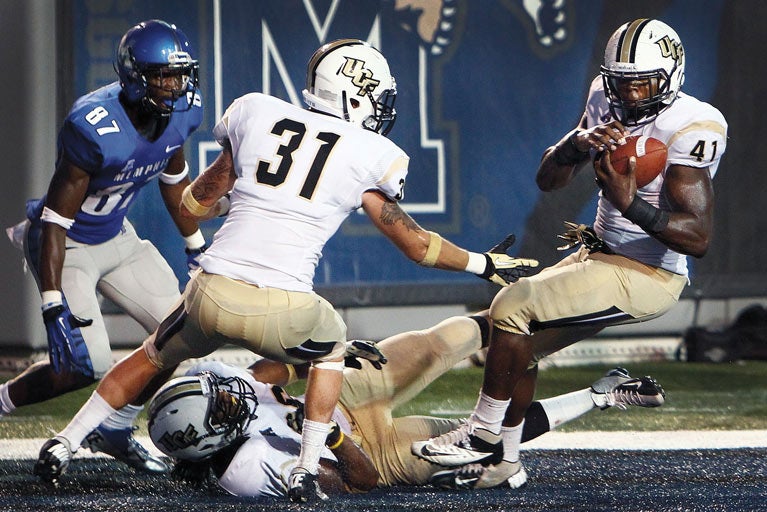 AP Photo/The Commercial Appeal/Mark Weber
Replay: UCF earned its first American Athletic Conference victory by scoring two touchdowns in nine seconds late in the fourth quarter. Plummer sealed the victory with an interception in the end zone.
"The other team outplayed us, and we were very fortunate to come out with a win."
George O'Leary, coach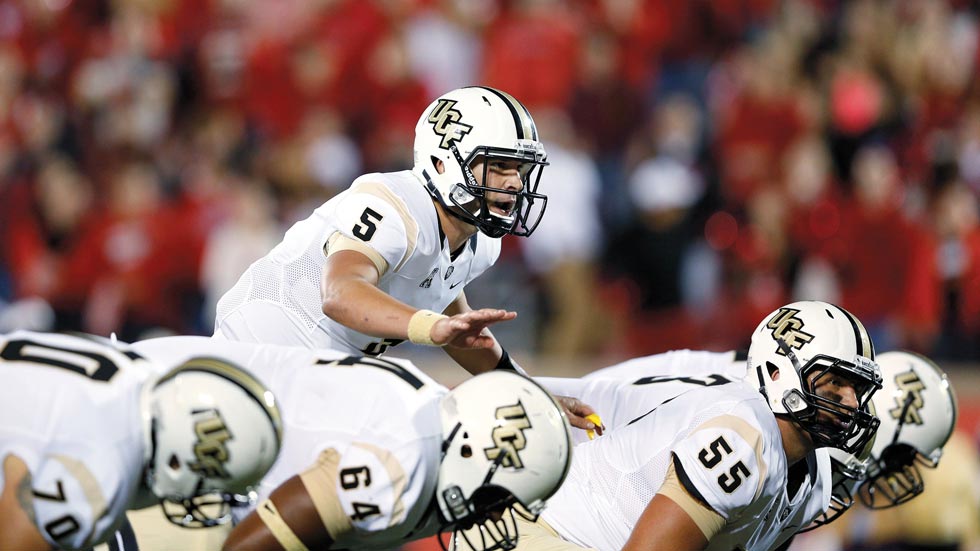 Joe Robbins/Sport/Getty Images
Replay: The Knights entered the AP Top 25 following Jeff Godfrey's TD catch from Bortles with 23 seconds remaining in the game.
"It's something you dream as a little kid, making the winning catch or throwing the winning touchdown. The dream just came true."
Jeff Godfrey, wide receiver
Replay: Bortles scored five touchdowns and completed 20 of 24 passes for 286 yards. The defense caused four UConn turnovers.
"We were definitely in sync as a unit, and we moved the ball down the field and executed. We were feeling [great], and we were able to execute what we were doing."
Blake Bortles, quarterback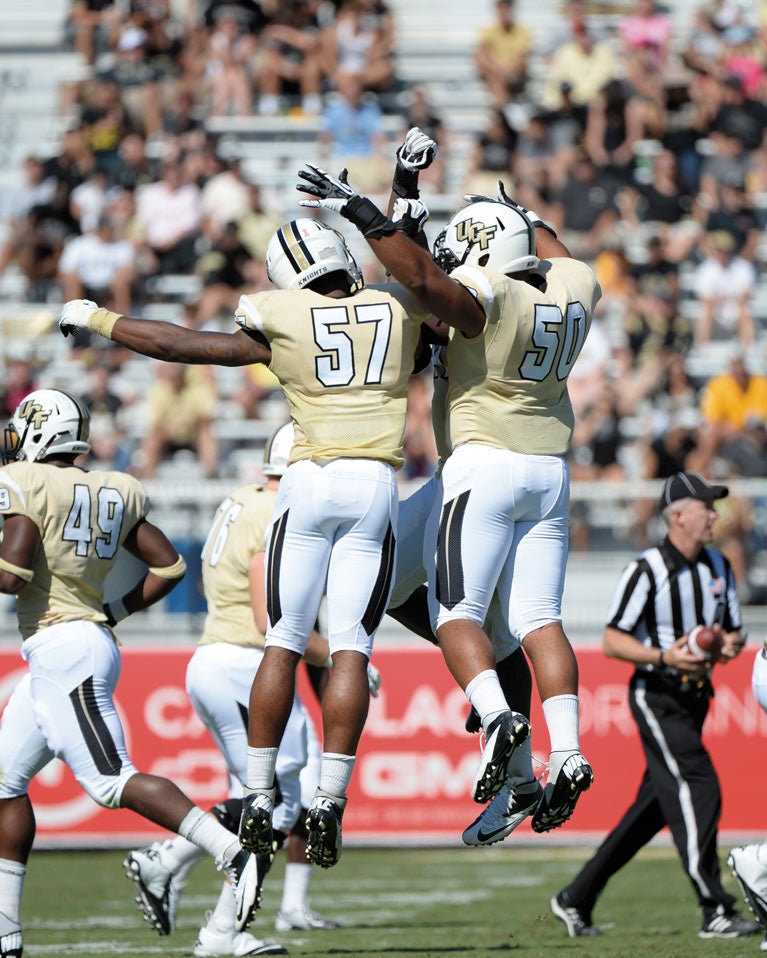 Replay: Victory was assured with 14 seconds left in the game when UCF denied Houston a crucial fourth-and-goal opportunity. Storm Johnson finished with a season-high 127 yards on 18 carries.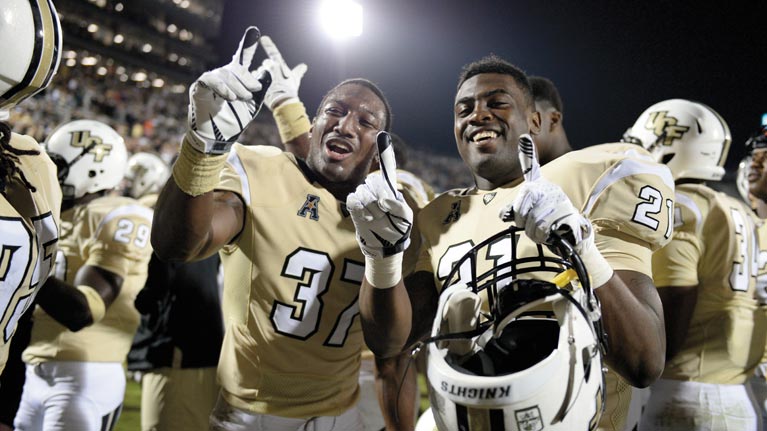 "We were able to play UCF football. That is our goal on defense — to play hard. Coach always has us prepare like the game is going to come down to fourth-and-one on the goal line to win the game. That is basically what it came down to."
E.J. Dunston, defensive lineman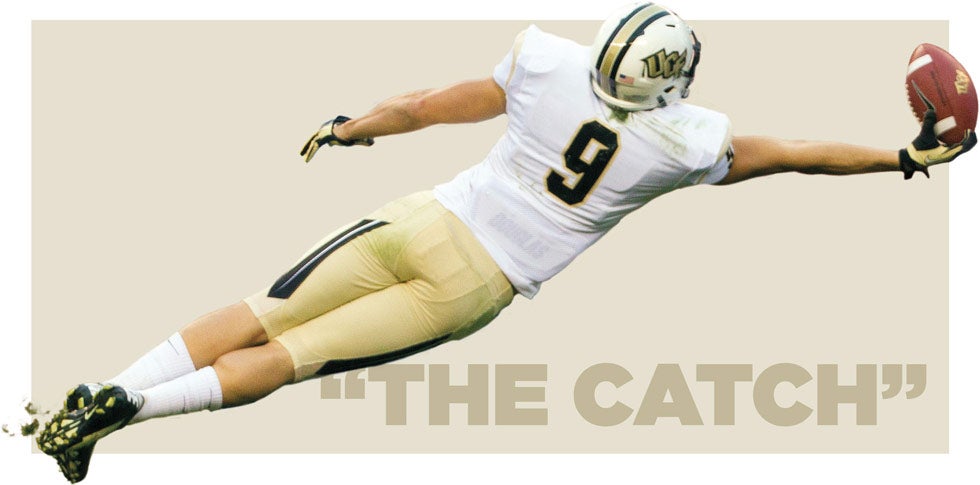 Replay: Shawn Moffitt's 23-yard field goal as time expired gave UCF the win. J.J. Worton caught 10 passes for a season-high 179 yards and three touchdowns, including the game-tying score.
"That's the best catch I've ever had — practice or in a game. All glory to God right now. I'm just lucky I was able to come down with the ball."
J.J. Worton, wide receiver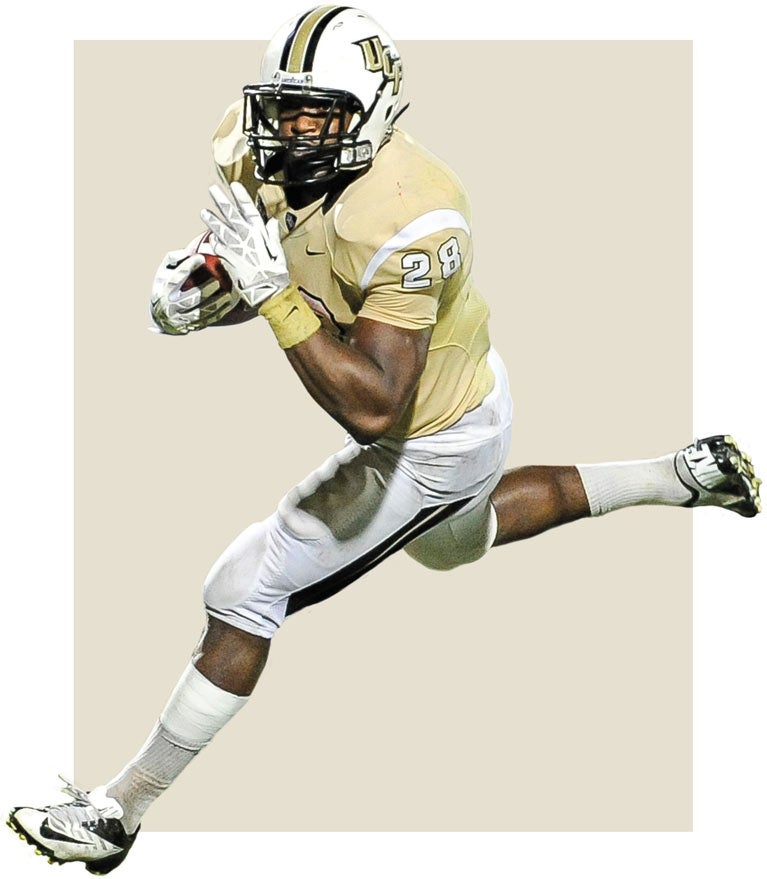 Replay: UCF held Rutgers to 69 rushing yards and amassed 452 yards of offense, including William Stanback's run that was named the No. 1 top play on "SportsCenter."
"It was a classic lowering your shoulder and running through the guy. … It was everything you teach."
Coach O'Leary said of Stanback's run
Replay: Jordan Ozerities' interception at the UCF 26-yard line with 1:20 left in the game secured the win. Rannell Hall had 229 all-purpose yards, while Perriman put UCF on top with a 52-yard touchdown reception late in the fourth quarter.
"When you don't play very well and have five turnovers, you don't usually win games like that."
George O'Leary, coach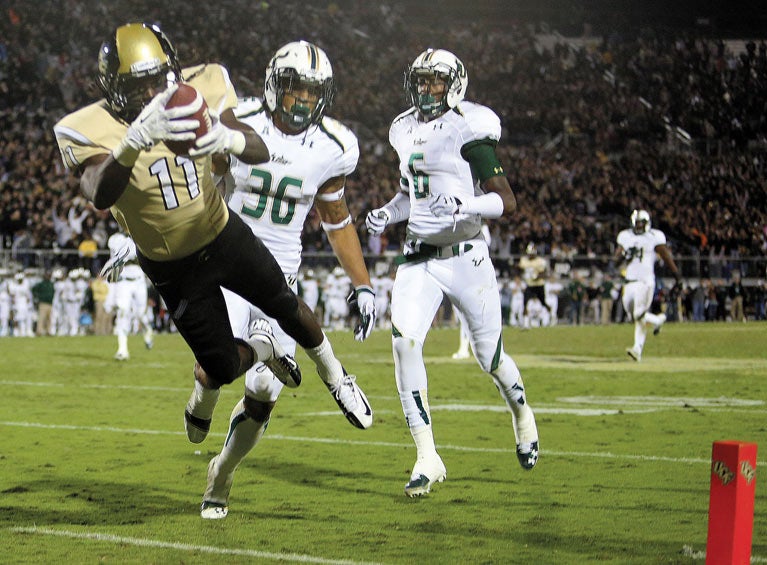 AP Photo/Alex Menendez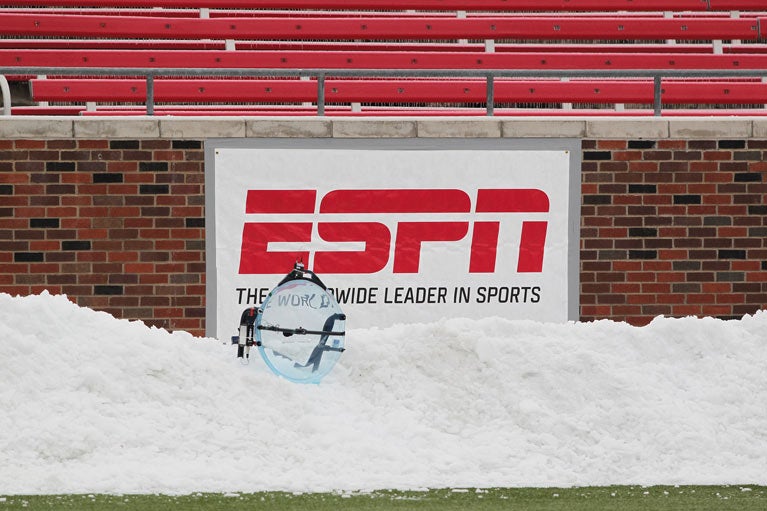 Replay: Fewer than 1,000 fans braved subfreezing temperatures to see Bortles pass for 242 yards and run for two touchdowns. With the victory, UCF won the inaugural American Athletic Conference title and a trip to its first BCS game.
"It's unbelievable. Everybody is excited. I know a lot of people haven't won a championship in their life, me being one of them, but it's a great feeling. … Everybody goes through adversity, and we've been doing that all season. But we always overcome it."
Brandon Alexander, defensive back
Season Bests
Most Watched:

Home Game:

47,605 (USC)

Away Game:

92,855 (PSU)

TV Game:

11.2 million (BU)

Most Points, Season:

Shawn Moffitt, 112 points, 91.3 FG% (record), 21 FG (record)

All-Purpose Yards, Season:

Rannell Hall, 1,696 yards

Passing, Game:

Blake Bortles, 404 yards (TU)

Passing, Season:

Blake Bortles, 3,581 yards

Rushing, Game:

Storm Johnson, 127 yards (UH)

Rushing, Season:

Storm Johnson, 1,139 yards

Receiving, Game:

J.J. Worton, 179 yards (TU)
Receiving, Season:

Rannell Hall, 886 yards

Longest Punt:

Caleb Houston, 71 yards (UM)

Longest Field Goal:

Shawn Moffitt, 50 yards (UCONN)

Longest Kickoff Return:

Rannell Hall, 69 yards (USF)

Longest Run, Game:

Storm Johnson, 73 yards (TU)

Tackles, Game:

Terrance Plummer, 14 (USC, BU)

Tackles, Season:

Terrance Plummer, 110

Passes Without an Interception:

Blake Bortles, 232

Longest Play from Scrimmage:

Blake Bortles to Breshad Perriman (UA), 91 yards (record)
Team Firsts
American Athletic Conference, Member
American Athletic Conference, Champion
Top 10 Ranking
Win, Big Ten Team (PSU)
Win, Big 12 Team (BU)
BCS Bowl
BCS Bowl, Victory
BCS Bowl, Youngest School Ever
10 Regular-season Wins
12 Total Wins
Nine-game Winning Streak
Seven Wins by Seven Points or Less
Undefeated Away Games, Season
38 Wins, Senior Class
Flashback
In 2003, George O'Leary addressed the media after being named the new head coach for UCF.
"I promise to do what I can do basically to get the football program where it needs to be, the right way, the NCAA way while we're still graduating our athletes, which is a major concern to me. It's very important to me that we bring in athletes of great character, great drive in wanting to get an education because I think that carries over onto the athletic field."
The 2013 player graduation rate of 83 percent ranks second among BCS teams, trailing only Stanford.
Unless otherwise noted, images courtesy of American Athletic Conference, Scott Mitchell Photography, Slingshot Photography and UCF Athletics.