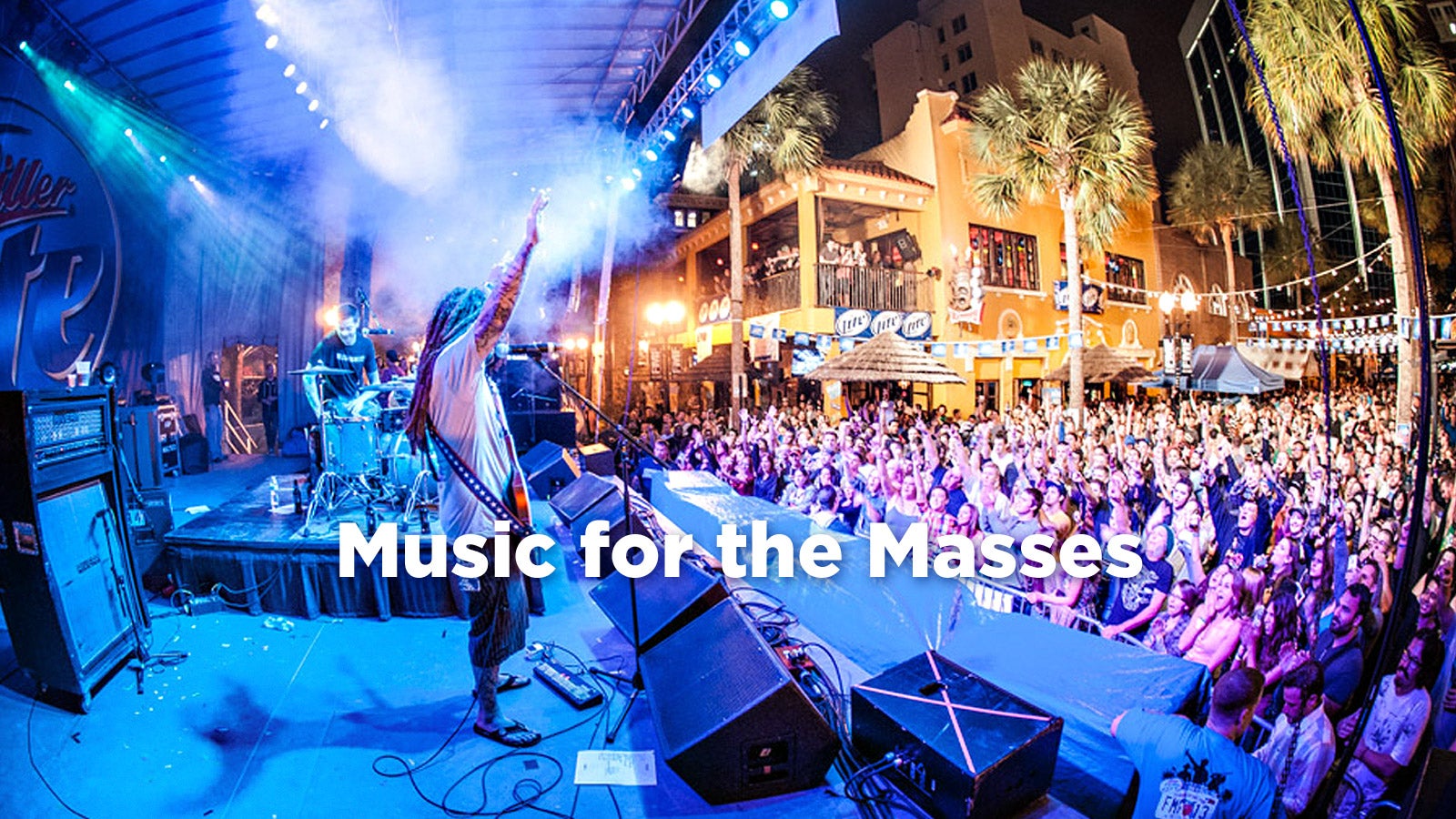 Sean Perry '96 and Rick Wheeler '95: Founders, Florida Music Festival
The UCF alumni once removed 14-year-old Taylor Swift from their show.
Spring 2014
SEAN PERRY: When we started the Florida Music Festival and Conference (FMF) in 2002, it was a marriage of the national music business and downtown Orlando.
RICK WHEELER: We wanted to have unsigned artists perform and national industry people discover them. Music fans could see an act that they knew, but also discover new artists from around the country.
SP: And there's always been an educational aspect to FMF. Artists and students from UCF, its Florida Interactive Entertainment Academy and Full Sail University learn about the entertainment business from attorneys, agents, promoters and record label people.
RW: For the annual FMF, we listen to every submission — which number from 1,000 to 1,500 — and pick the best 300 bands.
SP: We don't focus on headliners; we focus on providing three days of discovery.
SP: There are no local music scenes anymore. Thanks to the Internet, every genre of music has a massive scene online. Artists don't have to go out and play to get exposure.
RW: The digital music trend has helped FMF. It's the one time of the year where there are 300 bands playing all over downtown Orlando, and people are connecting face to face.
SP: Music brought us together.
RW: In 1989, Tom Petty had just released "Free Fallin'," and I was singing it when I heard someone say, "Aw, dude. That's a great song." I turned around and it was Sean.
SP: We were roommates in college and in the same fraternity.
RW: Sean started aXis Magazine when we graduated. I went to work as a representative for Miller Light.
SP: We discussed working together for about three years, and it finally made sense for both of us. The key to our 16-year partnership is balancing work and play. We make sure to balance the intense tactical debates with a few pints and equally intense debates about UCF football and pop culture.
RW: We have times when we don't see eye to eye, and that's when we lean on our friendship. We're lucky to have different strengths that complement each other.