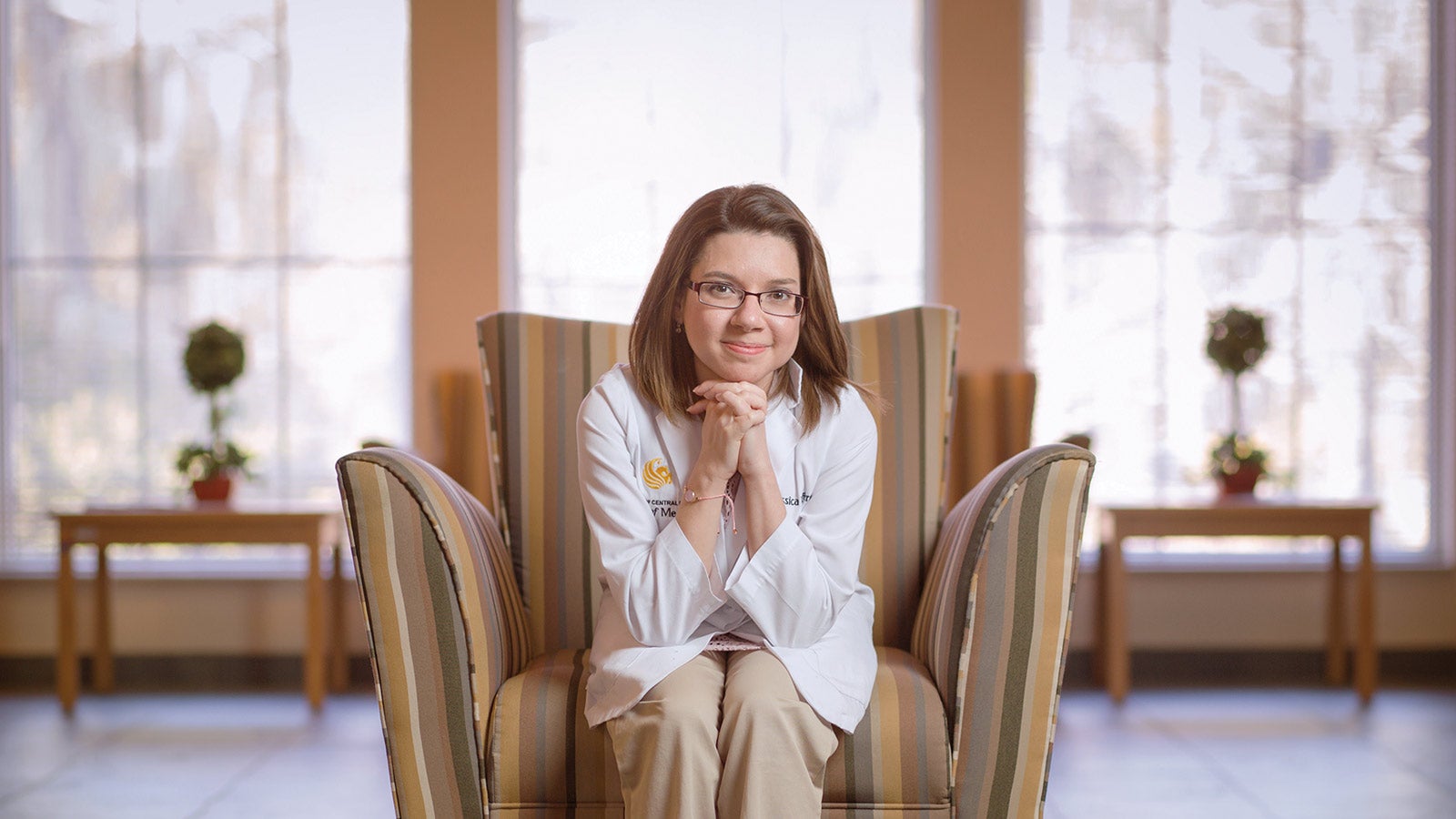 Healing Through Understanding
Diagnosed with a rare genetic disorder as a toddler, medical student Jessica Fernandez is proving that healing others is about more than science — it's about empathy and compassion.
Spring 2018 | By Suht Wong | Photos by Doug Scaletta

Gowned and gloved, Jessica Fernandez leans closer to inspect the cadaver lying on the stainless steel table inside the College of Medicine's anatomy lab. She, along with five other medical students, has been assigned to diagnose the cause of death and is given no additional information to go by other than the age and occupation of the person.
 From a distance, she looks like any other medical student, inquisitive but a bit apprehensive about interacting with the cadaver, her first "patient," as she inspects the muscles, liver and lungs for telltale signs. She nudges her glasses back into place with the back of her hand, trying not to touch her face with the dissection gloves.
Look closer, and you'll notice the stool Jessica Fernandez is standing on in order to reach over the cadaver. You might also notice the way her blue scrubs nearly overwhelm her tiny frame.
That scene took place nearly four years ago, during Fernandez's first semester 
in medical school. Today, as she prepares to graduate in May and enter a residency program, Fernandez has continued to defy critics who questioned whether she could keep up with the rigors of intensive study and the grueling clinical hours of hospital rotations.
"I'm small, but I think I'm big," she says. "So I act like it."
---
At 3, Fernandez was diagnosed with spondyloepiphyseal dysplasia, a rare genetic disorder that affects bone growth, specifically at the ends of bones and in the spine, resulting in smaller-than-average stature.
At 27, Fernandez stands 4 feet 2 inches tall, her size and youthful face making her appear much younger than her age. And even though her disability may be obvious to others, she never lets it define her. And she certainly isn't letting it stop her from achieving her lifelong dream of becoming a physician.
While becoming a doctor is a dream of many children, few achieve it. Fewer still 
are the number of people with disabilities who become physicians. Approximately 57 million Americans — nearly 20 percent — have a disability of some kind, but only around 2 percent of practicing doctors do. And that's including physicians who developed disabilities after graduating from medical school. A recent study by UC San Francisco and Johns Hopkins found that 2.7 percent of medical students have a disability, 
ranging from physical to psychological, though previous estimates were closer to 0.3 
to 0.6 percent. According to a recent article in Slate, "this makes them one of the most underrepresented groups in American higher education."
This means that there are more people living with disabilities than physicians who understand their bodies and their lives. Unlike Fernandez, most doctors are less likely to meet a 9-year-old girl with spina bifida, as she did during one clinical rotation, and see themselves in the patient they are treating.
"I know what it feels like to be exposed and nervous on the cold examination table," she says. "I have been on the other side of the X-ray machine, on the inside of the MRI machine. I want to use my abilities, knowledge and expertise to find creative ways to make my patients' lives as independent and comfortable as possible."
Medical school is known for being intellectually rigorous, but when hip and back pain make walking difficult, as it does for Fernandez, it can also make the physical act of navigating hospitals and patient rooms more challenging.
While other students may be able to breeze into a hospital without any extra thought, Fernandez uses an electric wheelchair to help navigate the long hallways, so before she enters a facility Fernandez researches the building layout, the best areas to park, the locations of the elevators and the fastest routes from one ward to another. She prefers not to let her instructors know in advance that she has any physical challenges.
"I once met someone who told me that the only true disability is having a bad attitude," she says. "And that made me think, you know, if you have a good attitude about everything, you can conquer whatever you set your mind to."
---
Fernandez was born in Venezuela and raised by a mother who was a pharmacologist and microbiologist and a father who was an engineer. Her parents understand her physical hardships and have had to make difficult decisions to provide her the best life possible.
"The doctors told me when she was 8 months old that she wasn't growing well for her age," says her mother, Maria Luisa de Curtis Fernandez. When Fernandez turned 3, doctors advised her family to take her to see a specialist at Boston Children's Hospital.
"The diagnosis was not so good," says de Curtis Fernandez. "They knew exactly what she had. The doctor told us to get regular follow-ups with specialists."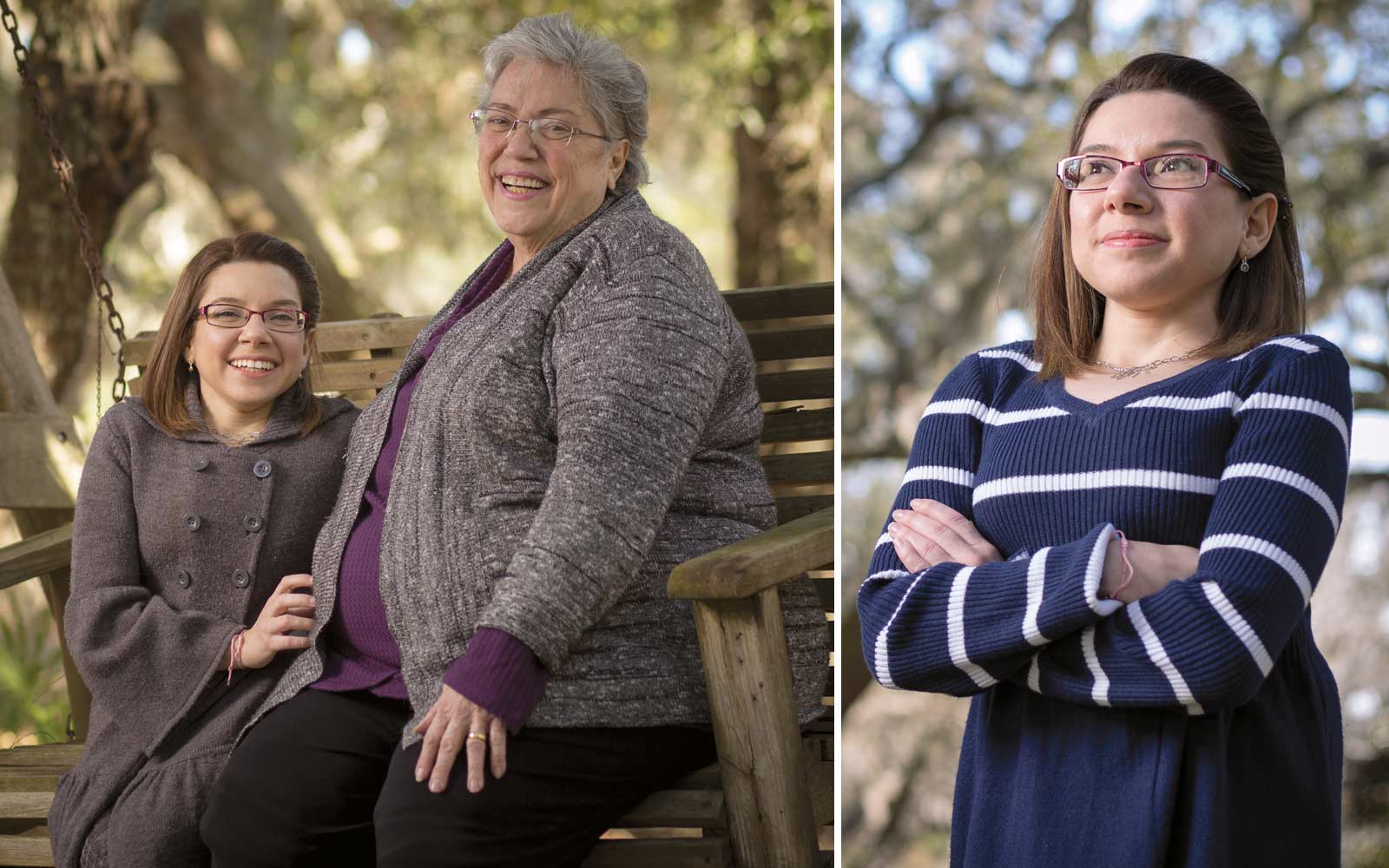 "Being able-bodied doesn't necessarily make you a better doctor."

Jessica Fernandez
After many trips to Boston and knowing that their daughter's best medical care and chance for a future lay overseas, her parents decided to immigrate to Florida when she was 13. They had family living near Ocala, so they settled there, leaving her two older siblings in Venezuela.
Looking back, Fernandez describes her childhood as normal and happy, full of trips to the movies and the mall, days spent at the beach and nights having sleepovers with friends. She describes her teenage self as "small and mighty," which helped her win the acceptance and respect of her schoolmates.
"I was blessed that I always seemed to connect quickly with people," says Fernandez, who often had to explain her condition when people asked questions. "I am lucky that I was never bullied or anything like that. I know people wonder about that."
Fernandez went on to earn a biology degree from the University of Tampa before entering medical school at UCF in 2014.
---
"How've you been?" Fernandez asks as she hugs classmates.
The third-year medical students are meeting for a workshop at the Lake Nona campus after spending most of the semester in clerkships at area hospitals. As students share stories of their clinical experiences and catch up, Fernandez asks each of them about their parents, siblings, significant others — even their pets. She remembers them all.
"If it's important to them, then it's important to me," she says.
As she walks down the hallway, ranked by peers who stand more than head and shoulders above her, it's easy to wonder if her wide smile and upbeat personality will be fleeting, but as Fernandez runs into more friends and faculty, her energy and smile never fade.
Her warmth and thoughtfulness do not go unnoticed by her peers or professors. Classmates honored her with a College of Medicine Humanitarian Award last spring for her compassion. She was also voted the person other medical students would want to have care for a loved one. In a program that emphasizes that kind of attention and care before the first class even starts, that's a huge commendation.
"Empathy is something you can't teach," says fellow medical student Lea Meir. Meir and Fernandez met during their first class and have become best friends over the course of the program, cramming for exams poolside. "I see her go out of her way, reaching out to her peers even while she is in great pain. It's something as simple as listening to others complain about grades and work stress. Sometimes it's much deeper, like a family situation."
It's not as though Fernandez doesn't have personal issues to worry about. Last summer, while her classmates were on break, she traveled to Delaware with her mother to undergo a painful surgery to stabilize her cervical spine. It required several weeks of recovery, during which she studied for her board exams from home.
 Fernandez admits that it took her "a really long time to accept my own disability. But as the years have gone by, and now with the incredible patients that I've come across, I've really come to terms with who I am. My journey has been pretty hard."
She credits that journey and her experiences as a patient with making her more determined to help others, especially those with bone and spine problems.
---
Last spring, as Fernandez arrived at the Icahn school of Medicine at Mount Sinai in New York City, she clutched a file of notes in one hand and hung onto her mother's arm with the other. She had been invited
 to speak at the Coalition for Disability Access in Health Science and Medical Education Symposium, a national conference focused on encouraging medical schools to be more accepting of students with disabilities.
There, in front of an audience of scholars, national advocates and medical educators, Fernandez shared a message of ability, not disability. "Being able-bodied doesn't necessarily make you a better doctor," she said. "Empathy and compassion are just as important as science."
She said her life experience brings something unique to her patients, and medical schools should embrace enrolling students with disabilities to better serve patients.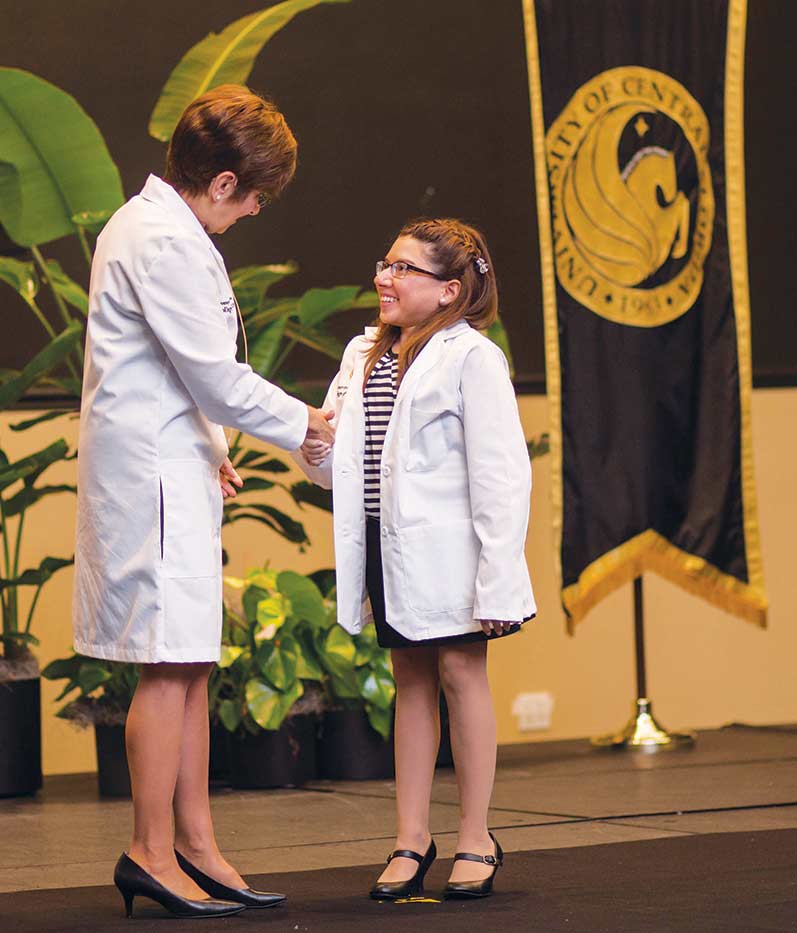 "I can see it in my patients' eyes when they talk to me, when they are able to relate, when they have someone who has gone through similar experiences listen to them and truly care about making their lives better," Fernandez told the audience.
Fernandez never set out to become an advocate for people with disabilities in medicine. It's a role she took on by default, acknowledging that patients and physicians can be skeptical when they first meet her.
"People sometimes fear what they don't understand, so when you sit with them and you explain to them what they're wondering, and when they see your openness to answer those questions, you just break that barrier right then and there," she says.
---
During her white coat ceremony, her official induction into medical school, Fernandez recalls beaming as her name was called and she walked across the stage. She carefully descended the steps and took her seat with 119 other medical students in the Class of 2018, becoming lost in a sea of white coats.
"I came to UCF because I thought it would be a place where it wouldn't mold me into being something I am not," she says, "where I could become great at whatever I was truly passionate about."
After the ceremony, while other classmates celebrated with cheers, hugs and handshakes, Fernandez hung back. She preferred to share the moment quietly with her family, especially her mother.
"Why would I want to fit in when I was born to stand out?" 

Jessica Fernandez
De Curtis Fernandez has played a strong role in Fernandez's journey to become a physician, and their bond is unwavering. They laugh together like best friends, and Fernandez slips back and forth easily between English and Spanish as they chat. And while de Curtis Fernandez knows her daughter is ready to thrive on her own, she still reminds Fernandez to wear a coat on chilly days.
"She has grown enough wings to go by herself now," de Curtis Fernandez says. "That makes me very, very proud."
After Fernandez graduates from UCF, she hopes to specialize in physical medicine and rehabilitation. She spent the last few months interviewing at hospitals across the country for residency training. Despite being on the road, she never forgot to call home, relaying the details of her day to her family. Success, she says, is as much theirs as it is hers.
"I simply would not be where I am without them. They have supported me in every single one of my goals — not only supported me but have sacrificed their lives to see me accomplish my dreams."
For Fernandez, life and accomplishment are all about people — the ones you can help and the ones who help you.
"No matter how hard you think your life is, maintaining perspective is key," she says. "Why would I want to fit in when I was born to stand out?"