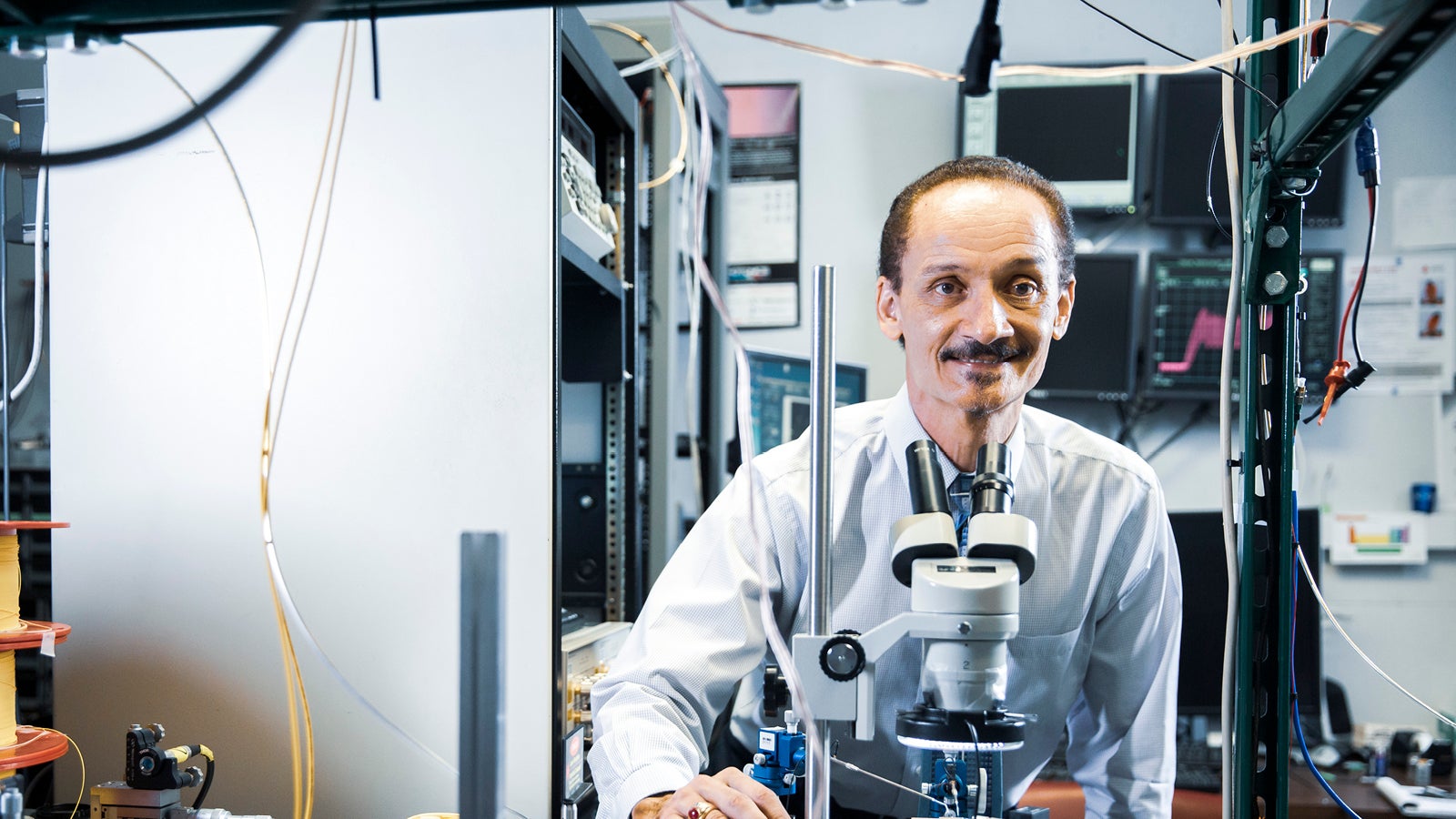 Professor Peter Delfyett's latest honor recognizes his influential career and opens doors for the STEM community at UCF.
Spring 2021 | By Nicole Dudenhoefer '17
When Peter Delfyett first fell in love with science during elementary school, he imagined he would grow up to be a paleontologist. Instead, the Pegasus Professor of optics and photonics has spent his career developing futuristic technology.
From lasers that are used to cut Gorilla Glass for Samsung phones to fiber optic cable technology that allows the internet to operate more efficiently, Delfyett's work has been making waves for more than three decades. And now he's received one of the highest honors in the scientific community as one of 106 engineers elected to the National Academy of Engineering (NAE) this year.
"Professor Delfyett, through his amazing work, has proven that he is one of the very best laser and photonics researchers in the world," UCF President Alexander N. Cartwright says. "This recognition honors his many contributions to society throughout his career and his leadership that has helped develop UCF's culture of innovation and discovery."

The Scientific Spectrum
Established in 1964, the NAE's network of more than 2,300 members work together to advance the United States' global reputation by providing guidance to policymakers and government institutions on decisions related to engineering and technology.
UCF has eight faculty members who are a part of the NAE, but Delfyett has the honor of being the first to be elected while a current faculty member at the university. Delfyett's induction, which will take place during NAE's annual meeting in October, means other current UCF faculty could be joining this rank in the near future.
"This is very special to me, not only because it is the highest honor that can be bestowed on a scientist or engineer, but because all of the work that is being recognized has been done here at UCF with graduate students," says Delfyett, who leads CREOL's Ultrafast Photonics Group. "I know this is something UCF has been wanting to grow toward, which is a really difficult task, and I'm honored to help the university fulfill this part of its vision."
Delfyett's personal contributions to the base of scientific knowledge include 44 patents that apply directly to the advancement of everyday life. Many of these discoveries use lasers for precision timing, fiber optics communication and signal processing, which help information move faster on the internet and in devices such as cell phones, laptops, tablets and autonomous vehicles.
"Photonics is an enabling technology — it's not just powering the internet but influencing the whole spectrum of scientific discovery and advancement."

Peter Delfyett, UCF Pegasus Professor
Another major group of his patents is related to the generation and amplification of very short pulses of light using semiconductor lasers that help build smartphones, medical stents for surgical procedures and microprecision holes to make car engines more fuel efficient.
"Photonics is an enabling technology — it's not just powering the internet but influencing the whole spectrum of scientific discovery and advancement," Delfyett says. "To know that I am contributing in my own special way to the area of optics and photonics is very rewarding to me."

On the Pulse
Becoming an NAE member is a challenging accomplishment in part because of how difficult it is to be elected into the organization. New members must be nominated by current members and are evaluated on a range of criteria, including scientific and real-world impact, involvement with professional societies and major awards.
For M.J. Soileau, a distinguished professor of optics and photonics and former director of CREOL, it's as easy to see why Delfyett was elected as it was to make the decision to hire him 27 years ago.
"With Peter, it's a monumental task [to summarize his impact] because you take any dimension of what a faculty member is supposed to be and he has excelled at it," says Soileau, the former vice president for research at UCF for 17 years. "I think anyone who encounters Professor Delfyett would have the same impression and that is one of enthusiasm and boundless energy in the pursuit of science and engineering — and he is just a really nice guy."
Through the years, Delfyett has been awarded numerous honors, but his most recent accolades include the Institute of Electrical and Electronics Engineers' 2020 William Streifer Scientific Achievement Award and the 2021 Arthur L. Schawlow Prize in Laser Science from the American Physical Society. He is also a fellow of the International Society for Optics and Photonics and the Optical Society of America.

A Brighter Future
While prestigious awards and fellowships are certainly appreciated, Delfyett says the real honor lies in molding students into scientists. To that end, he tries to instill enthusiasm and ambition in them. And the students who work closely with him recognize the benefits of his guidance.
Ricardo Bustos-Ramirez '18MS, one of Delfyett's current doctoral students, says Delfyett is an enormous resource because of his more than 30 years of knowledge in the field and his infectious excitement for research.
"I really do love having him as my advisor," Bustos-Ramirez says. "Whether it's been a failed experiment or something really personal, he has always been there. He cares a lot about his students and their futures."