Meet Peter
B.E.(E.E.) degree, City College of New York
M.S. degree in EE, University of Rochester
M. Phil and Ph.D. degrees, City University of New York
University Distinguished Professor
Pegasus Professor of Optics & Photonics
Director, Townes Laser Institute
University Trustee Chair
"Photonics is an enabling technology — it's not just powering the internet but influencing the whole spectrum of scientific discovery and advancement."
---
Pioneering Technology in Optics and Photonics
World-renowned researchers, like Peter Delfyett, are changing what's possible in optics and photonics. The next level of technology in lasers, optical fibers, integrated photonics, nonlinear and quantum optics, as well as imaging, sensing and display is being developed right now at UCF's College of Optics and Photonics (CREOL).
Engineering Research with Scientific and Economic Impact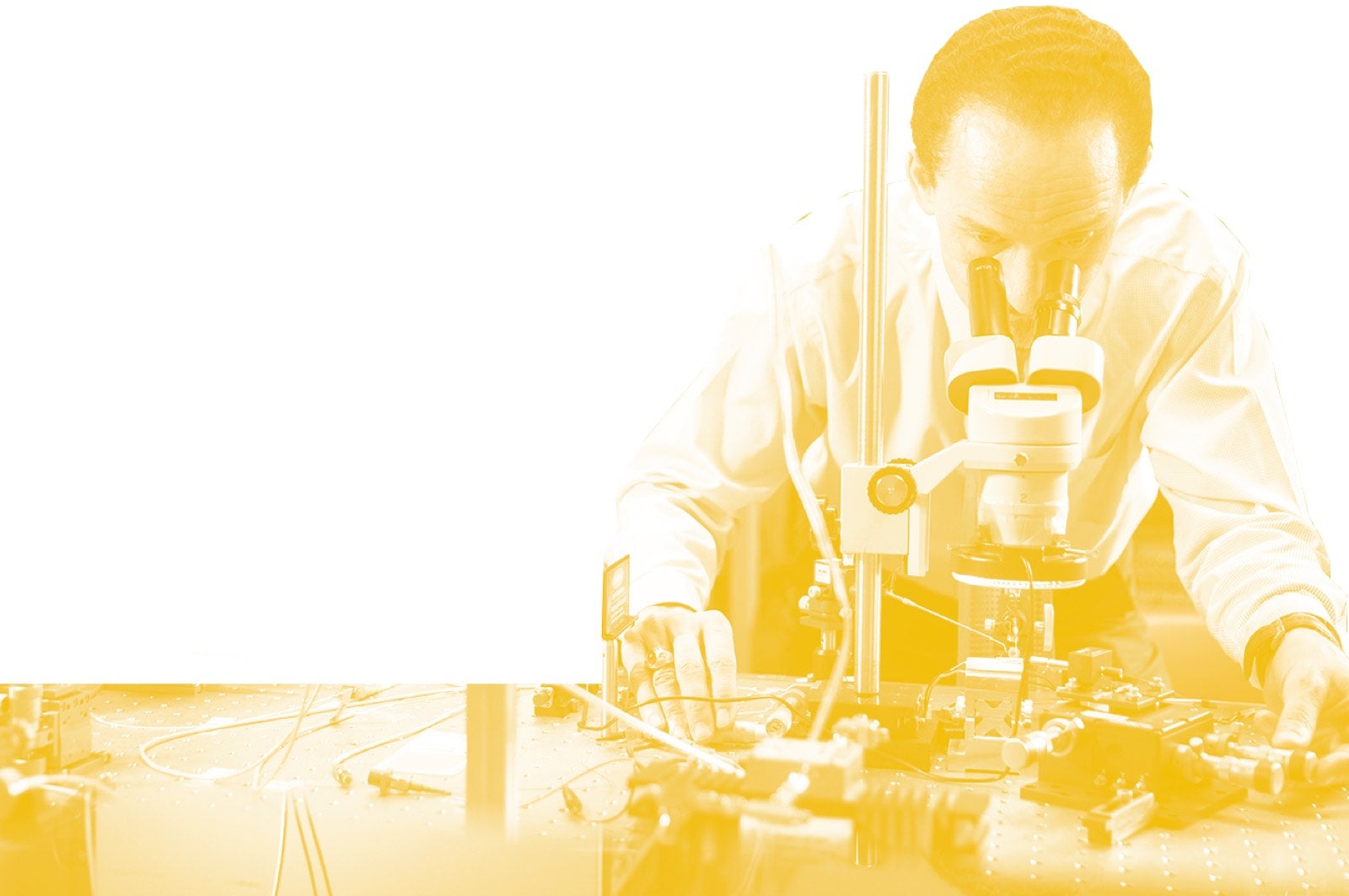 Peter Delfyett is just one of the many UCF researchers that is changing the paradigm of what's possible in optics and photonics engineering. As the university's first current faculty member to be inducted into the National Academy of Engineering, Delfyett has spent his career developing futuristic technology.
Delfyett's personal contributions to the base of scientific knowledge include 44 patents that apply directly to the advancement of everyday life. Many of these discoveries use lasers for precision timing, fiber optics communication, and signal processing, which helps information move faster on the internet and in devices such as cell phones, laptops, tablets and autonomous vehicles. His other patents are related to the generation and amplification of very short pulses of light using semi-conductor lasers that help build smartphones, medical stents for surgical procedures and micro-precision holes to make car engines more fuel efficient.
Most recently, CREOL received $325,000, with $50,000 match Jump Start funds from UCF President Alexander N. Cartwright's 2021-22 Strategic Investment Program. Delfyett will serve as lead on the new project: Space Photonics in Interferometric Imaging for Communications, Environment, and Defense. The money will be used to build a test bed for sparse aperture array imaging that will serve as a cornerstone of next generation, space-based imaging modalities. The approach aims to exploit the revolution in optical laser technology, positioning UCF to create a system of mini-satellites with optical technology that would allow a viewer to read 10-point font text on a page from 600 miles away, such as reading text on a cell phone from low-Earth orbit.
---
Internationally Recognized Laser Research Centers in Orlando
At UCF, we're driving the future of technology — delivering an unmatched fusion of excellence, value and results. Our advanced facilities help researchers create and innovate — from developing infrared lasers and new anti-glare touchscreens to holding the record for the world's shortest laser pulse.
Center for Research and Education in Optics and Lasers
CREOL was launched in 1987 to become one of the world's leading institutions for research and education in optical and photonic science and engineering.
Townes Laser Institute
TLI develops the next generation of laser-light engines for applications in medicine, advanced manufacturing and defense.
Florida Photonics Center of Excellence
FPCE focuses on the emerging technologies of nanophotonics, biophotonics, advanced imaging and 3-D displays, and ultra-high bandwidth communications.
Institute for the Frontier of Attosecond Science and Technology
iFAST is dedicated to research, education and outreach in attosecond physics and optics.
Search Degrees
There are many benefits to taking a more proactive approach to choosing a career. The College of Optics & Photonics has curriculum and programs to help you land your next opportunity.
Optics and Photonics News
---
UCF Researcher Receives SONY Innovation Award
The award from the multinational electronics corporation will fund the development of infrared night vision and thermal sensing camera technology for cellphones and consumer electronics.