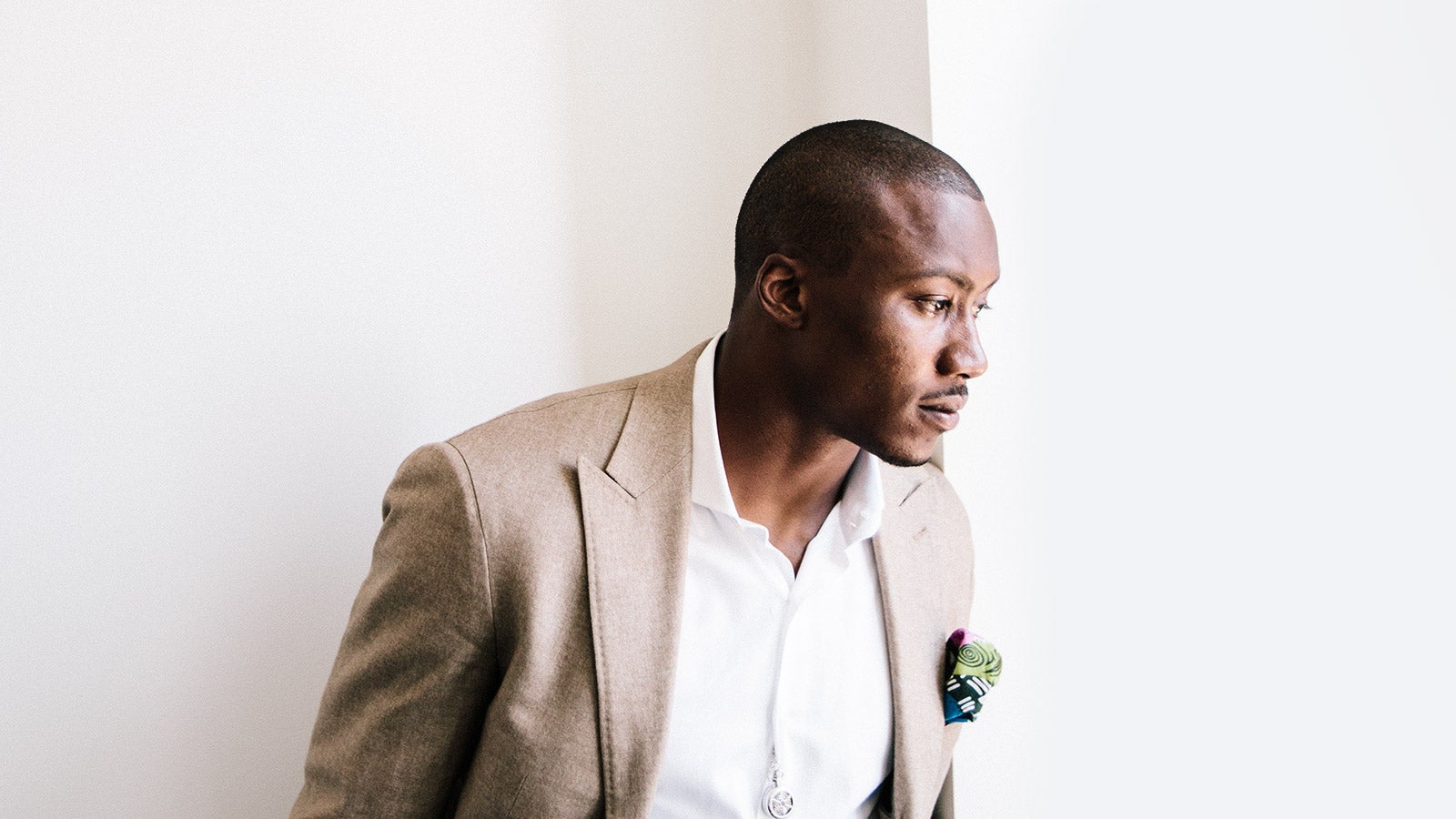 We Need to Talk about Mental Illness
The number of people privately dealing with mental health issues will stun you. It's why alumni Brandon and Michi Marshall launched Project 375 — to make mental health the most important topic of conversation you have today.
Fall  2018 | By Robert Stephens
Brandon Marshall '06 wants it known from the start: This story should not be about him. In fact, he's reluctant to be interviewed. It would be too easy to get sidetracked and talk about football and numbers and media coverage 
and … him. That's what happens when you're a legendary UCF player, 
a six-time Pro Bowl selection in the NFL, and the first receiver in NFL history with six 100-catch seasons.
And there we go, reviewing those types of statistics rather than diving into the one that matters most to Brandon and his wife, 
Michi (Nogami) Marshall '06: According to the National Alliance on Mental Illness, about 1 in 5 people in the U.S. live with a mental health disorder. Quietly. Alone. In class. At work. One in 5.
It's why Brandon and Michi founded Project 375 as a springboard for people to discuss mental health as easily as we discuss last weekend's football games. (They named the nonprofit after Pantone color 375, lime green, which is the color for national mental health awareness.)
"It's a myth to think mental health is too complex to talk about," says Michi, who graduated from UCF with degrees in psychology and criminal justice. "Often, the only time we hear about mental health is in times of crisis or tragedy. Our goal is to make it part of our daily interactions with our kids, our grandparents, our teachers, everyone. We all need to be involved."
In 2017, UCF became the first university to officially partner with Project 375, which trains educators and students in Youth Mental Health First Aid Training so they can assist in identifying people with mental health challenges and lead them to help. Imagine how many students and teachers could learn to notice what's really under the masks.
---
The statistics of mental illness are staggering: Twenty percent of U.S. adults experience it in a given year. They aren't necessarily living on the street or beating at the air with their fists. 
It might be the woman at the coffee shop. The guy sitting next to you in class. The people in your office. The family members in your home. Your best friend. It could also be her: that girl who sits alone. The look that may read as, "Everyone stay away from me," could be her way of saying, "Someone please notice me."
How can we approach that girl and say, "I see you"?
"The great thing we're learning from Project 375 is how to get beyond the surface and talk about this," says Pamela "Sissi" Carroll, dean of UCF's College of Community Innovation and Education. "Most of us are aware of the signs related to those who live with disordered eating or who suffer from physical abuse. But what do you look for with mental illness? Brandon and Michi are saying, as caring human beings, we shouldn't leave people to handle it on their own."
Flaky. Grumpy. Moody. We've all made judgments about people, which is why Project 375 targets schools, where assumptions are still being shaped.
"College campuses can drive societal change," says Bryce Hagedorn '00MA, associate professor of counselor education. Hagedorn attended the first presentation from Project 375 at UCF earlier this year, where Michi shared 
a mental health first aid kit with 150 people. He says, "This is just as important as making sure everyone knows how to perform CPR. We're at the front end of a shift in how we think about mental health. We can thank the Marshalls. They have a powerful story, and they've done us all a favor by being open about it."
---
We have to tell Brandon's story. But it has to be told with Michi because without her there might not be a redeeming theme about mental health and no impetus for Project 375 — just football statistics and negative perceptions.
"When Brandon and I look back at how everything has aligned, even through the darkest times," says Michi, 
"we both believe without a doubt that God has orchestrated it all."
Start with their contrasting childhoods. Brandon grew up in a volatile environment in Pittsburgh, surrounded by alcoholism and crime and family stress. Michi was raised with the guidance of a mother with a doctorate in clinical psychology, learning to understand the behavior of people and how to peel back the veneer.
"She always told us, 'You never know what someone is going through,'" Michi says.
In 2006, Brandon saw Michi across the UCF Student Union and told a teammate, "That young lady will be my wife someday." Michi wasn't immediately interested because if she had one preconception as an underclassman, it was about athletes "playing games." Still, she and Brandon became friends.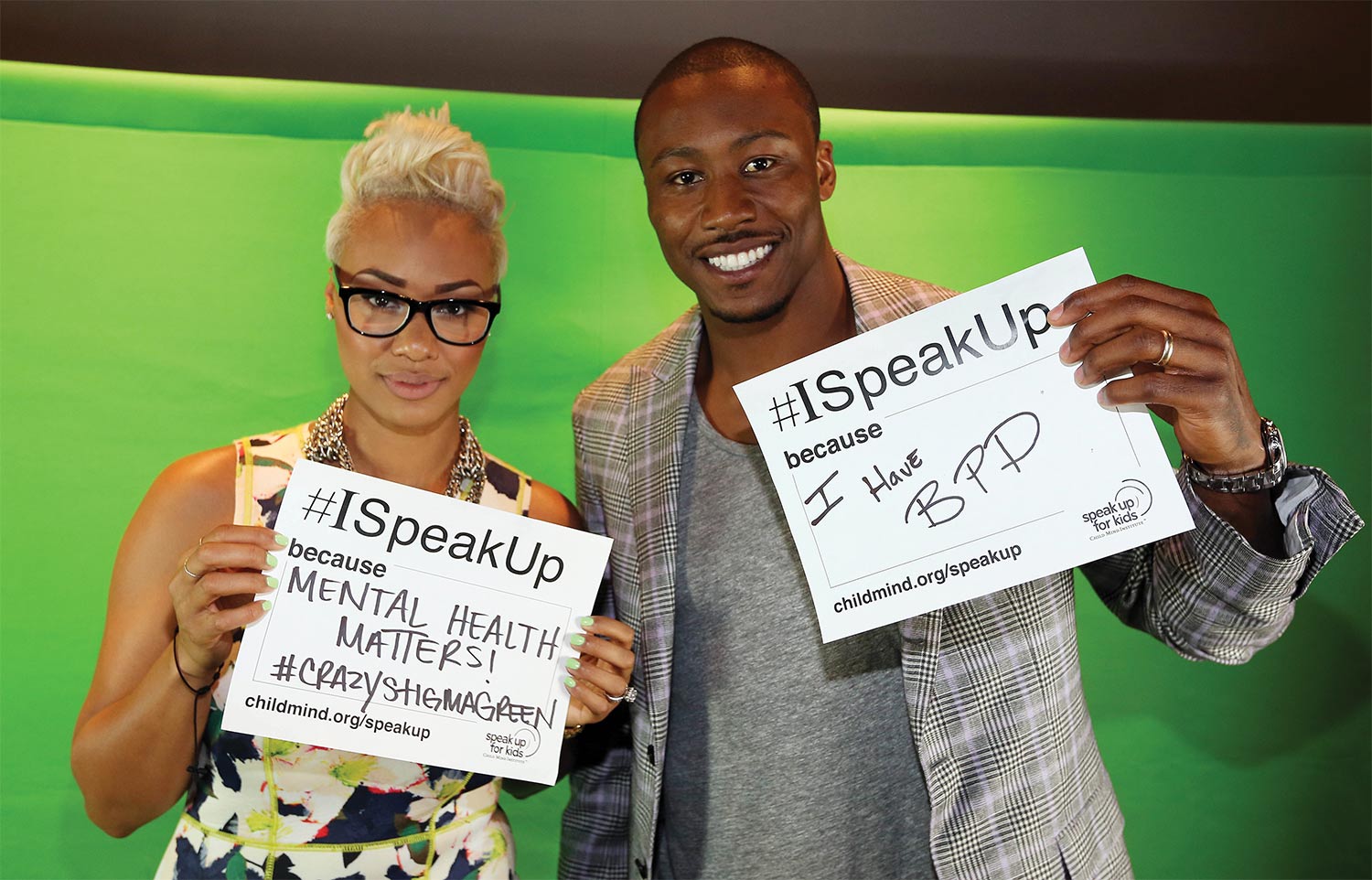 Michi finds Brandon to be kindhearted, humble, hardworking — a man who adores his mother and treats Michi like a princess. "He modeled himself after the loving, caring people he wanted to be. I knew he was genuine." 
They married in 2010.
And then the tumult began. Brandon's inner drive to be perfect turned into a sea of internal stress. "I know who he is to the core," says Michi, "but environmental factors in his upbringing started bubbling to the surface. Mental disorders can stem from a chemical imbalance or wiring or genetics. For Brandon, the stress of performing at such a high level triggered something. The Brandon I'd fallen in love with was disappearing."

The great thing we're learning from Project 375 is how to get beyond the surface and talk about [mental health].

Pamela "Sissi" Carroll, dean of UCF's College of Community Innovation and Education
The public scrutiny at that time only made matters worse. The media used negative labels — erratic, sulking, unpredictable — to put Brandon in a box. They attempted to rewrite his story.
"It's the same way we make assumptions about the people around us and think we know everything about them," Carroll says. When in reality, as Michi's mom wisely advised, you never know what someone is going through.
Michi, who is certified in behavioral forensics and behavioral profiling, encouraged Brandon to talk openly about what he was going through and seek counseling. After meeting with numerous professionals, he finally got an answer at McLean Hospital in Massachusetts where he was diagnosed with borderline personality disorder (BPD). While there, Brandon met others facing similar challenges — doctors, lawyers, businesspeople, teachers and social workers.
"You never would have known [they were suffering]," says Brandon. Meeting people from all walks of life who were living with mental illness inspired Brandon to tell the world about his BPD. For a 6-foot-5-inch, 230-pound athlete who combines the moves of a dragonfly with the strength of a freight train, he considers going public about his mental health the biggest play of his life. Other athletes would follow his lead and open up about their own mental health issues, including Arian Foster, Kevin Love, Michael Phelps and Nate Robinson.
To keep the dialogue going and help eradicate the stigma associated with mental health disorders, Brandon and Michi launched The Brandon Marshall Foundation. But there was a problem. "People were making it about him instead of about the cause," Michi says.
So they changed the name to Project 375, turned everything lime green and added the perfect tagline: "The way people think about mental health is crazy."
The Project 375 team says the only way we can make progress is if everyone is part of the conversation: the sister, the spouse, the teacher, the classmate, the roommate, the teammate. Everyone.
"It takes a lot for a person of Brandon's stature, someone known for toughness, to be so open about his challenges," says Hagedorn. "But he and Michi are taking the second important step with Project 375. They're implementing an action plan. They're paying it forward. You can sense their passion for this."
As Brandon famously tweeted in October 2013 after the NFL fined him $10,500 for wearing lime green cleats during a game: "Football is my platform not my purpose."
Michi says she would not change a single event from the past 12 years. "God has always had a bigger purpose for us. He gave Brandon a message from his experience. He gave me the professional training. It's serendipitous that we're back at UCF, using Project 375 to touch lives."
---
Lives are also being touched more than 2,000 miles from the UCF campus, in Buckeye, Arizona. There, basketball coach and teacher Chad Williams has opened a dialogue about mental health awareness with his players, students and faculty. Thanks to Brandon and Project 375, he has chosen to be proactive rather than reactive.
"Everyone knows a person who's going through some sort of mental health crisis," says Williams. "The thing is, those people want someone to come alongside, but they don't know how to ask."
A person in mental health distress might cover their anguish with occasional smiles. They may laugh when everyone else laughs. When they don't feel like acting "normal," they may go into isolation. They may quit a once-favorite activity. They may hang out with new friends. They might lose or gain weight or cut themselves. They may sit alone, wondering why they feel this way.
All of which describes Williams in college. He says, "On the outside, people thought I was fine. Looking back, there were signs — like losing interest in basketball. But I tried to cover it all up. I didn't want to tell anyone, but down deep I hoped someone might notice."
One night, at his lowest and loneliest, Williams Googled "famous athletes with mental illness." The first name to come up was Brandon Marshall.
"I read his story and saw the lime green shoes. It humanized where I was, made me realize that I'm not alone, and that the worst thing to do is to push it off to the side," says Williams.
Often, doctors will give a blanket diagnosis like "anxiety" or "depression." But a specialist can drill deeper to the root and possibly find something more specific, like BPD or, in Williams' case, bipolar disorder II.
"Bipolar disorder is one of the most stigmatized illnesses in our culture because it's so misunderstood," says Williams. "It doesn't mean a person is necessarily unstable or short-fused. The ups and downs have varying levels of severity. That's why I'm so open about it. When someone says, 'Oh, you're crazy,' or 'Oh, you're bipolar,' I can say, 'Yeah, actually, I am living with a bipolar disorder. Let me tell you about it.' "
Last fall, Williams helped bring Project 375's Youth Mental Health First Aid Training to his school district. He told the captains of his basketball team why he wears a lime green hoodie.

I read his story and saw the lime green shoes. It humanized where I was, made me realize that I'm not alone.

Chad Williams
Five years ago, Williams went alone to a fundraiser for mental illness. Last year, 30 people joined him, including the captains of his basketball team. "[It was] the high point of my coaching," he says.
For all those years, while he tried to shake free from his own thoughts, he just needed someone to come alongside and allow him to be authentic.
"I've never met Brandon Marshall," says Williams, "but it's fair to say that he saved my life."
---
Imagine UCF students and faculty becoming more aware of mental health, taking a step closer, and asking, "How are you doing?" with a whole new meaning.
"The timing for Project 375 is right," says Hagedorn. "I think students and faculty are more open to this than we were 10 years ago. You take the scale of our student body and the school's mission to be forward-thinking, it equals impact."
When they crossed paths 12 years ago, Brandon and Michi Marshall never would have guessed what they'd be doing at UCF today.
"They're doing more than speaking out," says Carroll. "Michi rolls up her sleeves when they have a Project 375 training. She makes sure the coffee is hot. She registers people. You can see that she and Brandon are driven by a belief that this really is their purpose — helping people."
Helping people like a classmate and the girl who sits alone. The basketball coach and the football player. Look beneath the surface.
Do you notice them?