Severe Weather at UCF
The University of Central Florida maintains regular communication with the National Weather Service in Melbourne, the National Oceanic and Atmospheric Administration, and the National Hurricane Center so that the latest information can be shared with the UCF community.
UCF's Emergency Management team works hard to prevent, prepare for, manage and recover from a variety of threats to UCF, including severe weather. Along with campus partners, they plan and train for hurricane season year-round.
If a serious storm or hurricane threatens our region, Governor Ron DeSantis and UCF President Alexander N. Cartwright have the authority to cancel classes or close campuses. Time-sensitive and emergency notifications are shared through UCF Alert. All students and employees are automatically signed up to receive alerts and can login to Rave Mobile Safety via myUCF to edit their information.
Hurricanes in Central Florida
The annual Atlantic Hurricane Season runs June 1 through November 30. Central Florida experiences its share of hurricanes and tropical weather. Florida's unique shape and location often puts us in the direct path of a hurricane.
Hurricanes can cause many other weather hazards. Storm surge, inland flooding and even tornadoes can be prevalent with any hurricane making its way ashore.
We encourage all Knights to have their own personal plan in advance of an imminent storm.

UCF is certified by the National Weather Service as a StormReady university.
The StormReady designation encourages communities to take a proactive approach to improving hazardous-weather education and preparedness in partnership with the National Weather Service.
The university first earned designation as a StormReady University in 2010 and has maintained its standing ever since.

Before the Storm
We encourage students and employees to put together their own hurricane safety kits and to create a plan with their loved ones should a storm impact Central Florida. Kits should provide enough essentials to survive at least three days, and include water, non-perishable food, prescription medications, and important documents, among other necessities.

Student Procedures
Be sure to notify your family where you are staying and that you are safe. Remind them that we could lose cell phone service and access to local phones in the Central Florida area. You should take measures to protect personal possessions that are left behind. The university is not responsible for loss or damage of UCF Housing residents' possessions. Below is a reference list of items that should be done prior to leaving for a shelter or evacuating:
Move personal items away from windows and off the floor.

Cover electronic equipment, books and important papers with plastic to prevent water damage.

Shut off all computers and save any important items.

Lock all doors when occupants are not in the room or apartment. Also, windows must be closed tightly, and any window blinds should be closed.

Any resident who owns a car should take measures to protect it. We recommend parking your vehicle in a parking garage to allow for adequate protection. Fill up your gas tank prior to the storm, as gas supplies post-storm may become scarce.
If you are moving to a shelter or ride-out location, you should be prepared to to be there for several days while the storm passes. Bring essential personal belongings and a book, game or other activity to keep yourself busy.
Employee Procedures
Faculty and staff should ensure their work space is protected and secure. It is highly recommended to bring personal belongings home with you in case your building or office sustains damage. Before the campus closes, employees should:
Turn off computers, printers and other technology.

Turn off and unplug any small appliances such as microwaves, toasters, coffee makers, etc.

Take home all food items and clean kitchen (if applicable)

Close window shades and turn off lights
If your office is student-serving, be sure to have signage indicating the space is closed and set phones as out-of-office. Ensure any lobby areas and common spaces in the building are also protected.

Frequently Asked Questions
Stay up-to-date with the most frequently asked questions about hurricanes and severe weather by UCF students, faculty, parents and more.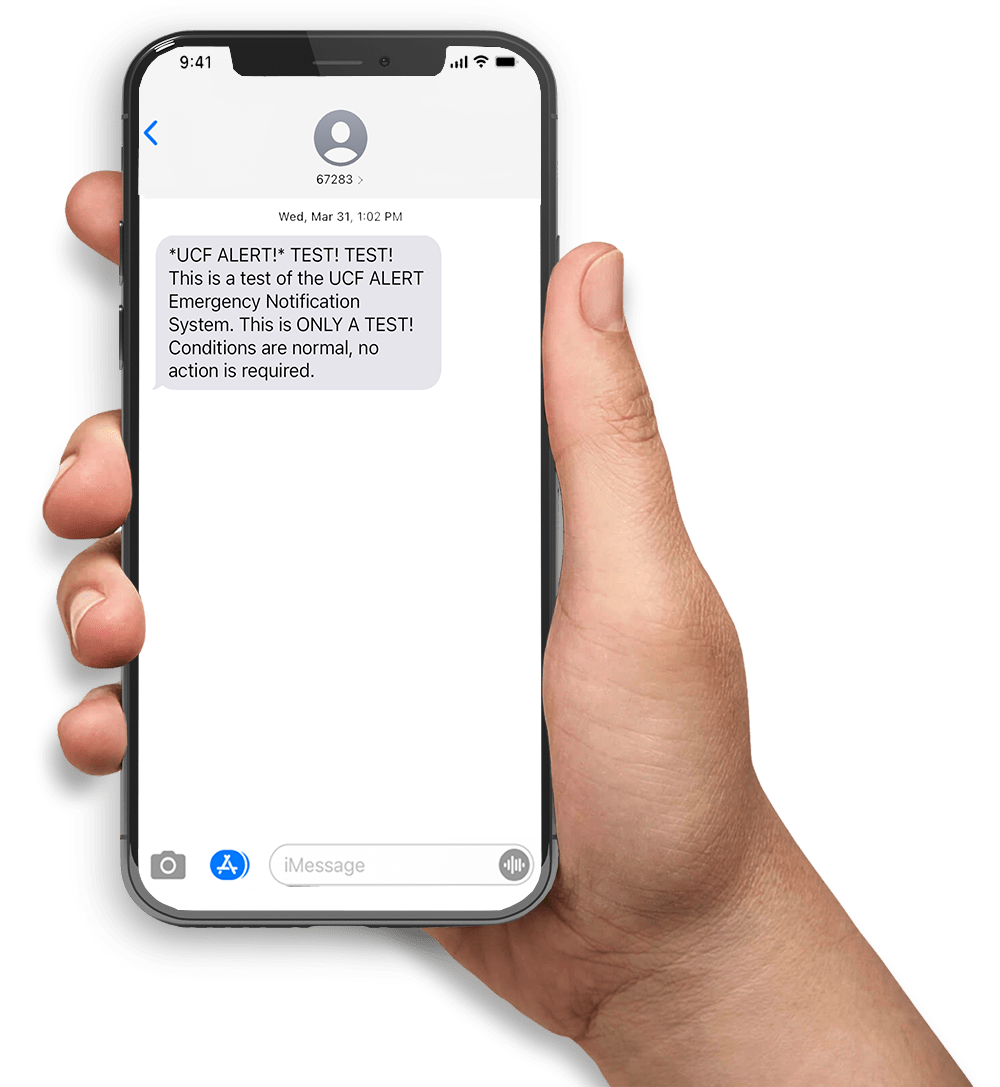 UCF Alert
All students and faculty and staff members are automatically enrolled in the UCF Alert mass notification system, but now is a good time to make sure contact information is current.
To do this, log on to UCF Alert using your NID and password. Under the "My Account" tab, verify the information including your email address and phone number. Your UCF email address is listed by default.
UCF students and employees also may add secondary email accounts, such as for a parent or partner.
Additional Resources and News
National Experts on Hurricanes
UCF has subject-matter experts on a variety of hurricane-related topics, including:
Chris Emrich, a public administration professor, founding member of the National Center for Integrated Coastal Research at the University of Central Florida (UCF Coastal), and former FEMA employee, has done extensive research on disaster preparedness, response and recovery.
Kelly Kibler, an expert on water-resource engineering and aquatic ecology, can speak on the following positive benefits that tropical disturbances have made on the Sunshine State.
Claire Connolly Knox, Ph.D., an associate professor in the School of Public Administration and serves as the emergency management and homeland security program director, has focused her research on emergency management, coastal hazards and coastal resiliency. She also helps debunks myths about hurricanes.
Axel Stock, a marketing professor, has expertise in product scarcity. He can speak on the following topics related to the shortage of products.
Joe Thalheimer '08, UCF's Director of Emergency Management, leads a team of employees during emergency events such as hurricanes and the coronavirus pandemic.
Thomas Wahl, a civil engineering professor, researches sea-level rise and coastal flooding as well as sustainable adaption measures that can make coastal cities more resilient to flooding.
---
Storm Guides, Preparations & Communications
Contacts
Employee Assistance Program
Computer Services & Telecommunications
Counseling and Psychological Services
Parking Services
Work Center Control