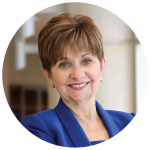 Dr. Deborah German, a physician, educator, and administrator, is Vice President of Health Affairs for the University of Central Florida and the Founding Dean of the College of Medicine where she leads the development of a research-based medical school and a patient-centered clinical enterprise that anchors the UCF Academic Health Sciences Center.
Dr. German received her M.D. from Harvard Medical School. She was a Resident in Internal Medicine at Rochester and a Fellow in Rheumatic and Genetic Diseases at Duke, where she was a researcher in the Howard Hughes Medical Institute. She was the Associate Dean of Medical Education at Duke and later the Senior Associate Dean of Medical Education at Vanderbilt University.
She served as President and Chief Executive Officer at Saint Thomas Hospital in Nashville where she led a successful hospital turnaround that received national recognition.