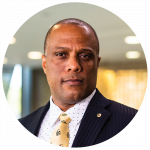 Gerald Hector is the Senior Vice President for Administration and Finance at the University of Central Florida. He oversees accounting, finance, human resources, campus safety, auxiliary enterprises, and all aspects of facilities management.
Before joining UCF, he was the Executive Vice President and Chief Business Officer for Morehouse College, and prior to that, Vice President for Financial Affairs and University Treasurer for Cornell University. He has also held similar leadership roles at Ithaca College and Johnson C. Smith University. Before joining higher education, he was the Corporate Controller for the United Negro College Fund, and a public accountant with then Deloitte and Touche.
His twenty-two-year tenure in higher education has seen him advocate for diversity and inclusion matters. He has made presentations both nationally and on the campuses he serves. As an author, his first published work has birthed a podcast series where he engages thought leaders on matters of early career paths, and where they are today. The book and the podcast are ways that he continue to provide hope and inspiration to young people and young professionals just starting out in their careers.
He is an honors graduate from Howard University where he majored in accounting and holds a Master of Christian Thought degree from the Gordon Conwell Theological Seminary. He is married to his college sweetheart, Sharon-Kaye, and is the father of three children, Joshua, Timothy and Kezia.