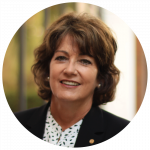 Janet Owen joined the University of Central Florida at the end of June 2018 as its Vice President for Government & Community Relations and Associate General Counsel. She previously served in that same role for the University of North Florida, and as the Legislative Liaison for the Florida Board of Governors overseeing the State University System.
At UCF, Janet serves as the university's principal liaison with federal and state offices and legislative bodies, and oversees the university's regional and community relations program. She is responsible for development and implementation of strategies and programs to attain public funding goals, and to foster mutually supportive, on-going relationships with elected officials, executive branch leaders and other education and governmental organizations. She also serves as associate corporate secretary to the UCF Board of Trustees and oversees the Office of Board Relations.
Janet has worked on systemwide initiatives and legislation to increase efficiency and flexibility for the state universities and has served on several statewide committees to review, develop and recommend laws and policies governing public higher education.
A Jacksonville native and graduate of the University of Florida, Janet received her law degree from Stetson University College of Law and spent nearly a decade in private practice before joining UNF in 1994.
Active in her community, Janet has served on numerous local boards, chambers and non-profit arts and education organizations and is a member of the Florida Bar's Education Law Committee, the National Association of College and University Attorneys, the Florida Association of Professional Lobbyists, the LeRoy Collins Institute Board of Directors and Leadership Florida's Cornerstone Class XXX. Additionally, Janet chaired the 2017 Task Force for the American Association of State Colleges and Universities (AASCU) Higher Education Government Relations Conference. She is a frequent speaker on higher education issues and has been recognized by the Jacksonville Business Journal as a Woman of Influence and as an EVE Award Finalist in the field of education by the Florida Times Union.
Janet has been married to the Reverend Ron Owen, an Episcopal priest, for 28 years. They have two grown children and now thoroughly enjoy spoiling their Labradoodle, Moses.