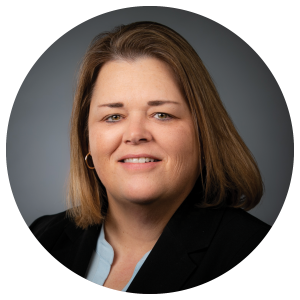 Dr. Paige Borden is the Chief Analytics Officer for the University of Central Florida. She is responsible for designing, developing, and leading enterprise analytics and oversees the Division of Analytics and Integrated Planning, including Institutional Knowledge Management, Institutional Research, and Knight Vision Reporting and Analytics. Dr. Borden focuses on guiding the university's analytics strategy, increasing data literacy, and decision support. Her umbrella of activities includes leadership for university accountability, student predictive analytics initiatives, decision-support intelligence, and state and federal reporting. Dr. Borden also provides leadership and vision for the major Enterprise Analytics 2022 redesign involving cloud-based data lakes, university data governance, Workday reporting, and PRISM analytics as part of UCF's Knight Vision project.
Active and respected in her field, Dr. Borden is a current member of the Association of Governing Board's Council on Student Success. She is a former three-year Board member for the national Association for Institutional Research where she served as Parliamentarian, chair for the Future of Institutional Research committee, and served on the Ethics 2020 subcommittee. Other Board service includes a two-year cycle on the executive board of the Southern Association for Institutional Researchers as Treasurer and a two term President for the Florida Association for Institutional Research.
A Florida native, Dr. Borden has twenty-nine years of experience in higher education, earned a bachelor's in International Affairs from Florida State University, and earned her MBA and Doctorate in Higher Education Leadership from the University of Central Florida.