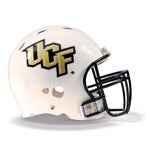 Conference USA announced today television broadcast information and additional game times for UCF's upcoming 2011 football season. With the release of broadcast information, the defending Conference USA and AutoZone Liberty Bowl champion UCF Knights will play all six home games at 4 p.m. or later in 2011. Four of UCF's six home games at Bright House Networks Stadium will be played during the evening. Of note, the 2011 Homecoming game versus Memphis will have a 4 p.m. kick-off.
Through Conference USA's new television agreement with FOX Sports Networks and CBS Sports Network, UCF had six of its games selected between the two, with CSS and Bright House Sports Network picking up an additional four games through the league agreement. ESPN will be broadcasting UCF non-conference road games at BYU and at FIU (ESPN3.com). Conference USA's television agreements grant the broadcasting network the authority to determine game times.
The 2011 campaign will mark the first time in program history UCF will have its full regular season schedule on television, including a record nine games with national coverage.
2011 UCF Football Schedule
Sept. 3 Charleston Southern, Bright House Sports Network 7 p.m.
Sept. 10 Boston College, CBS Sports Network 8 p.m.
Sept. 17 @ FIU, ESPN3.com 6 p.m.
Sept. 23 (Fri.) @ BYU, ESPN 8 p.m.
Oct. 8 Marshall, Bright House Sports Network 4 p.m.
Oct. 15 @ SMU, FOX Sports Networks TBA
Oct. 20 (Thurs.) @ UAB, CSS 8 p.m.
Oct. 29 Memphis, Bright House Sports Network 4 p.m.
Nov. 3 (Thurs.) Tulsa, CBS Sports Network 8 p.m.
Nov. 12 @ Southern Miss, CBS Sports Network 8 p.m.
Nov. 19 @ East Carolina, FOX Sports Networks TBA
Nov. 25 (Fri.) UTEP, CBS Sports Network 7 p.m.
There is no better way to see the Knights then in person! Great seats and affordable season ticket packages are now available online at UCFAthletics.com or by calling the UCF Athletics Ticket Office at (407) 823-1000. Should UCF host the C-USA Championship Game for the fourth time in seven years, it would be played on Saturday, Dec. 3 and season ticket holders will receive the first shot at the best seats.
Conference USA Football on FOX Sports Networks
The 2011 football season marks the beginning of a new long-term agreement between Conference USA and Fox Sports Media Group for national television rights to a variety of marquee Conference USA events, including a minimum of 20 regular-season football games. Through two dozen owned and affiliated networks, FOX Sports Networks (FSN) programming reaches more than 85 million homes across the country. Conference USA joins Fox's impressive roster of other conference partners that includes the Big Ten, Big 12, Pac-12, ACC, and SEC.
Conference USA Football on CBS Sports Network
CBS Sports Network is the original 24-hour sports channel dedicated to covering college sports. Available to 95 million homes nationwide, CBS Sports Network provides comprehensive college sports coverage, including 25 men's and women's sports, hundreds of live games annually, as well as in-depth studio and original programming. Conference USA enters its seventh year on CBS Sports Network, which will feature a minimum of 20 C-USA football games in 2011. For more information, go to www.cbssportsnetwork.com.