UCF Public Safety celebrated the achievements of officers, staff members and community partners at their annual awards ceremony hosted by News 6's "Trooper" Steve Montiero.
Each year, the department recognizes winners of their Chief's Award and Of the Year award — who are featured more in depth below. Winners of commendations, community partnership awards, physical abilities and life-saving awards are also recognized at the ceremony.
After being nominated and voted on by their peers, winners were selected and reviewed by award committee members.
2022 Of the Year and Chief Award Winners
Civilian Supervisor of the Year: Rebeca Alonso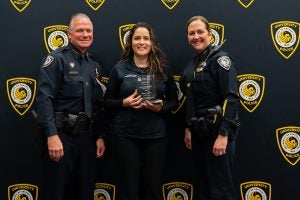 Dispatchers have a tough job; on top of also managing a communications center for one of the largest universities in the nation. Alonso did this successfully as one of the most senior employees at UCF Public Safety, with 25 years of service in October 2023. When UCFPD's dispatch manager retired in December 2021, she stepped into the interim role for all of 2022, leading the team with grace and consistency. Alonso's an outstanding dispatcher, manager and leader, and is always willing to assist officers and staff members with calls and projects.
Crisis Intervention Officer of the Year: Arijeta Kavaja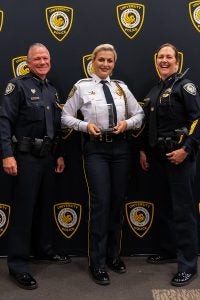 Mental health is a growing concern in the United States, and we have seen members of the UCF community struggle with their mental health. This award is given to the officer who made the biggest impact in the area of mental health at UCF,and Kavaja was involved with many. The most noteworthy was her response to a call for service involving a female employee who had a knife and was threatening to end her life. Kavaja used her crisis intervention skills to de-escalate the situation, and then took the time to connect with the individual to explain the Baker Act process and what to expect. Her compassionate response helped save this employee's life and allowed her to receive the help she needed. Kavaja is also known for checking in with students and staff members at events, and has been the recipient of many calls for help when individuals are in crisis because they feel more comfortable speaking to her.
Detective of the Year: Melissa Guadagnino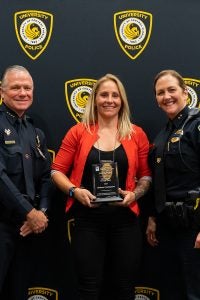 Guadagnino received the majority of votes for this award, and it's not hard to see why. She's been a part of the agency since 2013 and is the most senior detective in the Criminal Investigations Division. She regularly assists other detectives with their cases, is a whiz with the cameras and brings a fun presence to the unit. Her camera prowess even helped catch a video voyeur in 2022, where she tracked him through campus to his car and then used license plate readers to find him when he came back to campus. In addition to working cases as a detective, Guadagnino is often called in with her therapy dog partner, Chipper, to interview victims in both UCFPD and outside agency's cases. When she's not busy investigating crimes, she's always willing to bring Chipper to community engagement events on and off campus.
Dispatcher of the Year: Steven Keith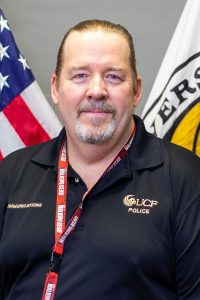 Dispatchers are often the initial first responders, and Keith has been excelling in this role for more than a decade. Since joining UCFPD 10 years ago, he continues to be a rock in the Communications Center. Dispatchers have a tough job — they're speaking with someone who is potentially experiencing something traumatic or difficult, so they need to be compassionate while also getting essential information to relay to officers who are rushing to the scene. Keith was praised for doing this extremely well — going above and beyond to make sure officers have as much information as possible. His nominators also shared that he knows how to stay calm, is helpful on calls and is a joy to work with.
DUI Officers of the Year: Frank Imparato and Isabella Sanchez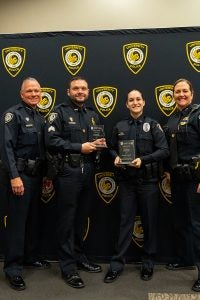 Impaired and distracted driving is a serious problem, and the UCF Police Department is focused on keeping the roadways safe from these threats. This award is given based on statistics, and this year there was a tie! In 2022, Imparato and Sanchez had nine DUI arrests. While this number may not seem very large, both officers were only on the road for part of the year – Sanchez started solo patrol from field training in August, and Imparato started family leave in September for the birth of his first child. Sanchez also volunteered to drive the Mothers Against Drunk Driving-marked patrol car, and Imparato served as the agency's only drug recognition expert for the past several years and the majority of 2022.
Employee of the Year: Jesse Brady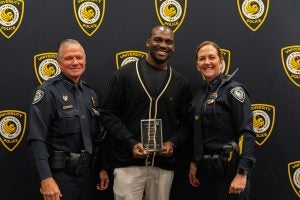 UCF Public Safety could not function without its hard-working civilian staff. Brady has a big job in ensuring campus special events are safe and secure. In 2022, he was responsible for coordinating nearly 1,600 events, reflecting more than 7,500 manhours worked — and that doesn't even include football games! He also worked hard to staff all seven home football games and an additional 40 basketball games, along with providing manual labor to prepare for each of these events. Prior to moving into his special events role, Brady was a dispatcher for UCFPD and frequently steps back into that position to cover staffing shortages.
Field Training Officer of the Year: Jeffrey Hopkins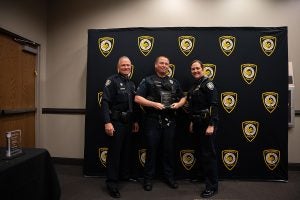 The expectations for officers are incredibly high, which means it's crucial that we have a robust training program for new officers. After eight weeks of classroom training, new officers are then paired with a Field Training Officer for more than three months. This supervising field training officer will assist them on calls and help them apply the lessons they've learned in the classroom to a real-world scenario. In 2022, Hopkins trained more than six new officers whom had nothing but positive things to say about him. He ensures his schedule is free to accommodate new hires and never complains about the extra hours required. He takes a structured, firm but fair approach in his training process, and his trainees are excelling as officers because of it.
Officer of the Year: Elizabeth Sparks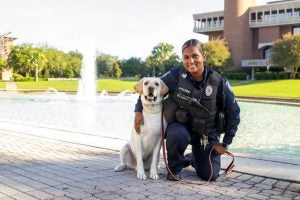 The Officer of the Year award is given to the sworn member who demonstrates professionalism, a strong work ethic and is committed to doing the right thing. Sparks is a bright light for UCF Public Safety. Although she wears many hats within the agency, she always has a smile on her face and never hesitates to help a colleague. She is a professional, dedicated patrol officer who comes to work every day prepared to protect and serve her community. In addition to her day-to-day duties as a patrol officer, she's a part of the peer-to-peer Critical Incidents Stress Management team, which is a group of public safety employees that debriefs and connects colleagues with resources they may need after experiencing a traumatic event while on duty or at work. She spearheaded the department's mentorship program, and is a member of the UCFPD Honor Guard and the engagement committee, where she was chosen as the spokesperson for sworn officers to bring new ideas to leadership. She's currently the only female K-9 handler and never hesitates to come in on her time off for community engagement events with her four-legged partner, Thor. Sparkswas one of 12 officers who volunteered to travel to Sanibel Island for a Hurricane Ian deployment, where she spent the week of Christmas and New Year's assisting that devastated community.
Rookie of the Year: Isabella Sanchez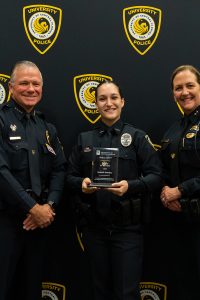 You've already read about her DUI dominance, but you may not have known that Sanchez is also a rookie. She joined the UCFPD team in September 2022 and has hit the ground running. Sanchez is proactive in her daily patrols, especially with traffic stops and DUI arrests. She even volunteered to drive the Mothers Against Drunk Driving-marked patrol car to raise awareness about the dangers of drunk driving. She never hesitates to volunteer for charity and community engagement events, even when she's not on shift. Sanchez maintains a positive mindset towards the profession and is always willing to help her squad.
Sworn Supervisor of the Year: Sergeant Chase Crane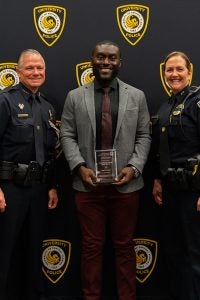 Being a patrol supervisor is one of the most challenging jobs in law enforcement. Balancing the mission of keeping the public safe with the needs and safety of their officers is always a challenge, and Crane managed to do both successfully. He serves in the Regional Patrol Division where he is responsible for helping keep three campuses safe. Having several nominations — almost all of which mentioned his work ethic — Crane is constantly working, often picking up extra shifts when coverage is needed or volunteering for overtime. Not only has he been a part of the UCF Downtown regional patrol since the campus opened in 2019, but he's also taken on new projects in a supervisory role, such as K-9 team trainer and emergency response team supervisor.
Team of the Year: Kellie deArmas, Elizabeth Rodriguez and Pete Osterrieder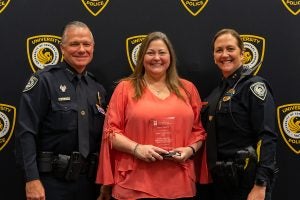 Change is always difficult, but when it involves more than 14,000 university employees, the task seems monumental. These individuals took all of that in stride — navigating university WorkDay changes, an HR reorganization and their day-to-day responsibilities, which includes the important task of making sure everyone is paid on time. They've also worked hard to ensure open positions are posted for Public Safety, interviews are coordinated and the very best candidates are selected to work for the team at UCF.
Chief's Award: Jurnee Luke
Luke joined the public safety team in April 2022, and spent the last few months of the year as the only advocate available in Victim Services. Since coming to UCF, she has managed and worked 170 total cases — 80 of which were transfers from three colleagues pursuing new endeavors. On one occasion, Luke responded to three callouts from UCF police officers — two of which were at the same time and another that lasted more than four hours. She then gave a presentation to a psychology class about the resources Victim Services provides, and assisted a client at the Sexual Assault Trauma Center — all within 48 hours. We're happy Luke now has help from two new advocates who joined the team. She's been mentoring them and the department's interns while still remaining on call until they are fully trained to cover the hotline.
Chief's Award: Rick Salcedo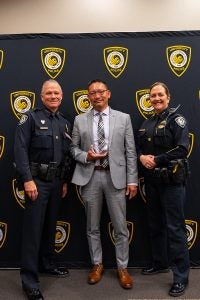 Although Salcedo retired from the Orlando Police Department in 2016, he continues to charge on. In 2022, he was recognized nationally as a Champion of Change by End Violence Against Women International (EVAWI). He helps run the sexual assault response team, which he co-founded, trains new detectives, teaches officers how to properly respond to sexual battery investigations and has been training and mentoring other UCFPD detectives in sex crimes and internet crimes against children. Salcedo was also invited to serve as one of the Cadre of Experts for EVAWI, which includes leading national experts in sexual assault, intimate partner violence and other forms of gender-based violence.