Attend the Senior Design Symposium in Renewable and Sustainable Energy, April 14 at UCF's Pegasus Ballroom.
Despite the introduction of energy-saving features on many residential products, the average power consumption of American homes has still increased nearly 50% in the last 20 years (according to the U.S. Energy Information Agency). Most of that energy is generated by non-renewable fossil fuels that add to pollution and create dependence on foreign sources. Who's working to the technology to reduce dependence on fossil fuels? Much of the best thinking is coming from college campuses, as tomorrow's engineers and businesspeople are preparing themselves for the real world. On April 14, the University of Central Florida (UCF), the third largest university in the country, will showcase a glimpse of what new energy-related innovations may be looming just over the horizon.
The UCF College of Engineering and Computer Science and Progress Energy jointly sponsor a Senior Design Symposium in Renewable and Sustainable Energy. Vincent Dolan, president and CEO of Progress Energy Florida, will deliver the symposium's keynote address.
The 2nd Annual Symposium spotlights real world, renewable, energy projects by senior engineering students. This year's symposium features over twenty projects created by seniors in mechanical, electrical & computer science and industrial engineering. These yearlong projects, which are design and build and are kind of "hands-on senior thesis," provide an opportunity not only for students to learn about the latest technology, but also about how to apply theory to solve tangible, real-world problems.
Matthew Jameson, a mechanical engineering senior, is one such UCF student who is working with four others on a solar hot water heater. "Today's solar-powered water heaters can save money but only during the day," he said. "We are developing a system that would be able to work at night also." To do that, the team is using a type of candle wax. "We use the sun's energy to melt the wax and heat it to about 60 degrees Celsius (140 degrees F), which in turn heats the water," explained teammate Daniel Hernandez. Added William Baker, "The wax retains the heat a lot better than other fluids, and we can heat a 60 gallon water heater even after the sun goes down."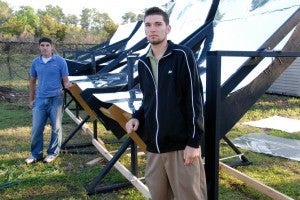 UCF seniors Oscar Toledo and Earnest Hamilton are applying their technical knowledge to designing a "solar trough" that will generate electricity and desalinate water using solar energy. Though parabolic solar collector panels have been in use for some time, they require fairly sophisticated manufacturing techniques and may cost tens of thousands of dollars. "We have developed an approach that involves commonly-available materials and is cheap to construct," said Hamilton. "Our goal is to build a system for under $2000." Added Toledo, "Our design heats hydraulic fluid to about 200 degrees C, which boils the water, which in turn drives a turbine that produces one kilowatt of electricity per hour. That's enough to power a few appliances or even a small air conditioner." Their design also desalinates water into drinking water, as well as charges batteries that can provide electricity at night. The design would be ideal for impoverished rural communities or in third world countries.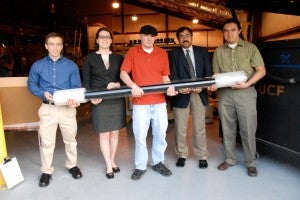 Among the other energy-related projects that will be featured at the April 14 Symposium are a bolt-on hybrid kit for gasoline-powered cars, an unmanned aerial reconnaissance plane powered by a hydrogen fuel cell, an engine that runs on organic material, a solar-powered car cooler, and a vertical axis wind turbine for residential use.
Last year's entries included solar powered barbeque that cooks a T-bone steak in eight minutes, a bicycle that generates and stores enough electricity to power a small 50W appliance, an engine that runs on a coconut oil, and conversion kits that turn gasoline-powered golf carts into hybrid electrics.
Progress Energy provides corporate sponsorship and support for the projects and symposium. "By investing in tomorrow's industry leaders today, we hope to encourage the long-term development and adoption of efficient, reliable and sustainable renewable energy technologies," reported former Progress Energy Florida President and CEO Jeff Lyash in 2009. "Renewable energy is an important part of the balanced solution necessary to meet our current and future energy needs, and we're excited about the many innovative and environmentally friendly possibilities that have emerged through this program."
"UCF is committed to environmental responsibility, and the Progress Energy Senior Design Challenge in Renewable and Sustainable Energy is a welcome addition to our efforts on behalf of this worthwhile commitment," said UCF President John Hitt in his opening Symposium remarks last year. Added Engineering College Dean Marwan Simaan, "We had a terrific Progress Energy Senior Design in Renewable and Sustainable Energy event with a really impressive set of students of whom we should all be very proud. Their projects and presentations were just outstanding."
The public is invited to inspect these and other innovative, new energy technologies at the UCF – Progress Energy Senior Design Symposium in Renewable & Sustainable Energy on April 14, 2010, from 8:30 am to 1 pm, at the UCF Student Union Pegasus Ballroom. There is no charge for admission, and pre-registration is not required. Details can be found at http://www.cecs.ucf.edu/corporate.
The University of Central Florida (UCF), located in Orange County, Florida, and now the nation's third largest university by enrollment, was founded in 1963 and offers over 225 separate degree options through twelve colleges and eleven satellite campuses throughout Florida. UCF is a member of the American College & University Presidents Climate Commitment Leadership Circle. The University is an innovative leader in "green" operations, classes and research; it is committed to developing socially conscious engineering projects. UCF encourages the long-term development and adoption of efficient, reliable and sustainable renewable energy technologies throughout the world.
Progress Energy (NYSE: PGN), founded in 1908 and headquartered in Raleigh, N.C., is a Fortune 500 energy company with more than 21,000 megawatts of generation capacity and $9 billion in annual revenues. Progress Energy includes two major electric utilities that serve approximately 3.1 million customers in the Carolinas and Florida. Progress Energy is pursuing a balanced strategy for a secure energy future, which includes aggressive energy-efficiency programs, investments in renewable energy technologies and a state-of-the-art electricity system, and is committed to supporting and showcasing the next generation of innovation and talent with UCF.