Hip-hop lovers know at the heart of the genre is hustle, which is essential to any great business. So for C. Keith Harrison, the DeVos Sport Business Program chief academic officer and associate professor, it was only natural to develop courses around the culture and music he grew up with in Southern California.
This fall UCF will offer the Business of Hip-Hop Innovation and Entrepreneurship (GEB 6156) to graduate students for the first time. Through case studies, students will examine products such as Dr. Dre's Beats and the success of millionaires like Diddy to understand how hip-hop has grown from an underground expression into a global influence.
In the spring, students who are at least in sophomore standing and have taken a macro- or microeconomics course will be able to take the undergraduate version of the course under the same name (but with the course code SPB4932).
Before the first class begins, Harrison shared his insights on the courses, business and hip-hop.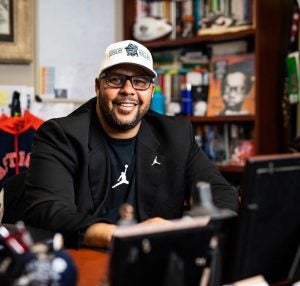 Where did you get the idea for these courses?
The courses grew out of my passion for education, hip-hop and sport. They also grew out of a class I co-teach at the undergrad level with Reggie Saunders, who is the senior director of global entertainment marketing at Jordan Brand and has been an adjunct here for five years. The class is the Role of Innovation and Entrepreneurship in Sport and Entertainment. In that 16-week course there are two big lectures on hip-hop innovation and entrepreneurship, so we lead that course with business and use hip-hop as a reference point. With these newer courses, we're looking to expand on that.
Why is it important UCF business courses focus on hip-hop?
Students who have grown up using social media technology have so much access to culture at their fingertips. I think this is another impactful way to teach them business through one of the greatest art forms that has evolved from two turntables and a microphone to billion-dollar industries. To me it's the intersection of diversity and innovation. Now there's a lot of Gen Xers in those senior marketing roles and we grew up on hip-hop. Hip-hop culture and personalities are major global influencers and any business school should be studying that.
"To me [hip-hop is] the intersection of diversity and innovation." – Keith Harrison, UCF professor
Other universities may teach courses about hip-hop, but they're more from a religious, sociological, humanities or liberal arts perspectives. There are other business courses that touch on hip-hop but do not revolve around it. [To my knowledge,] Business of Hip Hop Innovation and Entrepreneurship is the first business of hip-hop course in a college of business with "hip-hop" in the title — and that's important.
What makes hip-hop such an influential force in business?
Hip-hop has always been about the audience making them relevant. It's a great case study for sport and other entertainment industries. It goes back to "Throw your hands in the air, wave them like you just don't care." It's gone from underground to being marginalized to crossing over to mainstream to hyper commercialized.
What are three things students will learn in this course?
Students will learn the history of hip-hop. That it was a cultural expression that didn't start out to be about business but has become big business. Hip-hop is a vertical business in of itself, it applies to broader business and its reference point to general business principles. An example is small businesses. In my era of hip-hop, they use to sell cassette tapes out of a car. Royalties are another major point to study within hip-hop because in the '90s, Master P was the first artist to get 80 percent ownership of his deal and that was unheard of at the time.
"[Hip-hop] was a cultural expression that didn't start out to be about business but has become big business." – Keith Harrison, UCF Professor
What is the coursework like?
There are four discussion posts based on the readings. Graduate students taking the fall course will have to read five books and undergraduates taking the spring course will read three. Then there is a final project that will require students to create an action plan for a hip-hop sporting event. It can be NBA, NFL or Major League Soccer related. Students will organize the night based on four principles; to position hip-hop culture night, activate it with brands that align with hip-hop, engage fans, and use data analytics to predict success. This project gives students a chance to be hands-on with something they can execute and talk about in job or grad school interviews.
Who are your top five artists?
Run-DMC, Tupac, Biggie, Nas and Ice Cube. Honorable mentions are Public Enemy, The D.O.C., Talib Kweli, Common, Snoop Dogg, KRS-One, Queen Latifah, Nipsey Hussle, Drake, Eminem, Beastie Boys, MC Lyte and Jay-Z.
Fall enrollment for the Business of Hip Hop Innovation and Entrepreneurship(GEB 6156) is available for graduate students. Undergraduate students may register to take SPB 4932 in the spring once their enrollment appointments become open. Harrison developed both of these courses and will teach the fall course for graduate students.