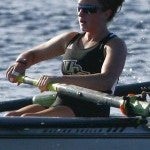 In its lone home regatta of the season, the UCF rowing team impressed a large crowd at the UCF Intercollegiate Rowing Center on Lake Pickett Saturday morning with four victories against in-state rivals Miami, Jacksonville and Stetson.
"Being on the water and being able to see the crowd was really exciting," head coach Becky Cramer said. "I know the team is really appreciative of all the support it received today."
The Black and Gold placed first in the varsity eight, second varsity four, novice four and varsity four events, while placing second in the novice eight race.
During the regatta, the Knights' eight seniors, Stephanie Carillo, Stephanie Galo, Monica Larkin, Liz Robinson, Samantha Sarff, Dayna Bentel, Brittany Skidmore and Leah VanLear, were honored for their hard work and dedication to the UCF rowing program.
"Our seniors, this year in particular, have seen a lot of change in the program and have grown and been a stable force for us despite all of that change. They bring a lot of maturity to the squad and it's great to have them help bring perspective."
In the opening event, the Knights' varsity eight A squad set the tone for the entire regatta as it defeated Miami by a 9.7 second margin to claim first-place honors. UCF's varsity eight B team crossed the finish line just one second behind the Hurricanes in third place, while Jacksonville placed fourth.
"The team stayed really focused and trained hard all week, despite having finals and everything else going on in their lives during that time," Cramer said. "They have been working all season to push out bigger margins. They just show up every day and work hard."
In the second varsity four event, the Black and Gold's A squad once again claimed top honors with a time of 7:39.3, while the B squad followed closely behind in second place in a time of 7:44.2. Stetson rounded out the field in third place with a time of 7:52.2.
UCF's novice eight boat finished just behind the Hurricanes in its event, before the novice four team had its A and B boats finish one-two with times of 8:20.7 and 8:31.3, respectively in their event. Miami finished third with a time of 8:58.0 and the Knights' C squad concluded the race in fourth.
In the final event of the day, UCF's varsity four B boat crossed in a time of 7:38.8 to claim first-place honors. Miami's B boat finished in second, while the Knights' A squad posted a 7:52.9 time to place third. The Hurricane's A team rounded out the field in a time of 8:02.7.
UCF returns to action May 14 when it competes for the Conference USA Championship in Oak Ridge, Tenn., before taking part in the Oak Ridge Invitational May 15.
UCF Regatta Results
Varsity 8+
UCF A – —
Miami – -9.7
UCF B – -10.7
Jacksonville – -21.0
Second Varsity 4+
UCF A – 7:39.3
UCF B – 7:44.2
Stetson – 7:52.2
Novice 8+
Miami – 7:01.7
UCF – 7:09.9
Novice 4+
UCF A – 8:20.7
UCF B – 8:31.3
Miami – 8:58.0
UCF C – 9:01.0
Varsity 4+
UCF B – 7:38.8
Miami B – 7:43.7
UCF A – 7:52.9
Miami A – 8:02.7