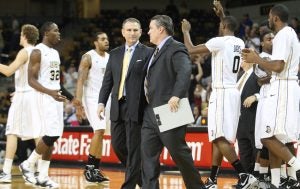 There are times, especially after big wins or landmark accomplishments, when UCF's Donnie Jones and Shawn Finney will sit together and revel at how the two West Virginia natives have made the rise through coaching together.
Jones, UCF's head coach, and Finney, the Knights' associate head coach, have a friendship and partnership that dates back to 1985. They first met when Jones was a record-setting college point guard at Pikeville (Ky.), while Finney was a young assistant coach.
From there, they have coached together at Marshall and now UCF. Together, they have worked to build UCF into a steadily rising program good enough to knock off defending national champion Connecticut this season and Florida, Miami and rival South Florida last season.
Jones guided the Knights to a 10-3 start, including that historic defeat of UConn, which at the time had the nation's longest winning streak. Now, with Jones out the first three Conference USA games per a school-imposed suspension following a NCAA investigation, the program is under the direction of Finney. The Knights defeated Tulane Wednesday in first game with Finney filling in and up next for UCF (11-3 overall, 1-0 in C-USA play) is Saturday's 5 p.m. game at East Carolina (9-5 and 0-1).
Jones said having Finney in his place gives him some peace of mind in what is understandably a difficult situation for him.
"It's a huge advantage having somebody like Shawn in there because our chemistry is so good," Jones said. "I have such confidence in him. As good as you can feel about not being at a game, I feel good knowing Shawn is there coaching the team."
That confidence is forged through a friendship that has endured some 26 years. Jones and Finney first met at Pikeville when Jones was a sophomore point guard, and Finney was an aspiring coach. Finney, a former point guard himself, played a major role in the development of Jones, who went on to set school records for assists in a game (21), a season (276) and a career (513).
The two of them were together just a year, but the bond they formed that season and while working various summer basketball camps in Kentucky and West Virginia has stood the test of time. With both hailing from small West Virginia towns – Jones from Point Pleasant, about an hour north of Charleston, and Finney from Mullens, 90 minutes south of Charleston – they found they had so much in common on and off the basketball court.
Even with Finney off coaching in Virginia and Oklahoma, the two remained in contact and their friendship persisted. Once his playing days were done, Jones wanted to go into coaching just like his friend and he sought Finney's advice before ultimately landing jobs at Pikeville and Marshall.
"We kept in touch and when I wanted to get into coaching, Shawn was like a mentor to me," Jones remembered. "He was always giving me advice and we'd work camps together. My path went into coaching elsewhere, but we stayed in touch and he always gave me lots of advice. Shawn would help me, tell me things to do and he gave me advice that got me started in the coaching business"'
Jones got his big break when he was retained at Marshall when Billy Donovan took over the Thundering Herd as head coach. He would later follow Donovan to Florida, where the two teamed up to win consecutive national championships.
Meanwhile, Finney also climbed the coaching ladder, working with Tubby Smith at Tulsa, then Georgia and Kentucky. And Finney's big break came in 1997 when he became Tulane's head coach for five seasons.
When Jones landed the head coaching job at Marshall in 2007, his first call was to Finney. And this time he wasn't seeking advice; he wanted him to be his right-hand man on the bench with the Thundering Herd.
And when Jones left Marshall for the UCF job in the winter of 2010, he never hesitated in bringing Finney along with him to help him build the Knights program. Together, the two led UCF to a 14-0 start last season while also helping the Knights become nationally ranked for the first time in school history. And this season, UCF has made even more strides and could be in position for a berth in the postseason after beating 2011 tourney teams UConn, College of Charleston and Old Dominion.
Their partnership works well because they are both alike and different in many ways. Jones is the eternally positive coach, and is quick to offer words of encouragement to struggling players. Finney is the louder, more outspoken of the two and he isn't afraid to play bad cop to Jones' good cop in practice and during games.
"We have a great relationship. And we have a good enough relationship that I don't need him to always agree with me; I need his opinion and he provides that," Jones said. "Shawn has a great mindset, especially about defense. He also has a strong personality and he's the demander in practice, while I'm the encourager. Shawn is a worker and he really understands good game strategy and preparation."
Finney compiled many of the scouting reports for UCF last season and early this year, and that aided him on Wednesday when he filled in for Jones against Tulane. The biggest adjustment from being an assistant coach to a head coach, Finney said, is "going from making suggestions to decisions."
Finney will coach two more games — Saturday at East Carolina and Wednesday at the UCF Arena against Houston — and already he can't wait to turn the team back over to Jones. After all, if their partnership has proven anything, it's that they work best together.
"Coach has guided the ship to the point where it could steer itself," said Finney, who was flattered to hear that Jones is put at ease by him filling in. "I'm there to just manage the ship and make sure it's going in the right direction. Coach Jones is the one who has really laid the foundation on this team."
John Denton's Knights Insider appears on UCFAthletics.com several times a week. E-mail John at jdenton@athletics.ucf.edu.