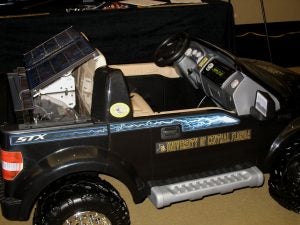 A solar-powered device that can clean shallow waters after an oil spill, a water pump powered by the movement of tree branches, and a video game to help children patients stay still during MRI procedures will be among more than 60 innovative projects to be showcased at the UCF College of Engineering and Computer Science's (CECS) Senior Design Day, April 13.
The day will include the Fourth Annual Senior Design Symposium on Renewable and Sustainable Energy sponsored by Progress Energy, as well as the college-wide Senior Design Showcase.
The invited speaker is Dan Arvizu, director of the U.S. National Renewable Energy Laboratory.
All projects will be displayed from 8 a.m. to 3 p.m. in the Engineering II building and the Harris Engineering Center on UCF's main campus. A hot dog lunch will be available for purchase on the front lawn of the Harris Engineering Center from 11 a.m. to 1 p.m.
The projects are the culmination of work by CECS undergraduate seniors. During their senior year, students work with their faculty advisors to develop innovative project proposals, conduct design analysis, design and build prototypes, prepare engineering reports and give presentations and demonstrations of their projects on Senior Design Day.
Senior Design Day is free and open to the public.
Fourth Annual Senior Design Symposium on Renewable and Sustainable Energy
Sponsored by Progress Energy, this event features 30 senior design projects related to renewable and sustainable energy. The projects –- many of which received industry funding -– will be displayed in the Engineering II atrium. Student teams will deliver formal presentations about their projects in the Engineering II, Room 102 lecture hall.
Highlights of "green" projects include: a solar-powered filtration device that can clean oil from shallow water or environmentally sensitive areas; a water pump that uses energy created when wind moves tree branches; an energy conserving home that uses sensors to automatically adjust lights and thermostat settings; a kit that can fully convert a gas-powered vehicle into an electrically-powered vehicle; and an automated system that monitors abandoned oil wells in the Gulf of Mexico.
Dan Arvizu, director of the U.S. Department of Energy's National Renewable Energy Laboratory, is scheduled to speak at 9 a.m. in Engineering II, Room 102 lecture hall. He is considered one of the world's leading experts on renewable and sustainable energy.
CECS-Wide Senior Design Showcase
CECS will also showcase nearly 35 additional projects designed and built by its senior undergraduate students from all of the college's academic departments. The projects represent the engineering and computer science skills the students have acquired during their rigorous academic coursework at UCF.
One project, "Hold Still," is a video game for children designed to operate in a magnetic resonance imaging (MRI) environment. The purpose of the game is to encourage the child to stay motionless while undergoing an MRI procedure, to ultimately reduce or eliminate the need for sedatives. The game was designed by electrical and computer engineering students.
And for the age-21-and-older crowd, one team has designed the "Digital Competitive Precision Projectile Table Support Structure," an electronic beer pong table that uses embedded sensors to perform automated tasks such as score keeping, ultimately reducing the potential for human error during competitive play of the popular game.