A UCF aerospace engineering student used his "junk pile" at home to change the life of a 5-year-old.
David Shamblin used an old 13-inch LCD screen from his "junk pile" to create a box gadget at home, which has given Edward Reyes an opportunity to communicate with the world. Until that moment, Edward could not speak, feed himself, hold a bottle, walk or use his hands in any purposeful way. He spent most of his time in a wheelchair just staring off into space and no one was quite sure if he could make sense of the world around him.
"He is developmentally delayed. It is suspected that he has a genetic syndrome, but tests have yet to come back positive for a specific diagnosis," said Sabrina Shamblin, the student's wife who is one of Edward's occupational therapists.
Edward's mom had given her one clue – he liked Yo Gabba Gabba!, a children's television show geared toward preschoolers. Each episode teaches children a life or social skill as the costumed characters in bright colors dance to upbeat music. The show is the only thing that would capture Edward's attention at home. He still wouldn't move with purpose, but at least he was focused on the TV screen, his mother said.
Sabrina mentioned to her husband one night that she couldn't find any toys that she could use in a therapy session in conjunction with the show to motivate Edward.
No problem, David told her. He'd make something to her specifications from his junk pile, a collection of discarded electronic items he's collected over the years.
Fast-forward a few weeks and David gave Sabrina a screen connected to a large button that plays snippets of Yo Gabba Gabba! espisodes. To continue to see the next snippet, Edward would have to learn to push the button.
"I took it to work and told David not to get too excited, because I thought it would take a few weeks before Edward could get the hang of it, if it worked at all," Sabrina said. But that same day, Edward started pushing the button on his own after being shown how.
Something clicked, said Edward's mother Jenny Reyes of Kissimmee. He connected cause and effect. He finally could understand that he has power within his hands. These skills have since translated to other areas as well. He uses a button to indicate "more," such as wanting more of the TV show, more food and more to drink.
"I am so grateful to David and Sabrina," Reyes said. "David created something out of his heart and it is making such a huge difference in Edward's life. They have given me hope again."
Reyes said she's learned how to understand what Edward wants, but that everyone else, even his therapists, struggled to communicate with him until he showed them that he understood cause and effect through the use of David's device.
While Edward still can't speak, he has begun communicating with simple communication devices and his gross motor and purposeful hand skills are improving slowly, Sabrina Shamblin said.
"I had not dared to dream for my son's future," Reyes said, trying to stop the tears. "There are so many things you take for granted. Like children crawling, then walking. None of that has happened for Edward and I never thought it would. Now maybe that is possible. I believe David's device has changed everything."
David has made a 2.0 version of the device, which Edward is now using. It has two buttons so he can learn to make choices. David said he's happy he could help one child.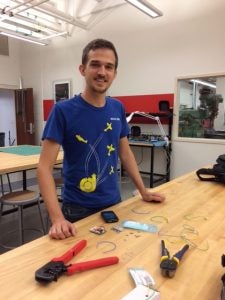 David Shamblin gets ready to tinker in the TI Innovation Lab.
"It made me realize that as engineers we can solve so many problems, we just have to know what problems exist," David said. "If my wife hadn't mentioned her challenge at work, I would never have thought to make the device."
There's a whole field of engineering that helps people with disabilities by developing assistive technologies. David said he had never previously considered diving into that area of engineering.
"As I learn about it, the subject really interests me," he said. "I would still like to end up in a space-related field, though. The most ideal situation would be one which melds all these interests and allows me to solve a variety of problems to help people."
David is working on a few other devices for Sabrina to use at work. He's modifying the original device in hopes it may help other children Sabrina works with weekly. He is also adapting popular children's toys so that youngsters with special needs are able to use them.
"The whole team at the TI Innovation Lab was great," David said about the support he got for his homemade project back at the College of Engineering & Computer Science. David used the lab to construct the box attached to the LCD screen and the wiring necessary to make it all work. "I could not have done what I have without them and the tools that are there. I've learned so much from this project from practical things like using a laser cutter to broader lessons such as solving problems that actually exist instead of inventing my own, keeping things simple and communicating from one technical field to another."
His next project? Studying for mid-terms and staying on track for that bachelor's degree in aerospace engineering while continuing to work on devices that can change children's lives.