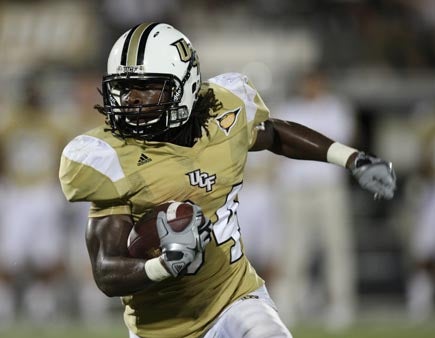 Below are some friendly game day reminders as the UCF Knights prepare to host the University at Buffalo at 7:30 p.m. Saturday, Sept. 19.
For the Buffalo game and others that kick off at 6 p.m. or later, parking lots will open and tailgating can begin at noon. No tailgating set up can begin prior to noon.
Campus parking lots must be vacated two hours after each game, or midnight, whichever comes first.
Glass containers of any type, kegs and beer funnels are not allowed on campus.
Animals, except for service animals, are not allowed on campus on game days. Anyone who brings an animal that is not a service animal will be asked to take it home.
UCF will continue to operate a telephone help desk that will be active on home football game days. Anyone with questions about game days can call 407-882-FANS (3267).
At halftime on Saturday, the Knights will honor players from the 1958 Buffalo team that took a courageous stand against racism.
To read more about the ceremony and game day policies, click here.
For the most detailed list of game day policies and procedures, you also can visit www.UCFGameday.com.