"Our students and the doctors screened approximately 400 students, staff and faculty over six hours," said Bari Hoffman-Ruddy, associate professor of communication sciences and disorders. "This was a record for us and the American College of Prosthodontist's annual screening program."
The ACP is particularly interested in targeting a younger population for screenings because of the association between human papillomavirus (HPV) infection and oral cancer. According to the ACP, 25 percent of those newly diagnosed with oral cancer have no traditional risk factors, such as the use of tobacco or alcohol.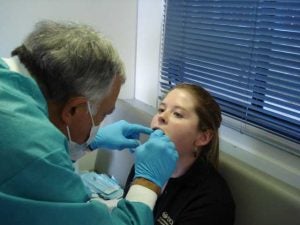 "Much of the literature suggests a strong association between transmission of HPV via oral sex, and this is a relatively new demographic with oral cancer," said Dr. John Whitsitt, a prosthodontist and ACP member from Daytona Beach who volunteered at the event.
From 9 a.m. to 3 p.m., students and faculty members worked at tables outside a large bus devoted to the screenings. They shared information about risk factors associate with oral cancer and encouraged people to have a free screening performed by a volunteer specialist. Each screening took just a few minutes.
As of 1 p.m., no cases of oral cancer had been detected, said Whitsitt, who was clearly pleased with the turnout. "It's just so important to increase awareness about it."
Photos by Andrea Snider