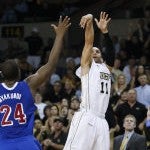 For weeks, UCF coach Donnie Jones has told his Knights that it's how they finish that will most be remembered about this wildly erratic season.
As it turns out, the same thing was the case Wednesday night in the home finale at UCF Arena.
UCF finally shook itself out of a first-half slumber with an inspired performance and a game-turning 25-4 run in the second half to beat SMU 51-48 and continue a torrid closing kick.
The Knights (19-9 overall and 6-9 in Conference USA play) won for the fifth time in the last six games. They have dug themselves out of a midseason lull quite nicely and have kept the team in position for a 20-win season and a potential postseason berth.
"It shows that we never gave up and we have showed a lot of character and heart," said junior point guard A.J. Rompza, who scored all 10 of his points in the second half. "We could have easily put our heads down and called it a season. But we came to fight every day."
UCF got 17 points and four 3-pointers from junior Isaac Sosa, and had to fight all of the way to the end Wednesday night against SMU (17-12 and 8-7). The Knights trailed 23-16 at the half and by as many as 10 points in the second half, but put on a furious rally to take the lead. But an 11-point lead shrank to three in the final seconds as UCF had to survive SMU's Jeremiah Samarrippas missing a potential tying 3-pointer with a second to play.
"We have to get better in late-game situations because we got up 11 tonight. We won the game, but we got lucky the shot didn't go in. We turned it over and we didn't do a good job getting rebounds at the end," Jones said. "To finish the game, there must have been five or six balls that went up in the air and they tipped them and got a shot. We're letting luck come into play and we have to take that away. When you get into Marsh Madness shots go down, banks go in and crazy things happen. We have to take margin of error out and close games the right way."
Down as much as 10 in the second half early in the second half after a UCF technical foul resulted in a four-point possession for SMU, UCF remarkably snapped out of its offensive funk and took control of the game.
UCF's 25-4 run – seven of which came from Rompza and six from Sosa – swung the game in favor of the Knights. UCF went from down 10 to up 44-33 with 5:16 to play in the game. After hitting less than 30 percent of its shots for the first 30 minutes of the game, UCF had a second-half stretch where it made six of seven shots to storm into the lead.
"They do what they do with their matchup zone and their offense they go for the whole shot clock," said Sosa, who scored 12 of his 17 points in the second half. "At halftime we talked about pressing them and that's what we did. We tried to confuse them a little bit and it worked well for us."
The Knights close the regular season Sunday in Huntington, West Va., against Marshall. The C-USA tournament begins Wednesday in El Paso, Texas.
In honor of Senior Night, Jones opened the game with Tom Herzog, A.J. Tyler and Taylor Young in the starting lineup. Tyler drilled a fastbreak 3-pointer for the game's first points, but the Knights' offense immediately ground to a halt from there.
Disrupted by SMU's matchup zone that clogged up the inside, the Knights missed seven of their first eight shots, nine of 11 to start the game and trailed 23-16 at the half. UCF's third field goal didn't come until the game was almost 11 minutes old and it didn't reach double figures in scoring until late in the first half. The Knights made only six of 23 shots in the first 20 minutes while turning the ball over nine times. Often forced to heave shots in the final seconds of the shot clock, UCF hit just two of 11 3-pointers early on. Keith Clanton (six points) and Marcus Jordan (eight points) were the only Knights with two field goals before intermission and they need a combined 10 shots to do so.
"I worried about this game because of the way that they play and force you to stand around a lot. In practice it's hard to showcase that matchup zone and they do a great job with it. Our guys got caught standing around and you have to make shots to loosen it up and create things," Jones said. "I just thought in the second half that we needed to create some energy so we pressed more and that slowed them down and forced some turnovers. We had some good stops and got the momentum going our way. And Sosa made some shots. We played with more confidence and Rompza hit some shots and had 10 points in the second half which was key for us."
UCF's defense was the only thing that kept it in the game early on. The Knights forced 10 turnovers in the first half, limiting SMU to just 16 field goal attempts in the first 20 minutes.
Once 14-0 and a fixture in the national rankings early in the season, the Knights will be looking to close out the regular season Saturday with a similarly strong run. That will allow the Knights to take some momentum into the conference tournament.
"We went through that stretch where we didn't win games and we played well enough defensively, but we just didn't score," Jones said. "But now we're doing a lot like early in the year when we're finding ways to win. It's not always pretty, but we're finding ways to win again."
John Denton's Knights Insider appears on UCFAthletics.com several times a week. E-mail John at jdenton@athletics.ucf.edu.