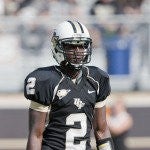 Conference USA announced its 2010 Players of the Year today, as selected by the league's 12 head football coaches. C-USA is completing its 15th football campaign by sending six teams to bowl games for the fifth time in six years.
Defensive recognition went to UCF senior DE Bruce Miller, who becomes the first C-USA player to win that honor in back-to-back years since Adalius Thomas of Southern Miss in 1998-99. He owns the UCF career record for sacks with 34.0, a figure that is tied for third in C-USA history. Miller leads the nation in career sacks among active players, and is fifth all-time in the FBS (sacks record started being kept in 2000). The three-time All-Conference selection has recorded 55 tackles, 7.0 sacks and a team-high 11.5 tackles for loss this season. Miller also registered 18 quarterback hurries, forced two fumbles and recorded two interceptions, returning them both for touchdowns.
The league's Freshman of the Year honor went to UCF QB Jeff Godfrey. He is 9-2 as a starter since taking over the Knights quarterback reigns on Sept. 18, completing 68.4 percent of his passes, tops among all FBS quarterbacks. Godfrey is 143-of-209 for 2,042 yards and 13 touchdowns with just six interceptions. He has also rushed for 546 yards and 10 scores, a figure that leads all C-USA quarterbacks. Godfrey's QB rating of 165.28 on the season leads all FBS freshman and all C-USA signal-callers, while ranking eighth among all FBS quarterbacks. With 2,042 passing yards, he will enter the AutoZone Liberty Bowl needing just 30 passing yards to break Daunte Culpepper's all-time UCF record for passing yards by a freshman.
Source: C-USA, Conference USA Announces Football Players of the Year.