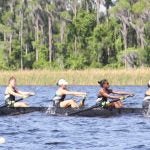 For the first-time ever, Conference USA will have a stand-alone regatta to decide its rowing championship. And with that new format comes some good and some bad, UCF head coach Becky Cramer said.
The positives include being able to compete head-to-head with the competition, something that should make the Knights faster come Saturday's start of the C-USA Rowing Championship regatta on Melton Hill Lake in Oak Ridge, Tenn.
The negatives are that there is pressure that invariably comes with the stand-alone format of racing. UCF finished second to Tennessee last year and already owns impressive victories this season against the likes of Alabama and Kansas State. But this time around they will be rowing against Texas, Tennessee and Oklahoma – three schools who have been nationally ranked at various times this season – and Cramer is eager to see how her UCF squad stacks up.
"We're very excited about this, especially with it being the first true stand-alone championship. We definitely feel a little pressure, but we're excited about what a race like this can mean to us," Cramer said. "Three teams from our conference have been ranked this year, so it will be a challenge for us and one that we're excited to face. I've seen a lot of improvement from our team this season and we're looking forward to it."
Conference USA rowing is composed of schools that traditionally compete in other power conferences in other sports. Only three traditional C-USA schools – UCF, SMU and Tulsa – will be on hand for the regatta. Kansas, Oklahoma and Texas will be competing from the Big 12, while Tennessee will be the host school. Alabama ended its season following the tornadoes that destroyed much of Tuscaloosa, Ala., and the Knights will be wearing commemorative ribbons on their jerseys in honor of the Crimson Tide's team.
The unquestioned leader of UCF's drive for a championship is junior Chelsey Lauzon, a two-time All-Region performer and a member of the inaugural All-C-USA Team last year. This season, Lauzon rowed in every varsity-eight race for the Knights and was a member of the crew that won C-USA Boat of the Week honors on April 12. Lauzon and the Knights defeated Kansas State at the Longhorn Invitational and posted a nearly seven-second victory over league-rival Alabama in Tuscaloosa. She helped lead the varsity-eight boat to a first-place finish in the C Group Final at the Lake Natoma Invitational with wins over Oregon State and Sacramento State and also posted a nearly 10-second win versus Miami in the varsity eight boat at the UCF Regatta.
"She just has that motivation, desire and drive and puts in so much time," Cramer said. "She just cares so much about going fast and does whatever it takes to be successful. Everyone sees that in her and it inspires us all."
Cramer said last season's second-place finish to Tennessee at the C-USA Rowing Championship helped to motivate her team that great things could come in the future. She said she couldn't be happier with the focus of this team and she's eager to see how it stacks up against some elite competition come Saturday and Sunday.
"(Finishing second) did drive us, and that's another reason why we're excited about the stand-alone conference race," Cramer said. "In the varsity eight we finished third, but we never got to compete against Oklahoma. Finishing second in our group just motivated them to push and push for more and we feel like we're ready now."
Source: John Denton's Knights Insider appears on UCFAthletics.com several times a week. E-mail John at jdenton@athletics.ucf.edu.