A quote from novelist and activist James Baldwin encapsulated what it is like to be Black in America: "I know your countrymen do not agree with me about this, and I hear them saying, "You exaggerate."
Throughout that particular essay, Baldwin offers his nephew a critique of racism while warning him of the challenges he will encounter. In addition, he acknowledges that Americans will not accept that systemic racism is real although it is like a specter from a horror movie. While it haunts the Black community on a daily basis, it is unseen by the majority of the nation.
Baldwin eloquently deconstructs the connection between familial bonds and race. This is important because the nation is in turmoil after the death of George Floyd. While Floyd's death continues to trend on social media, the issues surrounding the case are escaping most Americans. As a father, husband, uncle and son, the challenges I encounter as a Black male require an honest conversation about racism.
Injustice must be challenged and uprooted like an unwelcome weed.
Discussing racism is always a difficult conversation for Americans because they are forced to face ugly truths that are whispered at family gatherings and discussed among political pundits on television. For me, and other members of the Black community, these are issues we cannot ignore. Injustice must be challenged and uprooted like an unwelcome weed. The deaths of George Floyd, Breonna Taylor and members of the LGBTQ community demand it.
I'm highlighting these important issues because as a father it is my duty to challenge inequities that could harm my son. Watching him grow into a kind and loving person has been my greatest gift. However, like most Black fathers, I knew it was time for "The Talk" when he began to grow taller.
While some readers may be unfamiliar with this term, it is an unforgiving tradition within the Black community. It signifies when Black men or women are more likely to be stopped by law enforcement and potentially detained, restrained or worse. Black parents are forced to tell their children how to react when stopped for any reason: "Don't move your hands," "Don't move for your wallet too fast" and "Make sure you make it home alive." This is a fact that makes being Black in America tiresome.
It will be easy for some to read this article and mirror Baldwin's comment that "You exaggerate."
I can still remember when my wife found out she was going to have a son. While this represents the greatest moment of my life, unfortunately it was also the saddest. You see, after she found out she was going to have a boy, she began to cry. She understood the challenges he would encounter because people would only see his race and not his brilliance. This painful memory will remain with me forever.
Sharing this story is important because those who are not impacted by these challenges must dismantle their systems of oppression.
You cannot believe in democracy while watching another Black person being killed in a cell phone video. Members of the Black community are tired and need White Americans who are unsympathetic to examine their privilege. The current issues are not sustainable.
According to demographers, the United States will be a majority-minority by 2042. Essentially, racial and ethnic groups represent the future of the country. Over the last few days we have witnessed the Black and international community demand justice for George Floyd. Demonstrations held in the United States, Africa, Asia, and Europe highlight that this is an international human-rights issue. For this reason, I'm including the following actionable steps:
Read books/articles on racism. Ask for recommendations on books that discuss painful events in U.S. history that occurred in Tulsa, Oklahoma; Rosewood, Florida; the Red Summer of 1919, etc. Start with authors including Ibram X. Kendi on the importance of anti-racist work.
Support groups committed to racial justice. Fund groups committed to dismantling economic, education, health, political and social disparities.
Check your privilege. If sections of this article are unfamiliar, including "The Talk," please consider reflecting on how you benefit from various systems.
Stop creating uncomfortable or hostile environments. Please discontinue conversations, comments, stereotypes, and other tropes that hinder healthy work and school environments.
Talk to family members and friends. If you know someone who makes racist or offensive comments, respond immediately.
Listen. Volunteering, writing about race and/or having friends or family members from the Black community doesn't automatically make you an expert on race. Make sure you listen to concerns and comments.
This is part of a series of columns about race and racism written by members of the UCF community.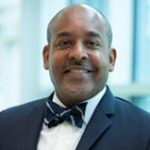 Larry Walker is an assistant professor in the Department of Educational Research and Higher Education in UCF's College of Community Innovation and Education. He earned his doctorate at Morgan State University, and prior to coming to UCF held faculty positions at Loyola University Maryland and Howard University.