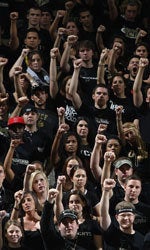 Dwight McCombs, one of the top junior college forwards in the country, signed a National Letter of Intent to join the UCF men's basketball program Tuesday head coach Donnie Jones announced. A Chicago native who recently completed his sophomore campaign at Moraine Valley Community College, McCombs will enroll at UCF this summer and be eligible prior to the 2010-11 campaign.
This past season, the 6-foot-8 McCombs averaged 22.5 points and 13.3 rebounds per game. He shot 70.0 percent from the field and led the National Junior College Athletic Association Division II in blocks at 5.0 per game. His scoring average was good for 12th nationally and he also ranked third in the country in both rebounds per game and field-goal percentage. After the season, McCombs earned NJCAA All-Region IV honors and was also an Illinois Skyway Collegiate Conference First Team pick.
"Dwight brings an immediate presence to our program with his physicality and size," Jones said. "He will make an impact with his ability to score, rebound and defend. Dwight has the ability to excel in our up-tempo style of play."
During the summer of 2009, McCombs was invited to participate in the Top-120 JUCO Camp in Tulsa, Okla. The annual camp features the top junior college sophomores in the country.
"UCF is getting a great player who is an immediate-impact kind of guy," Moraine Valley head coach Dedrick Shannon said. "Dwight is a very athletic, very versatile big guy. He is a great student and was one of the leaders of our team. UCF is getting a great gift. It is a good fit for him and it is a good fit for UCF as well."
McCombs attended Whitney Young High School in Chicago, where he was a teammate with current UCF guard A.J. Rompza. As a senior in 2006-07, McCombs was a second-team all-state selection after averaging 17.0 points, 11.0 boards and 6.0 blocks. He led the Dolphins to a 22-9 mark and a No. 8 state ranking and also earned all-city honors. McCombs served as the Whitney Young team captain as a senior and junior.
After concluding his prep career, McCombs enrolled at Miami (Ohio) and appeared in 28 games for the RedHawks as a freshman in 2007-08.
McCombs is the second recruit that Jones has landed since taking over the UCF program in late March. Jarvis Davis, a guard from Columbia, S.C., who spent the 2009-10 campaign at Hargrave Military Academy in Virginia, signed an NLI to attend UCF in mid-April.
The UCF ticket sales office is currently accepting season-ticket deposits for the 2010-11 campaign at (407) UCF-1000 or online at UCFAthletics.com. By placing their deposit now, fans will receive a free 2010-11 NIKE Knightmare t-shirt with their ticket purchase. Season tickets start at just $99.
Source: Doug Richards, UCF Athletics Communications – Associate Director; Office Phone: (407) 823-2142, www.ucfathletics.com