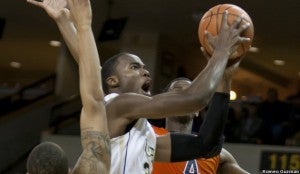 UCF sophomore Isaiah Sykes swatted shots, drove to the rim with no regard for his body, aggressively grabbed rebounds in traffic and even made the fifth 3-pointer of his career – all in an effort to make sure there was no second-half repeat from Wednesday for the Knights. Just three days removed from a poor finish in a loss to against Rice, UCF rode the do-everything play of the steadily blossoming Sykes in the second half to pull away from UTEP, 63-45, at UCF Arena.
Sykes, who is quickly evolving into one of UCF's leaders, overwhelmed UTEP in the second half with his athleticism down low and his toughness on the glass. In the game, he had 23 points and 11 rebounds with 17 points and six rebounds coming over the final 20 minutes. Simply put, Sykes was too strong and tough when UTEP guarded him with a smaller player and too explosive when the Miners used bigger forwards against him.
"That's what he does, a little bit of everything," UCF coach Donnie Jones said. "I told him last game when you come off being the Conference USA Player of the Week you sometimes think you get those awards just by scoring. But he has to continue to being the player that he is. And that's doing things like rebounding, scoring, getting buckets in transition, getting fouled and making free throws. It's just about getting ugly baskets. And he's starting to make threes now."
UCF (20-8 overall and 9-5 in C-USA play) hit the 20-win plateau for a second consecutive season. The Knights, who never trailed Saturday night, also improved to a stellar 15-1 at home and remained very much in the running for a top-four seed and a first-round bye in the C-USA Tournament.
Junior forward Keith Clanton added 12 points, seven rebounds and three assists, while Marcus Jordan chipped in 11 points while splitting time at both guard positions.
UCF finished with just three turnovers, the third-fewest ever in a C-USA game. It was a dramatic improvement over Wednesday when UCF kicked the ball away 18 times in a head-scratching 83-74 loss to Rice.
UCF also held a 37-27 advantage on the glass and grabbed a whopping 18 offensive rebounds. That allowed the Knights to get off 18 more shot attempts. In addition to Sykes' five offensive boards, three other Knights grabbed multiple rebounds off the offensive glass.
"We just got thoroughly pounded in every aspect of the game. UCF was better than us in all areas, especially on the boards," said UTEP coach Tim Floyd, whose red-hot Miners had beaten Memphis, Southern Miss and Tulsa of late in a four-game winning streak. "We gave up 18 off rebounds and they had so many possessions in which they got four or five shots because we made no commitment to getting the ball off the glass."
The effort on the glass was a product of the hard work UCF put in in practice after the disappointing loss on Wednesday, Sykes said.
"The attitude (after the Rice loss) was real focused. Everybody came to practice and competed extra hard like we were going against our opponents and that gave us an edge," Sykes said. "Our practices were like game time so that gave us an extra edge."
The Knights play next in Memphis on Tuesday in a game that will be televised regionally on CSS and locally on Bright House Sports Network. The Knights recorded one of the biggest wins in school history on Jan. 18 when they defeated Memphis 68-67, and fans celebrated by storming the court at UCF Arena. The Tigers (21-8 overall and 11-3 in C-USA play) are back on top of Conference USA and were 20-point winners at Marshall on Saturday.
UCF will then close the regular season on Saturday at home against UAB. The league tournament will be held in Memphis March 7-10. The Knights are hoping to finish the regular season strong, earn a top-four seed and gain a first-round bye in the tournament.
"(Next week) is real big for us because we know where we're trying to get to. We're trying to make the NCAA Tournament and we know every win counts," Clanton said. "We have two games left, so we have to come with intensity and play hard."